Burton Straight Chuter 2021 Snowboard Review
| | |
| --- | --- |
| Riding Style | Freeride |
| Riding Level | Advanced - Expert |
| Fits Boot size (US) | 8-10, 10-12 |
| Manufactured in | Austria |
| Shape | Tapered Directional |
| Camber Profile | Directional Camber |
| Stance | Setback over 20mm |
| Approx. Weight | Feels Normal |
| Split | Comes in split |
| | |
| --- | --- |
| On Snow Feel | |
| Turn Initiation | |
| Skidded Turns | |
Burton Straight Chuter 2021 Review by The Good Ride
Summary

The Burton Straight Chuter doesn't have super grippy edge hold but in powder to good groomers it will float, bomb and carve like a champ.
Ethics Statement: We don't get paid by the manufacturer to write these reviews and this is our unfiltered opinion. We do make money from the "Where To Buy" links, but this is our best attempt at an honest and objective review from an average riders' perspective.
Burton Straight Chuter Snowboard Review- How it rides and who it is for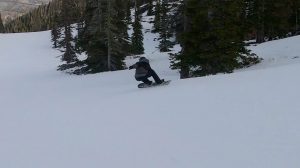 How This Review Happened: We had a few laps at a demo.
Size: 156
Days: 1
Conditions: Pretty rough hard snow
Riders: James (Size 9, 5'10" 185-190lbs), Peter (Size 8, 5'11" 185lbs), Jimbo (Size 11, 5'11" 160lbs)
Boots: Adidas Tactical ADV
Insoles: Sandsole Custom Insoles,  F.I.T. Gameghangers Low Profile , F.I.T. Gamechangers
Bindings: Burton Genesis X, Burton Cartel, Burton Mission, Burton Malavita,
Similar Boards (but not the same): Not any we can think of in this time.
Set-Up: 21", 21.5", 22" Wide. 21 front -6 back. Close to Reference and Set all the way back.  22" Wide. 15 front -15 back.
Sizing
Stay close to Burtons weight recommendations. Here is our opinion of ideal US boot sizes for these boards. Stay close to Burton's weight recommendations. 
151: 7-8
155: 8-9
159: 9-10
162- 10-11
Shape/Camber/On Snow Feel/Ability Level
The Burton Straight Chuter is like most directional camber Burton rides but does not feel as turney. It is pretty locked in and catchy but also doesn't have a lets make slow speed turns personality either. It tracks very well.
Flex/Pop/Buttering
The Burton Straight Chuter we rode did not feel "Happy Medium" like they said on the site. It felt medium/stiff bordering more on the stiff side from tip to tail. Not easy to butter and it takes a little giddy up to get it to Ollie as well. Maybe the demo model we tried came out stiffer than production…
Speed
You have a fast base with a stiff pretty damp ride so the Burton Straight Chuter can point it. That bigger nose can cause a little jitter but it quiets down pretty quick.
Uneven Terrain
We did not have good snow and it didn't seem to bother the Burton Straight Chuter much. Powering over is what this is all about and you can hammer over a rough patch pretty easy on the way to a good groomer or pow stash.
Edge Hold
The Burton Straight Chuter is like most Burton boards. It just does not grip like most disrupted sidecuts when the snow gest hard to icy. You can give it a tune to give it more grip but it makes it more catchy and the overall ride isn't as fun.  If you do not like disrupted sidecuts then you will like Burton's sidecut.
Turn Initiation
Not quick and borders on medium/slow. It is not the board we would want in the trees but we would love to point it down an open bowl or wide open groomer. It needs more speed to make the Burton Straight Chuter turn making it wide radius friendly and that is about it.
Turning Experience/Carving
If you like high speed narrow to across the groomer at best S-Carves this is where the Burton Straight Chuter shines. If you want a circle carver then look elsewhere. It's no First Cut or Leader Board but it is a huge step up from the Hometown Hero and Flight Attendant. There is lots of good camber underfoot to make it spring out of the turns it likes.
Powder
The Burton Straigh Chuter has the kind of nose that takes it up a notch float wise from the Flight Attendant and Hometown Hero. We didn't get any powder but this big ass nose will for sure improve the float.
Conclusion
Last year we rode a board similar to this called the Burton Leaderboard and it was a stiff, full camber super gnarly straight liner. This year the Burton Straight Chuter took that spot and it is much more of an everyman's easy floating straight liner. It is still a very aggressive straight liner but is just a little more forgiving for this type of board.
Burton Straight Chuter Specs
Burton Straight Chuter Images
Burton Company Information
Burton Straight Chuter User Reviews
If you can't buy through the links above, you can support the site with: