Burton Cartographer 2022-2023 Snowboard Review
| | |
| --- | --- |
| Riding Style | All Mountain |
| Riding Level | Advanced - Expert |
| Fits Boot size (US) | < 8, 8-10, 10-12 |
| Manufactured in | China |
| Shape | Tapered Directional |
| Camber Profile | Directional Camber |
| Stance | Setback over 20mm |
| Approx. Weight | Feels Normal |
| Split | No |
| | |
| --- | --- |
| On Snow Feel | |
| Turn Initiation | |
| Skidded Turns | |
Where To Buy
No obligation, but these links & ads support the site.
Burton Cartographer 2023 - 2022 Review by The Good Ride
Burton Cartographer 2022-2023 Snowboard Video and Written Review
Here I have the Burton Cartographer Snowboard Review from an average but snowboard worldly rider. 
Update 2023: The Burton Cartographer hasn't changed much or at all so the 2022 review still stands. 
Turn Ons/Swipe Right: Excellent pop, great turning experience & fun directional all-rounder.
Turn Offs/Swipe Left: Less than competent edge hold in hard snow. Not for beginner/intermediates.
Summary
The Burton Cartographer doesn't have the best edge hold but it is a really fun tapered directional do almost anything daily driver to turn and get air with.
Ethics Statement: We don't get paid by the manufacturer to write these reviews and this is our unfiltered opinion. We do make money from the "Where To Buy" links, but this is our best attempt at an honest and objective review from an average riders' perspective.
A Breakdown of How it rides and who it is for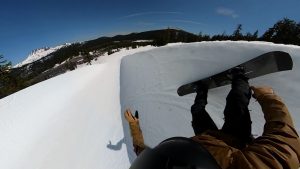 How This Review Happened:
We borrowed this for an extended demo and sent it back.
Size: 159
Days: 3
Conditions: Pretty good spring conditions.
Riders: James (Size 9, 5'10" 185-190lbs)
Boots: Burton Kendo
Insoles: F.I.T. Gamechangers
Bindings: Union Atlas
Jacket: Burton AK Gore-Tex Pro 3L Tusk Jacket, Volcom TDF Infuse 3L Gore-Tex Jacket, Burton Banshee Gore-Tex Jacket
Pant: Burton AK Gore-Tex Pro 3L Hover Pant, Burton AK Gore-Tex 2L Swash Pant, Burton Gore-Tex Ballast Pant
Helmet: Smith Maze
Goggle: Smith IO Mag, Smith 4D Mag
Gloves: Burton AK Clutch Mitt, Burton AK Clutch Glove, Burton AK Tech Leather Glove,
Similar Boards (but not the same): Yes Pick Your Line, Burton Flight Attendant, Jones Flagship, Rossignol XV, Lib Tech BRD, Weston Backwoods, Korua Otto, Lib Tech Terrain Wrecker, Jones Mountain Twin, Endeavor Ranger, K2 Manifest, Jones Frontier, Ride Algorythm, Ride Wild Life,
Set-Up: 21.5" Wide. 18 front -9 back.
Approximate Weight:
The Burton Cartographer is pretty medium weight wise for a 159. Burton can do low cost at a reasonable weight. (We don't put in the exact weight because with wood cores there is no consistency in a boards weight)
Sizing
The Burton Cartographer 159 fit my weight of 190lbs really well but the 154 would have been better for my boot size. A 156 or 157 would be perfect for me but if I had to choose I'd probably go 159 since it turns pretty easy for it's width.
Here are some ideal US boot sizes for these boards. You can of course go bigger or smaller but these work best for not turning the board slower than it should be and not having the dreaded Toe & Heel Drag.
149: 8-9
154: 8.5-9.5
159: 9.5-10.5
162: 10-11
154w: 10-11
159w: 11-12
Shape/Camber/On Snow Feel/Ability Level

The Burton Cartographer has a directional shape with about 5mm of taper. It's just enough to feel a little different from most double ender to directional all mountain boards but doesn't feel quite as much on the back foot for groomers as most tapered directional freeride boards. You could call this tapered all mountain.

The directional camber of the Burton Cartographer has a mellow early rise and a pretty aggressive bit of camber. Well at least mine did. Wood can cure differently board to board so camber and rocker varies board to board but overall, I've noticed a little less early rise overall with Burton's directional camber boards I tried for 2021 and 2022. It makes for a pretty locked in feel that tracks really well but doesn't skid turns easy if you get off your game.
Flex Personality-Pop/Buttering/Uneven Terrain
The flex on the Burton Cartographer is much more mellow than the Super Bueno (predecessor) but it's still not a soft mellow flex. It is med/stiff to stiff between the feet, medium in the nose and medium stiff in the tail. There is that evolved Burton flex personality that is poppy but still damp so it can handle all kinds of uneven snow incredibly well. It butters ok of the tail but takes some effort. The nose is easy and the ollie power is pretty easy to access and it pops really well. Actually I haven't met a directional camber Burton board that didn't ollie easy except for the Leader Board.
Speed
Pretty damp and while the Burton Cartographer isn't a board you get if you straight line everything it can for sure hang on the occasional straight line. The base felt chalky after a wax but after a base grind it was back to having really good glide for this price point.
Edge Hold
This is one place where I would like to see Burton add a little more grip. I just find the Burton Cartographer to let go a little too easy in harder snow. Even other sidecuts without disruption hold a little better than this and most other Burton Directional Camber rides. I've tried sharpening the edges but then it feels incredibly locked in and sketchy/catchy.
Turning Experience/Carving
Pretty medium/fast and it turns quickly for a 25.5cm waist width with size 9 boots. Once the side cut is engaged it leans a little more on the turny side, which I personally love, but it still is pretty balanced overall. The spring out of the turn has that Burton good time pop to it that I love. It isn't all time like the old Custom X or other magic turners but it really fun. The Burton Cartographer can spring really well out of a hard carve in good conditions.
Powder
I didn't get powder in the time I had this but the Burton Cartographer seems pretty competent. With a 22" reference stance you can get 2" back from center of board and 3.5" set all the way back at a 23" wide. That is pretty good compared to most all mountain boards but it isn't quite there with many of the more directional freeride boards like the Flight Attendant or Hometown Hero and it's not even close to boards like the Skeleton Key or other really set back Boards.
Switch/Pipe/Jumps
Not a board I would prefer to jib on but a pretty great board for getting air. Not bad in a soft spring pipe as well.
Conclusion
So what I didn't realise at the time I did the video review was the price. As it stands at any price is it holds up well riding against more expensive directional camber boards like the Flight Attendant and other higher priced Family Tree boards. It's not quite there but pretty fun. I would have guessed $499-$529 so seeing it a $469 makes it very recommendable for those that want a good snow directional daily driver.
If this review helped, we'd appreciate if you:
Burton Cartographer Specs
Burton Cartographer Images
Burton Cartographer User Reviews
If you can't buy through the links above, you can support the site with: