Union Charger 2013-2024 Snowboard Binding Review
Where To Buy
80% of outdoor sports products are not listed or sold online.
Our team has relationships with hundreds of local snowboarding and outdoor sports shops.
We'll call the shops and email you a list of stores along with pricing and availability.
---
Not sure what to buy?
Get custom advice from Good Ride editors James and Steph.

Get Advice
Union Charger 2024 - 2013 Review by The Good Ride
Union Charger Snowboard Binding Video and Written Review
You have arrived at the Union Charger Split/Solid Hybrid Snowboard Binding Review from an average objective rider with exceptional gear experience.
Turn Ons/Swipe Right: Great on the Down for a split binding.
Turn Offs/Swipe Left: Only one riser for the up. Pales in comparison to Union's mid to upper tier solid bindings.
Summary
The Union Charger is back but as a split/solid hybrid binding. It compromises on the up and down but does better than every other hybrid split/solid binding I've tried.
Ethics Statement: We don't get paid by the manufacturer to write these reviews.  We do make money from the "Where To Buy" links, but this is our best attempt at an honest and objective review from an average riders' perspective.
A Breakdown of How it rides and Tours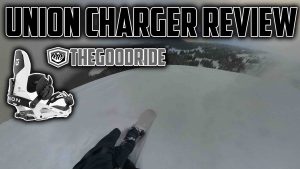 How This Review Happened:  Borrowed this for an extended demo and will send it back.
Size: Medium from 2024 and 2023
Days:  8+
Conditions: Everything from groomers to powder with splits and Union Rovers
Riders: James (Size 9, 5'10" 185-190lbs)
Boots: Ride Fuse, Burton Tourist & Ride Torrent
Insoles: F.I.T. Gamechangers
Redunancy: Strapins in case boots or bindings break.
Jacket: Jones Mtn Surf Anorak, Jones Shralpinist Stretch Jacket, Burton AK Gore-Tex Pro 3L Tusk Jacket
Pant: Jones Mountain Surf Bib, Jones Shralpinist Stretch Bib, Burton AK Gore-Tex Pro 3L Hover Pant
Helmet: Smith Maze
Goggle: Smith 4D Mag
Gloves: Burton AK Clutch Mitt, Burton AK Tech Leather Glove, Drop Tahoma Mitt,
Boards: Capita Spring Break Slush Slasher, Capita Spring Break Powder Racers, Gnu Gremlin, Korua Uber Egg, Jones Mountain Twin Split, Cardiff Powgoda Pro Carbon Split.
Similar (but not the same) Bindings: Karakoram Free Ranger, Spark Arc and Spark Surge. To compare to a solid maybe look at the Union Atlas, Union Ultra,
How It Was Tested
I would take these out same day on the lifts/groomers. I'd take a lap on the same run, switch out with Union Atlas and then switch to Union Ultras to see how it compared to solid bindings. Then I took them out on separate days with the Jones Mtn Twin Split and Cardiff Powgoda Pro Carbon Split.
Weight
2.2Lbs as a split
2.0Lbs as a solid
Highback Flex
The Union Charger has a very easy flexing high back and twists very easy. You need this because it doesn't rotate. None of the Charger models, including the Pro and FC do.
Flex Underfoot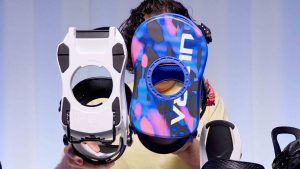 The Union Charger has a mini-disc mount type but not the mini-disc flex underfoot. It is more like a full size disc but then with minimal high end tech to maximize flex underfoot. There are four foam pads placed at each corner of the plastic bottom. In comparison to bindings like the Force and Atlas it doesn't compare. Or if you want to compare to bindings like the Ultra, Strata or Falcor it is even further behind. This is one of the prices you pay for having a binding that can tour as well as ride.
Turn Initiation/Response
The response is fine in powder and I never felt like I needed more. However, on groomers I felt it lacking on some boards. Especially with more demanding boards. I especially felt this when I changed out from the Union Charger to the Union Atlas with the same boots, and board. I really felt a difference on the Gremlin but even did on more mellow boards like the Capita Spring Break Slush Slasher which is much easier to turn.
Shock Absorption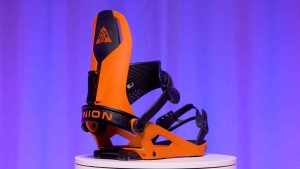 There is very little happening shock absorption wise with the Union Charger. It is pretty much all plastic with just a touch of EVA foam at the bottom of the binding and on the foot bed. You really feel the difference when riding solid bindings from Union but it's on par for a split. My Spark R&D binding with their padding accessory feels a touch more shock absorbent but is a little less damp. You don't get as much as some Karakoram hybrid bindings but you don't get an even footbed or anywhere close to the reliability of Spark or Union.
Boot Support
I love the ankle strap of the Union Charger. I actually like the feel of it better than the Charger FC I tried. It felt too stiff on the sides and caused some pressure points. The softer Union Charger ankle strap was supportive but had little to no pressure points.
Ratchets
Very smooth and incredibly functional. Union makes very reliable and very good ratchets.
Adjustability
It's good to have an adjustable heel loop to size up the binding to your boot. You need this because you can't turn the discs sideways to slide the binding heel to toe. You can slide the discs a little from tip to tail so you should be able to get the stance width you want as well. Straps are easy to adjust but the forward lean is a bit of a pain.
Touring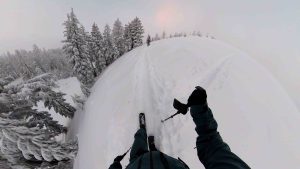 Going into touring mode is pretty easy with the Union Charger and it's easier to set up than most split bindings. To put it into touring mode is easy but just make sure it's perfectly vertical and then you slide it all the way in before pushing it down to lock it in. Otherwise you might bend the pins that hold the front of the binding.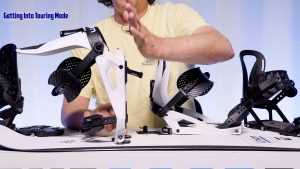 Getting the Union Charger out of touring mode and into riding mode is pretty easy too. The new lever vs. the old pin holds the binding in place much better but it's far from being as reliable as solids for every day riding. I think over time you might break down the plastic mechanism that keeps the binding connected to the disc.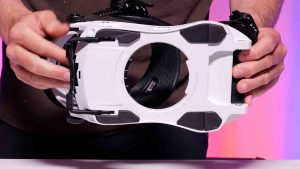 One thing that is cool with solid discs is the quiver compatibility. You can put discs on any board you want and then put the bindings on the board you want to ride. It's a hell of a lot better to have a few solid bindings but it's way more expensive.
Having the riser built into the binding is simple and easy but limits your touring. I often encounter varied terrain on my uphill travel. Having only one tall riser frustrates me. Especially because I have 2 risers with my Spark, 2 risers with my Drift Boards and 2 Risers with my Rover/Drift Board Binding set up.
Side hilling is pretty good but its even better with the strap compatible high back.I can put my Strapins straps through the high back and around my boot to get much better side hilling. I like it much better than the Karakoram accessory you can buy. You also give the Union Charger a lot more response if you use it on the down.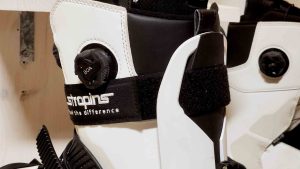 Conclusion
If you are looking to use the Union Charger as your primary solid binding it's greatly lacking compared to true Solid bindings Union offers. If you want 2 heights when touring like I do you can get better split bindings from Spark. That being said, I haven't come across a split/solid hybrid as good as this.
If this review helped, we'd appreciate if you:
Union Charger Past Reviews

The new Union Charger is a very responsive binding and one of the most responsive bindings in their line.

Ride #1 With Kyle and James

Ethics Statement: We don't get paid by the manufacturer to write these reviews.  No one is perfect and we do make money from the "Where To Buy" links below, but this is our best attempt at an honest and objective review from an average riders' perspective.

Ride #3 with James, Peter, Jimbo, and Mike (sorry about the wind). 
2015 Union Charger Review
The 2015 Union Charger has changed a bit. Here is what is new.
1. The toe strap is smaller and better for those who put it on, the traditional way.  It's also better for gripping your boot when you mount it over the toe.
2. The Ankle strap is thinner and smaller. Also, the ankle strap connector is shorter so if it doesn't fit around your boot you can ask for the longer 2014 ankle strap connector and it will fix the problem.
3. There is much more shock absorption in the heel.
4. The Toe Strap is toolless now.
Days:  3
Riders: James, Peter, Kyle, Jimbo, Mike,
Boots: Burton Imperial, Burton Hail, Burton Ion, Burton SLX, Nike Lunarendor, Burton Ambush
Boards: Jami Lynn Phoenix, Jones Mountain Twin, Yes Greats
Flex: Same very stiff aggressive flex that isn't about pairing up with mellow boards.
Adjustability: The Adjustability is better this year and completely toolless.  This is a really nice improvement.  You need a screwdriver for adjusting the heel loop to fit your boot size and screwing in the bindings to the board but that's it.  I'd still like to see more holes in the high back so you can rotate them.  Union bindings don't need high back rotation as much as some bindings but these high backs are very stiff and don't auto-rotate as easy.  All in all, it's a very good binding for dialing it out to your boot size.  The adjustable length heel loop is a nice thing and good for you in between size riders.
Comfort: These bindings are just as comfortable as previous bindings.
Turn Initiation: Same super quick turning edge to edge and it's there to power stiffer more challenging boards to ride. I personally feel it's arguably one of the fastest bindings when it comes to edge to edge transitioning in their line. It makes aggressive boards feel less aggressive.
Buttering: The smaller ankle strap feels like it detracts a tiny bit from our ability to butter but there is the same minimal true contact with the board making it flex a little easier underfoot for leaning out on a butter and such.  Most people will be more into turning and carving with these bindings instead of buttering and jibbing.
Boot Support: The new smaller ankle straps take me and our crew back to when Union had smaller ankle straps about 5 years plus ago.  There is more freedom of movement but there is less support. I felt much more freedom of movement but much less support and occasionally in the rough bumpy terrain, I could feel a lot more stress on my ankles.   All of us preferred the bigger strap from last year.  We like how it's thinner but not how it's more narrow.  That being said the wright older school rider who really prefers small thin straps will really like this. You can buy other straps here too.
Ratchet System: Some of us (not me) use to have issues with Union Toe Straps but lately, they have been working without a hitch.  Nice and easy to get on and more importantly off.
Shock Absorption: There is a lot more shock absorption this year as well and it's got padding from where your boots touch to the board where before it had a little bridge that didn't go to the board.
So, all in all, we were fans of every improvement except for the small ankle strap. If I owned 2015 I'd get the larger ankle strap from the Factory and put it on the binding.
2013 and 2014 Union Charger Review
The Union Charger will turn any board very well and it's edge to edge transitioning is exceptional. If you have a stiffer board, don't care much about adjustability and want the snappy response you can get from carbon fiber the Charger is a pretty good choice.
A quick look at the 2014 Union Charger. Not much has changed since last year except the toe ratchet is easier to release.
Days:  10+
Riders: James, Peter, Kyle, Jimbo,
Boots: Burton Ion, Burton SLX, Nike Kaiju, DC Judge
Boards: Capita BSOD, Jones Mountain Twin, Lib Tech Jamie Lynn Phoenix Series,
So Union only machine cores their top of the line binding the MC Metafuse.  A lot of people are bummed about this because normally a binding like this would be machine cored as well. I can understand being bummed about the lack of machine coring because it makes the bindings a little lighter but none of us at The Good Ride really noticed any difference in terms of performance.
Flex: This is right there with the MC Metafuse and I personally think it's stiffer. The high back has a very rigid torsional flex and it's super stiff when you pull it right back. Out of all the bindings in Union's line it has a very stiff flex.
Adjustability: Sadly the adjustablity with Union falls a little short and even more so for the Union Charger compared to other Union Bindings like the SL. The heel loop slides in and out to adjust to different boot sizes and that is why they have 2 sizes instead of 3.  This is a good idea but one problem is you are stuck with one ankle strap angle where most have 2 or 3.  This might be the only reason you don't want this binding – to us it wasn't, but to those that like to adjust and conform bindings to their stance this can be frustrating. Many bindings have the ability to rotate your high backs to align them to the edge of your snowboard (see how to set up your gear) but you cannot do that with the Chargers which is pretty much a bummer for freeride bindings. Union bindings work pretty well without a high back rotation but it still works better with one. All other Union bindings allow you to rotate your high back. Also, nothing is tool-less like many bindings out there are so you need a tool with you if you need to adjust on the fly.
Comfort: Comfort and adjustability usually are somewhat related but the Charger is very comfortable.  The ankle straps are supportive but comfortable and so is the toe strap.  It's a very comfortable binding.
Heel to Toe Response: Years ago I was riding a pretty stiff all mountain board and switched from an old disc Burton Cartel to the Union Force.  It felt like it changed the tun initiation of the board from challenging to moderate. I haven't had a similar feeling until the Charger came a long. It's right there with the MC Metafuse and the Factory.  So there might be some bindings out there that have the same "excellent" response rating as the Union Charger but this is like an "excellent +" or a spinal tap 11.  Edge to edge transitioning is exceptionally fast. Pairing this with an aggressive board makes it seem easier to ride.  If you pair it with a softer board might make it too responsive.
Tip to Tail Response: Not bad on a butter thanks to the reduced dead spot tech under foot and the newer bigger ankle strap.  You can butter pretty well on this binding. Most won't really care about buttering with this binding but you can if you want to and pair it with a butter friendly board.
Approximate Weight: It felt like it was just a shade heavier than the Union Force MC which is very very light. This binding also feels incredibly light.
Boot Support: For 2014 the MC Metafuse has more of a locked in feel but in 2013 they were pretty even. Now days most bindings at this level have a larger ankle strap to offer a little more support.  Still it has a good feel but lately most of us prefer a larger ankle strap when riding a stiffer more responsive binding that usually goes with a harder to turn board.
Ratchet System: The 2013 Ratchet system can be a little sticky in the toe when trying to take it off but the 2014 is easier to release and doesn't stick as much. I've personally never had a problem but I have heard complaints here and there about the 2013 ratchet. The ankle ratchet is pretty smooth though. Check the 2013 video review further down on the page to see how to get the toe ratchet off easier. We'd like to see an improvement with the toe ratchet's design to make it super easy but it's definitely improved for 2014.
Shock Absorption: Heel Shock absorption is pretty good. Its not the softest most shock absorbent binding out there but it does do a great job at dealing with chatter at speed as well as handing a bad landing or two. It just doesn't compare to the Factory when it comes to a hard landing.  The toe is all about response but there is still a little padding there as well.
So in 2014 with the new Factory and the Upgraded MC Metafuse it's hard to say which binding will be the best call for you.  If you want super light, the snappy response of carbon in your high back and you don't want to spend as much as the MC then this is the call.
2013 and below Union Toe straps can be a bit sticky. For some this is a big problem and for others it's not that big of a deal. Until Union addresses this issue here are some pointers on how to make the toe strap less sticky so you can enjoy the bindings better qualities.
Union Charger Images

We try to get as many images of the Union Charger, but forgive us if they're not all there.
2024
2023
2015
2014
2013
Union Charger User Reviews
---
---
Union Charger 2013-2024 Snowboard Binding Review
SKU
UPC
Model
The bees knees
Jul 24, 2014
by
ant
Ability Level: Advanced •
Riding Style: All mountain •
Days You Ride A Year: Every weekend
Love these binders for the board that I have ..the edge to edge response is awesome same goes for tip to tail being that my board is stiff and sort of challenging to turn these bindings were the right choice not the lightest binding in the union line but still light but if bombing and carving is what u do then these are all for you .. the ratchets I don't have any problems with which I keep reading is the main complaint of union bindings the highbacks are stiff the padding is more then enough ..the price is expensive but if you can wait till end of the season to pick em up its soooo worth the discount you will get ! Def a go to choice binder IMO

---
highback rotation
Feb 27, 2013
by
Earl
Ability Level: Advanced •
Riding Style: All mountain •
Days You Ride A Year: 45 plus
Despite what the review says you can rotate the highbacks. I dont understand why they would say that 5 minutes out of the box I had them mounted and rotated.

---
Feel a bit tricked...
Oct 22, 2012
by
Lars Horstmann
Ability Level: Expert •
Riding Style: Freeride •
Days You Ride A Year: Over 100
Union surely made another great model with the chargers, but:
For the people, who know the 2012 Force SL's, this year's collection should give them the feeling of Union trying to trick their customers a little bit. Here's why: 2012 Focre SL's had a carbon injected AND machine cored baseplate, which made for a crazy light and baseplate wise fairly stiff binding. It was the exact same baseplate as the Force MC's!!! This year's SL's didn't get the carbon injection AND didn't get the machine coring - making for a heavier and probably (I haven't tried) slightly softer baseplate. The reason is, so they could fit in the new Chargers with again carbon injected baseplate and carbon high back. But here comes the thing: The Chargers aren't machine cored either, which you see on the pictures looking at the sides of the baseplate. I ordered a pair and taking off the footbed, I realized, that also underneath the footbed they aren't cored out. You might think, that makes the baseplate stiffer over last year's Force SL's, but it doesn't - I tried, as I've spent 110 days on the 2012 SL's. Next thing I got curious about is the weight. I was thinking, that the carbon highback will weight wise make up for the non cored out baseplate, but I was far off: 2012 Force SL's are 60 grams lighter per binding than this year's Chargers!!! Bottom line is: with the 2012 SL's you get the lighter and similarly stiff baseplate, the overall lighter binding, but a softer highback, which isn't such a huge difference, as the Charger backs don't rotate. So the little more response heel side, that you get out of rotating the 2012 SL's backs almost makes up for the added stiffness of the carbons.
The Chargers are great bindings! Cofortable, still light, responsive.... I haven't found better bindings than Unions yet, but this makes me unhappy! They made the Force SL's worse to fit in a higher - expensive - model! My call: I'm gonna try to find another pair of last year's SL's... or wait... because my prediction is, that next year, they're gonna make the Chargers with a fully cored out baseplate as that is the only headroom they have! It's all about marketing, which I hadn't seen in the past with Union, and that slightly sucks!

---
If you can't buy through the links above, you can support the site with: