YES Pick Your Line 2012-2021 Snowboard Review
| | |
| --- | --- |
| Riding Style | Freeride |
| Riding Level | Intermediate - Expert |
| Fits Boot size (US) | 8-10, 10-12 |
| Manufactured in | Dubai by SWS |
| Shape | Tapered Directional |
| Camber Profile | Hybrid Camber |
| Stance | Setback -10mm |
| Approx. Weight | Feels Normal |
| Split | No |
| | |
| --- | --- |
| On Snow Feel | |
| Turn Initiation | |
| Skidded Turns | |
Where To Buy
No obligation, but these links & ads support the site.
YES Pick Your Line 2021 - 2012 Review by The Good Ride
Turn Ons/Swipe Right: Very versatile semi-forgiving daily directional driver. Consistent feel underfoot in all conditions. Borderline excellent edge hold. Great float in powder. Good steep terrain and decent low angle powder ride.
Turn Offs/Swipe Left: Not much except maybe does nothing excellent. Just a lot of good to great performance.
Summary
The Yes Pick Your Line has great grip, a consistent feel underfoot in all conditions and it's a great daily tapered directional driver. Lot's of innovations have come and gone over the years we have been riding the Yes Pick Your Line and its consistent performance still impresses us.
Ethics Statement: We don't get paid by the manufacturer to write these reviews and this is our unfiltered opinion. We do make money from the "Where To Buy" links, but this is our best attempt at an honest and objective review from an average riders' perspective.
Yes Pick Your Line 2021 Snowboard Review- How it rides and who it is for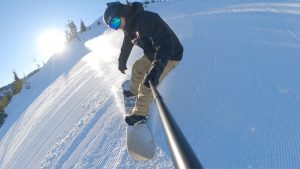 How This Review Happened
We spent our precious Good Ride dollars to buy this cuz we love it.
Size: 159
Days: 4 and more coming
Conditions: Excellent early winter groomers, soft but slightly bumpy mid/winter groomers, some wet early winter powder with the help of my Drift Boards.  The 2018-2021 is the same board and the 2017 was the same except for the flex. So we had this over the years ls in just about everything from hard snow to 2.5' of deep fluffy Sierra Powder.
Riders: James (Size 9, 5'10" 185-195lbs), and then the rest of the gang rode this in past years like, Peter (Size 8, 5'11" 185lbs), Jimbo (Size 11, 5'11" 160lbs), Zobel (Size 11.5, 6' 180lbs), Grant (Size 11 6' 160lbs),
Boots: Burton Imperial, Burton SLX, Burton Toursit
Insoles: Sandsole Custom Insoles, F.I.T. Gamechangers, F.I.T. Gameghangers LP
Bindings: Union Atlas, Union Expeditions (review coming)
Similar Boards (but not the same): Burton Flight Attendant, Jones Flagship, Never Summer West Bound, Rossignol XV, Lib Tech BRD, Weston Backwoods, Burton Hometown Hero,
Set-Up:  21.5", 21 front -6 back. Close to Reference and Set as far back as I could.
Approximate Weight:
Feels pretty medium bordering on heavy which is great for how I like a board to feel.
(We don't put in the exact weight because with wood cores there is no consistency in a boards weight)
Sizing
Here are some ideal US boot sizes for these boards. You can of course go bigger or smaller but these work best for not turning the board slower than it should be and not having the dreaded Toe & Heel Drag. The 159 Yes Pick Your Line felt just right for my specs.
156: 8-9
159: 8.5-9.5
162: 9-10
160w: 10.5-11.5
164w: 11-12
Shape/Camber/On Snow Feel/Ability Level

The Yes Pick Your Line has a moderate to bordering on healthy bow of camber transitioning into mellow early rise in the nose/tail. It tracks well one footing and flat basing rather well and has a pretty stable forgiving all around ride. An intermediate can handle this no problem and have a lot of fun on it. An advanced to expert rider can have fun without feeling too locked in either. We love this very consistent personality underfoot in all conditions.
The Tapered Underbite sidecut along with the mellow taper does make the board feel more tapered than you would think from looking at the specs. The Yes Pick Your Line likes a little more back foot weight than you would think on groomers but a lot less than most this shape in powder.
Flex/Pop/Buttering
There is a pretty medium stiff flex throughout the Yes Pick Your Line but the rocker in the nose/tail make it much easier than you would think flexing it in the shop. It was not too much work to butter and there is a good pop to this board. The YES flex rating doesn't runs softer in comparison to similar ratings with other manufacturers but I would say this is pretty stiff for the YES line and it has a lot of good energy into an ollie. It's not a super camber popper but it is far from dead.
Speed
The Yes Pick Your Line has a very competent base and when its well waxed there is great glide. Like the pop, its not the best but nothing to complain about. It got me out of some long flat areas where others were skating many a time. If you want to point it, the Yes Pick Your Line isn't a Jones Flagship but it is very competent for being such a quick turning board. It is confidence inspiring with short bursts of speed like when you have to point it to get out of a sketchy flat to avoid hiking.
Uneven Terrain
Such a great all day resort ride. The Yes Pick Your Line doesn't get cranky when the groomers change from corduroy to crud. This is a great board to ride all day in bumps or uneven snow of any kind. It fatigues us less than most out there.
Edge Hold
The Tapered Underbite in the Yes Pick Your Line grips hard and this is really competent in hard to icy snow. It's just a shade behind most full Magnetraction boards from Gnu/Lib Tech and others. It can grab a bit in soft snow but its something that is easy to get used to.
Turn Initiation
The Yes Pick Your Line is med/fast bordering on fast without being hooky/twitchy. It is such a great board for quick turns in tight steep spots or in the trees. But as you widen out your radius it still is satisfying.
Turning Experience/Carving
It is no mostly/full camber super carver but you can get the Yes Pick Your Line to rail out a pretty hard carve. The overall turning experience is really fun and it has good spring from edge to edge. When you initiate the turn it's quick and then it seems like the sidecut asks you what you want to do from here. It seems to be open to anything and it responds in kind to the weight you put into it. It will be almost as cool with circle carve as a slalom style turn through the trees. Again you need more back foot weight on this board to keep it from washing out on the tail but with the right weighting its a lot of fun.
Powder
So there is a pretty big nose, a tail with a little taper but a lot less surface area than the nose, and a moderate set back on board. With a 22.5″ stance width you can set it all the way back and be 2.5″ back on board. That isn't too much compared to many of its peers but it really floats well for how centered it rides. It really shined for me when I rode a lot of steeper terrain when I rode in Mammoth. I was surprised at how well it did with low angle powder at Mt. Bachelor (where I ride now) because many boards can struggle here with this set back. It's not amazing but very competent for a daily driver/one board quiver. It is one of my favorite boards in the trees in about 1ft of powder. It might be cool to see some slam back inserts on the Yes Pick Your Line like they do with the Yes Standard and Ghost.
Conclusion
So get the PYL if you want a tapered directional one board quiver and want something really competent in steep terrain. It is great compliment to a two board quiver if you already have an all mountain freestyle or all mountain board.
YES Pick Your Line Past Reviews

The YES Pick Your Line has been one of our more recommendable directional one board quiver/Freeride rides for years now. It has a nice balance of being forgiving but fun for most ability levels while still giving a consistent ride in all conditions.

The 2018-2020 Yes Pick Your Line is the same in shape and design so the 2018 model we rode and owned still stands. The written review has been updated to reflect what's happening in the industry for 2020. The only change for 2020 is they added a 164w to it's sizing.
2018-2020YES Pick Your Line Snowboard Review
Ethics Statement: We don't get paid by the manufacturer to write these reviews.  We do make money from the "Where To Buy" links, but this is our best attempt at an honest and objective review from an average riders' perspective.
How This Review Happened:  We borrowed this for an extended demo and then returned it.  Then we liked it so much, we spent our precious Good Ride dollars to buy it and kept it in the quiver for 2 seasons.
Size: 159 & 160w
Days: 20+
Conditions: Everything from some powder to hard snow and an early morning slackountry up or 2 with Drift Boards.
Riders: James (Size 9, 5'10" 185-195lbs), Jimbo (Size 11, 5'11" 160lbs), Zobel (Size 11.5, 6' 180lbs, Peter (Size 8, 5'11" 185lbs), Grant (Size 11 6' 160lbs)
Boots: Adidas Tactical ADV, Adidas Acerra
Insoles:  Footprint Insole Technology Gameghangers Low Profile
Bindings:  Union Atlas, Union Strata, Union Falcor,  Burton Genesis, Burton Genesis X, 
Set Up: 21.5″, 22″ and 22.5" wide. Centered on sidecut, 15 front -6 back for groomers.  22″-22.5″ and set all the way back in powder. 21 front -3 back.
Similar Boards (but not the same) That We Compared This To: Burton Flight Attendant, Gnu Mullair, Jones Flagship, Lib Tech Lost Round Nose Fish, Never Summer West Bound, Rossignol XV (check comparison at the bottom)
Approximate Weight: Feels normal bordering on light.
Sizing: The 156 to 162 YES Pick Your Line models seem to be a good fit for 8-10 boots and they can handle a little weight. The 165 seems like it could handle a little bigger.  The 160w and 164w are good choices for more mid/wide riders in the 10+ to 12ish range and it's great to see a 164w this year.  They still aren't full-on wide's but now bigger mid/wide riders can get on the 164w.
Flex: The Yes Pick Your line is one of the only Yes boards that feel close to its flex of 8 out of 10. We would say it feels a little softer but overall it's got a snappier flex than most YES boards that generally have a rubbery feel underfoot now that they have been made by SWS the last few years. The wood top sheet gives it a little more snap without making it feel dull. Buttering is doable because that rocker in the nose/tail makes it easier than it should be for the flex.
On Snow Feel/Ability Level/Skidded Turns: The YES Pick Your Line has this great consistent feel underfoot in any condition that we all here really appreciate. It does feel more tapered than you would think for the 6mm or so that each board has and like all tapered boards it requires more back foot weight on the groomers but less in powder. It has more of a surfy feel than you would think for how centered this is for a freeride board. What is cool about the YES PYL, is the forgiving nature underfoot with the Camrock (hybrid camber) profile. There seems to be a little more camber going on in comparison to some Camrock boards from YES but you can still feel a lot of rocker underfoot to skid turns pretty easy when you get off your game. I would say that an intermediate could easily ride this and have almost as much fun as advanced to expert riders would.
Edge Hold: The Yes Pick Your Line offers up pretty strong grip as long as you have more weight on the back foot when riding harder snow. If you don't, you will find this washy on a turn and it could let go on you. In softer snow, it doesn't grab that much so it won't ruin your day and not let go when transitioning from edge to edge.
Turn Initiation: The PYL is really fast and for years this 159 has been one of our favorite choices for riding quickly through tight spots. When you initiate that turn it responds like a 4-year-old after an ice cream but doesn't drive you crazy.
Turning Experience/Carving: With the proper pressure on the back foot when riding groomers the YES Pick Your Line does a solid job carving. In the past, there were a lot of boards out there with less camber out there so the PYL stood out more. Recently, there are a lot of boards out there with more camber going on so the PYL doesn't quite have the spring of some boards like the Flight Attendant or Mullair.  That being said, it is still a strong and competent board to make good laid back turns on and it's still a very rewarding experience.
Speed: The base has upper tier glide and with a little wax, it keeps its speed in most conditions. Then you add the stiffer flex and pretty damp personality underfoot you get a good board for those who want to bomb.
Uneven Terrain: The old YES Pick Your Line can handle micro bumps on hard snow well but not exceptional but it rips through a bump line. If you make a wrong turn or are into bumps the PYL kills it here. It isn't bad either in tracked up snow and chunder. It doesn't buck you around as some boards can. Like I said when talking about the flex the wood top sheet takes a lot of that rubbery personality that you normally feel with a lot of YES boards but it still absorbs what's going on underfoot pretty well.
Powder: I'm super surprised at how well the Yes Pick Your Line floats in the deepest of deep.  It's almost up there with some of my favorite powder specific rides and it's almost devoid of rear leg burn when set all the way back. It's not very set back on side cut but it has a good bit of a set back on board. At 22.5″ wide you can get a difference of 5″ between nose and tail making it 2.5″ back from the center on board. That isn't amazing for a freeride board (only a little further back than all-mountain boards like the Ghost, Standard and YES Not So Basic) but thanks to the taper and big as nose it floats better than some boards I've tried with 3.5″ inches back from the center of the board. If you surf, it feels like a performance thruster that wants to smack the lip as hard as you can. Whatever is going on with this boards design makes the tail sink well and you feel more back on board/slashy/surfy than you would think. It just feels easy and even in up to 3′ of powder I wasn't struggling to keep the nose up. It feels like the exact opposite of boards like the YES Hybrid, Y, and Optimistic which have a wider more cruisy feel in the deep stuff.  One isn't better than the other. It's just different and all about personal preference.
Switch: Doable but not great.
Jumps: Medium to medium-strong pop and it's great for those who want to launch off natural terrain.
Jibbing: Nah…
Pipe: I love riding the pipe with the Yes Pick Your Line because it grabs well and drives very well from wall to wall. Recently the pipe where I ride doesn't have a real vertical lip and it's been super fun to carve the walls with this board.  If you don't ride switch much in the pipe and like a more surfy/slashy directional approach to the pipe then the PYL will be fun.
So all in all the Yes Pick Your Line really makes for a great daily mostly directional driver in about any condition you face on the mountain.
The Yes Pick Your Line has been redesigned for 2016 and has a more directional freeride feel to it even though it has less set back this year. It's also more lively underfoot and not as stiff which isn't bad because the old PYL was pretty stiff. The 2017 is the same as the 2016 model.
2016-2017 Yes Pick Your Line Snowboard Video Review
Here is a breakdown of what is different from the 2016 SWS made Yes Pick Your Line vs.the 2015 GST Yes PYL:
There is a new softer flex that still is fast and aggressive but more dynamic and snappy
The set back changed from -20 to -10 on the side cut but it's still almost -70mm (-2.75″) back on the board which is pretty far back for even a freeride board.
The nose seems bigger than the older models and the tail seems smaller.
There is more taper in the tail
The YES PYL has a new side cut that I think they call "Tapered Underbite".  It's a series of mini side cuts/indention's that improve edge hold as well as help the board hold better on the back end of the board.
So it's only got a little bit of the old PYL personality.  With the revived all mountain Optimistic in the line the PYL could go a little more freeride and be a little more directional in nature.
Size: 159
Days:  10+
Conditions: Good snow to crappy varied spring conditions
Riders: James, Peter, Jimbo
Boots: Burton SLX, Salomon F3.0, Burton Fiend LTD
Bindings:  Burton Diode, Union Atlas, Flux SF
Set Up: Centered and set all the way back. 23″ wide 15 front 0 back and 15 front -9 back.
Approximate Weight: Felt on the light side of normal.
On Snow Feel: There is a different feel this year with the newly designed SWS YES Pick Your Line compared to the older GST made models. At first we all were expecting the old Yes Pick Your Line that felt like it was almost a double ender all mountain ride but this year other than the reduced set back it's got a more tapered surfy freeride feel to it. Most of our crew was not 100% comfortable with it on the first day we rode it but after I had a week with it on my own I started to get it and really like it.  It's just very different than the old ride I was very familiar with so it took some getting use to. It's not catchy but has a great camber feel to it.  It's a nice amount of camber vs. rocker so it's stable and less forgiving.
Powder: The Yes Pick Your Line is a slashy surfy Powder board and I finally got to give it a spin in 1.5 -2 feet of light Sierra Powder. The upgrades to the tech make this a better powder board than the old PYL and it's got a more floaty surfy ride. With the addition of the Optimistic as a set back all mountain board the PYL got a little more directional and tapered making it an easier floating board.  The additional taper tech they call Tapered Underbite, smaller tail and bigger nose will float well in just about any kind of deep snow including the thick Sierra Cement we see. Even though The Yes Pick Your Line only has a -10mm set back on the side cut but the setback on the board is almost -70mm. That means you can get way back on the tail and really surf this board.  It's a very slashy quick ride that excels in the trees or tight spots but it can still straight line a chute no problem or make wide turns on a big open face.  I'm happiest riding this in steep chutes or tight tree lines but it's pretty fun in wide open runs.  If you surf it's like having your favorite short board when it's head high and good shape.
Turn Initiation and Carving: So the 2016 Yes Pick Your Line turns a little quicker and has a little more of a lively spring from edge to edge. If you enjoy making all kinds of turns then the Yes Pick Your Line is a solid choice.  It's not easy to skid turns but its really fun for those who turn correctly.  Carving is fun and if you get a little more weight on the tail as you get more into the carve it really engages and feels good. Before I found that more responsive bindings were better for the PYL but now I'm feeling that the board turns so quickly that all you need is a good shock absorbent medium response binding.
Speed: Still fast and bomby but just a little bit less damp than the previous models. The base has a nice glide to it when waxed that holds it's speed for a while.
Uneven Terrain: More improvement here than past models.  Very good with riding all day at a resort and it weaves in and out of all kinds of messy snow very well.
Edge Hold: There is a noticeable difference in how the 2016 Yes Pick Your Line board grabs with the Tapered Underbite tech and it holds in hard snow without grabbing too much in softer snow. It grabs softer snow more than the older model but still doesn't make it feel sticky.
Flex: Nice snappy medium stiff flex that is easier to butter/press than the older models. The old model use to be very stiff and now this feels more med/stiff which is good. The old board felt a bit too stiff.
Switch: Not as good switch with the more directional design.  Even though the stance is more centered it's not quite as easy switch as it use to be.
Jibbing: No thanks.
Pipe: The edge hold is there and if you are a directional pipe rider I think you might really like this board.  It drives from wall to wall really well.
Jumps: Nice pop off the tail and very good for everything but landing switch.
So all in all the Yes Pick Your Line's factory change allowed them to change up the board a lot and even though we had a bit of a rough start but a really strong finish. It's the kind of board I'd like to have in my quiver and hope to get some slashy surfy pow riding in the trees with it this year.
The 2015 to 2013 Yes Pick Your Line Review
Made in Austria by GST
The Yes Pick Your Line is a great board for anyone who lives for powder days but also loves to carve groomers as well and one of our favorites.  It's got a nice balance between freeride and aggressive all mountain and can make a wide variety of aggressive riders happy.

The newer Yes Pick Your Line models are better built, more expensive, stiffer, has more camber and is more aggressive than the previous models. The production model came from a new manufacturer (GST)and went exactly the opposite way. There camber in the 2013-2015 models extends further past the bindings than in the previous models. Not much has changed between the 2013 to 2015 models. The 2013 and 2015 models are a little bit stiffer than the 2014 but all are very close in terms of flex and ride.
Size: 159 and 161
Days: 15+
Conditions: Everything from hard pack to 3+ feet of thick sierra snow.
Riders: James, Peter, Kyle, Jimbo,Mary and a few others,
Boots: Burton Ion, Burton SLX, Burton Imperial, Nike Kaiju, DC Judge, Nike Zoom Ites, Burton Ruler, Salomon Synapse
Bindings: Burton Cartel, Burton Cartel Limited, Burton Diode, Flux SF45, Burton Genesis, Now IPO, Now Drive
Set Up: Many stances but mostly set back 15-18 front and 0 to -9 on the back.
On Snow Feel: The new GST Yes Pick Your Line has more of a technical riders appeal. It's now got a great bomber groomer carving board feel to it than the older models with less camber. It's still pretty forgiving although not as forgiving as before and it makes a guy who loves powder but also carving up groomers very happy. Very stable and just a little bit catchy like a mellow camber board. Its the kind of board that still allows you to cruise, hit powder make great short radius to carving turns or pick it up to bomb a very steep groomer or chute.
Powder: The GST Yes Pick Your Line has a less pronounced rocker and more pronounced camber which makes it a little more work in powder than the older models. Still I had a few deep days and if it's set all the way back you still get an easy float. It's hard to say what is better. Some will appreciate the extra pop in pow and others will appreciate the extra float. To me this was such an excellent powder board it was worth loosing some float to get the more aggressive camber carving feeling when its not dumping. It makes this more of a balanced board for in and out of powder now.
Turn Initiation and Carving: The new GST made model offers a much more aggressive camber feel to it that gives you more spring out of your turn and it really wants to carve. Short radius to medium radius turns are still quick but they take a little more work to do so. There is a more springy reward out of the turn though due to the camber and it makes the ride a lot more fun all over the mountain.
Speed: The newer Model offers a different base that doesn't seem to be as fast as the older models. It just doesn't have that glide in the flats that it use to but the board is just as damp. The 2014 and 2015 is faster and has more of a glide to it but all are fast when waxed.
Uneven Terrain: This is a pretty stiff board so it's not ideal for those that are use to softer all mountain or all mountain freestyle boards but if you are use to stiffer aggressive freeride boards then this will surprise you and negotiate big bumps you might find on the way to a powder stash very well.
Edge Hold: The edge hold is great for about any condition except for those that ride in hard to icy conditions all the time. It still holds in ice but just doesn't have that deep grip that magnetraction does. That being said it's so much easier to ride in powder than the more aggressive ice specialist Magnetraction side cuts because it doesn't grab when it's thick or softer snow. It's got a "mellow magnetraction" side cut for 2013 and a disruptive" side cut for 2014. They are both a little different but the result is the same great edge hold.
Flex: The GST Yes PYL is more springy but not an easier flexing board. It's got the kind of snappy feel you would expect for a board of this price range. It's not really a butter or press kind of board but instead its an ollie on the mountain and bomb kind of flex. In other words it's a pretty aggressive flex.
Switch: Not the easiest board to ride switch if you compare it to the Yes Jackpot but for a directional freeride board it's got a good thing going. If you center up the stance it's not bad but it's definitely different. Most will ride this set back and most will not ride this switch but if you do set back it's very different.
Jibbing: Not really a board we ever took in the jib park.
Pipe: This could be a great pipe board for those aren't into riding in the pipe switch. It drives well wall to wall and it's edge hold grips.
Jumps: The GST made Yes Pick Your Line has much more spring when it comes to an ollie and offers more pop off a natural feature on the mountain. It's still ok if you center the stance but jumping requires you to be a little more on your game. All of would much rather be on the Greats in this situation. If you are a camber fan you will really like this but if you lean more towards mostly rocker boards you wont.
All in all the 2013-2015 Yes PYL are great rides but each year the ride keeps getting a little better. I think this years PYL is probably the call but it's pretty close.
2012 and Below Yes Pick Your Line Review
Sizes Reviewed- 156, 159 and 161
This video review is of the 2013 Demo Model with less camber so it's going to be more aggressive. This is more like the 2012 model than the 2013.
Days:30+
Conditions: Everything from deep powder to hard pack.
Riders: James (owned the 161) Jimbo, Peter, Mary, Kyle, Eli and a few others.
Boots: Burton SLX, DC Status, Nike Kaiju, Burton Ion, Burton Imperial, Nike Zoom Ites
Bindings: Union Atlas, Burton Diode, Union Force SL, Flux SF 45
Set Up- Most of the time we rode it set back some or all of the way. A few times we centered the stance. We have set the width from 21 inches to 23.5 inches wide and a few in between. Stance angles have been 15 front -12 back, 18 front -9 back 15 front -6 back 18 front -3 back and a few others as well.
On Snow Feel: The PYL is a powder board that could do well when it isn't snowing. It's stable between the feet and it's easy to one foot off the chair or flat base.
Powder: The YES Pick Your Line is pretty much un-sinkable. Even this little 156 handled two heavy guys in over a foot of powder and kept up with people who were riding much bigger boards. Later on we had some powder time with the 159 and 161. The feeling was surfy but not soo off the tail surfy that it felt squirrely. If you surf it was like a surfing a short board compared to most boards being a skate board or wake board. We really liked the way the board was designed to handle powder.  The huge nose could stay a float in almost any depth of powder but it has a very quick turning slashy way about it's self.  We have tested this in anything from trees to tight chutes to wide open faces and in every place it performed admirably.
Turn Initiation and Carving– Really fun to and easy to initiate quick turns.  None of us felt uncomfortable making turns when riding through trees. Making big carving turns in the powder or on groomers is really fun as well.  When it comes to carving the slight Taper is noticeable when making carving turns but not terrible compared to other tapered boards we have experienced.
Speed: A super fast base and super damp board made the Pick Your Line a very fast board. We had no problems with either boards at higher speeds. The fast base keeps the speed in the flats as well as picks up speed rather quickly when you want to start going.  This is one of it's better qualities and both years have it.
Uneven Terrain: All years handle chop extremely well and aren't bad at the end of a crowded tracked up shitty rutted day. Especially for the flex.
Approximate Weight– It felt right in the middle.  Nothing tugging on your knee on the chair but it's not blowing with a light breeze either.
Edge Hold: Tapered boards like this have a tendancy to wash out on the tail some times when you need it. This taper is so minor that there is minimal to no wash out. The mellow magnetraction really increases edge hold and makes this do great in all but icy conditions. In most conditions you want to ride you never feel like it's going to wash out and it's a confidence inspiring ride.
Flex: The 2012 Pick Your Line had more of a heavier old school stiff flex like the YES Optimistic from 2011.
Switch: The nose and tail are pretty different so riding switch is not the same.  Still you can ride switch if you need to.  On a powder day with the stance set back it's average but when the stance is centered or close to it on a groomer day it's pretty good switch. It's still different but you don't feel like it's a tapered ride.  It feels closer to a double ender.
Jibbing– Nope….
Pipe: If you center out the stance more and set it up more like an all mountain board the Pick Your line is a good amount of fun in the pipe.  The edge Hold is pretty solid and it's fun to ride the pipe with. Especially if you are a directional pipe rider.
Jumps: Of course this is great hitting a jump off natural terrain but if you center the stance and hit the park it's not as bad as you would think.   When it comes to ollie power the PYL isn't super springy but it's not completely dead either. We'd say it's on the better side of average.
Overall we were very very impressed with the YES Pick Your Line and felt it's probably one of the better boards in a freeride/powder category.  It makes for one of our most recommendable freeride boards but it also has an all mountain after taste.  For us the more aggressive 2013 model is the call.
A Womens Opinion on the Demo model as well. Treat this like a 2012 model review as well. 
YES Pick Your Line Images

We try to get as many images of the YES Pick Your Line, but forgive us if they're not all there.
2022
2020
2019
2018
2017
2016
2015
2014
2013
2012
YES Pick Your Line User Reviews
Average rating:
10 reviews
Jan 21, 2015
I have to say that my first time out on this board, I had it set up +12/-9 and it was not as responsive as I would have liked. I tweaked the setup and have it set back, with a +18/0 setup, and WOW is all I can say. What a huge difference! Living out in the east, you don't get many powder days, so a lot of hard pack with some ice, and this thing just eats it up! Edge hold is great, and this board carves so nice at speed. This board is meant to be ridden fast. At slow speeds, it just doesn't respond, but as you build up speed, the board wakes up and becomes so responsive. Stability at speed is also excellent, and a real confidence builder. Chunder and hard pack with a few icy patches are nothing for this board. I never felt the tail washing out. I did a lot of research before purchasing this board, and my decision is based on info from the good people at The Good Ride. So a big thank you to all you guys! This is a fantastic site! Keep up the great work.
Jan 4, 2015
The PYL has been an absolute dream this season, especially with all the snow we've gotten in Colorado. I'm riding steep stuff easier and carving with confidence. It floats great and it's been perfect for me. Wife and I live for morning groomers and pow days.



It took a day or two to get used to as an intermediate, but for such an aggressive ride it's very catch free and won't kick your ass if your not on your game.
Feb 11, 2014
My first board of this stiffness/aggressiveness, so it took a little getting used to, but once I did what a blast. This sucker wants to go fast, and is very stable when doing so. It absolutely eats up groomers and set all the way back was super easy to ride in powder. Edge to edge it was pretty smooth and easy in almost all conditions except the most uneven rutted up chop. Base also seems pretty tough as I hit a lot of scary buried treasure and escaped with only minor scratches. Overall great fun.
Oct 6, 2013
Many thanks to JB/the Good Ride. I spent 8yrs riding the Nitro Pantera wide , I wanted to try something new, I consulted the GoodRide went with the PYL (2013). The prefect choice ! Very responsive, good edge hold in poor conditions , versatile but great on powder. No negatives that I can report, it suited my style perfectly. The GR review says it all.
Jun 17, 2013
read all other reviews and you will see the common theme. this board is unsinkable and really delivers. great board super damp with a fast base great carving and incredible value for money. if you could only buy one this is it. from deep pow at baker to long hardpack runs at whistler this board is true to its name
If you can't buy through the links above, you can support the site with: