Soul Pitch Wing 2019-2023 Snowboard Review
| | |
| --- | --- |
| Riding Style | Snowsurf |
| Riding Level | Advanced - Expert |
| Fits Boot size (US) | 8-10, 10-12 |
| Manufactured in | Canada |
| Shape | Tapered Directional |
| Camber Profile | Traditional Camber |
| Stance | Setback over 20mm |
| Approx. Weight | Feels Normal |
| Split | No |
| | |
| --- | --- |
| On Snow Feel | |
| Turn Initiation | |
| Skidded Turns | |
Where To Buy
80% of outdoor sports products are not listed or sold online.
Our team has relationships with hundreds of local snowboarding and outdoor sports shops.
We'll call the shops and email you a list of stores along with pricing and availability.
---
Not sure what to buy?
Get custom advice from Good Ride editors James and Steph.

Get Advice
Soul Pitch Wing 2023 - 2019 Review by The Good Ride
Turn Ons/Swipe Right: Hard Carving, Straight Line Friendly. Damp and Poppy.
Turn Offs/Swipe Left: Pretty technical and unforgiving.
Summary
The Soul Pitch Wing is a very powerful, full camber, down the line, hard carving, technical, front foot oriented kind of ride disguised as a pow board.
Ethics Statement: We don't get paid by the manufacturer to write these reviews and this is our unfiltered opinion. We do make money from the "Where To Buy" links, but this is our best attempt at an honest and objective review from an average riders' perspective.
Soul Pitch Wing 2022-2023 Snowboard Review- How it rides and who it is for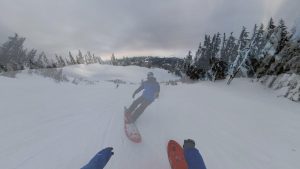 How This Review Happened:
Borrowed this for an extended demo and sent it back.
Size: 157
Days: 3
Conditions: Mostly good groomers but there were some firm areas.
Riders: James (Size 9, 5'10" 185-190lbs) & Davey (Size 12 US, 240lbs, 6'4")
Boots: Burton Kendo, Burton Ion,
Insoles: F.I.T. Gamechangers
Bindings: Union Atlas, Union Force
Jacket: Burton AK Gore-Tex Pro 3L Tusk Jacket, Volcom TDF Infuse 3L Gore-Tex Jacket,
Pant: Burton AK Gore-Tex Pro 3L Hover Pant, Burton AK Gore-Tex 2L Swash Pant
Helmet: Smith Maze
Goggle: Smith 4D Mag
Gloves: Burton AK Guide Glove, Burton AK Clutch Mitt, Drop Tahoma Mitt
Similar Boards (but not the same): Korua Dart, Korua Pencil, Korua Café Racer, Weston Japow, Moss Jellyfish, Gentemstick Barracuda, Season Forma, Soul Shift
Set-Up: 21.5" Wide. Sance Angles +27/+9. Close to Reference.
How It Was Tested
I did same day testing with the Soul Blower and O'Sin 4807
Approximate Weight
The Soul Pitch Wing is pretty light for its surface area and size but not soo light that it would be considered ultralight.
Sizing

For my specs mentioned above the Soul Pitch Wing 157 was a little too big for me but just right for Davey. The 152 would have been right up my alley.  You want to ride this a good bit smaller than your average freeride board. The new construction can handle my weight a lot better than the older Pitch Wing I tried back in 2019.
Here are some ideal US boot sizes for these boards. You can of course go bigger or smaller but these work best for not turning the board slower than it should be and not having the dreaded Toe & Heel Drag.
152: 8-10
157: 10-12
Shape/Camber/On Snow Feel/Ability Level

There is a very tapered, set back, directional, aggressive swallow tail shape to the Soul Pitch Wing. If there is some early rise it is so mellow its hard to detect. To us it felt like full on old school camber with a long nose. This makes for a very technical aggressive ride and it isn't your typical turny swallow tail. It likes a lot of front foot weight when initiating the turn as well as throughout the turn. It will throw you off coming from many set back boards like this that like more of a back foot weighted turn. Just trust us and go all in with the front foot and set it up Posi like +27/+9 or more for it to really come alive.

Flex Personality
So the overall flex of the Soul Pitch Wing is medium stiff. Even the swallow tails are stiff and drivey. There is also a lot of energy inside this construction and it pops hard. What surprised us is it has that same pop of the older Soul Pitch Wing but not the chatter. This is soo much more damp with this new construction. It keeps the edge set in hard micro bumpy snow. I wouldn't hesitate to power through softer messy snow either. There is an excellent balance between pop and dampness and I love this new construction.
Speed/Base Glide

The base of the new Soul Pitch Wing is pretty fast when waxed and it's almost at the top. Even Davey at 240lbs found this to be very damp and really poised at high speed. Unlike many turny swallow tails this prefers a straight line or turns just shy of a straight line.
Edge Hold
Very solid grip and while it isn't a full on ice specialist for average riders, the kind of rider that will buy this will have no problem keeping the edge set in any kind of snow.
Turning Experience/Carving
The Soul Pitch Wing isn't for mellow turny riding. With a lot of front foot weight this just accelerates out of a down the line turn and sends you into the next turn faster than before. On most runs I could only link about 5 turns before having to speed check. This isn't really a circle carver and it even fought me on tighter radius turns like an across the groomer carves. It is still soo rewarding to do what the Pitch Wing wants though. There is massive spring out of the turn.
Powder
You get the Soul Pitch Wing for carving and groomers but by no means do you have to put this away when it dumps. Yeah I'd rather be on the blower or O'Sin 4807 or even the Shift but this still has very competent float. It's very wide, has -11.875" back from center of board at a 20.5" stance width when set all the way back, has a huge nose and a tapered swallow tail that will sink well.
Conclusion
So Davey loved the Soul Pitch Wing in a 157. I felt like the 157 was riding me instead of the other way around and would love to try the 152. This is a unique take on a hard charging carver and this flex personality is special. It isn't for everyone but a technical ripper will get off on this.
Soul Pitch Wing Past Reviews
Soul Pitch Wing 2019 Snowboard Review
The Soul Pitch Wing is a very fun surf-inspired directional carver that really likes forward driving hard carving turns. It's not like any board that I recently tried.  Before you read the description, the swallowtail gives you the first impression that it's going to be a powder oriented board that isn't like the description. However, once you get it on some groomers you know it's a groomer carver with a unique shape and just as Soul describes. After some time on this, we started to have a lot of fun on this technical kind of ride. It's a great board for anyone that sets likes a super directional positive stance set up.
Ethics Statement: We don't do reviews in exchange for compensation from the manufacturer.  No one is perfect but this is our best attempt at an honest and objective review from an average riders perspective.
How This Review Happened:  We borrowed this for an extended demo and then returned it.
Size: 149/150
Days:   3
Conditions:  Some wind affected shallow pow on an early morning slackountry run with Drift Boards. Also, two pretty good groomer days.  2nd day was a little harder than the first.
Riders: James (Size 9, 5'10" 185lbs), and a guest appearance from Ty at Gravity Sports.
Boots: Adidas Tactical ADV
Insoles: Sandsole Custom Insoles
Bindings:  Union Strata
Set Up: 21" wide 27 front +12 back for us. Not 100% on Ty's stance but it seemed like 18 front and -3 back and about 20″
Soul Pitch Wing User Reviews
If you can't buy through the links above, you can support the site with: