Nidecker Megalight 2010-2024 Snowboard Review
| | |
| --- | --- |
| Riding Style | Freeride |
| Riding Level | Advanced - Expert |
| Fits Boot size (US) | 8-10, 10-12 |
| Manufactured in | |
| Shape | Tapered Directional |
| Camber Profile | Hybrid Camber |
| Stance | Setback over 20mm |
| Approx. Weight | Feels Light |
| Split | No |
| | |
| --- | --- |
| On Snow Feel | |
| Turn Initiation | |
| Skidded Turns | |
Where To Buy
80% of outdoor sports products are not listed or sold online.
Our team has relationships with hundreds of local snowboarding and outdoor sports shops.
We'll call the shops and email you a list of stores along with pricing and availability.
---
Not sure what to buy?
Get custom advice from Good Ride editors James and Steph.

Get Advice
Nidecker Megalight 2024 - 2010 Review by The Good Ride
Nidecker Megalight 2024 Snowboard Video and Written Review
Here sits the carefully crafted Nidecker Megalight Snowboard Review from an average rider with extensive and objective board knowledge.
Positives/Swipe Right: Great Pop. Not that chattery for a "Megalight" kind of ride. Fast Base.
Negatives/Swipe Left: Long Flat camber through the back can feel catchy and not as fun out of a carve.
Summary
The Nidecker Megalight is a light poppy versatile ride that is more damp than many other light poppy boards. It has a lot of pop out of the tail on an ollie but can mess a little bit with the radius of the turn.
Ethics Statement: We don't get paid by the manufacturer to write these reviews and this is our unfiltered opinion. We do make money from the "Where To Buy" links, but this is our best attempt at an honest and objective review from an average riders' perspective.
A Breakdown Of How It Rides And Who Its For

How This Review Happened:
Borrowed this for an extended demo and sent it back.
Size: 161
Days:  3
Conditions: Some Great spring pow, Good Groomers and Ok but kinda messy groomers.
Riders: James (Size 9, 5'10" 185-190lbs)
Boots: Ride Fuse, Nidecker Rift Lace, Ride Torrent
Insoles: F.I.T. Gamechangers
Bindings: Union Atlas
Redunancy: Strapins in case boots or bindings break.
Jacket: Jones Mtn Surf Anorak, Jones Shralpinist Stretch Jacket
Pant: Jones Mountain Surf Bib, Jones Shralpinist Stretch Bib
Helmet: Smith Maze
Goggle: Smith 4D Mag
Gloves: Burton AK Clutch Mitt, Burton AK Tech Leather Glove
Similar Boards We Like (but not the same): Amplid Souly Grail, K2 Alchemist, Burton Skeleton Key, YES PYL Uninc, Weston Backwoods, Cardiff Powgoda, Jones Mind Expander
James's Set Up: 21.5" Wide. Close to Reference on groomers +18/+3 and +18/-3.
How It Was Tested
I compared this to the Nidecker Beta APX often but also rode it solo.
Approximate Weight
The 2024 Nidecker Megalight might be a little lighter than the Ultralight and it feels pretty light for a 161. (We don't put in the exact weight because with wood cores there is no consistency in a boards weight)
Sizing

The 161 Nidecker Megalight fit pretty well all around. I've ridden a previous model in the 158 with a little different construction but almost the same specs and it felt a little small. Usually boards like this make me feel too heavy for it but this isn't usually like that.
Here are some ideal US boot sizes for the Nidecker Megalights. You can of course go bigger or smaller depending on your riding style and boot's footprint, but these work best for not turning the board slower than it should be and not having the dreaded Toe & Heel Drag.
158: 8-9
161: 9-10
164w: 11-12
169w: 12-13
For weight I would stay with the recommended weight at Nidecker.
Shape

You have a pretty directional and tapered ride but it doesn't feel like 18mm. It felt more like 8-10mm and doesn't feel as washy as you would think.
Camber/On Snow Feel/Ability Level

The Nidecker Megalight has a decent amount of rocker before the nose, a mellow short camber between the feet and then a long flat area from near the back foot to before the tail. It's a very different feel compared to the other directional camber rides at Nidecker. They are camber almost from the tail to a little past the front inserts. I personally would have preferred that over this flat. It can sometimes have a little bit of a catch to it and mess a little with the turning radius in some conditions.
Flex Personality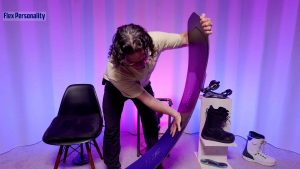 There is a pretty medium/stiff flex with the Nidecker Megalight but man it has pop to it and its not that hard to butter for this flex. The long flat section before the tail isn't the most satisfying for a turn but it sure does pop well on an ollie.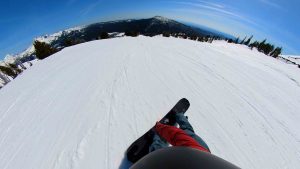 Uneven Terrain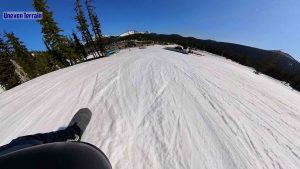 This took me off guard. It is a light poppy ride but handles uneven snow very well for this kind of construction. I preferred the Ultralight better for uneven snow and the Beta APX a little better but this did well in hard microbumpy snow. It's not exceptional but far from a deal breaker in soft snow.
Edge Hold
The Nidecker Megalight has pretty competent edge hold.
Speed
I was surprised at how well the Megalight could straight line in not perfect spring conditions. It's very competent pointing it and it has a balanced sidecut that won't fight you going straight.
Base Glide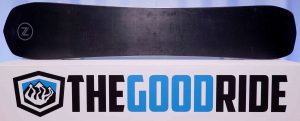 This all black high end Nidecker base just glides easy. I love their bases. Its strange but even though it's the same as the Beta APX I just like this all black base better. Its easier to repair and I think the clear, other colors and die cut bases just aren't as fast even if they have the same rating. This is upper tier and very recommendable.
Turning Experience/Carving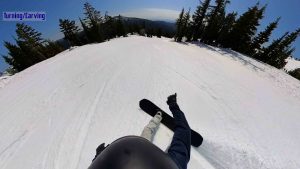 The Nidecker Megalight is quick edge to edge. I felt it snapped quickly when I needed it. When I got it on edge it didn't spring super hard but it was a satisfying turn. I think the flat in the back seemed to effect the radius in the turn. Especially getting off this and then getting on the Beta APX with camber from the tail well past the front inserts. Even though I had to weight turns differently (front vs. back foot weighted) the difference in spring out of the turn was undeniable.
Powder
I didn't get the Megalight in pow but got the Ultralight (same board but different construction) in all types of powder so didn't even need to try this.  At 22.75" wide you can use the set back inserts for both feet and get 5.1255" back from center of board if you have full sized discs. It won't work with mini discs. I think every board should have set back inserts but just make them the same stance width as the reference stance like YES does. It's so special to have that extra float in deep pow and this is better than most freeride boards out there. The Ultralight/Megalight was no dedicated pow board but it sure does float very well.
Switch/Freestyle/Park
I was surprised at how easy this rode switch and again I didn't feel all that set back and taper.
Final Thoughts
So the Nidecker Megalight worked for me. I actually liked it about the same or better than the Ultralight. It didn't buck and bounce me around too much and I was pleasantly surprised. I've been riding Megalights since the early 2000's and I will say, personally, this isn't my favorite version. I really liked the turning experience of the old hybrid camber with no flat in the back and full camber versions better but this is still a very fun ride.
If this review helped, we'd appreciate if you:
Nidecker Megalight Past Reviews
Nidecker Megalight 2018 Review
The Nidecker Megalight is Back in the US after a few years off. I felt like Peter and I were introducing an old friend to the rest of the gang. The only problem was we got on a smaller size.
Other than a few tweaks it's still the same general ride it was back when I owned one in the 2000s and then again in the earlier in this decade. The one thing that stands out now is the addition of setback inserts for powder days that really improve the directional float over the old model. Now you don't have to ride it as centered as you used to.  I'd love to show the gang the 164 but at least the 160 worked well for our friend Ren's specs and he got to know it a little like Peter and I did.
This is a really fun board for those that like a really turny surfy feel that performs well in steep terrain and now has extra float for deep low angle powder. It doesn't have a ton of camber underfoot but it is truly fun to turn.
Ethics Statement: We don't get paid by the manufacturer to write these reviews.  We do make money from the "Where To Buy" links, but this is our best attempt at an honest and objective review from an average riders' perspective.
Size: 160
Days:  1
Conditions:  Pretty warm wet spring snow
Riders: James (Size 9, 5'10" 185-195lbs), Jimbo (Size 11, 5'11" 160lbs), Zobel (Size 11.5, 6' 180lbs, Peter (Size 8, 5'11" 185lbs)
Boots: Adidas Tactical ADV, Burton SLX, Burton Rover, Burton Driver X
Set Up: 22" as wide as it can go 18 front -9 back
2014 Nidecker Megalight Review
Those that know the Nidecker Megalight understand that this is a very fun and unique freeride/powder board. It has a very tapered shape but still rides as well as most slightly tapered or non tapered boards on Groomers. So we'd say it's a powder board with a strong freeride aftertaste. Its still one of our favorite boards but it's soo hard to find these days in the US. What a shame!
Positives: Amazing Float, Stable between the feet. Strong Edge Hold, Great Groomer board as well as a powder board. Really one of the more unique powder/freeride boards we have tried.
Negatives: Hard to find in the US and narrow stance width (max width is 22″). Would like a little more camber.
Size: 163 regular camber with Ultimate Grip and 163 Camrock with Ultimate Grip
Days on the board- 25+
Conditions: Everything from very deep thick sierra powder to hard bordering on icy groomers.
Riders: Mary, James, Peter and a few others not on the sit
Bindings Used- Burton P1, Flux SF 45, Burton Diode, Union Force SL
Boots: Burton Imperial, Burton Ion, Salomon Synapse, Burton SLX, Nike Kaiju
We don't know how they did it but you won't find a board in it's class that rides this well on powder and groomed runs. The Megalight is Nideckers most popular freeride/powder board and we at the good ride feel its one of the better freeride boards we tried. Its a shame riders don't know more about this company in the US. With the exception of the Camrock option little has changed from 2010-2012 but not enough to really talk about. For 2013 and 2014Nidecker added what they call "Swiss Core" which reacts in different ways according to how it's flexed. So if you are leaning into a turn the edge of the board will point down into the snow to give you a more responsive turn and more edge hold. We unfortunately didn't get to try this because Nidecker didn't come to the US this year for demo's. Looks like for 2014 Nidecker has shipped a few Megalights our way so I'll be riding the 2014 again. My guess is I think it will help improve the ride but not completely transform it.
Before 2013 you had options for camber and rocker but for 2013 and 2014 the only option is Camrock wich is a hybrid camber profile that has a lot of rocker and a little camber between the feet Shortly after the bindings the board starts to curve up. It's like a regular cambered board in terms of stability but it doesn't catch like camber. There is also a ton more effortless float than traditional camber. The only draw back is there is less pop. As the years go by and I have experienced a lot of different hybrid camber boards I'd actually like to see a little more camber going on here with the Megalight. I'd say don't change the nose but maybe extend the length of the camber towards the tail and maybe give it a little more camber than 1.5mm. If you want the loose catch free feeling that most rockered boards have this doesn't have that feeling. If you want the same stability as a cambered board and the floatibility of a rockered board try YES and Nidecker's camrock.Here is a diagram from their site.

We were pretty skeptical before throwing down high end burton kind of money to buy the Megalight for what we thought would be just a powder board marketed as an all conditions freeride board. However the first time we took the Megalight out on groomers we knew it was money well spent and Nidecker was right about this being a great powder and freeride board. The more we rode the Megalight the more we fell in love with it. Each condition we rode this in surprised us. It started getting weird and we even made a few runs through the pipe to see if we could find a flaw. Well the Megalight wasn't a dream pipe board but it did rather well going in one direction. This unique freeride specific board is one of the best we have encountered. It's easy and confidence inspiring without being boring.
When it gets super deep the float is practically effortless and super surfy without being twitchy off the tail. A -30mm set back is a lot for an all mountain board but there are many tapered powder boards with a lot more set back than this. It stays surfy and super floaty but still feels stable and centered. There are so many boards with this shape that shine in Powder but few can offer the same experience as the Megalight when the powder is gone. The Megalight is of course very light, really fast and incredibly fun to turn in any kind of condition. We don't get why it rides so well with this kind of shape. What ever Nidecker did to the Megalight shows that they have taken all their freeride knowledge of making boards since 1984 and put it all into the Megalight. Edge to edge transitioning is easy and surfy without being too washy for a board with this much taper. Carving with the older camber model was a dream. The Camrock models aren't as good as the camber models but they still hold well and provide more than you would expect for a board with this much rocker in the tip/tail. I think a little less rocker in the tail would really improve the ride and give it a more camber carving flavor without loosing the super easy directional float. What really surprised all riders is how well you could straight line this surf style board. Despite the semi soft flex the Megalight can bomb any pitch with minimal chatter. Usually super light and damp doesn't go hand in hand but for some reason Nidecker pulls it off.
The Megalight's edge hold is right there with the old Mervin Cambered MTX boards with the more aggressive/pronounced MTX. It can hold on to anything and can be a little grippy when the snow is super soft. It's not as grippy as MTX but you feel it grab a bit in soft snow. What is different about the side cut is Nidecker uses a tech they call Ultimate grip. The serrated edges between the feet bite into the snow like a rabid dog. It's weird and actually doesn't look like magnetraction but more like a chain saw blade between the bindings. You will not see boards similar to the Megalight hang on to the snow like this unless they have Magnetraction. You often hear from other reviews of tapered boards that if the conditions are hard the tail can wash out much easier than other double ender boards. Not once did we experience anything close to this. The only draw back is Ultimate Grip is so close together that a standard edge tuner will slowly file Ultimate grip away. It's not tuneable like MTX. If you take good care of your edges it will last a long time but if you use the edge tuner a lot it will be gone pretty quick.
All in all we feel the Megalight is one of the better powder/freeride boards out there. I'd say my only complaint is I'd like to see the camber extended a bit more towards the tail and also see it a bit higher than 1.5 mm. The Megalight is Nideckers most popular board in the US and owns Europe. Everyone we talk to who has ridden this board smiles first before talking about it. You really can't go wrong with the Megalight for an all conditions freeride snowboard.
Nidecker Megalight Images

We try to get as many images of the Nidecker Megalight, but forgive us if they're not all there.
2024
2020
2019
2018
2014
2013
2012
2011
Nidecker Megalight User Reviews
Nidecker Megalight 2010-2024 Snowboard Review
SKU
UPC
Model
Light, quick, versatile
Jul 05, 2020
by
Ryan Vitt
Ability Level: Expert •
Riding Style: Powder, fast, steep, trees •
Days You Ride A Year: 15 •
Height, Weight And Boot Size (for Boards, Boots & Bindings): 6'2, 185, size 12
This board rips. I've had a 168W from about 10 years ago and I recently got the 164 regular. Nidecker keeps switching up the Mega's specs but I don't think it matters that much as both the 168W and 164 can rip just about anything. The Megalight has what Nidecker calls N-tech and a 3D riding experience, which gives the board a lot of flex in between the feet. For me I find this is an excellent attribute to riding trees. My 164 turns extremely quick and even my 168W was very fast edge to edge. The 164 that I have has a tighter sidecut then the new 2021 model, but I don't think it'll matter too much. For how light this board is and the 3D N-tech, it feels like I'm riding a 150, but floats like a 170 in pow

---
Megalight is the light
Feb 21, 2019
by
Lakis Stratis
Ability Level: Expert •
Riding Style: Freeride •
Days You Ride A Year: 100 •
Height, Weight And Boot Size (for Boards, Boots & Bindings): 5.7 /165 /9.5
Dont get fooled.Buy this board and experience the Nidecker Megalight enlightment.Amazing powder and groomer board.Not designed to ride switch,not desinged to butter.Take it to steep challenging terrain and it will take you to the next level.I ve ridden so many boards,they all feel like planks in comparison.There is always something missing.This board is a magic carpet.

---
Get better when I lose weight
Dec 30, 2017
by
Paul
Ability Level: Advanced •
Riding Style: Free ride •
Days You Ride A Year: 30+
I finally bought the 2016 2017 new this year I dont think much has changed for the 2017 2018 . As in the review ( watched it 2 days after the board was shipped from europe )I agree you need to size up as I also got the 160cm even though my specs were just into the 164cm. My theory was that because I do mostly tree riding the smaller size would turn faster. I am comparing it to my old NS cobra which was a gem for deep tree riding . Thought this board would do everything the cobra did but just a bit better. On groomers yes more stable and faster fun for blasting though I think those extra 4cm would turn it into a rocket ship as you could rail turns even harder without it skipping . The wax is finally starting get in to the super hard base making it even faster. In powder its really fun as speed is kept up . Where the cobra beats it is when you hit those deep pockets in the trees which slow you down. the cobra recovers and gets back on top faster ready for the next obstacle . The megerlite so far requires more effort I am adjusting but i think again the larger size would float more and still turn fast enough again once its on top no problem My bad I really like this board its wicked but harsh knowing i would probably like the larger size better. No choice but to lose weight and make the 160cm specs :)

---
If you can't buy through the links above, you can support the site with: