Nidecker Beta 2023 Snowboard Review
| | |
| --- | --- |
| Riding Style | Snowsurf |
| Riding Level | Advanced - Expert |
| Fits Boot size (US) | 8-10, 10-12 |
| Manufactured in | Tunnisia by Nidecker |
| Shape | Tapered Directional |
| Camber Profile | Directional Camber |
| Stance | Setback over 20mm |
| Approx. Weight | Feels Normal |
| Split | No |
| | |
| --- | --- |
| On Snow Feel | |
| Turn Initiation | |
| Skidded Turns | |
Where To Buy
80% of outdoor sports products are not listed or sold online.
Our team has relationships with hundreds of local snowboarding and outdoor sports shops.
We'll call the shops and email you a list of stores along with pricing and availability.
---
Not sure what to buy?
Get custom advice from Good Ride editors James and Steph.

Get Advice
Nidecker Beta 2023 Review by The Good Ride
Nidecker Beta Snowboard Video and Written Review
You have entered the Nidecker Beta 157 and 162 Snowboard Review from Davey and Biesty here at The Good Ride. 
Turn Ons/Swipe Right: Spoon nose feels great in powder. Great directional float. Carves really hard. Very fun semi-aggressive overall ride for the price. Rides above its price point.
Turn Offs/Swipe Left: Not much to complain about at a sub $500 board.
Summary
The Nidecker Beta looks surfy but acts more like a very set back traditional freeride board. Its a great board for powder and carving.
Ethics Statement: We don't get paid by the manufacturer to write these reviews and this is our unfiltered opinion. We do make money from the "Where To Buy" links, but this is our best attempt at an honest and objective review from an average riders' perspective.
Nidecker Beta 2023 Snowboard Review- How it rides and who it is for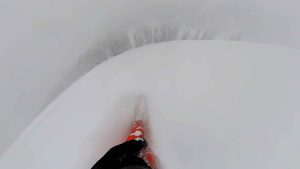 How This Review Happened:
Borrowed this for an extended demo and sent it back but didn't want to.
Size: 157 & 162 (James rode both & Davey only rode the 162)
Days: 15+
Conditions: Late summer snow at Mt. Hood. early season snow at Mt Bachelor. Moderate pow to massively deep pow with the help of the Drift Boards. Lots of other conditions in between.
Riders: James (Size 9, 5'10" 185-190lbs), Davey (Size 12, 240lbs, 6'4")
Boots: Burton Kendo, Burton Ion
Insoles: F.I.T. Gamechangers
Bindings: Union Atlas, Union Force
Jacket: Burton AK Gore-Tex Pro 3L Tusk Jacket, Volcom Guide Jacket, Burton Gore-Tex 3L Treeline Jacket, Jones Peak Bagger Jacket. Burton AK Helitak Gore-Tex Jacket
Pant: Burton AK Gore-Tex Pro 3L Hover Pant, Burton AK Gore-Tex 2L Swash Pant, Burton Gore-Tex Ballast Pant
Helmet: Smith Maze
Goggle: Smith 4D Mag
Gloves: Burton AK Clutch Mitt, Burton AK Clutch Glove, Burton AK Tech Leather Glove, Burton AK Tech Glove, CG Habitats Work Glove, Drop Tahoma Mitt, Drop Web Glove,
Similar Boards (but not the same): YES PYL Uninc, Burton Flight Attendant, Jones Flagship, Rossignol XV, Lib Tech BRD, Weston Backwoods, Season Nexus, Cardiff Bonsai, Prior Spearhead
James's Set Up: 21.5" Wide. Sance Angles +18/-3, +18/+3, +24/+6, +27/+9 back. Close to Reference and Set all the way back.
Davey's Set Up: 23" Wide. Sance Angles +18/-3, +18/+3. Close to Reference and Set all the way back.
How It Was Tested
We tested this a lot by itself but also used this on sampler days comparing it against many different rides to see how it sat on the spectrum in all conditions. Most days we used Burton Ion's, Burton Kendo's, Union Atlas and Union Force's.
Approximate Weight
The Nidecker Beta was pretty middle ground. (We don't put in the exact weight because with wood cores there is no consistency in a boards weight)
Sizing
The Nidecker Beta 157 was great for me in all conditions. I liked the 162 better in deep, clean powder but the magic was gone in all other conditions. The 165 was probably best for Davey's weight but he likes sizing down so the 162 still worked with his boot size and was fun for him.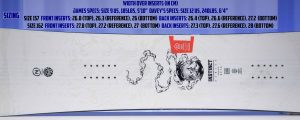 Here are some ideal US boot sizes for these boards. You can of course go bigger or smaller but these work best for not turning the board slower than it should be and not having the dreaded Toe & Heel Drag.
157: 8.5-9.5
162:10.5-12
165 11-12
For weight I feel Nidecker was very conservative with their recommended weight ranges. If you are over the recommended weight worry about if it fits your boot first and then your weight a distant second.
Shape/Camber/On Snow Feel/Ability Level

The Nidecker Beta has a pretty directional/set back shape on sidecut and on board with the long nose. You ride pretty far back on the tail but you don't have a lot of taper so you feel like you are on a set back freeride board. You can drive out of the front foot to centered if you set it up posi or out the back foot if you aren't posi.

The Nidecker Beta's directional camber profile is more on the technical side but there is some early rise and lift in the sides before the nose. It can feel semi locked in but it wasn't too tough to skid turns. I think the lifted sides helped with that. It tracked very well though and didn't feel washy in harder snow.
Flex Personality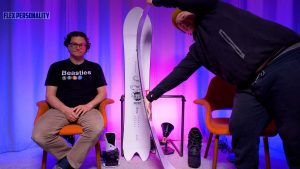 The nose of the Nidecker Beta is pretty soft, the middle is rather stiff and so is the tail. This isn't an easy board to butter. You need to give this a lot to get a lot back. If you do though it pops hard. The spoon nose is a little tough to butter on though.
Uneven Terrain
We both felt that the construction of the Nidecker Beta really did a great job in uneven snow of all types.
Edge Hold

There isn't anything special about the Nidecker Beta's edge hold but it works well in all but really hard snow and ice. Doesn't grab in soft snow either.
Base Glid
e/
Speed
The base glide of the Nidecker Beta isn't bad for this price and when well waxed it kept it's speed well. On a really deep and slow powder day It helped me get out of some flat sections where other riders didn't.
What really surprised me is the dampness of the Nidecker Beta if you want to go straight. It isn't a full-on straight liner but it was very competent for a 157. Davey felt the same with the 162. It isn't a super turny ride either so it didn't feel uncomfortable going straight and fast.
Turning Experience/Carving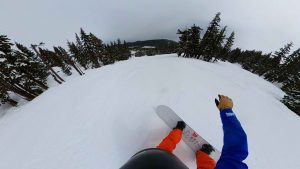 So what surprised me about the Nidecker Beta was it's ability to make all kinds of turns. It really liked down the line narrower s-turns that help you build speed. It was also at home driving hard across the groomer carves. Circle carves were definitely doable but they weren't super tight. The 157 (best for my specs) turned pretty fast edge to edge and it would be quite at home in some tight tree lines. The spring out of the turn was pretty good and the more you leaned into the turn the more it gave back. I had equal fun carving hard off the front foot +24/+6 and off the back foot at +18/-3.
Powder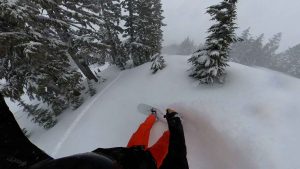 I got the 162 Nidecker Beta in deep and light pow that was hard to keep your speed and then the 157 in up to 1' of thicker easier to ride in powder. The 162 felt like a dedicated pow board but it was tough to ride when the conditions got tracked up. The 157 (best for my specs) was no slouch but it didn't feel like a dedicated pow board. Just a very good freeride board. If you favor directional riding and only can get one board this is a great choice. The spoon nose isn't very noticeable on groomers but really comes alive in powder making the turning experience really smooth and fun.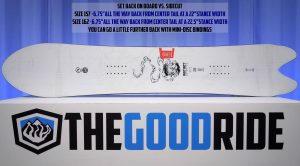 You also have a set back on board of -6.75" at a 22" stance width for the 157 and 22.5" for the 162. The mini swallow tail seems to help too but doesn't feel like the more exaggerated swallows that can bottom out easier than other boards. The 8mm taper seems to help a bit too but you don't get that super tapered surfy feel like some boards do. Still, it is pretty surfy/set back if you set it all the way back.
Conclusion
So Davey and I both had a time on the Nidecker Beta and felt this was a great time in all conditions. This is a very recommendable and versatile board for this price point.
If this review helped, we'd appreciate if you:
Nidecker Beta User Reviews
If you can't buy through the links above, you can support the site with: