Never Summer Swift 2015-2024 Snowboard Review
| | |
| --- | --- |
| Riding Style | Snowsurf |
| Riding Level | Beginner - Expert |
| Fits Boot size (US) | 8-10 |
| Manufactured in | USA by Never Summer |
| Shape | Tapered Directional |
| Camber Profile | Hybrid Rocker |
| Stance | Setback over 20mm |
| Approx. Weight | Feels Normal |
| Split | No |
| | |
| --- | --- |
| On Snow Feel | |
| Turn Initiation | |
| Skidded Turns | |
Where To Buy
80% of outdoor sports products are not listed or sold online.
Our team has relationships with hundreds of local snowboarding and outdoor sports shops.
We'll call the shops and email you a list of stores along with pricing and availability.
---
Not sure what to buy?
Get custom advice from Good Ride editors James and Steph.

Get Advice
Never Summer Swift 2024 - 2015 Review by The Good Ride
Never Summer Swift 2024 Snowboard Video and Written Review
Here is the carefully crafted Never Summer Swift Snowboard Review from an average rider with extensive board knowledge and an exceptionally objective perspective.
Positives/Swipe Right: Upper tier float. Fast Base. Carves hard on that back seat camber
Negatives/Swipe Left: Feels loose in hard snow. Doesn't drive well on the front foot on groomers.
Summary
The Never Summer Swift is the most directional tapered board in Never Summers Line and their Colorado solution to powder riding. There have been some slight tweaks with the 2024 model vs. the older model but overall it still has a very similar feel to it.
Ethics Statement: We don't get paid by the manufacturer to write these reviews and this is our unfiltered opinion. We do make money from the "Where To Buy" links, but this is our best attempt at an honest and objective review from an average riders' perspective.
A Breakdown Of How It Rides And Who Its For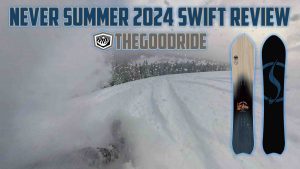 How This Review Happened:
Borrowed this for an extended demo and sent it back.
Size: 158
Days: 4+
Conditions: Ok pow, pretty good pow, a few groomer days and an early morning slackountry time with Drift Boards & Union Rovers
Riders: James (Size 9, 5'10" 185-190lbs)
Boots: Ride Fuse, Burton Kendo
Insoles: F.I.T. Gamechangers
Bindings: Union Atlas
Jacket: Jones Mtn Surf Anorak, Jones Shralpinist Stretch Jacket
Pant: Jones Mountain Surf Bib, Jones Shralpinist Stretch Bib
Helmet: Smith Maze
Goggle: Smith 4D Mag
Gloves: Burton AK Clutch Mitt, Drop Tahoma Mitt,
Similar Boards We Like (but not the same): Korua Dart, Korua Café Racer, Weston Japow, Moss Jellyfish, Gentemstick Barracuda, Soul Shift, Nidecker Beta
James's Set Up: 21.5" Wide. Sance Angles +18/-3, +18/+3, +24/+6. Close to Reference on groomers, set all the way back on groomers and Set all the way back in powder.
How It Was Tested
I often rode the Never Summer Swift against the Valhalla but also compared it to the Burton Straight Chuter. Used the same bindings, boots and took the same runs. Yeah it's a touch boring for me but its better for you.
Approximate Weight
The Never Summer Swift is pretty normal in weight. (We don't put in the exact weight because with wood cores there is no consistency in a boards weight)
Sizing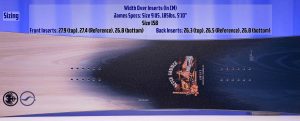 The 158 fit me really well just like the old Never Summer Swift 157 did. I don't really need more for my weight and my size 9 boots could turn it. Matched up well with my height too. I could go 162 if I was riding super deep snow a lot and was ok with a little slower turn initiation but this 158 felt right as a daily driver.
Here are some ideal US boot sizes for these boards. You can of course go bigger or smaller depending on your riding style and boot's footprint, but these work best for not turning the board slower than it should be and not having the dreaded Toe & Heel Drag.
153: 8-9
158: 9-10
162: 9.5-10.5
For weight I would stay close to Never Summer's recommended weight ranges. If it comes down to boot size or weight, I would make sure it fits your boot first and then your weight a close second. That said NS makes a very well built board that can handle more weight than they say so you can go over and its not as bad as some companies.
Shape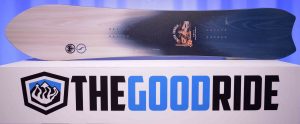 The new shape of the Never Summer Swift was very similar to the old one but its just a little wider in the nose/tail and 1cm longer. It feels very similar but I prefer this a little better. Its very directional and set most freeride boards but not compared to many snowsurf boards. What gives it that snow surf feeling is how much it likes you to really lean back into that tail like you do when you turn on most surfboards.
Camber/On Snow Feel/Ability Level

The Never Summer Swift is very forgiving with this directional hybrid rocker. It feels loose in harder snow but tracks well enough in softer snow. If you don't like that auto-spinny feel boards with rocker between the feet have this might be a pass.
Flex Personality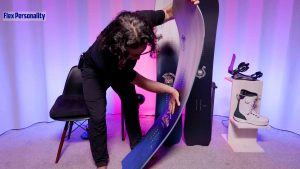 The Never Summer Swift is medium stiff but I would say has the easiest flex point right in the middle. It feels medium there where with most that is the stiffest place on the board. If you are center weighted when turning through slightly uneven snow the Swift will flex in a way that scrubs speed. If you lean back into that camber in the tail though it performs better. That is where all the pop is on this board anyways. There is good pop too and this butters rather easy.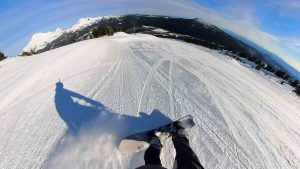 Uneven Terrain
The Never Summer Swift is a damp ride. NS just makes damp boards that absorb chatter despite all the slappy/clown shoe occurrences from the tip/tail being so high off the ground. You can ride this all day in any uneven conditions.
Edge Hold
The Never Summer Swift doesn't grip like the new Tripple Camber tech but it is more than competent in hard snow.
Speed
The Never Summer Swift can point it well enough but keep an edge slightly engaged and you are good to go. Laying the base down flat can make it feel a little loose.
Base Glide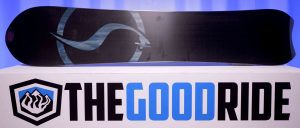 Always been impressed with Never Summer Bases and the Swift is no exception. Such easy glide. Great for a long traverse when well waxed.
Turning Experience/Carving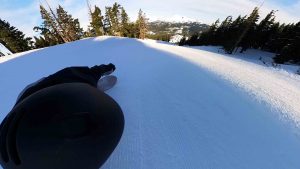 So the Never Summer Swift only prefers back foot weight to keep it from washing and drive out of a turn. Front foot weighted turns kept washing out for me but back foot turns came alive. After I initiated the turn, I would lean back into that tail and really engage that camber. When I did it carved very well and was super satisfying. Its interesting that I got rear leg burn on groomers but none in pow.
The overall turning experience was more turny despite that 8m sidecut. I think the rocker in the middle makes the sidecut feel tighter than it is.
Powder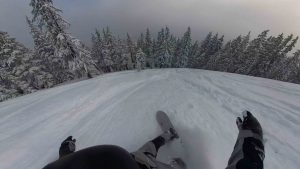 I didn't get that super easy, super set back off the tail feel from the Never Summer Swift like I do with some dedicated pow boards or snowsurfers but it floated very well. It also had a more slashy nature than any NS board out there while still not feeling like you are so back on the tail you don't want to get air or ride steep terrain. For me it felt a little like a forgiving big mountain snow surfer.
Final Thoughts
So overall, the Never Summer Swift had a nice design tweak and I felt I picked up where I left off with the old shape without missing a beat. I would say that this is a great choice for those that want to dabble with the snowsurf world but want something more forgiving.
If this review helped, we'd appreciate if you:
Never Summer Swift Past Reviews
Never Summer Swift 2016-2020 Snowboard Reviews
The Never Summer Swift is a huge improvement over the old Summit and we like this ride much better. It's got a very easy float to it and it's very durable. It can also hang pretty well on groomers which is great because not every turn can be in powder.
Ethics Statement: We don't get paid by the manufacturer to write these reviews.  We do make money from the "Where To Buy" links, but this is our best attempt at an honest and objective review from an average riders' perspective.
How This Review Happened:  
We borrowed this for an extended demo and then returned it.
Size: 157
Days: 5+
Conditions: Everything from a tracked out messy pow day to pretty good mid-winter groomers to some pretty deep powder along with some early morning slackountry time with Drift Boards.
Riders: James (Size 9, 5'10" 185-195lbs), Peter (Size 8, 5'11" 185lbs)
Boots: Adidas Tactical ADV
Insoles: Sandsole Custom Insoles,  Footprint Insole Technology Gameghangers Low Profile
Bindings: Union Atlas, Union Strata, Union Falcor
Similar Boards (but not the same) That We Compared This To:
Capita Spring Break 158 Powder Glider, Capita Spring Break 161 Tree Hunter, Jones Mind Expander
Gentemstick Mantaray 156, Korua Dart, Korua Pencil, Rome Pow Division MT,
Set-Up: 21.5″ to 22" Wide. 21 front 0 to -6 back. Close to Reference and Set all the way back.
Approximate Weight:
Feels normal and very well built.
Sizing:
The 157 is wider than you would think for a board that fits a size 9 boot but it did a great job. I thought the 152 might fit us better but after riding the 157 that's for sure the one. These boards seem like they are best for size 8-10 boots and can handle most weights. The 162 seems like it could push a little bit past size 10 but it depends on the footprint.
Flex/Buttering:
The Never Summer Swift is pretty stiff but the board does flex a little more in the middle than the tip/tail. That and the rocker/pre-bend up make it easier to butter than you would think by flexing it in the shop. Never summer has a great balance between pop and dampness. It has this super damp rubbery feel that insulates chatter underfoot incredibly well but then has a surprisingly poppy personality underfoot that really snaps and pops.
On Snow Feel/Ability Level/Skidded Turns:
The directional hybrid rocker profile makes for a pretty loose feel in harder snow but in softer snow, it feels semi-stable. It likes to be on edge one footing and doesn't flat base super easy. It has a very easy ride to it though and it's super easy for almost any ability level to ride it. You can skid turns all day if that is what you want to do but it comes alive if you lean into the tail  has an on the back foot kind of ride for groomers and a pretty easy ride when it comes to rear leg burn in powder. The Never Summer Swift doesn't have a super tapered feel in comparison to some of its peers with the same amount of taper (around 20mm) but when you want it can still really slash/surf it up on groomers as well as powder.
Edge Hold:
Very competent edge hold that can handle hard snow well enough but isn't really an icy snow specialist.
Turn Initiation:
Both Peter and I thought the Never Summer Swift would have been slower edge to edge on groomers and on powder but it really turned well. It turned more med/fast in powder but was a little bit slower edge to edge on groomers but overall it borders on being medium/fast for quick turns. What we liked is it could make hard rights and lefts in tree runs and would be almost as fast. This might be a touch slower than some Never Summer boards but overall this turns pretty fast in comparison to the rest of the industry. Maybe the rocker in the middle helps it turn faster.
Turning Experience/Carving:
So it has been a while since we rode the Never Summer Swift and we both were really surprised at what a fun turning experience we had. If you put a good bit of weight into the back foot and engage that healthy bow of camber back there it really had nice drive out of a turn and carved pretty hard. It's the kind of ride that you don't have to put away after the powder is gone and that's why we say boards like these aren't just powder boards. The only time we didn't like the Swift was in tracked up powder that was getting messy and bumpy. We felt it just didn't drive through the turns as well as some of the other boards we rode which is more of a turning complaint than an uneven terrain complaint.
Powder:
This wider shape really sat the entire board on top of the powder well and it made some of the deeper snow clips we got on camera look less deep. It really had a good float to it that was close to some of the floatiest powder boards we have ever ridden. At a 21.25″ stance width you can get a difference between nose and tail of 9″ or 4.5″ back from the center of the board. That's pretty far but it still feels like you have lot's of tail left for getting air without it getting too weird.
Speed:
Very damp and the only thing holding the Never Summer Swift back from being faster is the rocker between the feet seems to make the board chatter more than you would think. The base is super fast and has a really easy glide to it so it can get you out of those long traverses in or out of your off-piste run.
Uneven Terrain:
So the Never Summer Swift really shines most of the types of uneven terrain you come across. It is super damp and in more groomer oriented bumps/messy snow it did well. Same for micro bumps and overall the Never Summer Swift really did an exceptional job at insulating what was happening below your feet. It could also easily turn around or power over bumpy shit.
All in all the Never Summer Swift was a great job in almost any condition and other than it's inability to drive turns really hard in messy powder it did a great job everywhere else. It is a very recommendable board for those that want more directional set back riding on groomers and want to have a board that can handle the deepest of deep.
Some Really Old 2015 Never Summer Swift Reviews and comparisons
Never Summer Swift Images

We try to get as many images of the Never Summer Swift, but forgive us if they're not all there.
2024
2020
2019
2018
2017
2016
Never Summer Swift User Reviews
Never Summer Swift 2015-2024 Snowboard Review
SKU
UPC
Model
Perfect Colorado board
Mar 11, 2020
by
Jordan
Ability Level: Advanced •
Riding Style: Carving/Freeride •
Days You Ride A Year: 30
The good: The way this board is built the float is great! The nose points up and never ever sinks. The board itself is fairly maneuverable and I was easily able to weave in and out of bumps.
What took me by surprise is the tail. It's way stiffer than I thought. Lot's of pop and stability on the tail. I love the way this board carves.
The bad: yeah so it's not very stable at speed, typical Never Summer though it is better than the West. I call it a perfect Colorado board since the snow here is not very hard. This board has great edge hold for Colorado but I would not trust it on an icy East Coast run.
I think this board is very much like a Korua Dart but has better float and not as stable when bombing.
I honestly love it!

---
Fun but limited
Nov 30, 2017
by
Jason
Ability Level: Advanced •
Riding Style: Looking for powder •
Days You Ride A Year: 30 + •
Height, Weight And Boot Size (for Boards, Boots & Bindings): 5'-4" 175 lbs size 9
I'm an East coaster and I bought this board for my trips to Jay peak. And the few local dumps that we get. It is super fun when its deep, but I rode it 85 percent of last year as my groomer board. I would switch to my coda or westmark when it got icy and shitty. Definitely washy in icy conditions. I did have it up past 50 mph in good conditions. Really fun in chopped up soft snow and spring conditions and of course the deep.

---
If you can't buy through the links above, you can support the site with: