Lib Tech BRD 2020-2023 Snowboard Review
| | |
| --- | --- |
| Riding Style | Freeride |
| Riding Level | Intermediate - Expert |
| Fits Boot size (US) | 8-10, 10-12 |
| Manufactured in | USA by Mervin |
| Shape | Tapered Directional |
| Camber Profile | Hybrid Camber |
| Stance | Setback over 20mm |
| Approx. Weight | Feels Normal |
| Split | Comes in split |
| | |
| --- | --- |
| On Snow Feel | |
| Turn Initiation | |
| Skidded Turns | |
Where To Buy
80% of outdoor sports products are not listed or sold online.
Our team has relationships with hundreds of local snowboarding and outdoor sports shops.
We'll call the shops and email you a list of stores along with pricing and availability.
---
Not sure what to buy?
Get custom advice from Good Ride editors James and Steph.

Get Advice
Lib Tech BRD 2023 - 2020 Review by The Good Ride
Turn Ons/Swipe Right: Great grip without being grabby. Great directional float for C3. Great directional one board quiver.
Turn Offs/Swipe Left: Base needs constant waxing and isn't super fast.
Summary
The Lib Tech BRD has a thirsty base that always needs waxing but all else about this pretty tapered, directional board is hard to fault. Not much has changed about the board when I first rode it in 2019. In 2023 it just has new graphics and a new top sheet.
Ethics Statement: We don't get paid by the manufacturer to write these reviews and this is our unfiltered opinion. We do make money from the "Where To Buy" links, but this is our best attempt at an honest and objective review from an average riders' perspective.
Lib Tech BRD Snowboard Review in 2022-2023- How it rides and who it is for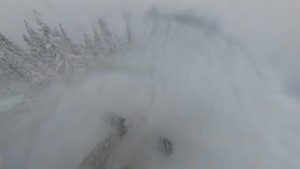 How This Review Happened:
Liked it soo much I kept it for many years. It became a board I often rode in my free time.
Size: 159 and 162w
Days: 15+
Conditions:  Everything from really good groomers to hard snow to 2' plus of powder. Even had some early morning slackountry time with Drift Boards & also owned/rode the Split BRD 159 which you see in the video reviews.
Riders: James (Size 9, 5'10" 185-190lbs), Peter (Size 8, 5'11" 185lbs), Nick (Size 10, 160lbs, 5'8"), and Clint our split reviewer
Boots: Burton Kendo, Burton Ion, Burton Tourist, Burton Imperial, Burton SLX, Adidas Tactical ADV
Insoles: F.I.T. Gamechangers, F.I.T. Gameghangers LP
Bindings: Union Atlas, Union Force, Union Strata, and some other bindings I don't remember.
Jacket: Burton AK Gore-Tex Pro 3L Tusk Jacket, Volcom TDF Infuse 3L Gore-Tex Jacket, Burton Banshee Gore-Tex Jacket
Pant: Burton AK Gore-Tex Pro 3L Hover Pant, Burton AK Gore-Tex 2L Swash Pant, Burton Gore-Tex Ballast Pant
Helmet: Smith Maze
Goggle: Smith IO Mag, Smith 4D Mag
Gloves: Burton AK Guide Glove, Burton AK Clutch Mitt, Burton AK Clutch Glove, Burton AK Tech Leather Glove, CG Habitats Work Glove, Drop Tahoma Mitt
Similar Boards (but not the same): Cardiff Powgoda, Yes Pick Your Line,  Burton Flight Attendant, Jones Flagship, Rossignol XV, Lib Tech BRD, Weston Backwoods, Cardiff Bonsai, Prior Spearhead, Burton Cartographer, Burton Instigator
Set-Up: 21.5" Wide. Sance Angles +18/-3, +18/+3. Close to Reference and Set all the way back.
How It Was Tested
I tested this against a wide variety of freeride boards on same day samplers and used it to compare other boards to
Approximate Weight
The Lib Tech BRD is not super light and lives a touch on the heavier side of medium. I don't mind this at all though.
(We don't put in the exact weight because with wood cores there is no consistency in a boards weight)
Sizing
For my specs, listed above, the Lib Tech BRD did really well in a 159. The 162w did really well too which isn't usually the case for size 9 boots so you can ride the 162w really easy if you are a size 10.
Here are some ideal US boot sizes for these boards. You can of course go bigger or smaller but these work best for not turning the board slower than it should be and not having the dreaded Toe & Heel Drag.
156: 7.5-8.5
159: 8.5-9.5
162w: 10-11
167w- 11-12
Shape/Camber/On Snow Feel/Ability Level
There is a good bit of taper with the Lib Tech BRD. It has about 18mm which is quite a bit compared to many freeride boards. It likes a lot more back footed weight when riding compared to most tapered directional boards in Lib Tech's line. Other than the Rocket and Orca, there aren't many boards with taper at 15mm. It isn't super set back on board even though it is on sidecut.
The Lib Tech BRD, Box Knife (super different board though) and Rocket are the only boards I have tried (tried almost the whole line) that have C3 with Early Rise. The rest are almost full on camber with only a passive bend in the middle. That early rise well before the nose and just a touch before the tail really mellows out the ride making it less catchy. Coming off the Dynamo or Gnu Banked Country and getting on this you really feal it. I would say it is more like most hybrid camber boards out there but just with another passive bend between the feet. It has a stable ride that is consistent in all conditions, skids a turn pretty easy, one foots really well off the chair and flat bases really well on long flat areas.
Flex Personality
The overall flex is medium stiff but the Lib Tech BRD is pretty stiff in the tail, stiff between the feet and medium in the nose. Still the tail isn't hard to butter and the nose is easier. What I like the most is how easy it is to access the pop and it loads really well just past the insterts where the camber ends. You also get a lot of pop off the tail. It isn't as springy as full on C3 but it is by far more forgiving.
Speed/Base Glide
You don't get the most bomby board with the Lib Tech BRD but I had no problem straight lining for short periods. There is a little clown shoe effect like most boards with rocker before the nose but it is very managable. The base is one area where the BRD let me down. It got thirsty quick and I found this board needed more waxing than most of the boards in my quiver. Lib Tech does soo many things well but making a faster base would be one area where they could improve.
Edge Hold

So the Lib Tech BRD has pretty strong edge hold but it isn't full on Magnetraction. I think they used to call this .5 MTX. It grips very well in hard snow but doesn't grab as much in softer snow. For me, it works well in every type of snow I like to ride. 
Turning Experience/Carving
So when I ride the Dynamo, or Ejack Knife or Banked Country or other full on C3 boards with little to no early rise, I feel like I've downgraded when carving with the Lib Tech BRD. That being said, those are pretty special carvers and this BRD is no slouch by any means. I can still rail a very hard turn with this. Wish I had footage from some of my personal days on this ride because it really drives through a turn well. This also has a very turny type of feel underfoot that turns quickly in tight spots or in the trees. It slashes well and definitely likes more back footed turns on groomers. It doesn't freak out either if you want to make more down the line s-turns just shy of a straight line either. Definitely on the turny side of balanced though. 
Powder
So where you don't get the turning experience of full C3 on groomers you get it back here in powder. The Lib Tech BRD floats really well. It isn't a bottomless ultra deep performer but it does very well. You can get -3.625″ back from center of board at a 22.5″ stance width so it isn't like those ultra set back snow surfers but its pretty good for a more traditional freeride board. The 15mm of taper and that early rise before the big nose really help with the float too. It's just a little shy of being a dedicated pow board but excellent for those who want a directional one board quiver. 
Conclusion
So other than the base, it is hard to find fault with the Lib Tech BRD. I have thoroughly enjoyed it over the years and find myself recommending it a lot. It was pretty fun to ride the split version too. 
If this review helped, we'd appreciate if you:
Lib Tech BRD Past Reviews

Turn Ons/Swipe Right: A fun turning, forgiving hybrid camber, ride with great float.

Turn Offs/Swipe Left: Not ideal if you like to bomb or want almost full camber from tip-tail.

The Lib Tech BRD has been around in a split and now comes in a solid 2020. It has a short C3 camber profile going just past the bindings with a good bit of rocker before the nose and even some in the tail. We had a great time on this in everything from powder to spring groomers.

Ethics Statement: We don't get paid by the manufacturer to write these reviews.  We do make money from the "Where To Buy" links, but this is our best attempt at an honest and objective review from an average riders' perspective.
The Lib Tech BRD Snowboard Review – How it rides and who its for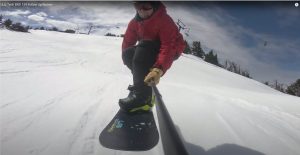 How This Review Happened:  We borrowed the 159 for an extended demo. We had a couple of laps on the162w at a frantic manic demo day.
Size: 159 and 162w
Days: 6+
Conditions:    and an early morning slackountry time with Drift Boards.
Riders: James (Size 9, 5'10" 185-195lbs), Peter (Size 8, 5'11" 185lbs)
Boots: Adidas Tactical ADV
Insoles: Sandsole Custom Insoles,  Footprint Insole Technology Gameghangers Low Profile
Bindings: Union Atlas, Union Strata
Similar Boards (but not the same) That We Compared This To:  Yes Pick Your Line, Burton Flight Attendant, Gnu Mullair, Jones Flagship, Lib Tech Lost Round Nose Fish, Never Summer West Bound, Rossignol XV
Set-Up: 22" Wide. 21 front -6 back. Close to Reference and Set all the way back.  22" Wide. 15 front -15 back.  Centered.
Approximate Weight: Feels on the light side of normal.
Sizing: The 159 felt great for my 9 feet and did well with my 185lbs and it feels like it could handle 8-10 boots easier.  If you are a lighter rider you should have no problem handling this. The 162w was super easy to handle and we were both surprised how well this mid/wide turned for our boot sizes. If you run on the heavier side,  it can probably handle your weight but it will make the boards personality loose a little more energy underfoot.
Flex/Buttering: The extra early rise in the nose and tail seem to make the Lib Tech BRD butter better than you would think for its mediumish flex. It feels softer than the Gnu Mullair and Flight Attendant for sure. Even thought the Lib Tech BRD feels a little softer than some boards it has a lively pop to it. Mervin(Lib-Tech/Gnu) boards have this personality that is unique in the industry. They almost always produce a lively board. The personality of the wood core really comes out more than other boards and you can feel that underfoot. That new top sheet also seems to help with giving the board some more energy underfoot despite having less camber than many other C3 boards.
On Snow Feel/Ability Level/Skidded Turns: The hybrid camber profile with the Lib Tech BRD really has a lot more rocker before the nose/tail than most C3 boards. Of the boards we rode, only the Lib Tech Box Knife and the Lost Rocket have a similar forgiving camber profile. You can skid turns easier with the Lib Tech BRD without catching an edge. I think an athletic or quickly progressing intermediate can handle this no problem. There is a pretty surfy feel that likes more back foot weight on groomers but doesn't have rear leg burn in powder.
One footing is easy off the chair and so is  flat basing down long flat cat tracks too. Check the pic of the BRD stacked on top of the Mullair with what we are talking about. It is more like hybrid camber than C3 and maybe it deserves its own name like C3F (Float) or C3.1.

Edge Hold: The magnetraction is pretty mellow but it still has a competent grip in harder snow. What is cool is it isn't grabby in softer snow. If you want more grip in icy snow you can find it in the XV but it grabs hard in softer snow.
Turn Initiation: The Lib-Tech BRD is super-fast edge to edge but isn't twitchy or hookey.  It is the kind of board I'd like to have when I'm in tight spots like a dense tree line or steep narrow chute.
Turning Experience/Carving: So boards like the Mullair, Burton Flight Attendant have more camber and spring out of the turn. However, the Lib Tech BRD has more camber than the YES PYL, Jones Flagship and XV. It is a great compromise between having good float and forgiving rocker while still having a springy turn. You can carve pretty hard with this. It is washy if you try to ride it centered but it's not too washy in comparison to some boards I rode with the same taper.
Powder: Extra rocker in the nose, 15mm of taper into a short tail and the set back on board really make the Lib Tech BRD a great floater. At a 22.5″ stance width set all the way back you a setback on board of 3.625″.  That is really good. In the 1.5 feet of powder we had, it felt like the Lib Tech BRD 162w wasn't even trying and it had great float. The 159 I own isn't as magical but it fits my specs much better. You need some back foot weight compared to some dedicated super floaty pow boards but its no slouch by any means. The tapered tail sinks well and keeps that bigger nose with some early rise up. It felt quick and pretty slashy and it was easy to manage a tight tree line.
Speed: Pretty good speed but it isn't a bomber. The Lib Tech BRD has some chatter in the nose. The 162w didn't have as much but it wasn't matched up properly for my specs. The base has good glide to it. Not top tier but definitely upper tier and it does not need to be waxed pretty regularly.
Uneven Terrain: This Lib Tech BRD just jams through a bump line and I love how it weaves through them. There isn't a chunder buster vibe though. It's somewhat light/snappy flex can also feel a little bucky in micro bumpy hard snow but it's more on the middle of the spectrum. Should be fine for those that ride all day at a resort that can get crowded and messy.
Switch: Doable but not ideal.
Jumps: There is really strong pop and this is fun to hit a natural little jump with. It has enough tail to land well and it's a great board for those that like to get some air off natural terrain.
Jibbing: Nah….
Pipe: Yeah it works in the pipe as long as you like a more directional pipe experience.
So, all in all, the Lib Tech BRD takes is a nice compromise between giving you a stable forgiving camber like feel in all conditions while still floating super well in powder. It is a great directional daily driver.
Lib Tech BRD User Reviews
Lib Tech BRD 2020-2023 Snowboard Review
SKU
UPC
Model
Review is Spot On
Jul 19, 2021
by
Kyle
Ability Level: Advanced •
Riding Style: EC Groomers, Trees for days •
Days You Ride A Year: 12 •
Height, Weight And Boot Size (for Boards, Boots & Bindings): 5'9" / 190lbs / Size 10.5
Really great board all around. Worth the $$. You get a unique, exciting feel even on the groomers. Phenomenal pop with definitely a surfy vibe. The bigger frame on the 159 regular gives you a ton a stability while not feeling too big or overpowering. The catch on icy conditions is spot on too, minimal release when checking your speed aggressively. I hit Okemo in New England the most and this board covers those variable conditions well. Haven't been fortunate enough to hit a ton of power on it, but what I was able to hit on 2 powder days last year showed the board's strength well (On a trip to CO and another Pow day in New England). You float right on top with no muscle burn on the back leg. I switched up the bindings way back one day too, man I can only imagine how dope that would be on a 2ft powder day staring down an open bowl.

---
True Love is real
Sep 11, 2019
by
Greg Banson
Ability Level: Won a dozen small comps last century •
Riding Style: Pow till it's gone then rail groomers •
Days You Ride A Year: 35 •
Height, Weight And Boot Size (for Boards, Boots & Bindings): 6 ft, 170lb, 10.5 US Burton Ruler Wide (with pain) Rome SDS Boss
I'm just getting back into snowboarding at 42 and I love life again. I hired boards and borrowed boards and decided to lay down my hard earned cash on the sickest board for me in the universe. I wanted a daily driver that would be perfect for my epic JAPOW mission in 2020 and for riding in Australia where I live. I made a chart of all the measurements of the 2020 Mervin boards and came up with the BRD. After seeing THE GOOD RIDE review I brought the board. In 25cm of heavy Aussie pow, 10 cm more the next night and then three bluebird days, I was in heaven. I was standing up in toeside carves like I was on a race board. Slashing and carving on sidecountry changed my whole plan for Japan. (Might need the split to!) I hit a few sidehits but I'm only working my way back into 180 grabs because I can't get injured I'm a labourer. But, the bird poped and floated so predictably and solidly that it was already an extension of my body. The effective edge, 119 cm, isn't to much and I took it into stupidity dense Aussie snow gums chasing the pow pow and worked my way through to the stashes for slashes. On the goats trails back to the lifts I was faster than my mates. I was scared of the stiffness and the early rise on groomers. I didn't catch an edge in five days and I went to fast a lot. Gunbarrel at Hotham was epic. Flying into the gully knowing if you can hang on and make it up the other side you can loose speed and then turn back in to charge to the other side. This board is so good I've taken the buildings off so I can see it better. I know I'm a bit obsessed but I just had the best five days of my year! Stay rad. Don't worry about whales, get a bird!

---
If you can't buy through the links above, you can support the site with: