Jones Storm Wolf 2021-2024 Snowboard Review
| | |
| --- | --- |
| Riding Style | Snowsurf |
| Riding Level | Advanced - Expert |
| Fits Boot size (US) | 8-10, 10-12 |
| Manufactured in | Dubai by SWS |
| Shape | Tapered Directional |
| Camber Profile | Mostly Camber |
| Stance | Setback over 20mm |
| Approx. Weight | Feels Light |
| Split | No |
| | |
| --- | --- |
| On Snow Feel | |
| Turn Initiation | |
| Skidded Turns | |
Where To Buy
80% of outdoor sports products are not listed or sold online.
Our team has relationships with hundreds of local snowboarding and outdoor sports shops.
We'll call the shops and email you a list of stores along with pricing and availability.
---
Not sure what to buy?
Get custom advice from Good Ride editors James and Steph.

Get Advice
Jones Storm Wolf 2024 - 2021 Review by The Good Ride
Jones Storm Wolf Snowboard Video and Written Review
Welcome to the Jones Storm Wolf Snowboard Review from average but objective riders like us. 
Update 2024: The Jones Storm Wolf  has not changed much or at all since we came out with this review so this is still relevant. 
Turn Ons/Swipe Right: Fast Base. Fast aggressive bomby ride in a swallow tail shape.
Turn Offs/Swipe Left: Not easy to turn in tight spots. Not for those that like lots of quick turns.
Summary
The Jones Storm Wolf isn't easy for quick turns but it is a fast board that likes long drawn out hard carving turns on groomers and powder.
Ethics Statement: We don't get paid by the manufacturer to write these reviews and this is our unfiltered opinion. We do make money from the "Where To Buy" links, but this is our best attempt at an honest and objective review from an average riders' perspective.
How it rides and who it is for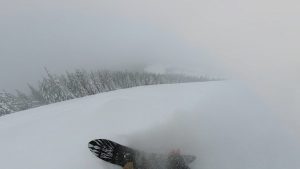 How This Review Happened:
We spent our precious Good Ride dollars to buy this and review it.
Size: 162
Days: 6+
Conditions:    and an early morning slackountry time with Drift Boards.
Riders: James (Size 9, 5'10" 185-190lbs), Davey (Size 12, 6'4" 240lbs)
Boots: Burton Kendo, Burton Ion, Burton Tourist
Insoles: F.I.T. Gamechangers, F.I.T. Gameghangers LP
Bindings: Union Atlas, Union Explorers
Jacket: Burton AK Gore-Tex Pro 3L Tusk Jacket, Volcom TDF Infuse 3L Gore-Tex Jacket, Burton Banshee Gore-Tex Jacket
Pant: Burton AK Gore-Tex Pro 3L Hover Pant, Burton AK Gore-Tex 2L Swash Pant, Burton Gore-Tex Ballast Pant
Helmet: Smith Maze, Smith Vantage
Goggle: Smith IO Mag, Smith 4D Mag
Gloves: Burton AK Guide Glove, Burton AK Clutch Mitt, Burton AK Clutch Glove, CG Habitats Work Glove, Drop Cascade Glove
Similar Boards (but not the same): Korua Pencil, Korua Café Racer, Weston Japow, Moss Jellyfish
Set-Up: 21.5" Wide. 21 front -3 back 24 front +3 back. Close to Reference and Set all the way back..
Approximate Weight:
The Jones Storm Wolf felt pretty light for a 162. Not that super ultra light feel but pretty light. (We don't put in the exact weight because with wood cores there is no consistency in a boards weight)
Sizing
I was really off going with the 162. The Jones Storm Wolf, a baby of the Storm Chaser and Lone Wolf, really threw me off. I didn't know if I should go 158 to be closer to the 152 Storm Chaser I ride or go 162 to be closer to the 168 Lone Wolf I ride. Turns out 158 was the call and this board could of handled me pretty well even though I was a little over the recommended weight at the time.
Here are some ideal US boot sizes for these boards. You can of course go bigger or smaller but these work best for not turning the board slower than it should be and not having the dreaded Toe & Heel Drag.
158: 9-10
162: 10-11
Shape/Camber/On Snow Feel/Ability Level


The Jones Storm Wolf has a pretty directional shape but it doesn't have a lot of taper. Combine that with a sidecut on the more shallow side and the almost full camber from tip-tail you have a pretty aggressive straight line oriented ride. It is not a mellow board for skidding turns and you don't really feel the spoon tech in the nose except for when in powder. That for me, is a good thing because it feels more like camber on groomers.
Flex Personality/Pop/Dampness
Other than the nose, the Jones Storm Wolf has a pretty stiff all around flex that has lots of energy underfoot. It pops really hard on a spirited ollie. It doesn't like half ass measures though and it took me a good bit of work to get it to snap. Not an easy butter either. It has this lighter/ultra feel to it but not all the chatter and crankiness that can come with it. It gets a little cranky with hard micro bumpy snow or uneven bumpy snow but it is manageable and doesn't kill your day.
Speed
This base is fast. Jones always does base glide right. I loved how it picked up speed and kept it's speed. The Jones Storm Wolf is also really good at pointing it. It isn't quite the hovercraft but I would say it's pretty close with the Ultra Craft in terms of keeping it together at speeds higher than I would like to go.
Edge Hold
The slightly disrupted sidecut really helps it hold an edge in really hard snow but I never felt it grab in softer snow.
Turning Experience/Carving
Edge to edge transitions were slow for me with this width but when I got it on edge there was no real acceleration to the left or right. It sure did accelerate down the line though. The Jones Storm Wolf doesn't like circle carves or across the groomer carves. It likes down the line carves. I forgot to mention this in the video but I took this out on a same day test of the Weston Japow 159, Season Forma 153 & Korua Café Racer. All turned well in their own way but this was the board you want if you want to go straight or make long drawn out s-turns. If you surf and like powerful down the line quad set ups this could be your buddy.
Powder
Shit! I accidentally deleted the set back on board vs. set back on sidecut. If memory serves me correct it was really far back and in the 6" range. That is really far back. I thought a board with this moderate taper and that much camber wouldn't float as well as it looks but the Jones Storm Wolf did really well. I got it in about 1.5' – 2' one day and about 1' on top of some older softer snow. It wasn't even trying and I loved how the spoon nose turned in powder. It made it a little easier to manage. Don't get me wrong I still wanted an easier board to turn but it definitely was easier than on groomers. It doesn't want to slash as much as make big high speed rooster tails.
Conclusion
So I would have really liked to try the Jones Storm Wolf in a 158. I don't think it would change the personality too much but I would be able to manage it better.  As it stands now this isn't going to be for everyone but it's a really fast, bomby, fun surf shape.
If this review helped, we'd appreciate if you:
Jones Storm Wolf User Reviews
If you can't buy through the links above, you can support the site with: