Jones Storm Chaser 2016-2023 Snowboard Review
| | |
| --- | --- |
| Riding Style | Powder |
| Riding Level | Advanced - Expert |
| Fits Boot size (US) | 8-10 |
| Manufactured in | Dubai by SWS |
| Shape | Tapered Directional |
| Camber Profile | Flat to Rocker |
| Stance | Setback -12.5mm |
| Approx. Weight | Feels Normal |
| Split | No |
| | |
| --- | --- |
| On Snow Feel | |
| Turn Initiation | |
| Skidded Turns | |
Where To Buy
No obligation, but these links & ads support the site.
Jones Storm Chaser 2023 - 2016 Review by The Good Ride
Jones Storm Chaser 2022 Snowboard Video and Written Review
Welcome to the Jones Storm Chaser Snowboard Review from The Good Ride where pro's can rip anything but we can't. 
Update 2023: The Jones Storm Chaser hasn't changed.The Mind Expander now has camber so it isn't as comparable as it was in 2022. 
Turn Ons/Swipe Right: Such an amazing off the back foot ride in perfect powder.
Turn Offs/Swipe Left: Really bucks and bounces in uneven terrain.
Summary
The Jones Storm Chaser isn't ideal in uneven terrain but truly shines in perfect powder. It that is what you mainly see this could be for you.
Ethics Statement: We don't get paid by the manufacturer to write these reviews and this is our unfiltered opinion. We do make money from the "Where To Buy" links, but this is our best attempt at an honest and objective review from an average riders' perspective.
A Breakdown of How it Rides and Who its For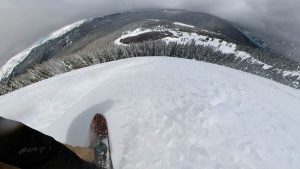 How This Review Happened:
We borrowed this for an extended demo and sent it back.
Size: 152
Days: 3 This year but many in past years with the same or similar models.
Conditions:    and an early morning slackountry time with Drift Boards.
Riders: James (Size 9, 5'10" 185-190lbs) Clint, Peter, Jimbo and many others over the years
Boots: Burton Kendo but many in the past.
Insoles: F.I.T. Gamechangers
Bindings: Union Atlas but many in the past.
Jacket: Burton AK Gore-Tex Pro 3L Tusk Jacket, Volcom TDF Infuse 3L Gore-Tex Jacket, Burton Banshee Gore-Tex Jacket
Pant: Burton AK Gore-Tex Pro 3L Hover Pant, Burton AK Gore-Tex 2L Swash Pant, Burton Gore-Tex Ballast Pant
Helmet: Smith Maze,
Goggle: Smith 4D Mag
Gloves: Burton AK Guide Glove, Burton AK Clutch Mitt,
Similar Boards (but not the same):
Capita Spring Break 158 Powder Glider, Capita Spring Break 161 Tree Hunter, Jones Mind Expander,
Set-Up: 21.5" 24  front +6 back. Close to Reference
Approximate Weight:
The Jones Storm Chaser fees very middle ground which is great for most riders. (We don't put in the exact weight because with wood cores there is no consistency in a boards weight)
Sizing
So like the Mind Expander I feel like I'm in between sizes. It jumps from 152 to 157. I wish they had a 155 or 154 or something in between. That would probably be my ideal size. The Jones Storm Chaser is meant to be ridden much wider than you would normally ride a board. So this isn't really an ultra-wide If you are a big guy with big feet you probably won't experience this ride the way it's intended. It also likes a rider on the lower side of the recommended weight range.
Here are some ideal US boot sizes for the Jones Storm Chasers. You can of course go bigger or smaller but these work best for not turning the board slower than it should be and not having the dreaded Toe & Heel Drag.
142: 6-7
147: 8-9
152- 9-10
157: 9.5-10.5
160: 10-11
Shape/Camber/On Snow Feel/Ability Level
The shape of the Jones Storm Chaser is very much like a surfboard but with a snowboard sidecut. It is only set back 22mm on sidecut but it is massively set back on board giving it that same feel you get when surfing. Even set forward you are riding the tail.
The camber profile is unique and much more like a surfboard. It is mostly flat from the tail to just a little before the front insert. Then there is some really pronounced rocker leading up to that big wide nose. It also bends up on the sides of the nose and a little at the end of the tail. You don't notice the spoon tech (bent up sides) on groomers and the board feels very forgiving/easy to skid a turn like flat to rocker. In powder you feel a smoother/easier turning experience.
Flex Personality
The Jones Storm Chaser is very stiff between the feet and into the tail. The nose is medium so when you flex it it seems medium stiff. On snow it's not hard to butter and has way more pop than you would think for a board with flat to rocker and such a stiff flex. The combo of this rocker profile, stiffer flex, smaller wider size and off the back foot/tail ride makes this a pretty bucky and bouncy ride in uneven terrain. It makes it best for clean and pristine conditions. In most conditions you see at a resort pow day you get pretty tracked up snow after an hour or 2. In those situations the Storm Chaser is hard to ride. That is why we suggest this for people who get untracked powder all day. And to a lesser extent, clean groomers all day.
Base Glide/Speed
The Jones Storm Chaser has a very fast base. When well waxed it accelerates incredibly easy and then keeps its speed really well on a long traverse. You don't get a bomber board to match the base though. This sits too far back on the tail, isn't stable underfoot enough, and is too short to be competent for pointing it.
Edge Hold
We all love the disrupted sidecut with the Jones Storm Chaser. It makes it soo much easier to drop into a line with some ice at the beginning but epic powder a few meters down. It doesn't grab at all in softer snow.
Turning Experience/Carving
Usually, a board this wide and short initiates a turn slow but then the pretty tight radius sidecut helps you turn tighter so overall it is pretty fast. The Jones Storm Chaser turns fast in the beginning and fast throughout. I never felt like I needed more. In perfect powder it is one of my favorite boards to turn. But if it's less than perfect a little bump can throw me off my line which can feel sketchy. That is why I ride the Mind Expander because even though it's not quite as fun in perfect powder it is way more fun in less than perfect to tracked out conditions.
Powder
Such amazing float. The only other boards I've tried that have this effortless float are the Capita Spring Break Powder boards but they have a very different design and feel. These are some of the only boards that I can lean forward on in the deep stuff and I won't end up cartwheeling.
With a 22.75" stance width you can get 9.5" back from center of board set all the way back. That is massive and 4.25" further back from the Mind Expander which is really set back to start with.  Both are super floaty. The Storm Chaser is short, wide and way set back. The Mind Expander is Long, narrow and set back but not that set back. Both achieve unsinkable float with the taper and massive rocker. The Spoon tech makes both incredible to turn in powder. It has such an easy roll edge to edge.
Conclusion
So if you see a lot of clean and pristine powder from top to bottom the Jones Storm Chaser is the call. If you have to fight through some uneven/rough terrain to get to the good stuff the Mind Expander is the call.
If this review helped, we'd appreciate if you:
Jones Storm Chaser Past Reviews

The Jones Storm Chaser is one of their first surf rocker boards in the line.  We were lucky enough to get it in some powder and make some turns.  It wasn't a groomer board compared to Jones' hybrid camber rides like the Hovercraft or Flagship but it was better than we thought for that kind of super off the tail ride. To us, the Mind Expander just had our number but the Jones Storm Chaser floats incredibly well for its size and could have yours.

Ethics Statement: We don't get paid by the manufacturer to write these reviews.  We do make money from the "Where To Buy" links, but this is our best attempt at an honest and objective review from an average riders' perspective.

The Carbon fiber strip in the 2019-2020 Jones Storm Chaser improves the long-term flex as well as adds a little extra pop but overall it's very similar to the 2017 and 2018 models.

Size: 147 and 152
Days:  5
Conditions: With the 147 we had about 1′-2′ of thick Sierra Powder and a few feet of lightish PNW Powder
Riders: James (Size 9, 5'10" 185-195lbs), Jimbo (Size 11, 5'11" 160lbs), Peter (Size 8, 5'11" 185lbs)
Boots: Adidas Tactical ADV, Burton SLX, Salomon F3.0, Burton Fiend LTD
Bindings: Union Atlas, Union Superpro, Burton Genesis X, Now IPO
Set Up: Set way back 23″ wide 15 front 0 back. 22.5" Centered to set all the way back 18 front -3 to -6 back

Approximate Weight: Felt pretty light but also not like a featherweight.

Flex: Pretty medium to medium stiff.

Sizing: On our first time with the little 147 it had more than enough volume going to handle all of us.  It's hard to wrap your head around it if you are about to retire a 180cm something board from the early 2000s and get a new powder board but when you try it you will get what this little thing can do. The board likes to be ridden much shorter and wider than your average freeride board. For us, the 152 felt about right and we liked that size better. You can fit into this board with bigger boots but it's better to ride this much wider than you normally would.

On Snow Feel: It's not quite stable like the hybrid camber jones boards but it's also more stable than most continuous rocker boards we tried.  It seems like there is just a little flat between the feet to keep this from becoming an auto buttery mess.  It can one foot off the chair and flat base pretty well.

Edge Hold: Same great Jones mellow mag grip that doesn't own it on ice but gives you grip for most conditions you will see.  I could drop in on a hard patch at a peak on the way to powder knowing that the edge will hold till I get to the good stuff.  Glad it's there.

Turn Initiation:  Even though the Jones Storm Chaser is a short fatty with a massive waist size it's quick and easy to weave in and out of the trees. I personally liked the Mind Expander a little better but this is very good.

Turning Experience:  In the little bit of groomed snow, I had near the chair, I didn't feel it was that great of a turner.  It's great for how much rocker it has and does way better than you would think but it's far from the first board I would want to bring out when the powder is gone.

Carving: Seeing Jeremy carve up groomers with this is pretty amazing but we would much rather be out on the Hovercraft instead. The Jones Storm Chaser wasn't bad though even though it hurried you through a carve it didn't wash out and you could definitely carve on it.  So while this shines on powder you could for sure have fun with this on groomers when the powder is gone.

Skidded Turns: So easy to skid turns and it's super forgiving if you get off your game.

Speed: The Jones Storm Chaser has a very fast base that just keeps its speed and glides really well. However, it is a short ride that has a lot of rocker and rides very far back on the tail so its a bit of a wash.

Uneven Terrain: I'd rather be on the Mind Expander when it comes to weaving in and out of bumps and messy piles of snow but the Storm Chaser can work if you slow it down. What we felt with both sizes we tried is the Storm Chasers can tend to be a little bucky and bounce you around in messy powder where the Mind Expander powered through it better.

Powder: This is why you buy the Jones Storm Chaser. It's a champ in the powder and really makes you feel like you are surfing snow. It's soo far back on the tail, has a decent amount of taper, is pretty wide, and has soo much rocker that it makes for such an easy floating ride in untracked powder. As it gets tracked up and messy the Storm Chaser can't drive through it as well as some boards can like the Mind Expander but we haven't seen many boards with this kind of design do much better. If you surf and like to have your foot near the tail like you do in the water this is a great way to ride powder. With a 22.75″ stance width set all the way back you can get 14.5″ difference between nose/tail and 7.25″ back on board and from the center of the swallowtail, it's 19″ difference from nose to tail, or 9.5″ back on board. That's massively far back.

Buttering: Much easier to butter than you would think for the flex but that is because of the rocker.

Switch: Scary to even think about doing it.

Jumps: There is good pop here and I'm not sure why but it can Ollie rather well. Being this far on the tail isn't great though for big air for the average rider like us.

Jibbing: Nofuckingway but I'm sure some ripper could.

Pipe: Here is the weird thing.  I didn't try this in the pipe but thinking about it doesn't make me feel scared to do so.  There is enough edge hold to make it happen and it seems like it would drive wall to wall better than you would think just like it did on a carve.

So overall I don't feel the Jones Storm Chaser is a super fun powder board and a better groomer board than you would think for its camber profile. Even with a surfing background from a lot of our crew we all personally have a thing for the Mind Expander but if that board dumped us we could pick up the shattered pieces and make a beautiful life with the Storm Chaser.
Jones Storm Chaser Images
Jones Storm Chaser User Reviews
Jones Storm Chaser 2016-2023 Snowboard Review
SKU
UPC
Model
Incredible!
Feb 15, 2019
by
Cody
Ability Level: Advanced •
Riding Style: Freeride/pow/carving/backcountry •
Days You Ride A Year: 20+ •
Height, Weight And Boot Size (for Boards, Boots & Bindings): 6'2, 200lbs, size 11
After 5 full days on the 2019 Storm Chaser 152 I feel like I'm starting to get an idea of what this board is really capable of. Of course it's amazing in the powder, the big nose gives it float for days and you don't even have to think about leaning back. I've found it to be incredibly fun in the trees too-that combination of rocker and a short tail makes it really fun and nimble and you can weave through tight, steep trees with almost no effort.
I think this board is actually a lot more versatile than it would seem, once you get used to its turn radius it can really carve and lay a trench. It's a really particular style of carving, very off the back foot, but it has really solid edge hold in most kinds of snow. It's also really fun pop a 180 and see how long you can hold a butter off the nose. Speaking of pop, it has way more than you would expect but landing with that almost nonexistent tail takes some getting used to! All in all I've found it to be a ridiculously fun board, like James has said it's kind of the snowboard equivalent of riding a fish if you know what that means!

---
Stormchaser 2017 SIA Preview
Feb 13, 2016
by
Ren Volpi
Ability Level: Advanced •
Riding Style: Carver/ Big Mountain •
Days You Ride A Year: 20-30
When it comes to riding powder, the Jones Stormchaser is a great choice. I've ridden the 147, and god this was fun. It has the best float in the deep and no need to lean back at all! Actually I would advise those who take this one out, to actually ride it without putting a lot of pressure on your back foot since that should bring you a little more stability and will allow you to take more aggressive lines without washing out.
Considering its shape, it was expected of the Stormchaser to excel in powder, but the main reason why I would like to write a review about it, it's because of how well it did on the groomers. Obviously, you are not supposed to use this one looking to break speed records, but if you are looking for a fun, surfy ride, this one is hard to beat. The mellow magna-traction (signature edge design from Jones) gives you plenty of edge hold for those who like to lay on a carve. If you want to surf the mountain, this is probably one of your best choices in the market.

---
If you can't buy through the links above, you can support the site with: