Burton Skeleton Key 2017-2023 Snowboard Review
| | |
| --- | --- |
| Riding Style | Freeride |
| Riding Level | Advanced - Expert |
| Fits Boot size (US) | 8-10 |
| Manufactured in | China |
| Shape | Tapered Directional |
| Camber Profile | Directional Camber |
| Stance | Setback over 20mm |
| Approx. Weight | Feels Normal |
| Split | No |
| | |
| --- | --- |
| On Snow Feel | |
| Turn Initiation | |
| Skidded Turns | |
Where To Buy
No obligation, but these links & ads support the site.
Burton Skeleton Key 2023 - 2017 Review by The Good Ride
Burton Skeleton Key 2022-2023 Video and Written Snowboard Review- How it rides and who it is for
Welcome to all that is average and the Burton Skeleton Key Snowboard Review from an honest objective perspective. 
Update for 2023: The Burton Skeleton Key hasn't changed much or at all so this review still stands. 
Turn Ons/Swipe Right: Soft, poppy set back and fun directional board that doesn't feel very tapered. Great float in powder.
Turn Offs/Swipe Left: Edge hold less than ideal in harder snow.
Summary
The Burton Skeleton Key isn't the best in hard snow but really shines for those that want a softer flexing more directional ride than the Flight Attendant or other stiffer boards in Burton's line.
Ethics Statement: We don't get paid by the manufacturer to write these reviews and this is our unfiltered opinion. We do make money from the "Where To Buy" links, but this is our best attempt at an honest and objective review from an average riders' perspective.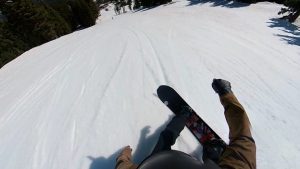 How This Review Happened:
We borrowed this for an extended demo and sent it back
Size: 158 but owned the 154
Days: 4+ with the 158 but 20+ with the 154 with past models ..
Conditions: This year mostly spring conditions but powder and excellent groomers with the same shape in the past with the 154.
Riders: James (Size 9, 5'10" 185-190lbs), but the gang rode the 154 over the years with me. 
Boots: Burton Kendo,
Insoles: F.I.T. Gamechangers
Bindings: Union Atlas
Jacket: Burton AK Gore-Tex Pro 3L Tusk Jacket, Volcom TDF Infuse 3L Gore-Tex Jacket, Burton Banshee Gore-Tex Jacket
Pant: Burton AK Gore-Tex Pro 3L Hover Pant, Burton AK Gore-Tex 2L Swash Pant, Burton Gore-Tex Ballast Pant
Helmet: Smith Maze
Goggle: Smith IO Mag, Smith 4D Mag
Gloves: Burton AK Guide Glove, Burton AK Clutch Mitt, Burton AK Clutch Glove, Burton AK Tech Leather Glove, Burton AK Tech Glove, CG Habitats Glove, CG Habitats Work Glove, Drop Tahoma Mitt, Drop Cascade Glove, Drop Web Glove,
Similar Boards (but not the same): , Cardiff Powgoda, Yes Pick Your Line,  Burton Flight Attendant, Jones Flagship, Rossignol XV, Lib Tech BRD, Weston Backwoods, Cardiff Bonsai
Set-Up: 21.5" Wide. 18 front -3 back, 21 Front +3 back . Close to Reference and Set all the way back.  22" Wide. 15 front -15 back.
Approximate Weight:
The Burton Skeleton Key is light but not in that ultralight range. It seems they kept just enough weight to keep it from being chattery for it's flex.
(We don't put in the exact weight because with wood cores there is no consistency in a boards weight)
Sizing
I normally prefer the 154 but this year I really enjoyed the 158
Here are some ideal US boot sizes for these boards. You can of course go bigger or smaller but these work best for not turning the board slower than it should be and not having the dreaded Toe & Heel Drag.
150: 8-9
154: 8.5-9.5
158: 9-10
162- 10-11
Shape/Camber/On Snow Feel/Ability Level

The Burton Skeleton Key is a pretty directional looking board that has a pretty far set back but it doesn't feel that tapered. Burton does interesting stuff with the sidecut to make it not feel that tapered on groomers but feel tapered in powder. It doesn't feel as washy or need as much back foot weight on grooomers but the tail still sinks and helps with float in powder.

The camber profile has a little rocker before the nose but it is mostly camber. So even though there is a softer flex for a board this shape there isn't really a forgiving camber profile for intermediates/beginners.
Flex Personality
Really good flex underfoot that is more in the medium range overall compared to the Flight Attendant, Show Stopper, Hometown Hero and other directional Burton boards. I love how easy this is to ollie and how lively it feels underfoot. It is very doable on a butter too.
Uneven Terrain
So even though the Burton Skeleton Key is really poppy it doesn't fall apart in uneven end of the day messy snow if you slow down and work more to turn through it vs. power over it.
Speed
The base has great glide to it. I didn't experience any chalky base issues with the Burton Skeleton Key 2022 model like I did with some 2021 and 2022 models. If it feels slow just give it a few waxes or a base grind.
Edge Hold
I wish Burton had a little more edge hold in hard snow. The Burton Skeleton Key, like every other directional camber board from Burton I tried, does well but lets go a little too easy for my taste in harder snow.
Turn Initiation
So normally I feel the 154 is my board but I had no problem getting the 158 to go where I needed it to go.
Turning Experience/Carving
Once I got the Burton Skeleton Key on edge (in good snow) there was such a pleasant easy spring to it that I really liked. If you like a stiffer flexing board to carve you might not like this as much but for me I just loved the overall turning experience of the 158. It was really great for my style of turning. It leans a little more on the turny side of things but I just had a blast with just about any type of turning radius from a circle carve to more down the line narrow s-turns.
Powder
So with a 22″ reference stance you are 4″ back from center of the board. That is great for easy directional float in powder. Then if you set it all the way back at 23″ wide you can get 5″ back from center of board. That is a good bit more than most freeride snowboards. Factor in the tapered tail and early rise before the pretty decent size nose you have a floater here. I didn't ride the 158 in powder but the 154 did a really good job in everything up to thigh high west coast powder.
Conclusion
So for me having a board that rides a little more back on the tail than the Flight Attendant, Hometown Hero and others while still barely feeling tapered was the board that called to me the most. Then the softer more playful flex topped it off for me. It made buttering and playing around super fun as well and it wasn't bad switch for being this directional. If this had a little better edge hold it would be perfect for my style of riding. Still, if have the budget I'm going to grab a 158 for the quiver.
If this review helped, we'd appreciate if you:
Burton Skeleton Key Past Reviews

The Burton Skeleton Key takes a lot of what we like from the Flight Attendant but turns it into a little wider, more directional and more set back shape that has a fun feel underfoot. It is always a recommendable ride. Other than a few minor tweaks the 2020 Burton Skeleton Key hasn't really changed much from 2018-2019 models so the review I have of the 2019 still stands.

Ethics Statement: We don't get paid by the manufacturer to write these reviews. We do make money from the "Where To Buy" links, but this is our best attempt at an honest and objective review from an average riders' perspective.

The big differences between the 2017 model vs. the 2018-2019 Burton Skeleton Key are these:
The 19 model is made in China instead of Vermont for the 17 and I think Austria as well for the 18 model so the price dropped from $749 in 2017 to $549 in 2018 to $499 in 2017.
The 2018 and 2019 Burton Skeleton Key models are little more accommodating to a heavier build where the 2017 model had a lower recommended weight range.
The 2019 model might have a -25mm or -50mm setback on sidecut. It seems to be almost exactly the same place as my 2017 model so not sure if the Burton site is right or what was printed on the board is right. Regardless the setback on board is almost exactly the same as well.
The 2019 Burton Skeleton Key added 150 and a 162 to accommodate a wider variety of riders where the older models only came in 154 and 158. Still, it has all the same tech and same build as the 2018 so this review still stands.
How This Review Happened: We spent our precious Good Ride dollars to review the 2017 and 2019 models. Thanks to Gravity Sports at Mt Bachelor I reviewed the 2018 model.
Size: 154 and 158 (own the 154 and demoed the 158)
Days: 15+
Conditions: About 2 feet of powder with some groomers on the way to the chairs, one day. A couple of other days about the same or better. Lot's of good snow groomer days and a few spring days hard in the morning slowly transitioning to slush by early afternoon.
Riders: James, Peter, Jimbo, Zobel and a few others
Boots: Burton Almighty, Adidas Tactical ADV, Burton SLX, Burton Rover, Burton AMB, Adidas Samba.
Bindings: Union Atlas, Union Superpro, Burton Genesis, Burton Genesis X, Burton Cartel, Union Force, Union Contact, Flux SF, Flux DS, Union Contact Pro, Union T.Rice, Burton Mission
Liked the Genesis X and Atlas bindings best with this board. Liked the Tactical ADV and think the Imperials, SLX's or Ions would be a great combo too. My Almighty's were a touch soft.
Set Up: about 12 front -12 back and about 22″ wide one day, many others we have ridden a bunch of different stance angles. at around 22″ from 15 front -3 back, 18 front -6 back, 21 front 0 back. We have set this all the way back and ridden it close to reference stance.
Approximate Weight: Felt normal bordering on light.
Sizing: The 154 felt like magic when it came to quick nimble turns in the trees compared to the 158 and I think I might prefer the 154. However, I liked the drive and more powerful feel when opening up on groomers. Its core is a little on the thin side and at the time I write this I'm 180lbs after a long steamy piss right when I wake up so per Burton I'm right at the 2018 limit of the weight recommendation. That being said I'm usually heavier than the weight recommendations and with the way I ride, I've never damaged a snowboard due to bad food choices. I'm kind of in between the 154 and 158. If there was a 156 I think it would be perfect for my boot size (most important, then weight and height). Still, both are fun and it comes down to how you want to ride. Short and quick the 154. A little more drawn out and opened up on the groomers 158.
Flex: Nice flex that feels pretty firm between the feet but it was pretty easy to butter the tail. The 158 feels a touch stiffer but that can vary from board to board. Maybe there was a little bump to the flex to handle a higher weight recommendation but I'm not sure.
On Snow Feel: The Burton Skeleton Key got that same great stable feel that so many of the Family Tree tapered directional boards have. The more I ride it the more I feel it's a more playful, directional, quicker turning and surfy version of the Flight Attendant. I wouldn't have thought that it had 10 mm of taper. It is not wash proof but a lot less washy off the tail than you would think for this kind of taper. It's a very off the tail kind of surfy ride that's got a super quick lively feel underfoot. It's just pure powder surfing fun.
Edge Hold: It's fine for anything but hard to icy snow. In comparing this to a lot of our other Snow Surf and Freeride favorites it's a little behind when it comes to grip. When the snow is hard you really have to dial back your turning and the edges let go easier than most in this class. It's an improvement over Burton's Flat Top and Flying V camber but in our opinion, it needs a little more if you want to ride in the harder snow.
Turn Initiation: So quick and snappy edge to edge. It's like the Branch Manager and a real tree cheetah. It's super quick in tight situations and I could react so quickly that it made me feel like I was a better tree rider. The board just went where you wanted it to go with minimal effort. With other boards, I could do the same line but often there is an awkward moment getting the board where you want it and I lose my poise but with the Skeleton Key, I felt like it was setting me up to be cooler than I am at every turn.
Turning Experience: The overall turning experience from rolling it over from edge to edge quickly in the trees to making big sweeping carving turns is really fun. The Freeride Geometry sidecut is pretty interesting because on groomers it feels more like a double ender like the Flight Attendant does but in powder it feels pretty surfy like it should. It's a fun board to turn and even though it's super quick edge to edge it's not a super tight turner when the sidecut is completely engaged. Still, you can make fun circle carves and enjoy your self every time you put your weight into a turn. It's a great daily driver for those that only want directional surfy turns and mainly ride only when the snow is medium or softer.
Skidded Turns: Not ideal but not as bad as camber. You really want to know the mechanics of turning otherwise you could catch an edge on the tail if you get off your game. Still its pretty forgiving for having this much camber going on.
Carving: Nice springy surfy carve with the Burton Skeleton Key. I could really lay it out as long as I put a little more weight on the back foot.
Speed: It could handle some decent speed but it's not quite a bomber. I rode the Burton Flight Attendant after and I could feel that offer up a much more damp ride.
Uneven Terrain: Just about perfect and I could hammer turns in moguls all day. The only minor complaint is it's a little bucky if you try to power over bumps instead of around them.
Powder: The Burton Skeleton Key does a really good job for a 154. We have had up to a few feet of pretty decent Sierra and Cascade snow with the 154 and it floats really easy. Not sure how effortless it will be in 3 feet plus of powder but I think it shouldn't struggle too hard to stay afloat. It's the board I want to take out when it's a powder day but not bottomless and just jam through the trees. We liked the 154 Burton Skeleton Key better than the 155 Branch Manager across the board on a head to head test….except for riding switch. When set all the way back on a 21.75″ stance the 2019 Burton Skeleton Key has a 5.875″ setback from center of board but we are measuring from inside the almost 1″ notch so you could call it almost a 4.875″ to 5″ setback on board as well. Regardless this is a ton more than the -25mm back on sidecut that it says on my board or the -50mm back it says on Burton's specs online for the 2019 and past models. I'm not sure if I should believe the board or Burton's site. Based on my 2017 model having almost the same setback on board and sidecut as the 2019 model, I think I'm going to believe the site's specs. Regardless that's a lot more than the Flight Attendant and this board rides a lot further back on the tail than most Burton boards. Also, the nose and waist are pretty wide for this size so that helps too. So does the rocker in the nose and the taper in the tail. It turns small and floats big for its size. That get's my pants tight and makes for a fun but sometimes awkward ride if I don't tuck correctly.
Switch: nah…
Jibbing: maybe but nahhgonnadoit!
Pipe: Maybe to slash the walls on a softer day.
Jumps: Really good spring off the tail and it boosted me higher than I thought each time I hit a little natural feature. Really great for a directional air and much more pop than you would expect for such a thin board.
So the more I ride the Skeleton Key the more I like it.
The Burrton Skeleton Key is a board I've wanted to try since it came out but didn't get to.  But then Dan, a guy I met on the chair, let me try it so thanks, Dan! It was pretty much everything I was hoping it would be and it unseated the Branch Manager as a favorite.  After riding this I went out and straight up bought one.  Then I got to try the 2018 thanks to Gravity Sports at Mt Bachelor which is the same as the 2019 model.  It really is a great way to surf powder and groomers.
Burton Skeleton Key Specs
Burton Skeleton Key Images

We try to get as many images of the Burton Skeleton Key, but forgive us if they're not all there.
2020
2019
2018
2017
Burton Skeleton Key User Reviews
Burton Skeleton Key 2017-2023 Snowboard Review
SKU
UPC
Model
Apr 23, 2021
by
Mark
Ability Level: Advanced •
Riding Style: All Mountain •
Days You Ride A Year: 40-50 •
Height, Weight And Boot Size (for Boards, Boots & Bindings): 5'6, 155 lb, size 10 boot
Love this board! I bought the 150 19/20 version on sale and was stoked with the way it handled. I planned on using it on powder days only but after the first ride it was a dream and used it from mid season to slush laps in April. This board really thrived for me in steep tight tree sections in the Northeast. My only drawback is it's edge hold, it carves very easily but on those cold hardpack days I'd prefer something else. If Burton made a similar board with magtrax I'd buy it in a heartbeat.

---
Burton Skeleton Key
Jan 13, 2021
by
Rob Listy
Ability Level: Advanced •
Riding Style: All Mountain •
Days You Ride A Year: 50 •
Height, Weight And Boot Size (for Boards, Boots & Bindings): Height 5'9", 200lbs. Size 10 Ride Trident Boots, Union Atlas Bindings, size 158 board
When I headed down the mountain the first time on the Burton Skeleton Key it was instant love. The board cruised smoothly like a Cadillac but turned fast like a sports car! Between the Skeleton Key Board, the Ride Trident Boots, and the Union Atlas Bindings the snowboard ride was damp with no micro vibrations, charged through Chunder, and was super responsive. I rode the board in all different type of conditions from perfect groomers, large spots of wind scorned snow(which I charged straight through), and leftover powder stashes in the trees! It worked amazing in all situations and felt no issues with the board when transferring through different terrain. It was a great board to add to quiver but will use one of my other boards with magna traction in sever hard pack or icy conditions.

---
Amazing One Board Quiver
Dec 28, 2020
by
Preston Reese
Ability Level: Advanced •
Riding Style: All Mountain •
Days You Ride A Year: 45-60 •
Height, Weight And Boot Size (for Boards, Boots & Bindings): 5' 8", 160lbs, sz 12 boots
This is hands down one of the best one board quivers out there. I got the 158 and it charges very well, but can also turns edge to edge very quick. It's amazing in the powder, and floats great. The edge hold is also very good on the groomers. Haven't been able to take it to the park yet but I'm expecting it to perform well. Overall a great board.

---
If you can't buy through the links above, you can support the site with: