Burton Instigator 2021-2023 Snowboard Review
| | |
| --- | --- |
| Riding Style | All Mountain |
| Riding Level | Beginner - Expert |
| Fits Boot size (US) | < 8, 8-10, 10-12, > 12 |
| Manufactured in | China |
| Shape | Tapered Directional |
| Camber Profile | Flat to Rocker |
| Stance | Setback over 20mm |
| Approx. Weight | Feels Normal |
| Split | No |
| | |
| --- | --- |
| On Snow Feel | |
| Turn Initiation | |
| Skidded Turns | |
Where To Buy
80% of outdoor sports products are not listed or sold online.
Our team has relationships with hundreds of local snowboarding and outdoor sports shops.
We'll call the shops and email you a list of stores along with pricing and availability.
---
Not sure what to buy?
Get custom advice from Good Ride editors James and Steph.

Get Advice
Burton Instigator 2023 - 2021 Review by The Good Ride
Burton Instigator Flat Top Snowboard Video and Written Review
Welcome to the Burton Instigator Flat Top Snowboard Review from an average rider with an exceptionally objective perspective.
Update 2023: The Burton Instigator Flat Top hasn't changed much or at all since I reviewed it in 2021 so this review still stands. 
Turn Ons/Swipe Right: Stable, easy turning, easy float in powder and confidence inspiring edge hold.
Turn Offs/Swipe Left: not much for a beginner/intermediate but pop, base glide and good turning for advanced to experts.
Summary
The Burton Instigator is an easy turning slightly tapered directional ride that makes it stable as well as damp enough in all conditions you want to ride.
Ethics Statement: We don't get paid by the manufacturer to write these reviews and this is our unfiltered opinion. We do make money from the "Where To Buy" links, but this is our best attempt at an honest and objective review from an average riders' perspective.
A Breakdown of How it rides and who it is for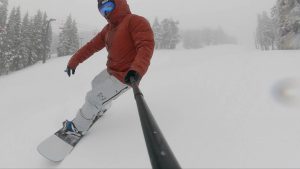 How This Review Happened:
I spent my precious Good Ride dollars to buy this and review it.
Size: 155
Days:  4
Conditions: Varied late spring conditions
Riders: James (Size 9, 5'10" 185-190lbs)
Boots: Burton Kendo & Ironically Burton SLX
Insoles: F.I.T. Gamechangers
Bindings: Union Atlas, Union Strata, Union Contact Pro/Union Superpro,
Jacket: Burton AK Gore-Tex Pro 3L Tusk Jacket, Volcom TDF Infuse 3L Gore-Tex Jacket, Burton Banshee Gore-Tex Jacket
Pant: Burton AK Gore-Tex Pro 3L Hover Pant, Burton AK Gore-Tex 2L Swash Pant, Burton Gore-Tex Ballast Pant
Helmet: Smith Maze
Goggle: Smith 4D Mag
Gloves: Burton AK Clutch Glove, Burton AK Tech Leather Glove, Burton AK Tech Glove, CG Habitats Glove, CG Habitats Work Glove, Drop Tahoma Mitt, Drop Cascade Glove, Drop Web Glove
Similar Boards (but not the same): Lib Tech Lost Quiver Killer, Yes Pick Your Line,  Burton Flight Attendant, Jones Flagship, Rossignol XV, Lib Tech BRD, Weston Backwoods, Cardiff Bonsai, Korua Otto, Lib Tech Terrain Wrecker, Capita Mercury,YES NSB, Endeavor Pioneer, Jones Mountain Twin, Endeavor Ranger, K2 Manifest, Yes Typo, Jones Frontier, Ride Algorythm, Ride Wild Life
Set-Up: 21.5" Wide. 18 front -3 back. Close to Reference
Approximate Weight:
The Burton Instigator is pretty normal bordering on the heavy side. (We don't put in the exact weight because with wood cores there is no consistency in a boards weight)
Sizing
The 155 Burton Instigator was a good size for my weight and boot size but I'm curious about how the 160 would play out. However, the 155 was better for my boot size.
Here are some ideal US boot sizes for these boards. You can of course go bigger or smaller but these work best for not turning the board slower than it should be and not having the dreaded Toe & Heel Drag.
140: 5-6
145: 6-7
150: 7-8
155: 8-9
160: 9-10
150W:9.5-10
155W: 10-11
160W: 11-12
165W:12-13
Shape/Camber/On Snow Feel/Ability Level

The shape of the Burton Instigator is slightly tapered (5mm) and is pretty directional with a longer/wider nose than tail. You don't feel a lot of taper or need more back foot weight on groomers and it almost rides like a board with the same width nose/tail.

The camber profile is great for learning or just for those that want mellow, forgiving and stable. It one foots super easy off the chair and flat bases on groomers even better. It is a much better choice for those that want a board to track easy vs. Flying V or other hybrid rocker to rocker shapes. This will not auto spin on you. The Burton Instigator's camber profile isn't the most exciting these days but it really shines in all conditions.
Flex Personality
The flex of the Burton Instigator is medium to medium stiff and it isn't a mellow easy buttering flex. It definitely appeals more to those that want to ride the mountain. Buttering can happen with some work and it pops pretty easy despite being flat. It isn't easy like flying v but its very doable.
Uneven Terrain
The flex personality, like the camber profile, is an amazing all conditions ride. It really handles hard micro bumpy snow like a champ and absorbs shock well in everything else like messy end of the day snow. It can't power over messy tracked up snow at high speed but it is a moderate speed master that is great for all day resort riding.
Speed
The base glide is nothing to write home about with the Burton Instigator. It has an extruded base that seems to like wax better than some but it isn't for anyone who wants fast easy glide. It can never be truly fast but it doesn't get too slow if it isn't waxed.
There is decent stability at speed, especially for a 155, if you decide to point it. I felt comfortable pushing it well past moderate mountain speed.
Edge Hold
So this was a surprise with the Burton Instigator compared to almost any Flying V, Directional Camber, Pure Pop Camber or even Full camber with Burton. It gripped hard and I haven't felt this comfortable on a Burton board in hard snow maybe ever. Not sure what is happening here but I felt the edges sink into hard snow and not let go. Even compared to much more expensive boards like the Jones Mountain Twin the Burton Instigator held it's own and was noticeably better than the Capita Mercury.
Turning Experience/Carving
The Burton Instigator isn't an amazing turner/carver but it isn't boring either. It isn't there with the Directional Camber Burton boards on a carve but better than many Burton Flying V boards. It didn't spring hard out of the turn but didn't hurry you up through it either. So overall fun enough and a good board for learning to really turn.
Turn initiation is pretty fast too and the board turned medium fast when I leaned into it.
Powder
At the time I had this I didn't get it in any pow. There were soo many other boards that I had to test but I could tell that if you set it as far back as your stance width allows this will float well. Much better than most all mountain boards and on par with many traditional freeride boards. One thing. DON'T GET EST BINDINGS TO GO WITH THIS. You can set it further back on the Burton Instigator with Re:Flex or traditional disc bindings from other brands as well as be able to ride other boards with those bindings. So with a 2.75" set back from center of board at a 23" stance width, a bigger nose with early rise before it and a smaller tapered tail you will get good directional float for sure.
Switch
The Burton Instigator can for sure ride switch well for a tapered directional board but it likes directional riding better.
Conclusion
So I was reluctant to try this board but it turned out to be a great recommendation for anyone looking to not get on a twin to learn. If you know you want to ride the mountain and not the park this is a great call.
If this review helped, we'd appreciate if you:
Burton Instigator User Reviews
If you can't buy through the links above, you can support the site with: