Burton Custom X 2010-2023 Snowboard Review
| | |
| --- | --- |
| Riding Style | All Mountain |
| Riding Level | Expert |
| Fits Boot size (US) | 8-10, 10-12 |
| Manufactured in | Austria |
| Shape | Directional |
| Camber Profile | Traditional Camber |
| Stance | Setback -12.5mm |
| Approx. Weight | Feels Light |
| Split | No |
| | |
| --- | --- |
| On Snow Feel | |
| Turn Initiation | |
| Skidded Turns | |
Where To Buy
No obligation, but these links & ads support the site.
Burton Custom X 2023 - 2010 Review by The Good Ride
Turn Ons/Swipe Right: Incredible industry leading pop. Very light.
Turn Offs/Swipe Left: Very Light. Not ideal for heavier riders. Very technical and catchy.
Summary
The Burton Custom X can be chattery and its pretty technical/catchy but is one special ride when it comes to pop on an ollie and out of a turn.
Ethics Statement: We don't get paid by the manufacturer to write these reviews and this is our unfiltered opinion. We do make money from the "Where To Buy" links, but this is our best attempt at an honest and objective review from an average riders' perspective.
Burton Custom X 2023 Snowboard Review- How it rides and who it is for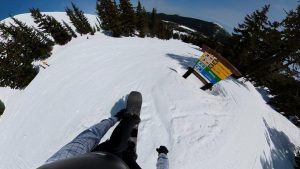 How This Review Happened:
Borrowed this for an extended demo and sent it back.
Days: 4
Conditions: Some messy spring tracked up powder, really good late spring packed powder, and varied but mostly good spring conditions.
Riders: James (Size 9, 5'10" 185-190lbs)
Boots: Burton Kendo, Burton Photon Step On Wide
Insoles: F.I.T. Gamechangers
Bindings: Union Atlas, Burton Genesis Step On
Jacket: Burton AK Gore-Tex Pro 3L Tusk Jacket, Volcom Guide Jacket, Burton Helitack Jacket, Anon Coaches Jacket
Pant: Burton AK Gore-Tex Pro 3L Hover Pant, Burton Gore-Tex Ballast Pant
Helmet: Smith Maze
Goggle: Smith 4D Mag
Gloves: Burton AK Clutch Mitt, Burton AK Tech Leather Glove, CG Habitats Work Glove, Drop Tahoma Mitt
Similar Boards (but not the same):  Korua Otto, Lib Tech Terrain Wrecker, Capita Mercury,YES NSB, Endeavor Pioneer, Jones Mountain Twin, Endeavor Ranger, K2 Manifest, Yes Typo, Jones Frontier, Ride Algorythm, Ride Wild Life, Borealis Tundra, Tahoe Labs Directional Twin, Yes Basic Uninc,
Set-Up: 21.5" Wide. Sance Angles 18/-9, +15/-15. Close to Reference and Set all the way back.
Approximate Weight
The Burton Custom X is a very light board. It isn't totally ultralight but, on average, it is lighter than most Burton boards I've tried. (We don't put in the exact weight because with wood cores there is no consistency in a boards weight)
Sizing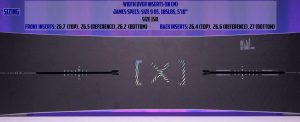 The Burton Custom X 158 was great for my size 9 boots but not ideal for my 185lbs. I felt over the weight limit even though I was 15lbs under it. I would definitely size up if you weigh more.
Here are some ideal US boot sizes for these boards. You can of course go bigger or smaller but these work best for not turning the board slower than it should be and not having the dreaded Toe & Heel Drag.
150: 7.5-8
154: 8-8.5
156: 8.5-9
158: 9-9.5
162: 9.5-10
158w: 10.5-11
162w: 11-11.5
166w: 11.5-12
For weight I would stay on the low to middle end of the Brands recommended weight ranges.
Shape/Camber/On Snow Feel/Ability Level

The Burton Custom X is almost on the twinish side of directional. Because it isn't tapered you can front foot, back foot or center weight this. It really shines when you are close to reference stance and center weighted.

The Camber profile is full on unapologetic camber. It is incredibly poppy but incredibly unforgiving. Not easy to skid a turn. It tracks and one foots very well though. Most boards aren't full camber these days and have some early rise. The Custom X has no early rise and it is best for expert riders.
Edge Hold
The Burton Custom X had pretty sharp edges but it let go pretty easy in hard patches I hit. It let go easier than many peers with non-disrupted sidecuts from other brands. If you rip you won't care though and will know how to work it to get it to grip. For most average riders, you will want to go with something else if you see a lot of hard to icy snow. Burton has what is called pressure distribution edges 
Flex Personality
So the Burton Custom X I had was more on the medium side of medium stiff but it had such energy. The board just wants to spring back hard after each flex and it pops very well. It was pretty easy for me to access which surprised me. I did feel the flex and then some when trying to butter. It took a good bit of work for an average rider like myself.
Uneven Terrain
The Burton Custom X bucked and bounced me around a little too much for my taste but it wasn't bad for an Ultralight type of ride. With some boards I tried I could set an edge in soft somewhat bumpy snow and hold the turn. With the Custom X I could not always hold the same line in the same terrain. Often times I would do the same run with several different boards just to see and the Custom X always had more chatter than the Custom, Territory manager and other boards like those.
Base Glide/

Speed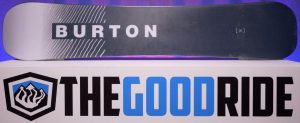 The base glide of the Burton Custom X was upper tier for sure. It has the same WFO base as the regular custom and many other Burton boards I tried but for some reason this had a little better glide even though it was waxed the same as the other boards I had for testing.
When it comes to pointing it and really picking up speed it just didn't feel damp like the older models. It wasn't terrible but it didn't handle speed for me like it used to.
Turning Experience/Carving
So even though the Burton Custom X couldn't hold a turn well in uneven snow it sure did spring out of a turn like a champ. It's very quick edge to edge and when you lay into the edge you have a balanced turning experience that is a little on the turny/circle cave side of things. It can still make good down the line turns that are more on the straight line side. What I love is how all this energy and spring they created not just with the camber but with the construction inside too creates such a fun turning ride. It has consequence if you get off your game but man can it carve hard for such a light/semi-chattery board.
Powder
I went through this in the 00's with camber boards and rode the older Custom X's in powder back in the day. I didn't want to try the Burton Custom X in powder again, but I did. Felt the same. Back foot heavy and hard even in the little bit of messy powder I had. With a 23" Stance width set all the way back to the last marker in the channel you can get 2.5" back from the center of board. With non-EST bindings you can go a little further back. That isn't bad for an all-mountain board but it is full camber. Full Camber just isn't that fun these days unless you rip camber boards in powder. Give me the Flight Attendant, Hometown Hero, Skeleton Key or many other directional camber boards in Burton's line instead of this. Even the new Territory Manager has much better directional float with the same setback because of the taper and early rise before the nose.
Switch/Pipe/Jumps
The Burton Custom X is very doable switch. It is far from a perfect twin but when on reference stance it was pretty easy to throw around and you get used to it fast. Even though this is aggressive and catchy I love this in a soft pipe. Kickers is where this shines. It is springs so hard off the small hits I had. If you want to go big you can with this…especially if you are a lighter rider. No thanks on jibs for this broken old guy.
Conclusion
So overall, the Burton Custom X isn't the high end one board quiver dominator that it used to be but it still shines bright when it comes to getting extra ollie power and spring out of a turn. If you are a lighter rider and you know how to handle full on camber in all conditions, this could be your board.
Burton Custom X Past Reviews
Burton Custom X 2017 Review
The Burton Custom X is one of the few remaining Aggressive All Mountian camber boards. If you are willing to sacrifice easy float and catch-free edges the reward is exceptional carving and pop. It's a tough call.  It's not the all-condition board that it used to be before the hybrid shapes arrived but it's still got a very uniquely aggressive personality and it's a great camber ride.
Ethics Statement: We don't get paid by the manufacturer to write these reviews.  We do make money from the "Where To Buy" links, but this is our best attempt at an honest and objective review from an average riders' perspective.
The 2018-2019 Burton Custom X had a pretty sizeable overhaul but we only rode the Custom and Custom X Flying V with this new design.  Basically, the 2018 and 2019 Burton Custom X now has the shape as well as same specs of the Burton Custom. It is no longer a more directional set back version of the Custom.  The only difference now is the Custom X has a stiffer flex and a better core.
2014-2017 Burton Custom X Snowboard Review
The 2017 to 2014 Burton Custom X are all very similar. There have been little tweaks here and there but overall the ride is the same.
Size: 160 & 158
Days: 8+
Conditions: Good Sierra Groomer days
Bindings: Burton Diode EST, Burton Cartel EST, Flux SF45
Boots: Burton Ion, Burton SLX, Burton Imperial, Nike Kaiju
Riders: James, Peter, Jimbo and a few others.
Set Up: Generally set back usually 23″ wide 15 to 18 front and -9 to -6 back
Almost every year Burton adds something to the evolution of the Burton Custom X to make it better or different.  Year to year there is a small change but if you compare a Custom X now to a Custom X 3 years ago there will be some noticeable changes and most for the better. Since the addition of Squeeze Box, the board has had continual refinements from year to year but the general ride remains the same. What we would really like to see is PurePop Camber.
On Snow Feel:  You can immediately feel the aggressiveness of the ride and it really appeals to those that understand how to always keep a thinly lined carve. It's no board for intermediate riders that like to skid their turns or even occasionally skid your turns. It's for a technical rider that knows how to stay on his game.  If you are one of those riders you will love this locked in carving joy.
Powder: Very good for camber but the hybrid rocker world of snowboards has made this a little obsolete in terms of easy float. The shape and set back help the board float well for camber but camber points the nose down so you will have to work harder to keep the nose up.  Back in the days before the rocker/hybrid revolution, I would have been fine on a deep day with the Custom X but these days It's just not a board I'd like to be out on when it's deep. Now with the addition of the Custom X Flying V, there is a better powder option but it would be great to see some sort of hybrid camber mod to the Custom X Camber.  Maybe something like a mellow camber to flat to rocker profile like PurePop or maybe something even better like camber to rocker because the smaller nose of the Burton Custom X doesn't have the float of boards like the Flight Attendant.
Turn Initiation: Here is where the Custom X from all years shines. It's always at the top of its class but the addition of Squeezebox and other minor refinements from 2012-2017 have improved the ride. Burton understands really well how to create a strong pop out of the turn that sets you up for the next one. It's not just about carving but all correct turns are rewarded with a springy pop that is truly fun.  It snaps quickly on short radius turns and makes medium to wide radius turns dynamic and engaging.  If you love to turn then it's got a unique spring from edge to edge that's one of the best in the business.
Skidded Turns: However, if you make skidded turns and aren't always on your game then get a different board because it likes to stay on a perfect rail from edge to edge. It's also one of those boards that like it if you de-tune the edges because if you aren't on your game it catches an edge easily compared to most hybrid shapes these days.
Carving: If you know how to ride the Custom X can create one of the most memorable carves for a board of this type.  If you like to carve the Custom X is a great choice. Especially if you have something else for powder. I think I first rode this board in like 2006 and it blew my mind when it comes to laying out a carve.
Speed:  There are boards that are faster out there but when you get into this level of speed you are just splitting hairs.  The Burton Custom X bombs almost as well as it carves.
Uneven Terrain: A lot better than you would think. The addition of squeeze box tech makes the board handle uneven terrain very well. It's not perfect but better than most boards with this kind of flex.
Edge Hold: The Custom X has always had great edge hold but the Burton Custom X 2017-2012 has a little better edge hold thanks to the changes to the core profile and such. Frost Bite edges have been with the Custom X for a long time but back in the day, they were called Pressure Distribution Edges. They help a bit with the Custom X but its more the flex and sharp edges that make the real difference.
Approximate Weight: Very light for its size and it's very easy on the foot.
Flex:  Very aggressive flex that isn't really a board to butter or press unless you are one of the few strong power butterers out there.
Switch: You know it's not that bad.  Yes, it is directional and set back but it's still very doable when you get used to the directional sidecut and different nose/tail shapes.
Pipe: If you are into directional pipe riding or prefer a directional board the Custom X will drive very well wall to wall and hold a good edge.  It's not very forgiving but the right rider could love this in the pipe.
Jibbing- Nope not a jibber.
Jumps: There is a solid pop when it comes to an Ollie but it requires a little more strength than boards like the Custom. If you aren't really about landing or launching switch you might call this excellent.
All in all the Custom X will never disappoint the rider that lives to carve and loves camber. It's not quite the one quiver ride it used to be but if you have a good powder board and can afford an expensive quiver this could work.
2012-2013 Burton Custom X
The 2013 Burton Custom X is a little stiffer but it's still close to the 2012 in terms of all around ride but to us it wasn't noticeable enough to expand on.
The 2012 and 2013 Burton Custom X added "Squeeze Box" tech to the 2012 which helps improve the flex between the feet.  This helps EST bindings flex even better under foot.  We felt a bit of a difference on some other Burton boards but for some reason it seemed almost the same with the Burton Custom X. Maybe it's because of the stiffer flex.
The Burton Custom X 2011-2010 is a stiff directional old school camber board for carving and bombing the mountain and it's one of our favorite boards for carving. While many companies have experimented with hybrid shapes the Custom has remained camber since it's creation. They chose to work on improving the same design instead of change the camber. It's not for everyone but the ones its for will love it. Mary and I have been riding this board since the early 2000's.  We only have specs/ect since 2010 but it's 

Boards Used-164 & 156
75+ days ridden
Conditons: Everything
Bindings:  Burton Cartel, Burton Co2, Burton C60
Boots: Burton Ion, Burton SLX, Salomon Synapse
Riders: James, Mary, Jimbo and a few others on the site
Set Up- Centered, Set all the Way back and many set ups in between.  There were many stance widths. Some riders like Mary went with a 20-21″ width where the rest of us were between 22-23.5″.  The angles were many two but some major ones were 15-18 front and -9 to 0 in the back.
The Burton Custom X is their flagship old school aggressive all mountain board that is great for carving and bombing. This is not for beginners or intermediate riders who skid their turns.  This is for advanced riders who want to push themselves to expert level and expert riders who want an aggressive carving board. We see many riders out on the hill who shouldn't be on this board and aren't having as much fun as they could be. So ask yourself if you want to improve your ego or your actual riding before picking out this board.
On Snow Feel: The Burton Custom X is locked in and definitely for the technical advanced to expert rider.  It's easy for a less experienced rider to catch an edge.  If you like high speed wide open carving runs on morning Groomers then you will be quite pleased with the Custom X when perfect corduroy is calling.  It's incredibly fun to make any kind of turn and really fun to straight line.
Powder: The Burton Custom X does rather well in the powder for a cambered board. It has a decent set back and good sized front nose. It doesn't have that easy float like hybrid or rocker boards but it's really good for a camber board.
Speed: Very Fast! The Burton Custom X responds very well to a straight line or nice high speed turns. The base is fast and the board is damp so it does very well at high speed. This board is made to go big and it won't disappoint.  Just make sure your health insurance has a low max out of pocket.
Uneven Terrain: Usually a board with this kind of aggressive flex and speedy ride wouldn't be good in rough terrain but the Burton Custom X isn't bad.  In just about any uneven terrain we have experienced it does much better than you would think. It's just a little bit above average but that is a huge accomplishment.  Burton knows how to make a board flex pretty well underfoot and it absorbs shock at slower speeds well even though it's pretty stiff.
Approximate Weight- The Burton Custom X is a very light board. Every year it seems to get lighter. You might not notice this on your front foot when riding up a chair.  It doesn't hurt when you are riding either. It makes everything you try to do a little easier.
Turn Initiation and Carving- The Burton Custom X is a pretty stiff technical camber board and it takes some work to initiate a turn but if you know what you are doing it makes any type of turn incredibly fun and springy.  If you are a rider that skids your turns often but is strong you can hang with this board but you just aren't enjoying it's true potential.  This is for people who look back up the hill they rode down to see one long razor blade narrow s pattern.  If you compare it to camber boards of similar flex you will find the Custom X easy, springy and quick.  The Custom X has a pretty narrow waist with a deep side cut so for it's size and stiffness this is pretty easy to make quick tight turns in trees or steeps.  When making wider turns it's stable and has a great return at the end of the turn.  Carving might be the Burton Custom X's best feature and one of the major reasons why this board is so popular. The old school camber shape is still the best when it comes to carving out a turn. It feels like at the end of a serious turn or carve that the Custom X is springing you out of the turn  which many boards do but what is really special is it feels like it's helping you set up for the next turn like it's programmed or something.  Not many boards have the ability to do that and that is what makes the Custom X special.
Edge Hold: The Burton Custom X has allot of camber that drives the nose and tail's edge into the snow giving decent grip.  It also has stainless steel edges. Burton also extends their board out by 1/2 of a millimeter right near each of the binding mounts and you can see it if you look down the edges.  This helps edge hold in most firm or icy conditions. It's a great idea and the custom x still has that traditional board feel with a little extra grip.
Flex: This is a stiff flex that is closer to the Medium side of stiff and a definitely a step up from the custom.  Every year Burton figures out how to keep this board chatter free at high speed and reduce the stiffness.
Switch: Even though the Custom X is more on the directional side it still can ride switch. It does feel a lot different than riding regular. You will get use to it but it's nowhere near as fun as a twin. There aren't many Twins that have this flex and carving ability so if you want to ride switch a lot it's probably best to just get use to it.
Pipe: The Burton Custom X does very well in the pipe. Good edge hold and gets you from one transition to the next. It's perfect if you aren't really hitting or landing fakie that much.  If you do you'll want to look for a different board.
Jibbing- I wouldn't bother. It's not a disaster with small easy jibs but If you have such an expensive board with such nice sharp edges you can probably afford a more rail friendly board and save your edges for a park mood swing.
Jumps: It springs off of any size jump and has enough stiffness to land just about anything.  Don't worry about this board…….worry about your ability.  Because the Burton Custom X is pretty directional it's not the best if you spend a lot of time taking off or landing switch.  If you want something better suited for that look at a stiffer twin or directional twin. There is great pop and with the Burton Diode EST bindings with "hinge tech" we felt like this combo made you Ollie better than your ability.
All in all we were thoroughly impressed by the Burton Custom X.  It use to suck having only EST options for this board but with the addition of hinge tech on many of the higher end Burton bindings it's hard to recommend other bindings. We have heard rumors from pro's and really higher level athletes that the earlier EST bindings would come loose but we haven't experienced that.  The newer bindings have a tighter lock and I'd just crank them down a little extra hard.
Burton Custom X Images

We try to get as many images of the Burton Custom X, but forgive us if they're not all there.
2023
2020
2019
2018
2017
2016
2015
2014
2013
2012
2011
Burton Company Information
Burton Custom X User Reviews
---
---
Burton Custom X 2010-2023 Snowboard Review
SKU
UPC
Model
Better than average oldschoold board
Apr 15, 2019
by
Maxim
Ability Level: Expert •
Riding Style: Aggressive •
Days You Ride A Year: 30+ •
Height, Weight And Boot Size (for Boards, Boots & Bindings): 158cm
I believe this board is overestimated a lot. I was riding 2 vapors and 1 mystery for a couple of years. As for now (april 2019) Burton is not making any high tech allmountain boards. Current year Mystery is fish and previous was Malolo which is only good for powder. But most of the time you have to ride slopes if you dont live next to a mountain and only go to snowboard on a powder days.

That said after riding vapors and mystery camber I finaly decided to try Custom X 2018. I thought it would be same as old Vapor (which was discontinued somewhere in 2010-2011) but I was wrong. Its much heavier than both Vapor and Mystery and its not as fast. On a top of that edges are not made from stainless steel and got corrosion after one year.
However board itself is very stiff, stable and looks very durable.
If you like oldschool camber ride than you would definitely like this board. And I am happy Burton continues to make it as I personally dont like Hybrid or Flying V cores. But that being said it just cant compete against Vapor or Mystery camber. Burton needs to make upgraded version of it from carbon, with metlon base and stainless steel edges. Then it would be unbeatable board.

---
09' custom x
Dec 20, 2018
by
Adam
Ability Level: Intermediate •
Riding Style: Fast and furious •
Days You Ride A Year: 30-40 •
Height, Weight And Boot Size (for Boards, Boots & Bindings): 6'1 180lbs 11.5US
I definitely don't have the experience most of the people making these reviews have which is exactly why I though I should make one.
Four years ago I first got introduced to snowboarding at Lake Tahoe while visiting my sister in Sacramento(I live in North Jersey). It did not go well and after doing some bunny hill runs I tried a blue and ended with a hairline fracture in my left wrist. Fast forward to the 2017-2018 season and my friends started getting into it and I though I would give it a shot again. Something to keep in mind for me is that I'm a fierce competitor and will make a completion of anything. So naturally I had to be the best and started to really push myself but thankfully I had a friend that had 10+ years experience to teach me along with some classes. I ended last season bombing down blacks, doing jumps and rails. The problem was that I had used the crappy burton rental board all of last season. That thing did not feel stable in the slightest but I think that only benifited me tbh.
Starting this year I didn't want to waste money on crappy rental equipment so I bough an 09' custom x with cartel bindings and quickstrap burton boots(all used but in excellent condition). Started my season about two weeks ago and have gone about 5 times between two different mountains.
The custom x felt amazing in comparison to what I was used too. I take corners extremely hard and feel completely stable while on my edge. Especially going over moguls it just cuts right through them. For a noob like me its not a daunting board to ride at all. This board gave me the confidence to take double blacks without carving too much. Since I'm in north jersey and the farthest I venture up is Vermont this board works well because I'm mostly on groomer.

---
Bomb and carve fun
Dec 17, 2018
by
tim
Ability Level: Advanced •
Riding Style: All mountain freestyle •
Days You Ride A Year: 30-50 •
Height, Weight And Boot Size (for Boards, Boots & Bindings): 182cm, 78kg, 11boots
This board is great and makes you a better snowboarder. Its very locked in and does not like to go slow. Fast edge to edge. Its built for carving groomers but i quite enjoy it here in new zealand as a freeride board. Has enough float, has great edge hold and will supprt you if things get sketchy, great for traversing , great pop and really springs you out of the turns. My fav carving board. the carves are very rewarding groomers and pow. Only weakness it doesnt like to turn going slow so going through hard mogul runs are not fun and quite a bit of effort.
I have the 2017 159 wide with 2017 cartel ltd bindings.
Great board and belongs in every quiver in my opinion.

---
full control
Nov 28, 2018
by
pete
Ability Level: Experienced •
Riding Style: Allmountain •
Days You Ride A Year: 15
when i bought my first x 12y ago it like doubled my skills immediately at least (after riding forum, gnu, nidecker) i suddenly had so much control. you can edge so hard and get insane pop. can i just keep replacing it every 3y or so. thank you burton for these amazing products!!

---
Meh
Apr 10, 2018
by
Rob
Ability Level: Intermediate •
Riding Style: All mountain •
Days You Ride A Year: 30-40 •
Height, Weight And Boot Size (for Boards, Boots & Bindings): 6.2 185 size 11 photon step ons
Rode this thing out at big sky for two days and it just wasn't my cup of tea. I usually ride cam rock boards with some ripe of magnetraction. so maybe that's the problem but I just couldn't jive with this board. I rode it everywhere from the bowls to the groomers with 6in of fresh each day with the crunchy stuff underneath. The float in the pow was meh. The edge hold on the hard groomers was garbage even after I had the edges sharpened on day two until the sun came out after 1 and softened things up. If you're doing less than 25 on the cat tracks to get around it's sketchy and unmanageable. This is also the first time I used the channel mounting which no matter how hard I cranked things down I could always crank it more after a few runs. The one highlight was the stiffness will let you bust through the chop. For reference my all time favorite board is my Capita mercury. I also own the slash brainstorm and Rossi one magtek. I would take any of those any day of the week over this thing

---
Let's curb the hyperbole a little
Feb 07, 2018
by
Pete
Ability Level: Advanced •
Riding Style: Aggressive •
Days You Ride A Year: 40 •
Height, Weight And Boot Size (for Boards, Boots & Bindings): 5'11 185 Burton Cartels Nike Zoom Force 1s
Just read a few of these user reviews, and while there were some nice detailed reviews, let's calm down a bit about this ride. Whole i agree that it's board you need to stay on edge for when carving, what aggressive cambered board don't you? I've owned 3 different Capita BSODs, Lib Tech Jamie Lynn, Arbor Bryan Iguchi, Yes Optimistic (Gen 1), and ridden a Custom X of multiple models.

There isn't that much difference between all those listed above. It's stiff, it has camber. What do you do on a stiff cambered board? You carve. You don't straight lines through a mogul
Field. If you get that concept, you won't have trouble with this board.

The only thing with stiff cambered boards is that they now do a number on my knees (37 years old). Beyond that, let's stop acting like this is a Gen 1 Ride Timeless.

It's a really fun ripping board. You go fast to enjoy it. Not a dick around the resort and cruise deck. Get a quiver started to enjoy a day of that. But if you like to carve, and you like loading and unloading camber out of turns, you will love the response from the board. It's rewarding.

But it's not a death sled. If you know how to carve, it will bring your enjoyment to new heights. If you are a beginner - intermediate who can't carve well, get a more forgiving cambered ride with raised contact points to help.

You don't need 30 years experience to enjoy the deck. You need healthy knees and a good carving skill set. But let's be real. If you are enjoying camber, you already enjoy carving. This isn't a skate Banana where you can sound like a Mack Truck coming up on every skier, watching them shit their pants as you destroy all the Corduroy.

Like to carve, push through the camber in your deck. Get a Custom X, and enjoy the reward.

---
2018 Custom X Review
Jan 20, 2018
by
Craig
Ability Level: Advanced •
Riding Style: Freeride/goofy •
Days You Ride A Year: 20 •
Height, Weight And Boot Size (for Boards, Boots & Bindings): 191cm/95kg/US14
Well I\'ve been riding a few generations of the Burton Custom 165W for just under 10 years now and decided to grab a new upgrade after I sold my old one.
I\'ve always loved a directional cambered ride as my board of choice for Australia\'s crappy wet winters and gloriously groomed mountains???
With 36 years of riding under my belt (advanced rider) I felt like it\'s about time to venture into \"The Twilight Zone\"; the 2018 Burton Custom X.

I\'ve read and watched a lot of reviews about the caution necessary to be applied along with the advanced level of riding expertise required before you even think of stepping onto this monster. This initially, left me a little bit hesitant with taking this step......., was I about to enter into \"A Bridge Too Far\".

So being 191cm and 98kg kitted up I grabbed the 2018 Burton Custom X 166W. I\'ve paired this ride up with the Burton Genesis EST and riding in US14 Burton Imperials.

Out of the plastic this board feels a little heavy in weight. But it\'s a big board at 166 in length and 266mm in the guts. Looking closely you can just see through the side\'s of the top sheets edge the wide layer of carbon in an X pattern over each of the reference points. This board is also fitted with Burtons 45 degree carbon highlights on the whole board. So it\'s got lots and lots of carbon going on here. I waxed and rotor brushed her up prior to riding with Hertal FC739. Left the edges as standard other than deburring the front and rear ahead of the effective edge.

So having spent 3 days of riding the Custom X in Furano on the days when it hasn\'t dumped I thought I\'d give my thoughts.

After being instantly blown away with my 163 Dump Truck the second I jumped on it, I was dearly hoping for this same experience with the Custom X.

I jumped off the Gondola and strapped in......, sitting on the bench about to drop down. I\'ve been a little nervous and thinking about this time for a few days now. So here I go.

I was mindfully cautious with my first few runs as I\'ve read that the Custom X can bite you hard if your technique is not spot on. What I instantly felt on the 1st run is that this board is wickedly stiff. It\'s rated an 8 but it feels like a 9 on the snow. As a result you lose that level of forgiving playfulness from the slightly softer Custom I\'ve grown to love over the years. Could this be seen as a bad thing with a rider of my mid 50\'s vintage???

So after a few runs I was starting to get familiar with the Custom X. Hit a few wide groomed blue runs and shit, this thing is so freaking fast. Was throwing turns edge to edge at a phenomenal speed, the fastest I think I\'ve ever been. I find that as it\'s so fast you are constantly transfering from heal to toeside to keep that speed in check. You\'re always thinking if I go down here catching an edge, I\'m going to be rag dolled on the piste so hard to Intensive Care.

After a few runs at mach 1 the lactic acid started burning hard in my quads so hard I had to have a minute break every now and then just to get my legs back. This is part of the joy in riding the Custom X.

This board just absolutely loves the groomed piste....., the smoother the better. This is where you want to be with this ride.
You can set a carve down and it will just lock in that edge and drive you out with speed. I found that I had so much more fun on this board on the wider blue run areas where I could dial in a carve and run it flat out without the Custom X running away and consequently wanting to ride me. In steeper areas of terrain you will be trying to hold this baby back from galloping away from you. You know, when you\'re riding fast all day and suddenly get blasted by one if those Olympic level guns on a board or set of skis....., this is now going to be you.

I had the Custom X set back 15mm to the rear of reference on the front and 20mm to the rear on the back. This on top of the boards already 12.5mm of directional set back.

Time to trek into a little bit of backcountry. Hit a few stashes of steeper powder through the trees and was able to get the tail to slash about playfully. You\'ve still got to put a little muscle in here as the Custom X is nothing like that light surfy presented freeride enjoyment handed to me in the same area from the DT.

So after 3 days of riding I find I\'m in a sort of love hate relationship with this board. It\'s a board that I feel needs a familiarising learning curve. The more you ride the Custom X the more comfortable you\'ll start to feel with it. This board becomes so much lighter and easier to ride the faster you go. That\'s the real problem you have to control and master with the Custom X. It\'s definitely like they say...., a board for an advanced level rider. It can take you to a level you\'ve never been before with phenomenal speed, carving ability and performance, but this comes at a cost with the Custom X\'s loss off playfulness. But that is really what this board is all about. You sort of feel that you have to be concentrating at 110% all of the time whilst riding as you\'re travelling at ridiculously fast speeds. This board is that frisky wild stallion that is hard to tame but you need to do it anyway. If you are not mentally dialled into riding the Custom X you can pay for it big time by being its crash test dummy.

So the 2018 Custom X does everthing it\'s designed to do with exelence. Its a fantastic board for high speed and piste carving. It\'s incredible stiffness is a trade off with loss of playfulness. A 100% advanced level ride.

4 stars

---
Race Car
Dec 05, 2015
by
Sándor
Ability Level: Advanced •
Riding Style: Freeride •
Days You Ride A Year: 60+ •
Height, Weight And Boot Size (for Boards, Boots & Bindings): 182cm, 70kg, 43 boot size
The Burton Custom X is a tempting ride for many, but a good match for few. It is a very stiff, classic camber board, similar to a race car: high tech, looks good, can go very fast, but it is a nightmare to drive in a busy city.

First, the most common mistake: 90% of the people who buy this board are below the skill level required to ride it. This results in unnecessary suffering, slow down in their progress, and some nasty crashes too. Do yourself a favour: buy this board after you have 200 days under your belt. Yes, that means you have been snowboarding for 28 years if you only ride 7 days a year. Would you be able to come down the slope with this board as a beginner? Sure. Would you enjoy it? Likely not. The board would ride you, not the other way around.

For the experienced riders, here are the pros and cons. In the video you see a size 160 board, I\'m 6\' feet (182cm), 155 pounds (70kg), and ride around 60 days a year.

Carving and edgehold:

The camber combined with stiffness makes it hard to navigate at slow speeds. You will constantly fight the board when getting out of lifts or going through a crowd. After you speed up, this becomes less of an issue, and you start to feel how nicely it holds the carves. Then you reach the speed, where things usually become sketchy, and you feel you will wash out. Except, that with this board, you won\'t. And then you push it into the scary fast territory, where it starts to behave like your regular board at slow speeds: easy to turn and nimble. Then you understand why it has to be so catchy and stiff in the first place.
The board can rail carves where my legs are not strong enough to hold me against the massive force. The only boards that offer better edge hold are the special race carvers like Volkl, but those require hard boots, and are unusable for anything else than carving.

Powder:

The Custom X used to count as a good powder board five years ago, but today the hybrid camber shapes are much better. The classic camber shape of this board points the nose down, so even with large set-back, you have to fight to keep it floating. Many freeriders still love it, but watch how fast they are riding. With good speed and steep terrain it is much easier to float. If you are after a good powder/freeride board, look for the Burton Flight Attendant, Burton Landlord, or my current favourite, the Rossignol XV.

Jumps:

You have to be really precise and do big kickers to need this board. That means 40\' feet (12 meter) or larger jumps. Anything under that you are better off with a softer, and probably more twin shape board.

Construction:

It has a very fast sintered base, which needs maintenance to perform at its full potential. Wax it regularly, and it will behave like a flying carpet. The edges are stainless steel, so they don\'t rust, which is a nice feature.

Summary:

This is a stiff board for bombing steep slopes and huge jumps. Be honest with yourself, and buy it if you have the skills to use it. If not, get a softer board and you will have much more fun.

---
Burton Custom X
Jan 14, 2015
by
Timish
Ability Level: Expert •
Riding Style: All Mountain Charger •
Days You Ride A Year: 25-35
I have 2013, 2014 and 2015 Burton Custom X's for the past 3 seasons, and they've remained one of my favorite boards for charging on a groomer day. Due to it's stiffness and significant traditional camber, the Custom X is able to hold a carve on all but the iciest of snow at nearly any speed. It is a very stable board at all speeds, and it is capable of bombing with the best of them. Turn initiation can be a challenge, particularly if you're used to softer or hybrid camber snowboards, but the flip-side is that the board snaps out of turns with authority. For an old-school rider, this is a very good board.

Unfortunately, the Custom X is only okay in powder. It has gotten better over the years (Burton seems very capable at softening the board without compromising it's core character), but it's still a cambered, stiff board. If you're flying it can float decently, but it will bog down in deep or heavy snow. Additionally, it's very average in the park. It is simply too stiff and directional to be a good jib board or for smaller jumps. It's a little tough to ride switch, but it's doable. Big jumps and the pipe are very decent though- as the board has enough structure to maintain pop and control on massive features.

Overall, it is an excellent all mountain ride for boarders who value carving, stability and speed. It's not the easiest ride, but it is very rewarding when ridden hard.

---
If you can't buy through the links above, you can support the site with: