Arbor Coda Camber 2016-2023 Snowboard Review
| | |
| --- | --- |
| Riding Style | All Mountain |
| Riding Level | Beginner - Expert |
| Fits Boot size (US) | 8-10, 10-12 |
| Manufactured in | Dubai by SWS |
| Shape | Directional Twin |
| Camber Profile | Mostly Camber |
| Stance | Centered |
| Approx. Weight | Feels Normal |
| Split | No |
| | |
| --- | --- |
| On Snow Feel | |
| Turn Initiation | |
| Skidded Turns | |
Where To Buy
80% of outdoor sports products are not listed or sold online.
Our team has relationships with hundreds of local snowboarding and outdoor sports shops.
We'll call the shops and email you a list of stores along with pricing and availability.
---
Not sure what to buy?
Get custom advice from Good Ride editors James and Steph.

Get Advice
Arbor Coda Camber 2023 - 2016 Review by The Good Ride
2023 Update: The Arbor Coda Camber doesn't seem to have changed so this 2022 review still stands. 
Turn Ons/Swipe Right: Full camber pop but very forgiving. Great turning experience in medium to soft snow.
Turn Offs/Swipe Left: Lifted sides can feel a little edgeless and washy in hard snow.
Summary
The Arbor Coda Camber Camber sacrifices float in powder and can feel edgeless mid turn in hard snow but it has a very forgiving ride with full camber pop.
Ethics Statement: We don't get paid by the manufacturer to write these reviews and this is our unfiltered opinion. We do make money from the "Where To Buy" links, but this is our best attempt at an honest and objective review from an average riders' perspective.
2022 Arbor Coda Camber Camber Review- How it rides and who it is for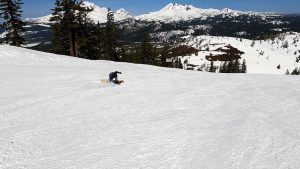 How This Review Happened:
Borrowed this for an extended demo and sent it back. 1 day demo. A few laps at a demo. Liked it so much, asked to keep it (only do this with favorites).  Liked it so much we bought it.  Precious Good Ride dollars were spent to buy this and review it.
Size: 156
Days: 3
Conditions: Pretty good snow to varied spring snow.
Riders: James (Size 9, 5'10" 185-190lbs)
Boots: Burton Kendo
Insoles: F.I.T. Gamechangers
Bindings: Union Atlas
Jacket: Burton AK Gore-Tex Pro 3L Tusk Jacket, Volcom TDF Infuse 3L Gore-Tex Jacket, Burton Banshee Gore-Tex Jacket
Pant: Burton AK Gore-Tex Pro 3L Hover Pant, Burton AK Gore-Tex 2L Swash Pant, Burton Gore-Tex Ballast Pant
Helmet: Smith Maze
Goggle: Smith IO Mag, Smith 4D Mag
Gloves: Burton AK Clutch Mitt, CG Habitats Work Glove, Drop Tahoma Mitt,
Similar Boards (but not the same): Korua Otto, Lib Tech Terrain Wrecker, Capita Mercury,YES NSB, Endeavor Pioneer, Jones Mountain Twin, Endeavor Ranger, K2 Manifest, Yes Typo, Jones Frontier, Ride Algorythm, Borealis Tundra
Set-Up: 21.5" Wide. Sance Angles +15/-15. Close to Reference.
How It Was Tested
I rode this same day with the Arbor Clovis and the YES Basic Uninc and Jones Mountain Twin. All boards were ridden with Union Atlas and Burton Kendo's.
Approximate Weight
The Abor Coda feels like it's a little bit on the heavy side of normal but definitely not heavy.
(We don't put in the exact weight because with wood cores there is no consistency in a boards weight)
Sizing
The 156 Arbor Coda Camber felt just right. Here are some ideal US boot sizes for these boards. You can of course go bigger or smaller but these work best for not turning the board slower than it should be and not having the dreaded Toe & Heel Drag.
153: 7.5-8.5
156: 8-9
159: 8.5-9.5
162: 9-10
160w- 10-11
Shape/Camber/On Snow Feel/Ability Level

The Arbor Coda Camber is a directional twin with a nose slightly longer than the tail but it feels very centered like a true twin on snow. There is full camber from tip to tail but with a slightly lifted edge at the end of the contact points. Then the lift tapers back in when the nose starts. It makes for a stable ride in most conditions except hard to icy snow mid turn. Then it feels edgeless and washy. What is good about it though is you have the pop of camber but not the catch of camber. So if you can take the time to get used to that then it might be a pretty appealing board.
Flex Personality
The flex is pretty medium but combined with that camber it doesn't butter super easy. It takes a little extra work to access the pop of the Arbor Coda Camber Camber and it feels like there is a layer between you and the pop. It feels like there is more wood with most Arbor boards than others. That isn't good or bad. Some will appreciate the extra dampness and once you get through that layer it surprises you with a lot of pop on an ollie.
Speed
Pretty fast for a directional twin and not super stable but good. The base has good glide when waxed. Not ultra-glide but pretty good.
Uneven Terrain
The Arbor Coda Camber Camber has a pretty damp feel in all conditions and it can handle hard micro bumpy to messy snow pretty well at slow to medium speeds. It's a pretty good all day resort ride.
Edge Hold
Not there with more aggressive disruptions in the sidecut but pretty competent in hard snow. The one thing is getting used to that edgeless and washy feel in harder snow. If you just put more weight between the feet and lean in a little further the edge sets in again and it grips well. You just have to counterintuitively commit to that edge when you think you shouldn't. After a while you get used to it
Turning Experience/Carving
The Arbor Coda Camber Camber is pretty quick edge to edge and I liked the way it initiated a turn. Once you get this on edge you get pretty good spring out of the turn and it has a pretty balanced turning radius as well. You can make all kinds of turns and it will never shit the bed on you. Like an ollie you have to work a little bit more but when you do you get rewarded for it.
Powder
I didn't get powder on the Arbor Coda Camber Camber but I have with other System Camber boards that are more directional and they were a bit behind other boards with more lift in the sides or more rocker somewhere in the board. So when set all the way back on board at 1.875" and 7×2 inserts per binding it has a pretty all mountain set back. It just has a full camber feel though. The lifted sides don't seem to help like others do. It might be because they are in the shape of a fender and don't keep lifting towards the nose.  If you are used to full camber this will be a little better though.
Switch
Great either way. It was really fun to take this either direction and try to give some harder turns.
Conclusion
So I had a great time on groomers with the Arbor Coda Camber Camber and the more I get used to it in harder snow the more I am comfortable with it. This is a good choice for a quiver. If its your one board you need to decide if powder is more important or full on camber spring is.
If this review helped, we'd appreciate if you:
Arbor Coda Camber Past Reviews
2019 Arbor Coda Camber Review
The Arbor Coda Camber is a much better groomer board but a much worse powder board than the Coda Rocker. Still, it's got a nice catch-free ride compared to traditional camber thanks to the lifted sides. Other than the somewhat edgeless feel on harder snow due to the lifted contact points in the tip/tail, this is a pretty good daily driver and I think with a little time it could be something you could get used to.
Ethics Statement: We don't get paid by the manufacturer to write these reviews.  No one is perfect and we do make money from the "Where To Buy" links below, but this is our best attempt at an honest and objective review from an average riders' perspective. 
How This Review Happened:  We borrowed this for an extended demo and then returned it.
Size: 162
Days:  3
Conditions: Mainly hard snow with some occasional patches of good snow.
Riders: James (Size 9, 5'10" 185-195lbs)
Boots: Adidas Tactical ADV,
Insoles: Sandsole Custom Insoles
Bindings: Union Atlas, Union Strata
Set Up: 22" 15 front -15 back
Approximate Weight: Felt on the side of heavy but it is a 162
Flex/Buttering: Felt medium stiff and it was pretty aggressively stiff for a directional twin.  I had a tough time buttering this big boy.   I feel it used to be a bit softer when I first started riding this.
Sizing: It was kind of a mismatch for my specs.  Like I said in the review I would have been much happier on a 156 or even a 159.
On Snow Feel: It feels stable in soft snow and then pretty uniquely semi-stable in harder snow.  It doesn't feel like a hybrid rocker or Arbor's parabolic rocker but instead like an edgeless camber board in the hard stuff. You feel like there is a camber board underfoot but it just doesn't let you know you have an edge when one footing or flat basing. Once you lean over to engage the Grip Tech you feel the edges again but the absence between is a bit unsettling at first.
Edge Hold: When on edge it grips well and those little bumps in the sidecut at each binding helps a ton.
Turn Initiation:  The older models I tried in smaller sizes turned pretty quick and were there where I needed them.
Turning Experience: Once I got past that weird feeling in harder snow and laid it on edge it turns well and almost like a traditional camber board.  It's fun and has good spring out of any radius turn.
Carving: Carves well and the lifted tech (fender) didn't seem to bother me.
Skidded Turns: This is super easy to skid turns with and it's nothing like the old traditional camber boards. It really helps you not stack hard if you get off your game.  Anything is possible when you fuck up and it can thump you but it's less likely than traditional camber boards.
Speed: Pretty fast and stable at any speed my mediocre ass was willing to push.
Uneven Terrain: If I had a smaller size like I demo'd in the past, I could weave in and out of bumps and it's a very solid ride for a weekend warrior that sees a ton of tracked up/messy snow.
Powder: It doesn't catch like a camber board but it floats a lot like one.  It might be a touch better and isn't bad for a mostly camber board with a centered stance by any means, but if you want easy float best to look elsewhere.
Switch:  Very good either way and its twin shape make that work well. It was so hard to butter I couldn't tell if the tip and tail had the same flex.  Both were too hard to get going for me.
Jumps:  Yeah if you want to send it this could work. I'm too old and broken for that shit these days but you know it can work.  One thing I noticed though is sometimes when I load the edge for an ollie the fender tech/ lifted sides wash out.  It doesn't happen all the time but does on occasion.
Jibbing: didn't try much and it feels too stiff to go past an easy box.
Pipe: A smaller size might be fun and it's been a while since I rode pipe with this board.  There was no pipe at the time though.
So all in all the Arbor Coda Camber has some quirks and limitations but it could be a good daily driver for anyone that wants a lot of the things that traditional camber did well but without the consequence.
Ethics Statement: We don't get paid by the manufacturer to write these reviews.  No one is perfect and we do make money from the "Where To Buy" links below, but this is our best attempt at an honest and objective review from an average riders' perspective. 
How This Review Happened:  We borrowed this for an extended demo and then returned it.  We also got a few laps on it at a demo.
Size: 156
Days: 3
Conditions: Good snow to somewhat hard snow.
Riders: James (Size 9, 5'10" 195lbs), Jimbo (Size 11, 5'11" 160lbs), Peter (Size 8, 5'11" 185lbs), Jack, Zobel (Size 11.5, 6' 180lbs)
Boots:  Burton SLX, Burton Rover, Burton AMB, Burton Almighty, Burton Imperial,
Insoles:   Footprint Insole Technology Gameghangers Low Profile
Bindings: Union Atlas, Union Superpro, Burton Genesis, Flux SF
Set Up: 23" 15 front -15 back
Arbor Coda Camber Images

We try to get as many images of the Arbor Coda Camber, but forgive us if they're not all there.
2023
2022
2018
2017
2016
Arbor Coda Camber User Reviews
Arbor Coda Camber 2016-2023 Snowboard Review
SKU
UPC
Model
Return to Camber
Feb 08, 2016
by
Corey
Ability Level: Intermediate-advanced •
Riding Style: What's a terrain park? •
Days You Ride A Year: 15-20 •
Height, Weight And Boot Size (for Boards, Boots & Bindings): 6' 178 pounds size 10 boots
I come from a follow the fall line charging skiing background and turned to snowboarding 5 years ago. I've purchased 2 boards this year because my equipment was dated. I could ride the Ride Berzerker, but had to wait the nose so much to make it turn how I like it to that the rocker would send me over the handlebars. I thought that a return to camber was in order and bought this Arbor Coda Camber. This board turns fast, follows a line, charges groomers, chop and powder with confidence. I still don't trust the leading edges when I want to let it run flat, this is either my head space from a previous fall that put me out of commission. I'm going to detune the leading edge just a bit and see how that goes. This will be my primary board for years to come.

---
If you can't buy through the links above, you can support the site with: