Burton Photon Step On 2021 Snowboard Boot Review
Where To Buy
No obligation, but these links & ads support the site.
Burton Photon Step On 2021 Review by The Good Ride
Burton Photon Step On Snowboard Boot Video Review Fast Forward Markers
0:00 – Intro 0:25 – Summary 2:06 -Sizing 3:14 – Lacing and Adjustability 4:04 – On and Off Ease 4:15 – Flex/Response 5:09 – Flex Retention 5:31 – Shock Absorption 6:07 – Traction 6:28 – Reduced Footprint 6:59 – Liner & Inner Boot 7:30 – Conclusion 8:28 – About Our Reviews
Turn Ons/Swipe Right: Super responsive. Best quick release system in the market.
Turn Offs/Swipe Left: Almost no boot to binding and no stance width adjustability. Weird to butter with.
Summary
The Burton Photon Step On boot is incredibly easy to get on and off but also improves response over regular boot/binding systems.
Ethics Statement: We don't get paid by the manufacturer to write these reviews and this is our unfiltered opinion. We do make money from the "Where To Buy" links, but this is our best attempt at an honest and objective review from an average riders' perspective.
Burton Photon Step On Snowboard Boot Review- How it rides and who it is for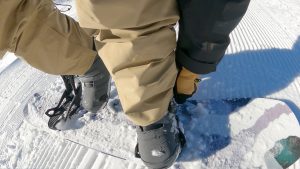 How This Review Happened:  We borrowed this for an extended demo and then returned it.  We borrowed this for a day and then returned it. We had a couple of laps at a frantic manic demo day. We liked it so much we asked to keep it (we only do this with our favorites).  After a demo, we liked it so much we bought it.  We spent our precious Good Ride dollars to buy this and review it.
Days: 2
Size Tried: 9 Regular
Riders: James (Size 9, 5'10" 185-190lbs)
Bindings: Burton Step On, Burton Step On X
Boards: Burton Hometown Hero, Yes Ghost
Similar (but not the same) Boots: K2 Quicker, Flow Bindings, Gnu Bindings, Burton Ion Step On, Burton Ruler Step On.
James' Foot Specs
Foot Size: 9 US
Foot Width: E
Arch Length: Right 9.5 and Left 9
Calve Circumference: Top of boot 17" & Bottom of boot 12"
Sizing/Fit
The 9 felt a little on the tight side along the arch of my foot for my size 9 E foot. Well just a tiny bit shy of a full on E width but close. In the front of the boot there was a lot of room but almost all of my arch was cramping on the sides at first. After 2 days of riding the Burton Photon Step On liner expanded to the point where there was almost no discomfort.
Construction/Flex/Flex Retention
The Burton Photon Step On is well made and seems like it can last a long time. However the flex doesn't seem like it is going to last as long. This is good because out of the box it is super stiff and in my opinion too responsive. So I would look forward to it breaking down a bit.
Adjustability/Heel Hold
There is not as much upper/lower adjustability compared to the other Double BOA boots. This is essentially a single BOA but with a BOA ankle strap integrated into the boot. If you like a boot that really wraps around your ankle then the Burton Photon Step On boot is a great call.
Response/Turn Initiation
The Burton Photon Step On boot is super responsive. The front of the boot is super stiff but what really makes it so responsive is how it integrates with the Step On and Step On X bindings. The connection to the back of the binding makes it feel more unified than a traditional boot binding combo. It really makes for fast turn initiation and it can turn just about any board. They are in between hard boots and responsive soft boots and great for those that like a responsive carve friendly set up.
Shock Absorption/Board Feel
So the sole is pretty shock absorbent but the integration with the Step On binding makes for a pretty overall shock absorbent ride. Being so connected to the binding made it uncomfortable to butter and I don't think it would be good for those that like really directional stance angles since you can't rotate the high back of the Step On Bindings that are mandatory for this set up.
Traction
The Burton Photon Step On is pretty good when it comes to traction and I never felt like I would do the disco splits skating in an icy lift line.
Footprint
Very reduced. I have found Adidas boots to be more reduced but not consistently throughout the size range. For size 9 it isn't super reduced but as you get into bigger sizes it is very reduced.
On & Off Ease
Very easy on and off. The Burton Photon Step On is also easy in and out of the binding too. That is what makes this so unique.
So overall, The Burton Burton Photon Step On isn't personally for me but I can say that this is the most recommendable quick release set up I have tried. You not only get a super easy in and out but you get more response than traditional boot/binding combos.
Burton Photon Step On Images
Burton Company Information
Burton Photon Step On User Reviews
---
---
Burton Photon Step On 2021 Snowboard Boot Review
SKU
UPC
Model
So Much Pain
Sep 23, 2021
by
Ryan
Ability Level: Advanced •
Riding Style: All Mountain Freestyle •
Days You Ride A Year: 15 •
Height, Weight And Boot Size (for Boards, Boots & Bindings): Size 8.5
I tried these on at a demo when the step on system first came out and liked the boot and system. I immediately ordered both through the Telluride Burton store I demo'd them at. When the boot came I wore it around the house constantly to get it broken in for the next season. It caused pain but I figured it would eventually get broken in and go away... boy was I wrong.

I've have several pairs of Nike's and have never had boot pain before. This was a new and terrible sensation. After 3 years of riding I sold them online. While the boots are well made and easy on and off, the pain I had around my entire foot wouldn't let me board past 3 hrs a day. I tried riding them loose, baking them (multiple times) and several pairs of insoles. The solution...

DC made a step on boot and its amazing. I bought the DC boot and out of the box it felt better than these StepOn boots with 30+ days on them. Do yourself a favor - get the DC boots.

---
Solid Boots
Mar 10, 2021
by
andrew
Ability Level: Advanced •
Riding Style: Free ride •
Days You Ride A Year: 15-20 •
Height, Weight And Boot Size (for Boards, Boots & Bindings): 5'9" 160lbs. 10.5 boot
Ok, the review James gives is accurate. These are solid boots and they pair really well with the SO bindings. The added strap over the foot really gives the boot a traditional binding feel. One thing that is notable and that you should pay attention to is how these boots feel clipped in. This is huge and if you're thinking about buying this I'd recommend the following.

Let me start out by saying I don't have a wide foot and I wear 10.5 shoes. The sizing as far as true to fit is accurate. If you're a 10 shoe you'll be a 10 boot, that part they have right. One thing to pay attention to is how the boot feels clipped in and not just on your feet in the store. I started out with a 10.5 boot and the boots felt perfect until you're clipped in over an extended period of time. ( probably 30 min and you'll know). So there is pressure that you'll feel on the clips on either your inner or outer edge of the boot where they clip into the bindings. This ends up being pretty painful and i did all I could to "work in" the boots. Baking them multiple times and even just standing in my living room clipped in watching tv. After hours of being clipped in and no relief I ended up exchanging these for the 10.5 wide and have no issues. The only difference between the wide and normal version of the boot is the thickness of the liner. The wides have a thinner liner and this solved the issue for me. If you buy these boots let the store bake them for you and insist on being clipped in to mold your boots. After 30min you'll know if you're gonna have an issue. If you have pain by either of the clips I recommend asking for the wide version. I have normal width feet and the wide 10.5 are perfect no heel lift or any noticeable difference only that the pain is gone.

---
If you can't buy through the links above, you can support the site with: