Burton Kendo 2020-2023 Snowboard Boot Review
Where To Buy
No obligation, but these links & ads support the site.
Burton Kendo 2023 - 2020 Review by The Good Ride
Burton Kendo 2020-2023 Snowboard Boot Video and Written Review
Here you have the Burton Kendo 2020-2023 Snowboard Boot Review from an average rider with in depth boot knowledge and an exceptionally objective perspective.
Update 2023: The Burton Kendo has changed very little since this review. The liner is a little different and is tighter around the ankle. For me it causes hot spots in my Achilles heel even after intense heat molding. Check my update below in "Sizing/Fit"
Swipe Right: Excellent Adjustability, Pretty Good Flex Retention
Swipe Left: Not as much response/durability as the old Fiend, Fiend LTD, Hails, Grails and boots it is inspired by.
Summary
The Burton Kendo has a medium soft flex with medium response and very good flex retention. It suffered from some delamination but overall it held up well for 90+ days of riding.
Ethics Statement: We don't get paid by the manufacturer to write these reviews.  We do make money from the "Where To Buy" links, but this is our best attempt at an honest and objective review from an average riders' perspective.
A Breakdown of How It Rides And Who It Is For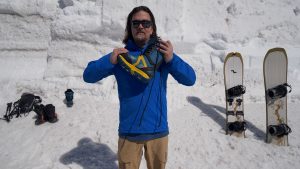 How This Review Happened:  We borrowed this for an extended demo and then returned it.
Days: 90+ (These were my primary boots for the 2020-2021 season and I ended up using this boot long after I did the video review)
Size Tried: 9
Riders: James (Size 9, 5'10" 185-190lbs
Insoles: Footprint Insole Technology Gamechangers
Bindings: Union Atlas and many others.
Boards: Here are a few but many other boards were ridden. Capita Spring Break 158 Powder Glider, Capita Spring Break 161 Tree Hunter, Jones Mind Expander, Burton 3D Fish, Korua Dart, Korua Pencil, Korua Café Racer, Weston Japow,  Season Forma, Gentemstick Mantaray 156, Yes Hybrid, Lib Tech Orca, Never Summer Harpoon, Niche Pyre, Lib Tech Lost Quiver Killer, Yes Hybrid, Yes Y, Cardiff Powgoda, Gnu Gremlin, Burton Show Stopper, Yes Pick Your Line,  Rossignol XV, Lib Tech BRD, Weston Backwoods, Cardiff Bonsai, Burton Cartographer, Burton Instigator, Korua Otto, Capita Mercury, Jones Mountain Twin, Borealis Tundra, Yes Greats, Stone Message,  Yes Basic, Rossignol Jibsaw, Yes Jackpot,  Ride TwinPig,
Jacket: Burton AK Gore-Tex Pro 3L Tusk Jacket, Volcom TDF Infuse 3L Gore-Tex Jacket
Pant: Burton AK Gore-Tex Pro 3L Hover Pant, Burton AK Gore-Tex 2L Swash Pant, Burton Gore-Tex Ballast Pant
Helmet: Smith Maze, Smith Vantage
Goggle: Smith IO Mag, Smith 4D Mag
Gloves: Burton AK Guide Glove, Burton AK Clutch Mitt, Burton AK Clutch Glove, Burton AK Tech Leather Glove, Burton AK Tech Glove, CG Habitats Glove, CG Habitats Work Glove, Drop Tahoma Mitt, Drop Cascade Glove, Drop Web Glove,
James' Foot Specs
Foot Size: 9 US
Foot Width: E
Arch Length: Right 9.5 and Left 9
Calf Circumference: Top of boot 17" & Bottom of boot 12"
Sizing/Fit
The Burton Kendo has a tighter fit than some Burton boots have. I would say its best for a D width and below. An E, like me can work with a little heat molding and some boot fitting foam on the sides of my feet but its not easy to break in on your own. The actual size fits really true brand new. It breaks in a little and there is more space after but it still isn't quite enough to size down to an 8.5. I just put in a little boot fitting foam in and it solves the problem.
The 2022 and 2023 models have a tighter fitting ankle with more exaggerated J-Bars in the liner. It also has a more coarse liner with a shark skin like material that is smooth going in but grabs when you lean forward on a toe side turn. For me it really hurts. Even with two pretty aggressive heat molds with boot fitting foam all over the back of my heel and ankles I can't seem to press it in. The J-Bars don't seem to be heat moldable. It's a deal breaker for me and I had to put in a life ride liner from my Burton Tourist's to use it. That doesn't work well either because the metal rings inside that hold the liner lace in place cause pressure points. I added boot fitting foam to those areas but it still didn't totally fix it. For me this is a deal breaker and I'm now trying to find another boot as my daily driver.
Construction/Flex/Flex Retention
The overall construction seems to focus more on comfort than durability flex longevity. Still, the Burton Kendo held up for around 90 days and still had a good amount of flex left. This is for sure one of the better boots in Burton's line. I think it might be due to the fully articulating cuff. It might not be as stiff as I wanted it out of the box but at the end of the season it had more flex/response than many other boots that started out stiffer.
Adjustability/Heel Hold
The heel hold isn't spectacular but I never had an issue. I don't usually have heel hold issues but if you do you might want to look to another boot. If having a lot of adjustability is important to you the Burton Kendo.
Response/Turn Initiation
Despite the medium/soft flex the Burton Kendo has a pretty medium response. It is very smooth and predictable. I would have liked a little more support with a little more response but you get more response than you would think for the flex.
Shock Absorption/Board Feel
There is pretty good shock absorption that is on par with the Burton Ions. It seems to have a similar sole. If you add in the auto cant (easy inward roll) it was pretty easy on my joints.
Traction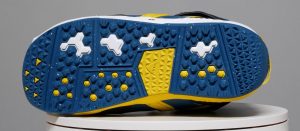 Love the traction of the Burton Kendo. Never had an awkward moment in the lift line because of lack of traction. There were other awkward moments but not from that.
Footprint vs. Warmth
This isn't the warmest boot but the footprint is really reduced. Especially in the 10+ range where it often matters most. It really helps you fit into a board that might be on the narrower side better.
On & Off Ease
I don't see what all the fuss is about BOA and speed lace boots when it comes to easy transitions. Yes it's a little easier but I would choose adjustability
If this review helped, we'd appreciate if you:
Burton Kendo Past Reviews

The Burton Kendo is the reincarnate of the Fiend, Grail and Hail of past that we loved here at The Good Ride. It's just a bit softer than the previous boots used to be. It's a pretty good call for those that like a medium soft boot that allows for a good bit of freedom of movement.

There is an updated review coming. This boot does really well at keeping it's medium flex all year and while it didn't look pretty at the end of the season it held up well.

Ethics Statement: We don't get paid by the manufacturer to write these reviews.  We do make money from the "Where To Buy" links, but this is our best attempt at an honest and objective review from an average riders' perspective. 
How This Review Happened:  We spent our precious Good Ride dollars to buy this and review it.

Days: 80+ (updated review coming)
Size Tried: 9 US
Riders: James (Size 9, 5'10" 185-195lbs)
Insoles: Footprint Insole Technology Gamechangers,
Bindings: Union Contact Pro/Union Superpro,

Boards: Yes Greats

Similar (but not the same) Bindings: Burton Almighty, Burton Ambush, Burton Hail, Vans Aura, Adidas Samba, Adidas Superstar,

James' Foot Specs
Foot Size: 9 US
Foot Width: E
Arch Length: Right 9.5 and Left 9
Calves (Top of boot): 17"
Calves (Bottom of boot): 12"
Burton Kendo User Reviews
If you can't buy through the links above, you can support the site with: