Jones Mercury 2019-2021 Snowboard Binding Review
Where To Buy
No obligation, but these links & ads support the site.
Jones Mercury 2021 - 2019 Review by The Good Ride
2021 Jones Mercury Snowboard Binding Video Review Fast Forward Markers.
0:00 – Intro 0:15 – Summary 0:27 – Weight 0:33 – Highback Flex 1:05 – Flex Underfoot 2:02- Shock Absorption 2:44 – Turn Initiation/Response 4:05 – Ratchet System 4:31 – Boot Support 6:01 – Sway Bar Issue 7:45 – Adjustability 8:59 – Conclusion 9:43 – Some BS and Outtakes 10:11 – About Our Review
Turn Ons/Swipe Right: Super Damp and Shock absorbent. Great binding for uneven snow.
Turn Offs/Swipe Left: Minimal Adjustability. Arch pain with softer sole boots.
Summary
The Jones Mercury is all about a damp cushy ride with smooth response. Its not ideal for soft sole boots but great for hard sole boots.
Ethics Statement: We don't get paid by the manufacturer to write these reviews.  We do make money from the "Where To Buy" links, but this is our best attempt at an honest and objective review from an average riders' perspective.
Jones Mercury 2021 Snowboard Binding Review- How it rides and who it is for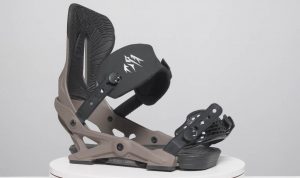 How This Review Happened:  We borrowed this for an extended demo and then returned it.
Days: 1
Riders:  James (Size 9, 5'10" 185-190lbs), Peter (Size 8, 5'11" 185lbs),
Boots: Adidas Tactical ADV
Insoles: Sandsole Custom Insoles, Footprint Insole Technology Gamechangers
Boards: Jones Hovercraft
Similar (but not the same) Bindings: Union Atlas, Union Force, Burton Cartel, Burton Malavita, Salomon Highlander, Salomon Hologram, Nitro Team Pro, Nitro Team, Nitro Carver, Nitro Phantom Carver, Now Drive, Now Pilot
Weight
2.0lbs and on the lighter side of medium.
Highback Flex
Pretty medium with a good twist to it and a little give in the top.
Binding to Boot Adjustability
None. There is literally no way to center your boot in the Jones Mercury. It makes for an off centered fit if you aren't in the middle of the sizing recommendations. You can slide the disc a little bit to center the binding on board but that is about it. You have pre-rotated highbacks, forward lean and strap adjustability.
Stance Width Adjustability
Almost none. The channels are very short so its mainly there to adjust from edge to edge and not tip to tail.
Boot Support
The toe strap of the Jones Mercury slid off our boots which were faux leather but the ankle strap did a great job. Super supportive but soft without any pressure points.
Ratchet System
Pretty good and does what should without bringing anything good or bad to our attention.
Turn Initiation/Response
The Jones Mercury is pretty smooth and has a very medium/slow to medium response. It is great if you like to point it and want a nice stable smooth straight line. It eliminates any accidental micro adjustments. What is also cool is the dampness allows you to keep your edge set in a turn better than some bindings so to some it will be more responsive because of that.
Flex Under Foot/Buttering
Even with the softer bushings this doesn't have the flex underfoot for easy buttering. What we like though is the binding stiffens up the board underfoot and makes it feel more damp without feeling dead either.
Shock Absorption/Dampness
This is where the Jones Mercury shines. It is soo damp and a great binding for those who ride off piste or in uneven terrain a lot. The rubber bushings take away a ton of chatter and the soft EVA footbed make it excellent for shock absorption. Its great at slow to high speeds.
Sway Bar Issue
There is one problem we have with the sway bar. It doesn't have a protective plastic plate above it. So if you ride softer sole boots you can feel a lot of strain on your arch. If you have a stiffer sole boot you won't notice.
Conclusion
So the Jones Mercury isn't for everyone but some will absolutely love it. If you don't mind the lack of adjustability and have a stiff sole boot you can get an exceptionally damp smooth riding binding.
Jones Mercury Past Reviews
2019 Jones Mercury Review
The Jones Mercury takes the NOW Drive and tweaks it to their liking. It's a very damp and shock absorbent binding that works pretty well for most mountain oriented boards.  If they work with your boots and you are ok with the adjustability issues the Jones Mercury could be a good fit. Between the NOW Drive and Jones Mercury, I liked the Mercury a little bit better.
Ethics Statement: We don't get paid by the manufacturer to write these reviews.  No one is perfect and we do make money from the "Where To Buy" links below, but this is our best attempt at an honest and objective review from an average riders' perspective.
Days:  3
Riders: James
Boots: Adidas Tactical ADV
Insoles: Sandsole Custom Insoles
Boards: Yes Typo (2018 and 2019), Jones Ultra Mountain Twin, Yes Greats
Compared it against the NOW Drive and Union Atlas.  I used the Black super stiff stoppers.
Flex: Pretty much medium stiff.
Sizing: my 8.5 Adidas Tactical ADV's fit fine in the medium Jones Mercury's but they are super reduced in footprint and even though they run wide the Adidas Tactical ADV's aren't bulky.  So it's my guess that as you get up in sizing or if you have a bulkier boot it might be snug to even cramped on that footbed.  Doesn't seem ideal for those that are in between sizes.
Boot Adjustability: Not much here to dial out your boot to your binding and that's a big problem for those, like me, that like to dial out the binding to get the boot centered perfectly for even heel to toe turning. I can't even rotate the highbacks.  They are pre-rotated.
Stance Width Adjustability: A full-size disc is a great thing when dialing out your binding to your board. There is enough in there to get your stance width right with most boards.
Comfort: The ankle straps are super comfortable and that little notch in the high back with the Jones Mercury makes it a little more comfortable with my calves and it bites less so I like that. There are issues with the base plate when it comes to pressure on my arch with Adidas Tactical ADV boots or any boots that don't have a super stiff rubber sole.  The kingpin tech in the base make the sides a little higher and sometimes they can pressure the sides of your boots.
Boot Support: Really locks in the boot and it's super supportive.  I felt like I could take on anything with these.
Turn Initiation: Pretty responsive and smooth and even though the Apollo's and O-Drives are stiffer these Jones Mercury's were almost there with these.  Yes, they are a shade less responsive but for the money, I felt like I could live with $100 more in my thin wallet and have a nice life with these over the Apollos or O-Drives.  Also, there was considerably less calf bite so I felt more comfortable to really get into a turn compared to the stiffer models. I felt like they were almost there with my Union Atlas which are pretty responsive bindings and are on the low side of med/fast response where the Apollos and O-Drives were more in the middle of med/fast turners.
Buttering: With softer stoppers, the Jones Mercury could butter a little easier but still the kingpin tech seems to make the board underfoot ride stiffer.  That's great for those that like speed but not for those that like to butter.
Ratchet System: You don't even notice it one way or the other which is fine with me.  Doesn't stand out one way or the other and just works. I never had one come loose or not ratchet properly.
Shock Absorption: Some of the best in the business with the rubber stoppers and super soft EVA foam on the footbed.  These Jones Mercury's really make a board better in uneven terrain.
So other than the adjustability issues and problems with the minimal rubber on my Tactical ADV's I felt the Jones Mercury's were a nice take on the NOW Drives and of the two I prefer these.
Jones Company Information
Jones Mercury User Reviews
If you can't buy through the links above, you can support the site with: