Flow Fenix Fusion 2022 Snowboard Binding Review
Where To Buy
No obligation, but these links & ads support the site.
Flow Fenix Fusion 2023 - 2022 Review by The Good Ride
Turn Ons/Swipe Right: Very smooth Skate/Surf like feel. Easy in & Out for this price point. Use any boot.
Turn Offs/Swipe Left: Not the fastest vs. Step On, Supermatic or Clew. Not ideal in uneven snow. Very limited Adjustability.
Summary
The Flow Fenix Fusion has limited adjustability and boot support in uneven terrain but gives a very smooth free feel similar to skating and surfing.
Ethics Statement: We don't get paid by the manufacturer to write these reviews.  We do make money from the "Where To Buy" links, but this is our best attempt at an honest and objective review from an average riders' perspective.
Flow Fenix Fusion Review- How it rides and who it is for
How This Review Happened:  Borrowed this for an extended demo and sent it back.
Days: 3
Riders: James (Size 9, 5'10" 185-190lbs)
Conditions: Mostly really good spring conditions.
Boots: Burton Kendo
Insoles: Footprint Insole Technology Gamechangers
Boards: Yes Optimistic
Boots: Burton Kendo, Burton Ion, Burton Tourist, Burton Imperial, Burton SLX, Adidas Tactical ADV, Adidas Tactical Lexicon, Adidas Acerra 3ST, Adidas Response, Vans Infuse, Vans Baldface
Insoles: F.I.T. Gamechangers
Jacket: Burton AK Gore-Tex Pro 3L Tusk Jacket, Volcom Guide Jacket, Burton Gore-Tex 3L Treeline Jacket, Jones Peak Bagger Jacket. Burton AK Helitak Gore-Tex Jacket
Pant: Burton AK Gore-Tex Pro 3L Hover Pant, Burton AK Gore-Tex 2L Swash Pant, Burton Gore-Tex Ballast Pant
Helmet: Smith Maze
Goggle: Smith 4D Mag
Gloves: Burton AK Tech Leather Glove
Similar (but not the same) Bindings: Union Strata, Union Ultra, Burton Cartel, Burton Mission, Burton Malavita, Salomon District, Nitro Team Pro, Nitro Team, Now Pilot, Now Select, Now IPO, Rome Vice, Rome DOD, Rome 390 Boss,
Weight
The Flow Fenix Fusion weighs 2.2lbs which is about the same as many Flow bindings as well as many bindings in the industry. Not too heavy or light. Just right.
Highback Flex
There is a really soft mellow flex on the sides but the Flow Fenix Fusion is stiff in the middle where the high back lever/quick release mechanism is.
Flex Underfoot
You don't have a lot of flex underfoot with the Flow Fenix Fusion but it isn't dead either. It's just a little more of an old school design but that is ok at this price point.
Turn Initiation/Response
So if you like a smooth mid response the Flow Fenix Fusion can work for you. I found in same day comparisons that the response is a little less on the toe side vs. the heel side. And yes, I set it up correctly. It just doesn't have a lot of strap on the upper part of your ankle so it makes for a little lopsided turning. That isn't a good thing or bad thing. It's just personal preference. The lack of strap around the ankle does make for a more skate like/surf like feel that some will for sure appreciate. I'm personally into more strap around the ankle and would actually prefer the Fenix Plus Hybrid with the higher ankle strap. That's more my style.
Shock Absorption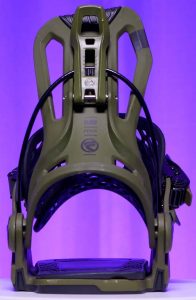 The shock absorption with the Flow Fenix Fusion isn't a lot but there is enough there to keep a lot of what is happening with the board and snow from getting to your joints. Kind of what I usually see at this price point.
Boot Support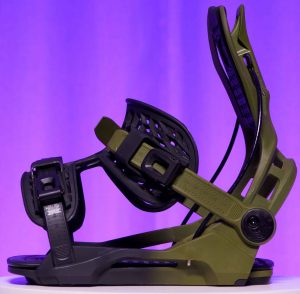 What gives you such a free feel with the lower ankle strap also doesn't make for a very supportive ride in uneven terrain. I didn't like going off piste or riding in messy snow with the Flow Fenix Fusion. If you like a lot of ankle support in uneven snow I would suggest upgrading to the Flow Fenix Plus Hybrid. The strap is much more supportive but you don't get as much s that skate/surf feel.
Ratchets
So some people use the ratchets every run to tighten it up a little more after they pop up the high back so that's why I'm talking about it. The ratchets aren't super smooth as they aren't designed to be used all the time. They are sturdy though. Not sure if they will last a super long time but seems like the should.
Adjustability
With quick release/easy in & out bindings like the Flow Fenix Fusion, you lose a lot of adjustability. I haven't found a quick release binding that has much. You really only have ankle strap adjustability and a little disc adjustability to help center your boot/binding on the board. If you like adjustability like I do this is a hard pass.
Conclusion
The Flow Fenix Fusion has some unique appeal to those on a budget who want a more free feel around the ankle. You have to compromise with boot support in uneven snow and adjustability but it might be worth it.
Flow Fenix Fusion User Reviews
If you can't buy through the links above, you can support the site with: