Arbor Cypress 2017-2022 Binding Review
Where To Buy
No obligation, but these links & ads support the site.
Arbor Cypress 2022 - 2017 Review by The Good Ride
Turn Ons/Swipe Right: Great flex underfoot. Smooth Response. Improved Ratchets. Great Adjustability. Better Sizing.
Turn Offs/Swipe Left: Not Much.
Summary
The Arbor Cypress does a lot of things right and is a very recommendable binding for a wide variety of riding styles and boards.
Ethics Statement: We don't get paid by the manufacturer to write these reviews.  We do make money from the "Where To Buy" links, but this is our best attempt at an honest and objective review from an average riders' perspective.
Arbor Cypress 2022 Snowboard Binding Review- How it rides and who it is for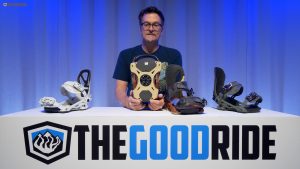 How This Review Happened:  Borrowed this for an extended demo and sent it back.
Days:  3 with the 2022 but 10+ with past models.
Conditions: All types of conditions.
Riders:  James (Size 9, 5'10" 185-190lbs) and a lot of our crew.
Boots: Burton Kendo
Insoles: Footprint Insole Technology Gamechangers
Boards: Arbor Clovis, Capita Mercury, Jones Mountain Twin,
Jacket: Burton AK Gore-Tex Pro 3L Tusk Jacket, Volcom TDF Infuse 3L Gore-Tex Jacket
Pant: Burton AK Gore-Tex Pro 3L Hover Pant, Burton AK Gore-Tex 2L Swash Pant, Burton Gore-Tex Ballast Pant
Helmet: Smith Maze
Goggle: Smith 4D Mag
Gloves: Burton AK Clutch Mitt, CG Habitats Work Glove, Drop Tahoma Mitt
Similar (but not the same) Bindings: Union Atlas, Union Strata, Union Force, Burton Genesis X, Burton Cartel, Burton Malavita, Salomon Hologram, Nitro Team Pro, Nitro Team, Nitro Phantom Carver
How It Was Tested
I've ridden these with a wide variety of boards, boots and in all types of conditions in the past. This time I tested them one day with the Arbor Clovis. Then I rode them in a sampler with my Jones Mountain Twin and Capita Mercury. I tested them against my Union Atlas and Arbor Spruce. On one run I put the Union Atlas on one foot and the Cypress on another foot. All testing this time around was done with the Burton Kendo's.
Weight
2.2 Lbs with the screws and disc per binding. A touch on the heavy side but not heavy. I like this weight.
Highback Flex
The Arbor Cypress has a pretty middle ground flex that has some decent twist and a little give pulling straight back. It is a little taller than some so you get a little more response for the flex.
Flex Underfoot
The Arbor Cypress has an exceptional flex underfoot. There is a dense rubber throughout the whole base plate. The only solid contact area is the mini-disc. It allows the board underfoot to flex more naturally from tip to tail and edge to edge.
Turn Initiation/Response
The Arbor Cypress has a very smooth response that is on the medium to medium/fast side and it can power most boards out there pretty well.
Shock Absorption
So on top of the rubberish base plate that dampens up the ride very well at higher speeds there is also a soft EVA foam on the foot bed to deal with slower speed shock absorption as well. It's not ultra cush but the Arbor Cypress is a pretty damp, shock absorbent ride.
Boot Support
You can flip the Arbor Cypress ankle strap to give you more response or have more freedom of movement. In the more responsive config you have great support balanced with good freedom of movement. It can handle uneven terrain very well without making your ankle hurt. With it flipped to a more skate/freestyle/surf oriented set up it has good support and great freedom of movement.
Ratchets
The ratchets on the Arbor Cypress aren't exceptional but don't feel like the older ones did. They work and I would trust them for a 100 day season.
Adjustability
The Arbor Cypress has heel loop adjustability to allow you to center your boot in the binding pretty well. You have forward lean, high back rotation, tooless toe/ankle straps and overall a pretty easy experience to set up your bindings to your boot.
The mini-disc does very well when it comes to stance width adjustability too. Just don't get these if you have set back inserts that require a full sized disc.
Conclusion
The Arbor Cypress is a very recommendable binding and I don't have much or anything that is bad to say about these. I could have a beautiful life with em.
Arbor Cypress Past Reviews

The Arbor Cypress 2019 Snowboard Binding looks very similar to the older models but there have been improvements to the ratchets that now make this a completely recommendable binding. Also, there is a new even better ankle strap than before but the key thing is that the ratchets have drastically improved to the point where it's 100% recommendable.  The talk about the base plate and high back in the reviews below are still 100% relevant.

Ethics Statement: We don't get paid by the manufacturer to write these reviews.  No one is perfect and we do make money from the "Where To Buy" links below, but this is our best attempt at an honest and objective review from an average riders' perspective.

Days:  1
Riders: James, Jimbo, Peter, Grant, 
Boots: Adidas Tactical ADV, Burton SLX
Insoles: Sandsole Custom Insoles,  Footprint Insole Technology Gameghangers Low Profile
Boards: Nidecker The Doughnut
As far as adjustability goes you can move the heel loop out or in to dial it out to your boot but you can't adjust the toe or heel like you can with most bindings.  You have to take off the ankle strap screw to do it though and it doesn't slide. It does stay in place even if the ankle strap screw comes loose.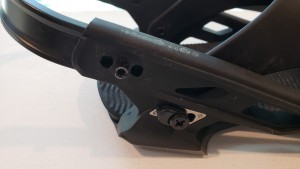 2017-2019 Arbor Cypress Snowboard Binding Review
The Arbor Cypress binding is new this year. Like many binding companies, the demo model had some issues so we tried the production model and it's better.  The ratchets are sticky like Union ratchets use to be years ago but they still work.  Despite that, there is a lot of really cool tech going on underfoot that really makes for a dynamic ride. It feels like it makes the board better.
Demo Model Review which was not as good as the production model. 
Arbor Cypress User Reviews
---
---
Arbor Cypress 2017-2022 Binding Review
SKU
UPC
Model
Arbor Cypress
Aug 14, 2022
by
Roland
Ability Level: Advanced •
Riding Style: Fast and aggressive •
Days You Ride A Year: Unfortunately only 30-40 •
Height, Weight And Boot Size (for Boards, Boots & Bindings): 6 foot, 190 lbs, 10.5 US
I've been riding since 1989 and am an advanced rider who rides everything and knows how to lay down turns.

I've been using his bindings since their first season and if you buy the current version of the Cypress (with their V3 straps) you are seriously getting a no-compromise, and in my opinion, near absolutely perfect snowboard binding for all mountain riding and even advanced freestyle riding.

Also I don't feel there's been a change in the sizing because I've used the same boot through the three bindings I've had?

Anyhow important point to make that was missed in the review above is that they are from my knowledge the only Snowboard binding company that makes a dedicated 9 to 11 M/L size binding that actually STANDS THE EXACT SAME HEIGHT as the L/XL size when side by side. The only difference is the slightly narrower heel cup and binding tray.

Why is this important? I'm 6 foot tall and need the same height/size highback as the 6 foot guy with a 11+ boot as our legs and bodies are no different. Previously I was using the medium Burton Malavita binding but had to really over-crank my forward lean because the high-back wasn't finishing as far up the back of my boot as I needed it too, and how I liked it on the Burton large bindings. Unfortunately though they had too much play in the heel cup and tray for me. Personally this is something I think all binding company should address their medium Bindings shouldn't be any shorter in height than the large ones or at least give the option of a version for a taller high back.

This was actually the primary reason for me to give these Bindings a try but when I did try them, my god, that XBASE absolutely works a treat and you can really feel the power transfer toe to heal but also dampening from that EVA foot bed…wow. Now when I look at the base of any other manufacturers Bindings I'm like "meh, prehistoric design by comparison! Also that narrow midpoint truly does allow the board to twist torsionally nicely.

Did the paint flake off on my aluminium heel cup? Yes but who cares lol. Did the ratchet and straps on the first production year were a bit weak and hurt? Yep, but the current V3 one is next level, even the V2 one was fantastic but the one piece strap and mesh of the current version give even better control, comfort and hold.

The highback, to me, is the perfect combination of stiffness vertically but still allowing some nice torsional flex for more feel in your turns and also taking your board into the park. Also the fact that the new forward lean block requires a screwdriver to change it, to me, that's a good thing because the tool-less flip ones can, overtime, get loose and that's actually the reason they changed it. Also really once you know you forward lean preference you rarely change it again anyway.

---
Poor Paint Quality
Jan 18, 2019
by
Caleb Smith
Ability Level: Intermediate •
Riding Style: Carvy •
Days You Ride A Year: 100
The paint started chipping/flaking off where the heal cup touches my boot after using these once. Its also coming off on the ratchets just from tightening the straps. I emailed Arbor about this twice over the course for three weeks and still haven't heard back. Due to the poor quality and lack of customer service I cant say I'll be getting their products in the future.

I so wanted to leave these a good review because the performance is great but a binding at this price point should have a durable paint finish that doesn't flake off after one use.

---
Disappointing
Dec 12, 2018
by
Rez Ebrahim
Ability Level: Intermediate •
Riding Style: A bit of everything •
Days You Ride A Year: 25 •
Height, Weight And Boot Size (for Boards, Boots & Bindings): 167, 75kg, 7US
V poor build quality.

1- The Heelcup adjustment screws are frozen into place and are impossible to loosen. After exerting some mild force with a screwdriver, the crosshead on the screw completely disintegrated like it was made from putty. Now, it is unadjustable.

2- The screws they supply for the mini disc to be mounted onto the board, are too short. That means they barely turn once in the screw slot on the board, which in turn means that the binding cannot be mounted onto the board securely.

3- It has by far the worst ratchet system I have ever tried (and I've been riding for 20 years). They stick when you try to fasten them and require brute force and risking your fingernail to unfasten them.

4- The so-called "toothless forward lean system" they rave on about is atrocious. It is stuck in place and will not move. And it is not "toothless".

5- The cross-shaped dampening material that sits between the Chassis and the board is not cut or shaped properly so it does not remain in place when the binding is not on a board.

I can go on.

It has been a long time since I was so disappointed in a product that certain online forums recommend so highly.
To think that they can sell this at a premium price is laughable.

I've never used them on the mountain and do not intend to either. These problems were encountered after unboxing them. I'm going to send them back tomorrow.

What a joke.

---
May 08, 2018
by
Rustam
Ability Level: Intermediate •
Riding Style: All Mountain •
Days You Ride A Year: 14
Not the most comfortable front strap, but did not leave (cartel more comfortable). Excellent rolls, fast turn Initiation.

---
Concerns on Quality
Feb 07, 2018
by
Brent
Ability Level: Intermediate •
Riding Style: All Mountain •
Days You Ride A Year: 6 •
Height, Weight And Boot Size (for Boards, Boots & Bindings): 5'11", 175, 9.5
I bought these at an end of year sale last spring to go with my Arbor Element. I rode them once last year and they worked great. I finally got back out this season a few weeks ago (second day on these bindings), I took one minor fall and the front binding completely cracked in half. The bottom plastic was destroyed and it came off the board completely. I may have received a defective unit, but I ended up taking these back and went to a different brand.

---
Arbor Cypress 2016 M/L
Sep 19, 2017
by
Wren
Ability Level: Advanced on the mountain and beginner in the park •
Riding Style: Aggressive all Mountain toying with Freestyle •
Days You Ride A Year: 15 •
Height, Weight And Boot Size (for Boards, Boots & Bindings): 5'9" 150lbs, Arbor A-Frame 158, Arbor Cypress M/L bindings, Ride Insano size 9
It is impressive how locked in the bindings feel but don't punish you at all. They have a great level of response and a dampness in all axis (compared to NOW bindings that are only damp /responsive along the waist) that makes any board you put them on carve and charge harder. The highback really cups the whole back of the boot giving support for leaning your board all the way over or for driving your board through thick snow. Ratchets though sticky work fine, straps are comfy and shock absorption is plenty. Great binding for freeride and pow as they make you want to go fast and ram through bumpy snow due to the dampness and springy give when things get too rough. I've tried it on a YES jackpot, YES TDF and Arbor A-frame. It was a perfect match for the A-frame, It actually feels like it was made for it because they both have a solid locked in feel that can handle it when it gets choppy. I've taken them in the park and were ok. They would not be my first pick for that task but then again they weren't built for that anyways.


Ps. I tried the S/M and my size 9 boot would fit the binding, but the straps were very hard to get on the boot. I switched to the M/L and adjusted the heel loop and fits fine.

---
If you can't buy through the links above, you can support the site with: