Arbor Cypress 2017-2019 Binding Review
Arbor Cypress 2019 - 2017 Review by The Good Ride
The Arbor Cypress 2019 Snowboard Binding looks very similar to the older models but there have been improvements to the ratchets that now make this a completely recommendable binding. Also, there is a new even better ankle strap than before but the key thing is that the ratchets have drastically improved to the point where it's 100% recommendable.  The talk about the base plate and high back in the reviews below are still 100% relevant.
Days:  1
Riders: James, Jimbo, Peter, Grant, 
Boots: Adidas Tactical ADV, Burton SLX
Insoles: Sandsole Custom Insoles,  Footprint Insole Technology Gameghangers Low Profile
Boards: Nidecker The Doughnut
As far as adjustability goes you can move the heel loop out or in to dial it out to your boot but you can't adjust the toe or heel like you can with most bindings.  You have to take off the ankle strap screw to do it though and it doesn't slide. It does stay in place even if the ankle strap screw comes loose.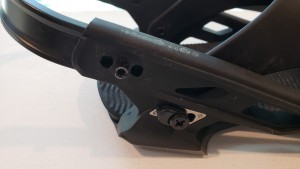 2017-2019 Arbor Cypress Snowboard Binding Review
The Arbor Cypress binding is new this year. Like many binding companies, the demo model had some issues so we tried the production model and it's better.  The ratchets are sticky like Union ratchets use to be years ago but they still work.  Despite that, there is a lot of really cool tech going on underfoot that really makes for a dynamic ride. It feels like it makes the board better.
Demo Model Review which was not as good as the production model. 
Arbor Company Information
Arbor Cypress User Reviews
---
---
Arbor Cypress 2017-2019 Binding Review
SKU
UPC
Model
May 08, 2018
by
Rustam
Ability Level: Intermediate •
Riding Style: All Mountain •
Days You Ride A Year: 14
Not the most comfortable front strap, but did not leave (cartel more comfortable). Excellent rolls, fast turn Initiation.

---
Concerns on Quality
Feb 07, 2018
by
Brent
Ability Level: Intermediate •
Riding Style: All Mountain •
Days You Ride A Year: 6 •
Height, Weight And Boot Size (for Boards, Boots & Bindings): 5'11", 175, 9.5
I bought these at an end of year sale last spring to go with my Arbor Element. I rode them once last year and they worked great. I finally got back out this season a few weeks ago (second day on these bindings), I took one minor fall and the front binding completely cracked in half. The bottom plastic was destroyed and it came off the board completely. I may have received a defective unit, but I ended up taking these back and went to a different brand.

---
Arbor Cypress 2016 M/L
Sep 19, 2017
by
Wren
Ability Level: Advanced on the mountain and beginner in the park •
Riding Style: Aggressive all Mountain toying with Freestyle •
Days You Ride A Year: 15 •
Height, Weight And Boot Size (for Boards, Boots & Bindings): 5'9" 150lbs, Arbor A-Frame 158, Arbor Cypress M/L bindings, Ride Insano size 9
It is impressive how locked in the bindings feel but don't punish you at all. They have a great level of response and a dampness in all axis (compared to NOW bindings that are only damp /responsive along the waist) that makes any board you put them on carve and charge harder. The highback really cups the whole back of the boot giving support for leaning your board all the way over or for driving your board through thick snow. Ratchets though sticky work fine, straps are comfy and shock absorption is plenty. Great binding for freeride and pow as they make you want to go fast and ram through bumpy snow due to the dampness and springy give when things get too rough. I've tried it on a YES jackpot, YES TDF and Arbor A-frame. It was a perfect match for the A-frame, It actually feels like it was made for it because they both have a solid locked in feel that can handle it when it gets choppy. I've taken them in the park and were ok. They would not be my first pick for that task but then again they weren't built for that anyways.


Ps. I tried the S/M and my size 9 boot would fit the binding, but the straps were very hard to get on the boot. I switched to the M/L and adjusted the heel loop and fits fine.

---