Rossignol Revenant 2022 Snowboard Review
| | |
| --- | --- |
| Riding Style | All Mountain |
| Riding Level | Beginner - Expert |
| Fits Boot size (US) | < 8, 8-10 |
| Manufactured in | China |
| Shape | Directional Twin |
| Camber Profile | Hybrid Camber |
| Stance | Setback -12.5mm |
| Approx. Weight | Feels Normal |
| Split | No |
| | |
| --- | --- |
| On Snow Feel | |
| Turn Initiation | |
| Skidded Turns | |
Where To Buy
No obligation, but these links & ads support the site.
Rossignol Revenant 2022 Review by The Good Ride
Turn Ons/Swipe Right: Excellent Edge Hold. Stable. Forgiving.
Turn Offs/Swipe Left: Not much pop on an ollie or drive out of a turn.
Summary
The Rossignol Revenant doesn't have as much pop as some but is a pretty doable hard snow mountain freestyle ride that has decent set back in powder.
Ethics Statement: We don't get paid by the manufacturer to write these reviews and this is our unfiltered opinion. We do make money from the "Where To Buy" links, but this is our best attempt at an honest and objective review from an average riders' perspective.
Rossignol Revenant Snowboard Review- How it rides and who it is for

How This Review Happened:
Borrowed this for an extended demo and sent it back.
Size: 158
Days: 5
Conditions: Pretty good mid-winter snow and some firm but fair snow.
Riders: James (Size 9, 5'10" 185-190lbs)
Boots: Burton Kendo
Insoles: F.I.T. Gamechangers
Bindings: Union Atlas
Jacket: Burton AK Gore-Tex Pro 3L Tusk Jacket, Volcom TDF Infuse 3L Gore-Tex Jacket, Burton Banshee Gore-Tex Jacket
Pant: Burton AK Gore-Tex Pro 3L Hover Pant, Burton Gore-Tex Ballast Pant
Helmet: Smith Maze
Goggle: Smith IO Mag
Gloves: Burton AK Guide Glove, Drop Tahoma Mitt,
Similar Boards (but not the same): Korua Otto, Lib Tech Terrain Wrecker, Capita Mercury,YES NSB, Endeavor Pioneer, Jones Mountain Twin, Endeavor Ranger, K2 Manifest, Yes Typo, Jones Frontier, Ride Algorythm, Ride Wild Life, Borealis Tundra, Tahoe Labs Directional Twin, Rossignol One, Rossignol Resurgance.
Set-Up: 21.5" Wide. Sance Angles +15/-15. Close to Reference.
How It Was Tested
Every day I rode this I also rode the Rossignol One and Resurgance. On some days I rode the Jibsaw and Juggernaut right after with the same bindings. On other days I rode the Yes Basic Uninc and Jones Mountain Twin right after with the same bindings.
Approximate Weight
The Rossignol Revenant felt pretty normal. (We don't put in the exact weight because with wood cores there is no consistency in a boards weight)
Sizing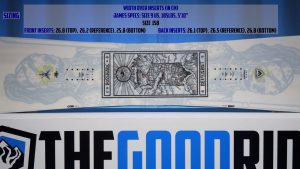 The Rossignol Revenant felt perfect in a 158 for my specs and weight listed above. One thing is the waist width is a little misleading because of the bump in the middle of the waist on both sides. If you look closely at the pic you can see that the three aggressive bumps are before the inserts as well. There is a deep sidecut so it does get wider pretty fast but keep any size under 10 for most boots.
Here are some ideal US boot sizes for these boards. You can of course go bigger or smaller but these work best for not turning the board slower than it should be and not having the dreaded Toe & Heel Drag.
154: 7.5-8.5
158: 8-9
162: 8.5-9.5
Shape/Camber/On Snow Feel/Ability Level
The Rossignol Revenant is almost a true twin and feels more centered/between the feet than the One and Resurgence.

There is 40% camber between the bindings and 60% rocker. It is stable, very forgiving and very consistent in all conditions you want to ride.
Flex Personality
For such a stiff flex Rossignol Revenant wasn't too hard to butter. I think that is because all the rocker after the bindings makes it easier get leverage into a butter. When it comes to pop, it just didn't do much and it made my already small airs smaller. It wasn't lifeless but it just isn't as poppy as many of its peers.
The Rossignol Revenant isn't bad in all conditions. It doesn't excel in any one place but has a manageable feel in everything from firm micro bumpy snow to messier uneven snow.
Speed
The Rossignol Revenant is quite stable at moderate speed. I didn't push it but if felt confident. The base glide isn't amazing but with some good wax it is doable for sure. Just not for those who want that easy effortless glide.
Edge Hold
The 5S serrated edge really helps the Rossignol Revenant grip hard. This is great for icy snow and it's more pronounced than the One. I would probably choose this or the Resurgance if you see a lot of harder icy snow.
Turning Experience/Carving
This deep sidecut makes quick turns pretty fun and the bumps in the middle might be keeping it from being really hooky like some boards with this sidecut can get. Even though it the Rossignol Revenant sidecut is so deep it makes for a pretty balanced turning experience but it does lean on the turny side. There isn't a lot of spring out of the turn though. Back in the day with the Angus everything was rocker or flat so having a little camber was like giving a starving man a cracker. Nowadays there is a lot more camber out there so this doesn't have the spring out of the turn that others in it's peer group do these days. Still it isn't bad.
Powder
So, I didn't get the Rossignol Revenant in powder but I got the Old Angus with the same camber profile and shape in thigh high powder. It is very good for riding centered but it just doesn't have that set back surfy ride in powder like the Resurgence or One have. Same with the Yes Basic Uninc. Speaking of set back, you can get 1.5" back from center of board at a 22.75" stance width. This is better than many centered stance twins for sure but still behind the One and Revenant that are 2" and 2.125". To me, a lifelong surfer, surfy means set back towards the tail because that is how you mainly ride surfboards. This might have a surfy side cut but not a surfy feel.
Switch/Pipe/Jumps
Very doable either way and I liked riding this switch more than all but the Juggernaut and Jibsaw. This is a really fun pipe board. Especially when its hard. Not the best for spring off a jump but it tracks well into it for how turny it is.
Conclusion
So, yeah, it lacks pop on an ollie and spring out of a turn compared to many but it still offers up a pretty grippy stable hard snow mtn freestyle to all mountain ride. It does set back pretty well too if you don't compare it to the Resurgence or Revenant.
If this review helped, we'd appreciate if you:
Rossignol Revenant Images
Rossignol Revenant User Reviews
If you can't buy through the links above, you can support the site with: