Rome Agent 2010-2022 Snowboard Review
| | |
| --- | --- |
| Riding Style | All Mountain Freestyle |
| Riding Level | Advanced - Expert |
| Fits Boot size (US) | 8-10, 10-12, > 12 |
| Manufactured in | |
| Shape | Twinish |
| Camber Profile | Traditional Camber |
| Stance | Centered |
| Approx. Weight | Feels Heavy |
| Split | No |
| | |
| --- | --- |
| On Snow Feel | |
| Turn Initiation | |
| Skidded Turns | |
Rome Agent 2022 - 2010 Review by The Good Ride
Turn Ons/Swipe Right: Good Price. Poppy, buttery and forgiving mtn freestyle twin.
Turn Offs/Swipe Left: Hard to be critical at this price.
Summary
The Rome Agent has been around for a while but it really shines in the form of a low cost mountain freestyle ride for most conditions and ability levels.
Ethics Statement: We don't get paid by the manufacturer to write these reviews and this is our unfiltered opinion. We do make money from the "Where To Buy" links, but this is our best attempt at an honest and objective review from an average riders' perspective.
Rome Agent 2022 Snowboard Review- How it rides and who it is for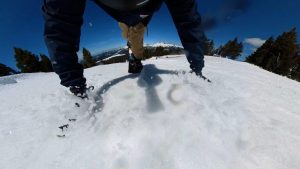 How This Review Happened:
Borrowed this for an extended demo and sent it back.
Days: 4
Conditions: Varied spring conditions.
Riders: James (Size 9, 5'10" 185-190lbs)
Boots: Burton Kendo
Insoles: F.I.T. Gamechangers
Bindings: Union Atlas, Rome Vice, Rome DOD, Rome 390 Boss
Jacket: Burton AK Gore-Tex Pro 3L Tusk Jacket, Volcom TDF Infuse 3L Gore-Tex Jacket, Burton Banshee Gore-Tex Jacket
Pant: Burton AK Gore-Tex Pro 3L Hover Pant, Burton AK Gore-Tex 2L Swash Pant, Burton Gore-Tex Ballast Pant
Helmet: Smith Maze
Goggle: Smith 4D Mag
Gloves: Burton AK Tech Leather Glove, Burton AK Tech Glove,
Similar Boards (but not the same): Never Summer Protosynthesis, Yes Greats, Prior Wildcard, Marhar Darkside, Lib Tech Box Knife, Capita Outerspace Living, Yes Basic,
Set-Up: 21.5" Wide. +15/-15. Close to Reference
How It Was Tested
I rode this mainly against the Party Mod, Yes Greats and Never Summer Tripple Camber Twin and did same day tests with the same Union Atlas bindings. Then rode it with Rome bindings on other days.
Approximate Weight
The Rome Agent is a pretty middle of the pack weight that maybe feels a touch on the lighter/poppier side. (We don't put in the exact weight because with wood cores there is no consistency in a boards weight)
Sizing
The Rome Agent 157 felt like a perfect fit for my weight and boot size. Same for my height too.
Here are some ideal US boot sizes for these boards. You can of course go bigger or smaller but these work best for not turning the board slower than it should be and not having the dreaded Toe & Heel Drag.
148: 7.5-8.5
151: 8-9.
154: 8.5-9
157: 9-9.5
160- 9.5-10
155w- 11-12
158w- 11.5-12.5
161w- 12-13
Shape/Camber/On Snow Feel/Ability Level

The Rome Agent is all about riding centered like all true twins. The camber profile is a pretty prounounced camber underfoot that has a mellow but moderate lift happening well before the nose. It doesn't look like it but you really feel it when on snow and it's pretty forgiving. Most intermediates won't have an issue with this ride.
Flex Personality
This 157 Rome Agent is pretty middle ground flex wise and it's pretty easy to butter. The cool thing is it doesn't neglect pop and it has pretty good spring. The mellow transition to rocker seems to work really well with the camber underfoot but who knows what secrete sauce is happening under the hood to make it pop well. Dealing with uneven conditions wasn't neglected either and while it can chatter a bit it has a very good all conditions ride. Never felt it pass up into my joints in messy or microbumpy spring snow.
Speed
The base glide was decent and expected for this price point.
Edge Hold
I didn't feel any disruption happening in the sidecut but it had good grip in harder snow and I never felt uncomfortable with a surprise ice (surprice) patch in the spring morning conditions I rode it in.
Turning Experience/Carving
So the Rome Agent is pretty quick edge to edge and it matches up with the more traditional mtn freestyle shape it has. When you get it on edge it didn't spring out of a turn like the Warden or Freaker or even the National but it was super far from being unstatisfying. I had a good time turning regular and switch all around the mountain.
Powder
No powder to speak of but my guess is it would be better than it looks for it's shape and camber profile. Still its not the first twin I would reach for if there was more than a foot of west coast snow.
Switch/Pipe/Jumps
Such an easy pipe and jump board. I had a lot of fun making old man turns in the spring pipe and the Rome Agent tracked really well into little side hits I rode into. I loved taking this switch and after all these directional boards It was great to get on a lively twin and ride both ways.
Conclusion
The Rome Agent is a very recommendable budget mountain freestyle twin. It's hard to be to critical of a board at $459 at the time I write this. I have ridden this as a higher priced more directional shape, twinish shape and in all kinds of camber profiles and side cut radius'. It is actually pretty fun to see this as a low cost twin now.
Rome Agent Past Reviews

The Rome Agent used to be a directional board but over the years it's become more and more twin. In 2020 it is now very much a mountain freestyle ride.

Ethics Statement: We don't get paid by the manufacturer to write these reviews.  We do make money from the "Where To Buy" links, but this is our best attempt at an honest and objective review from an average riders' perspective.

Size: 158 & 160

Days: 11
Conditions: 1 day with about 1 foot of powder and the others are hard to soft groomer conditions.
Bindings: Burton Cartels, Union Force, Flux SF45
Riders: James and Jimbo
Set Up- Centered, 23″ wide 15 front -9 back

Some people still love the drive and pop of camber and the Agent is there for them.  For 2011 Rome improved the flex on the Agent to make it more responsive between the feet and we like this. For 2012 there wasn't much changed except there is some new pop rod tech in the board.  We felt the 2011 was pretty poppy so it's hard to tell how much this improved. The Agent really hasn't changed too much since we started riding it in 2010.  The 2014 -2012 are pretty similar and have the same tech.  The Rome Agent will perform well anywhere on the mountain and is made to withstand a beating with big thick rails, a strong base, and sturdy top sheet.

It's a pretty fast mid to almost medium/stiff flexing stable board that is built very well. This is a more sturdy version of the custom camber with thicker rails and an all-around sturdy approach to the build.  It's a bit heavier than the Custom as well. When I first started reviewing the Agent it was a lot closer to the Burton custom in terms of the ride but over the years the Burton Custom has continued to change the core to flex easier where the Agent has stayed more the same. It gives the Custom a little more of an edge in terms of all-around performance but it's still not as durable as the Agent.

On Snow Feel: The Agent is a very good old school camber board that requires you to be more on your game than the hybrid shapes out there. Its a fun board for cruising but it's better when you want to get aggressive. It's stable between the feet and flat bases well like all traditional camber boards do.  It's the kind of board that allows you to take on the mountain in a little more directional all mountain freestyle kind of way.  It likes to carve or make medium radius turns and pop off things.

Powder: With a twin-ish shape and not much set back this board is not going to blow your mind in the deep stuff but its exactly what you would expect for a cambered board.  It will be fun until it gets really deep.

Turn Initiation– It's rather easy to turn for a mid flexing camber board.  That being said it's a lot more work edge to edge than the Agent Rocker.   It makes big carving turns fun.  This is not for a beginner and will take a little while to get used to if you are an intermediate.  Advanced to Expert riders will appreciate this board immediately and enjoy its ability to turn.  If you compare this to the Agent Rocker you will see that this is going to be a lot more difficult but compared to other camber boards in it's category it's pretty easy.

Speed:  There is a fast base, mid-flexing so that makes it very damp.  You can straight line this thing without issues.  It is not going to have the stability of the Rome Anthem but it sure is fast for its category.

Uneven Terrain: The Agent handles bumpy snow pretty well. The thicker profile makes it not as ideal as the Custom but it does pretty well.

Approximate Weight–  It's pretty heavy but you can see why if you examine it closely.  The rails have a lot more steel and the board is thicker. It's built to last a long time and judging by the extra everything on the board you can ride this 100+ days a year for many seasons before it gives up on you.

Edge Hold: This board will climb a steep icy pipe wall but it won't be the best board on an icy day.  Ice sucks but if it's something you have to face all the time look for a different board.  If you ride in mainly good conditions as we do then this board handles most situations we deal with. What is weird is we felt the Agent Rocker had better grip than the traditional camber Agent.

Flex: This is on the stiffer side of mid flexing which makes for a good all mountain board.  Now the camber Burton Custom use to have a similar flex 


Switch: We thought this board would not be as much fun to ride switch as most boards of this shape but it did a very good job.  If you ride switch on occasion you won't be disappointed.  If you ride switch a lot then look for a twin or directional twin.

Jibbing– Great for a visit with wider boxes and easy jibs but you don't want this as your jib specialist.  It is sturdy and slides well but flex is just to medium to really handle long kinked rails or big Jibs.  Still, it's not bad if you just want to hit a mellow small rail or small jib.

Pipe:  The Agent is not bad in the pipe. It climbs the wall well and has enough flex to land a less than perfect hit.  We felt that there are other boards that really did a better job than the Agent but this is a ride everything well board but not great board.

Jumps: Go big or small and this board will be there for you. We also like how the Agent Camber generates its own air.  Both the 2011 and 2012 are very poppy boards so it's hard to say how much better the 2012's new pop tech is than the 2011.  It seems more poppy but again it's hard to tell.
Rome Agent Images

We try to get as many images of the Rome Agent, but forgive us if they're not all there.
2022
2020
2017
2016
2015
2014
2013
2012
2011
2010
Rome Agent User Reviews
Rome Agent 2010-2022 Snowboard Review
SKU
UPC
Model
Rome Agent 2015
Dec 23, 2014
by
Eric
Ability Level: Advanced •
Riding Style: Chasing Skiers •
Days You Ride A Year: 25
I was able to demo this in a 158 on Killington with Burton Genesis bindings this past weekend. (Weekend before Christmas). Conditions were pretty nice especially for this time of year, there was some ice but fluffy stuff on top and medium snow on the sides to get into. My personal board is a Custom Flying V 159 approx. 5 years old with Burton Freestyle bindings.

Moguls
I was able to charge moguls on Blacks and Double Blacks extremely well, the best I think I ever have. It was fairly easy to turn and pop in the nasty moguls with this thing. Very pleased.

Trees
Very well here too, I was able to follow the lines that I picked almost 100% of the time even in tight, steep glades. Even my friends noticed how I wasn\'t following behind as much as usual.

Groomers
Pretty normal here, wasn\'t terribly fast but I was able to trust the edges and ice didn\'t spook me. It did seem somewhat sketchy in tracked up snow and forced me to stay on my edges for most of the time while trying to flat base and pickup speed.

Powder
No deep stuff here but there was a decent amount of fluffy stuff on the side of the slopes that didn\'t give me any problems, not sure about deep fresh stuff though.

Bindings
I would highly recommend these bindings, they provide excellent response and also are extremely comfortable. My feet are always falling asleep in my Freestyles but I can crank these pretty hard and still be comfortable.

I really enjoyed this board, I\'m just looking for something a bit faster and more stable at speed. The flex was nice because it allowed me to maneuver the board well but still had firmness to rely on. Had really nice pop to it too, easy landings as I like to pop off rollers and small jumps along the slopes. No park or jibber jabbing for me.

---
If you can't buy through the links above, you can support the site with: