Ride Twinpig 2019-2023 Snowboard Review
| | |
| --- | --- |
| Riding Style | All Mountain Freestyle |
| Riding Level | Beginner - Expert |
| Fits Boot size (US) | < 8, 8-10, 10-12, > 12 |
| Manufactured in | China |
| Shape | Asymmetrical Twin |
| Camber Profile | Hybrid Camber |
| Stance | Centered |
| Approx. Weight | Feels Light |
| Split | No |
| | |
| --- | --- |
| On Snow Feel | |
| Turn Initiation | |
| Skidded Turns | |
Where To Buy
80% of outdoor sports products are not listed or sold online.
Our team has relationships with hundreds of local snowboarding and outdoor sports shops.
We'll call the shops and email you a list of stores along with pricing and availability.
---
Not sure what to buy?
Get custom advice from Good Ride editors James and Steph.

Get Advice
Ride Twinpig 2023 - 2019 Review by The Good Ride
Ride Twin Pig Snowboard Video and Written Review
Thanks for clicking into the Ride TwinPig Snowboard Review from an objective but average rider.
Update 2023: The Ride Twinpig has changed very little so this review still stands. The only difference is is there is a slight tweak to the top sheet material and it is more durable than the one I own. 
Turn Ons/Swipe Right: fun turning, buttering all around playful park to mtn freestyle ride.
Turn Offs/Swipe Left: liked the poppier construction in 2021 but worth it for a little more durabilty in 2022-2023.
Summary
The Ride Twinpig had some slight tweaks to its construction in 2022, is the same for 202 and we all still tremendously enjoy this ride.
Ethics Statement: We don't get paid by the manufacturer to write these reviews and this is our unfiltered opinion. We do make money from the "Where To Buy" links, but this is our best attempt at an honest and objective review from an average riders' perspective.
A Break Down of How it rides and who it is for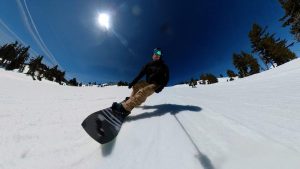 How This Review Happened:
Borrowed this for an extended demo and liked it so much, I asked to keep it (only do this with favorites)
Size: 151 and 154 (I know own the 151)
Days: 10+
Conditions: Everything from good mid winter snow to hard snow to varied spring conditions.
Riders: James (Size 9, 5'10" 185-190lbs), Nick (Size 10, 160lbs, 5'8")
Boots: Burton Kendo
Insoles: F.I.T. Gamechangers
Jacket: Burton AK Gore-Tex Pro 3L Tusk Jacket, Volcom TDF Infuse 3L Gore-Tex Jacket, Burton Banshee Gore-Tex Jacket
Pant: Burton AK Gore-Tex Pro 3L Hover Pant, Burton AK Gore-Tex 2L Swash Pant, Burton Gore-Tex Ballast Pant
Helmet: Smith Maze
Goggle: Smith 4D Mag
Gloves: Burton AK Guide Glove, Burton AK Clutch Mitt, Burton AK Clutch Glove
Similar Boards (but not the same): Yes Greats
Set-Up: 21.5" Wide. +15/-15. Close to Reference.
How It Was Tested
I rode this a lot. Mainly just for fun on my days off from reviewing but often compared it to the YES Greats with the same bindings and boots.
Approximate Weight
The Ride Twinpig feels on the light side of normal for this width. (We don't put in the exact weight because with wood cores there is no consistency in a boards weight)
Sizing
The Ride Twinpig was best for me in a 151. The 154 was just too wide and I felt too far away from the edges to really control it. Especially in uneven snow.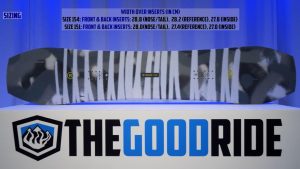 Here are some ideal US boot sizes for the Ride Twinpigs. You can of course go bigger or smaller but these work best for this board. You want to ride this shorter and wider than you normally would by a good bit. For example I ride the 151 but would normally ride a mountain freestyle twin with a normal width in a 155-157 size range.
148: 8-9
151: 9-10
154: 10-11
157- 11-12
156w- 11.5-12.5+
Shape/Camber/On Snow Feel/Ability Level
The Asym twin shape of the Ride Twinpig is as good as it gets for riding centered and feeling the same turning on heel side or toe side. It does require you to ride perfectly duck and centered to feel what we are describing. You can ride it directional and set back but it doesn't ride as well.

Then you have this very stable, forgiving camber profile. The Ride Twinpig is pretty mellow but you do feel it compared to flat to rocker. Very easy to skid turns, one foot and flat base.
Edge Hold
There is pretty competent edge hold. I felt it wasn't there with the disrupted sidecut of the YES
Flex Personality
The Ride Twinpig's flex is a little stiffer this year than last and doesn't feel quite as lively or poppy. It does feel more damp and more reliable than 2021. The 2023 model has very similar construction as the 2022 so I won't be riding it.
Speed
There is a decent base with the Ride Twinpig but it's not an ultra glider when all waxed up. You don't want to get this if you like to point it but it's fast enough for moderate mountain speed.
Turning Experience/Carving
The Ride Twinpig is all about a fun turn. I love this sidecut and how much fun it is to turn once it is engaged. It is slow initiating though but I'm more than ok with that. I had some pretty satisfying carves regular and switch too. It is no dedicated carver but I had soo much fun with it. It likes across the groomer and circle carves more than down the line higher speed carves but can do them well enough without it feeling hooky. 
Powder
For an asym twin the Ride Twinpig is really good in powder. Even in the 4-6" of wet thick pow I felt like it wasn't even trying. If you want a powder twin size up one or two sizes from what you should ride you will have an exceptional pow board. For example I prefer a 151 but if I got a 157 I would have an excellent powder twin.
Switch/Pipe/Jumps
You get the Ride Twinpig to ride either direction and often. If you don't ride switch then there are other boards that will better suit your needs. I love boards like this and the YES Greatst because they make switch riding soo easy. This is also a great park ride.
Conclusion
The Ride Twinpig is a board I personally love. In a time of soo many directional rides it is soo refreshing to go out on an Asym Twin like this and play around on the mountain.
If this review helped, we'd appreciate if you:
Ride Twinpig Past Reviews

The Ride Twinpig is a short/fat asym twin that takes a freestyle to borderline mtn freestyle, hybrid camber variation on the Warpig.  Yeah, that's a mouthful but the bottom line is it's a fun ride. It's made to be ridden wider and shorter than you normally would and despite the fact that I was riding a 157 when I probably would have liked a 151 better, I had a great time on it.  Then I when I discovered the price I was even more impressed. Not much has changed from 2019-2020 so the review still stands. However, we did add Stephens take on the 156w to the review.

Ethics Statement: We don't get paid by the manufacturer to write these reviews.  We do make money from the "Where To Buy" links, but this is our best attempt at an honest and objective review from an average riders' perspective.

Size: 157
Days:  6
Conditions:  Pretty much all types spring snow
Riders: James (Size 9, 5'10" 185-195lbs)
Boots: Adidas Tactical ADV
Insoles: Sandsole Custom Insoles
Bindings: Union Atlas, Union Superpro,
Set Up: 22-22.5" Centered 15 front -15 back

Approximate Weight: Felt light for how much volume there was.

Flex: Medium Soft in the tip/tail and almost medium between the feet.  Overall it's very playful throughout the board and it's got a nice torsional twist to it.

Sizing:  I would have been much happier with a 151 for my boot size.  Either of these would be more fun to control

On Snow Feel: The Ride Twinpig has a nice and stable yet very forgiving it's got a nice blend of camber and rocker so it doesn't feel too catchy or too loose underfoot. It has a playful buttery, light, poppy, dynamic feel to it that really makes this board fun to ride in and out of the park.  If you want to be in the park all day, fine and if you want to ride the mountain all day that's fine too.

Edge Hold: Not it's the strongest quality and I felt it let go a bit as the snow got harder.  It's not ideal for those that often see hard to icy snow. It's best for mostly good condition riding.

Turn Initiation: The 157 really has a slow cruisy turn to it that's faster than what you would think for the waist width but still not that fast. If I was on the 151 or 154 I think things would be a little different.

Turning Experience: The Ride Twinpig is super fun to turn and I really liked how it had a little spring out of each turn.  It really shines in wider radius turns but the more you put pressure on that side cut the tighter the radius of the turn gets. If you want to ride the mountain regular and switch then this is a great choice for those on a budget.

Carving: This didn't blow me away but it's got a bit of resistance mid-carve that makes it hold a little better than you would think.  It's super fun for what it is but don't get this board if all you want to do is carve.

Speed: The Ride Twinpig is no bomber and it's not like the Warpig in that aspect but it has competent enough mountain speed to be fun here.

Uneven Terrain: It's light poppier construction is the polar opposite of many of rides boards like the Machete so it doesn't hammer through that uneven snow.

Powder: I had zero powder to speak of.  Only a bit of spring slush. Based on its girth, early rise rocker and wide ass nose/tail I think this could be a good choice for those that want to keep it centered and ride switch in powder.  I plan to get one of these boards and I hope to let you know for sure.

Buttering: Super easy to butter and it makes someone like me, who's weak at buttering, better.

Switch: Just as easy either way and asymmetrical twins are great for this.

Jumps: It's got a really poppy feel underfoot that also translates to good air from an ollie.  I don't feel like this would be good for lapping massive kickers all day but it's great for average air like we obtain. I loved the wide platform underfoot and it made the camber profile feel even more stable approaching or landing.

Jibbing: Very doable jibber and I would have no problem hitting a jib or two with this.  I wanna get this for Jimbo to have him jib his heart out. It's almost m

Pipe: It's wider width in a 157 made even thinking about the pipe intimidating but the 154 or 151 could be more fun for sure.

So, all in all, the Ride Twin Pig is a super fun board for this price that could work well as either a quiver board or a full-time freestyle to mtn freestyle fatty asym twin.
Ride Twinpig User Reviews
If you can't buy through the links above, you can support the site with: