Ride Psychocandy 2022-2024 Snowboard Review
| | |
| --- | --- |
| Riding Style | Alternative Freeride |
| Riding Level | Beginner - Expert |
| Fits Boot size (US) | < 8, 8-10, 10-12, > 12 |
| Manufactured in | China |
| Shape | Tapered Directional |
| Camber Profile | Flat to Rocker |
| Stance | Setback -20mm |
| Approx. Weight | Feels Normal |
| Split | No |
| | |
| --- | --- |
| On Snow Feel | |
| Turn Initiation | |
| Skidded Turns | |
Where To Buy
80% of outdoor sports products are not listed or sold online.
Our team has relationships with hundreds of local snowboarding and outdoor sports shops.
We'll call the shops and email you a list of stores along with pricing and availability.
---
Not sure what to buy?
Get custom advice from Good Ride editors James and Steph.

Get Advice
Ride Psychocandy 2024 - 2022 Review by The Good Ride
Ride Psychocandy Snowboard Video and Written Review
Welcome to the Ride Psychocandy Snowboard Review from an average rider with an exceptionally objective perspective.
Update 2024: Other than a slight tweak to the 202302024 top sheet to make it more reliable and a little more damp, the Ride Psychocandy hasn't changed. 
Turn Ons/Swipe Right: Fun turny/slashy somewhat short/somewhat wide ride. Very forgiving.
Turn Offs/Swipe Left: Not as damp as the Superpig or Warpig
Summary
The Ride Psychocandy is a unisex board that has a more set back, narrower, more turny slashy feel to it that I really enjoyed. I tested this against the 151 Warpig and 151 Superpig and it really had a stand out personality to it.
Ethics Statement: We don't get paid by the manufacturer to write these reviews and this is our unfiltered opinion. We do make money from the "Where To Buy" links, but this is our best attempt at an honest and objective review from an average riders' perspective.
A breakdown of how this unisex board rides and who it is for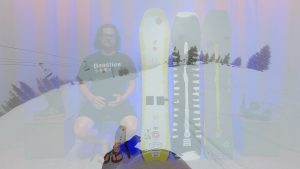 How This Review Happened:
Borrowed this for an extended demo and sent it back.
Days:  4
Conditions: Good spring snow. Wet shallow spring powder and some hard spring snow.
Riders: James (Size 9, 5'10" 185-190lbs)
Boots: Burton Kendo
Insoles: F.I.T. Gamechangers
Bindings: Union Atlas
Jacket: Burton AK Gore-Tex Pro 3L Tusk Jacket, Volcom TDF Infuse 3L Gore-Tex Jacket, Burton Banshee Gore-Tex Jacket
Pant: Burton AK Gore-Tex Pro 3L Hover Pant, Burton AK Gore-Tex 2L Swash Pant, Burton Gore-Tex Ballast Pant
Helmet: Smith Maze
Goggle: Smith 4D Mag
Gloves:, Burton AK Tech Leather Glove, Burton AK Tech Glove,
Similar Boards (but not the same): Yes Hybrid, Endeavor Scout, Prior Legacy, Jones Hovercraft, Lib Tech Orca, Never Summer Harpoon, Niche Pyre,  Yes Hybrid, Yes Y
How It Was Tested
Most days I rode this I also rode it against the Ride Warpig and Superpig with the same boots and bindings.
Approximate Weight
The Ride Psychocandy feels more on the light side of normal but not super light. (We don't put in the exact weight because with wood cores there is no consistency in a boards weight)
Sizing
Normally the Superpig and Warpig are best for me in a Small/151 but with the Psychocandy the 154 feels like a great fit for my boot size. I feel a bit heavy for it but not too heavy that it doesn't feel right. It runs a little more narrow and a little longer than the Warpig and Superpig for sure so size up one from those two.
Here are some ideal US boot sizes for these boards. You can of course go bigger or smaller but these work best for not turning the board slower than it should be and not having the dreaded Toe & Heel Drag.
138: 6-6 Mens, 6-7 Womens
142: 6-7 Mens 7-9 Womens
146: 7-8 Mens, 8-10 Womens
150: 8-9 Mens, 10+ Womens
154- 9-10 Mens
158- 10.5-11.5 Mens
Shape/Camber/On Snow Feel/Ability Level

The Ride Psychocandy is a shortish/wideish tapered directional kind of ride with more setback on board than the Warpig and Superpig. That makes it feel a little less all mountain and more directional freeride. You don't feel as centered on board. The camber profile is flat to rocker so it's stable one footing/flat basing but its also very forgiving when you get off your game and have to skid a turn. Just about anyone can get on this board and have fun but it won't be boring for an advanced to expert rider either.
Flex Personality
I love the way the Ride Psychocandy had this nice balance between feeling lively/poppy but easy to butter, but also not to chattery and bucky in uneven snow. It's not a board you power though uneven snow but it also isn't something that throws you off your game or bucks you out of your line like some boards can at moderate speeds in uneven snow.
Speed
The base glide is good but not exceptional and you can pick up a little speed here. Still, The Warpig and Superpig are more damp if you like to intermittently point it.
Edge Hold
I found that even in hard snow the Ride Psychocandy didn't shit the bed. It did very well gripping when you needed it to but it's no hard snow specialist. It is right in between being a medium and hard snow kind of ride.
Turning Experience/Carving
So I loved how the Ride Psychocandy was a little slow to initiate a turn but still very easy to do so. Once on edge it had a very turny feel and I felt that the 154 was more turny than the 151 Superpig and Warpig even though they have very similar sidecuts. The set back feel made it feel a little more set back/surfy and I loved making tighter radius turns. It didn't feel too turny/hooky either. On a hard carve it isn't exceptional but it was really fun. On top of that I had a lot of fun in the snake with this and also turning it in wet snow with shallow emerging moguls.
Powder
So I didn't get anything that really resembles a real powder day but just riding it in a few inches of wet/thick powder set all the way back I could feel it will have an easier time in pow than the Warpig and Superpig. It has a setback on board of -3.75" at a 22" stance width vs. -3" @ 22.75" with the Warpig. So not only is there more set back on board but it is more useful for people who have more of a normal stance width. That combined with the taper and much bigger floatly nose than the tail makes this a competent pow board. I would definitely grab this over the Warpig.
Switch/Pipe/Jumps
The Warpig and Superpig are better switch but the Ride Psychocandy is still very doable. I preferred the Psychocandy in the pipe better than the other pigs (except the Twinpig and Mtn Pig) and I think this would be doable with jibbing but I didn't jib. Going off bigger kickers I would prefer the Warpig and Superpig but the Psychocandy should do well enough. It was very easy to approach and land the little airs I had on the mountain.
Conclusion
So if you like the idea of the Warpig and Superpig but just want something a little more directional the Ride Psychocandy could be a really fun ride for ya.
If this review helped, we'd appreciate if you:
Ride Psychocandy Past Reviews

The Ride Psychocandy is a mix of the old Ride Hellcat and the Ride WarPig. It is a directional, tapered board with an aggressive feel to it. I was on the 146, but should have been on the 142 or even the 138. So it felt a little stiff for me, but if it was the correct size I think it would have felt a little less aggressive.

The Ride Psychocandy was made to size down, so it has a bigger surface area on the snow that some boards in the same size range. The wider waist width could help out those ladies with size 9 and up boots as well. The Ride Psychocandy could be a good choice for an advanced to expert rider that prefers a directional ride, and wants something that carves well, charges hard, and can hang on a powder day.

Ethics Statement: We don't get paid by the manufacturer to write these reviews.  We do make money from the "Where To Buy" links, but this is our best attempt at an honest and objective review from an average rider's perspective.

Size: 146

Riders: Steph

Days: 1 (a few laps during demo days)

Conditions: Fresh powder, packed powder, soft snow

Boots: Vans Ferra

Bindings: Ride DVA

Set Up: 21.5" Centered 15 front -15 back
Ride Psychocandy User Reviews
If you can't buy through the links above, you can support the site with: