Gnu Antigravity 2019-2023 Snowboard Review
| | |
| --- | --- |
| Riding Style | All Mountain |
| Riding Level | Advanced - Expert |
| Fits Boot size (US) | 8-10, 10-12 |
| Manufactured in | USA by Mervin |
| Shape | Tapered Directional |
| Camber Profile | Mostly Camber |
| Stance | Setback over 20mm |
| Approx. Weight | Feels Normal |
| Split | No |
| | |
| --- | --- |
| On Snow Feel | |
| Turn Initiation | |
| Skidded Turns | |
Where To Buy
No obligation, but these links & ads support the site.
Gnu Antigravity 2023 - 2019 Review by The Good Ride
Gnu Antigravity Snowboard Video and Written Review
You have arrived at the Gnu Antigravity Snowboard Review where it was tested in everything from groomers to pow. 
Update 2023: The Gnu Antigravity has changed very little or at all since this review. 
Turn Ons/Swipe Right: Very poppy. Good spring out of the turn. Great grip in hard snow
Turn Offs/Swipe Left: Catchy full camber feel. Not a great floater for its design.
Summary
The Gnu Antigravity has a lot of universal appeal to it and other than having the almost full camber catch to it the rest of the ride feels pretty mellow. If you understand camber but don't want something super stiff/aggressive then this could be a fun ride for those that like a moderately tapered directional board that can easily ride tail first. This ride hasn't changed over the years so I re-organized and updated the review a bit to better help.
Ethics Statement: We don't get paid by the manufacturer to write these reviews and this is our unfiltered opinion. We do make money from the "Where To Buy" links, but this is our best attempt at an honest and objective review from an average riders' perspective.
Gnu Antigravity Snowboard Review- How it rides and who it is for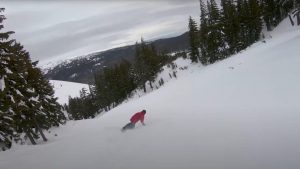 How This Review Happened:
Borrowed this for an extended demo and sent it back.
Size: 156 and 159
Days:  6+
Conditions:  Everything from somewhat hard snow to about 1.5′ of wet thicker powder.
Riders: James (Size 9, 5'10" 185-195lbs), Grant (Size 11 6' 160lbs)
Boots: Adidas Tactical ADV
Insoles: Sandsole Custom Insoles,  Footprint Insole Technology Gameghangers Low Profile
Bindings: Union Atlas, Union Strata, Union Falcor
Set Up: 22" 21 front 0 back set all the way back. 18 front -9 back close to reference stance.
Similar Boards (but not the same): Korua Otto, Lib Tech Terrain Wrecker, Capita Mercury,YES NSB, Endeavor Pioneer, Jones Mountain Twin, Endeavor Ranger, K2 Manifest, Yes Typo, Jones Frontier, Ride Algorythm, Ride Wild Life, Borealis Tundra, Tahoe Labs Directional Twin, Yes Basic Uninc,
Approximate Weight
The Gnu Antigravity feels pretty normal bordering on light.
(We don't put in the exact weight because with wood cores there is no consistency in a boards weight)
Sizing
The 156 Gnu Antigravity would be the one I would own if I bought one. The 159 felt better for my weight of 185lbs but the 156 was much easier to control for my size 9 boots.
Here are some ideal US boot sizes for these boards. You can of course go bigger or smaller but these work best for not turning the board slower than it should be and not having the dreaded Toe & Heel Drag.
150: 7.5-8.5
153: 8.5-9
156: 9.5-10
162: 10-10.5
159w: 11-12
162w:11.5-12.5
For weight I would stay close to the Brands recommended weight ranges. If it comes down to boot size or weight, I would make sure it fits your boot first and then your weight a close second.
Shape/Camber/On Snow Feel/Ability Level
The Gnu Antigravity has about 5mm of taper but it doesn't feel that tapered at all. Feels more like a non-tapered all-mountain ride as opposed to a tapered directional set back freeride board. There is pretty much full camber happening from tip to tail with only a little passive bend in the middle. There might be a CM or 2 of early rise before the nose but it feels more like full camber.
Flex Personality
I was suprised at how well the Gnu Antigravity buttered for being C3. Usually when a mediumish flexing board like this that is almost full camber is harder to butter but they gave it enough of a playful flex in the tip/tail to make this work.
Speed
So the base glide of the Gnu Antigravity is good but not on par with a lot of bases in this price point. That is typical with Gnu. It's great though, if you don't wax a lot because their bases don't have those low lows if you don't wax but they also don't have those high highs if you wax a lot.
Edge Hold
The Gnu Antigravity doesn't have that full on mag but it does have a very competent mellow mag happening. It grips pretty well in harder snow and doesn't grab as much in softer snow as full mag.
Turning Experience/Carving
If you like really stiff boards for carving the Gnu Antigravity won't be for you. If you are ok with a softer torsional flex for carving you might really like it like we did. I found the 156 was medium to medium fast edge to edge and when you were committed into a turn it was a very balanced turning radius. It let you do anything you wanted well without fighting you too much.
Powder
So there is a little set back on board but at a 22.75″ stance width set all the way back you can get about a 2.25″ setback on board. That is pretty good for all mountain but not having any real early rise in the nose takes away from the float compared to many non-tapered all mountain boards with some happening there. In 1.5 feet of pretty thick PNW powder the Antigravity was struggling in comparison to the Mullair I compared it against and even more so with the Lost RNF. So there are better all mountain boards out there for directional/set back float in powder
Switch/Pipe/Jumps
Very doable switch for a board with a little taper and you have a pretty centered feel when you aren't set all the way back. This would be fun in the pipe and this is a very poppy energetic jump board. Not that we are going big but it could for sure be glorious going medium.
Conclusion
So overall, the Gnu Antigravity offers up a technical but very poppy and easy to butter do anything type of ride.
If this review helped, we'd appreciate if you:
Gnu Antigravity User Reviews
If you can't buy through the links above, you can support the site with: