Capita Indoor Survival 2010-2023 Snowboard Review
| | |
| --- | --- |
| Riding Style | All Mountain Freestyle |
| Riding Level | Intermediate - Expert |
| Fits Boot size (US) | 8-10 |
| Manufactured in | Austria at The Mothership |
| Shape | Directional Twin |
| Camber Profile | Mostly Camber |
| Stance | Setback -12.5mm |
| Approx. Weight | Feels Heavy |
| Split | No |
| | |
| --- | --- |
| On Snow Feel | |
| Turn Initiation | |
| Skidded Turns | |
Where To Buy
80% of outdoor sports products are not listed or sold online.
Our team has relationships with hundreds of local snowboarding and outdoor sports shops.
We'll call the shops and email you a list of stores along with pricing and availability.
---
Not sure what to buy?
Get custom advice from Good Ride editors James and Steph.

Get Advice
Capita Indoor Survival 2023 - 2010 Review by The Good Ride
Capita Indoor Survival Snowboard Video and Written Review
You have arrived at the Capita Indoor Survival Snowboard Review from an average rider who got it in everything from pow to groomers.  
Turn Ons/Swipe Right: Excellent Turning and Ollie Power. Soo much pop. Competent Grip.
Turn Offs/Swipe Left: Too much base structure. Stance width too wide when set back all the way. On the more technical/catchy side of hybrid camber.
Summary
The Capita Indoor Survival was one of our highlights from testing for 2023 and this board does a lot more than you would expect for this name. It is a little wider than it used to be, has a lively fun turning experience and it can pop so hard on an ollie. It also has a setback on sidecut and on board making it better than similar twins with centered stances in powder.
Ethics Statement: We don't get paid by the manufacturer to write these reviews and this is our unfiltered opinion. We do make money from the "Where To Buy" links, but this is our best attempt at an honest and objective review from an average riders' perspective.
Capita Indoor Survival Review- How it rides and who it is for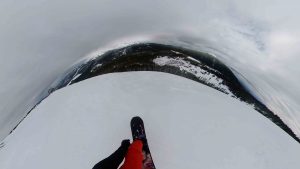 How This Review Happened:
Borrowed this for an extended demo and sent it back but would love to own a 156.
Size: 156 & 158
Days: 4
Conditions: Firm but mostly fair groomers in Mammoth, decent to uneven groomers, and wet spring powder at Mt. Bachelor
Riders: James (Size 9, 5'10" 185-190lbs), Davey (Size 12, 240lbs, 6'4")
Boots: Burton Kendo, Burton Ion
Insoles: F.I.T. Gamechangers
Bindings: Union Atlas, Union Force, Union Ultras
Jacket: Burton AK Gore-Tex Pro 3L Tusk Jacket, Volcom Guide Jacket, Burton Gore-Tex 3L Treeline Jacket, Jones Peak Bagger Jacket.
Pant: Burton AK Gore-Tex Pro 3L Hover Pant, Burton AK Gore-Tex 2L Swash Pant, Burton Gore-Tex Ballast Pant
Helmet: Smith Maze
Goggle: Smith 4D Mag
Gloves: Burton AK Clutch Mitt, Burton AK Tech Leather Glove,
Similar Boards (but not the same): Korua Otto, Lib Tech Terrain Wrecker, Capita Mercury,YES NSB, Endeavor Pioneer, Jones Mountain Twin, Endeavor Ranger, K2 Manifest, Yes Typo, Jones Frontier, Ride Algorythm, Ride Wild Life, Borealis Tundra, Tahoe Labs Directional Twin, Yes Basic Uninc, Cardiff Lynx,
Set-Up: 21.5" Wide. Sance Angles +18/-9 in powder, +15/-15 on groomers. Close to Reference and Set as far back as I could.
How It Was Tested
I often tested the Black Snowboard Of Death, Mercury, Mega Mercury, YES Basic Uninc and Jones Mountain Twin on the same day.
Approximate Weight
The Capita Indoor Survival felt on the lighter side of normal but not full on ultra-light. (We don't put in the exact weight because with wood cores there is no consistency in a boards weight)
Sizing

So the 158 felt good but the 156 felt just right for my boot size, 185lbs and my 5'10" frame. The little extra bit of width worked well for me and it didn't make it harder to manage. If anything, the extra surface area added a little dampness and stability.
Here are some ideal US boot sizes for the Capita Indoor Survival. You can of course go bigger or smaller but these work best for not turning the board slower than it should be and not having the dreaded Toe & Heel Drag.
**The Death Grip/1.5mm extension on each sidecut makes the waist look about 3mm wider than it actually is so it won't actually be as wide as you think.**
150: 7.5-8.5
152: 8-9
154: 8.5-9.5
156: 9-10
158: 9.5-10
160:10-10.5
155w: 10-10.5
158w: 11-12
161w: 11.5-12.5
For weight I would stay close to the Capita Indoor Survival's recommended weight ranges on their site and I would not go with other sites recommendations. If it comes down to boot size or weight, I would make sure it fits your boot first and then your weight a close second.
Shape/Camber/On Snow Feel/Ability Level

The Capita Indoor Survival has a true twin shape but with a little set back on the sidecut as well as board. It feels very centered on board and you can weight your turns however you please. Front foot, back foot or center weighted all works with this ride.

The camber profile is almost full camber but there is a little flat with a pretty pronounced early rise before the nose/tail. It makes for a semi-locked in feel that is more than most hybrid camber boards like the Mercury but less than many full camber boards. It likes a more technical rider that understands full camber boards but wants something a little more mellow thanks to the early rise.
Edge Hold

The Capita Indoor Survival has really competent hard snow grip. I love how the Death Grip (1.5mm bump in the middle of board on each side) and it really helps in hard snow. The way the sidecut transitions out of death grip towards the inserts seems like it provides a slight disruption over the bindings that creates more grip there as well. Whatever is going on really improves the grip. Usually I want to put Capita boards away in hard snow, and I still would on icy days, but now I'm comfortable on it.
Flex Personality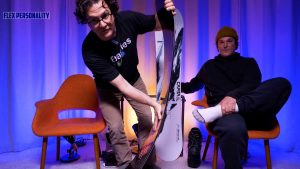 The overall flex of the Capita Indoor Survival is medium for sure. Buttering is way easier than I thought it would be with healthy amount of camber. I think its because of that healthy kick right before the nose/tail helps you get a little more leverage.
When it comes to pop and ollie power it was one of the highlights of our season. This thing just pops soo hard and what is even more cool is it is easy to access that pop if you are an average rider like us.
Base Glide/Speed

So there is a lot of structure with the Capita Indoor Survival and in good snow it felt a little grabby. It will kill it in wet snow but I wish there wasn't as much structure. This is a demo board though so production might have less structure overall. I think with a good wax that will get rid of some of that structure though for sure. There is above average glide for sure too and it kept it's speed well.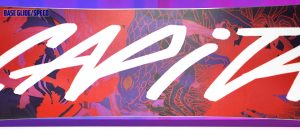 When it comes to pointing it, I thought it wouldn't be as damp but the Capita Indoor Survival surprised us. It's no BSOD or Mega Merc but it is very competent and felt close to the Mercury. The sidecut doesn't fight you on a straight line either.
Uneven Terrain
The Capita Indoor Survival did well in hard micro-bumpy as well as soft and semi bumpy wet snow. I have had trouble in the past with Capita boards like the Mercury and Asymulator in really late spring snow. They bucked and bounced you around to the point it wasn't fun to ride where other boards were fine on same day tests. It seems like Capita made some tweaks to fix this but I can't say with 100% certainty.
Turning Experience/Carving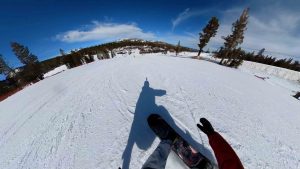 So this new design really changed up our take on the Capita Indoor Survival. This was the biggest surprise of our Capita testing. There was such good spring out of the turn. It doesn't have that gnarly torsional stiffness that many hard carvers need but it sure was satisfying to mellow carvers like Davey and I.
The overall turning experience was very balanced as well. It wouldn't balk at any kind of turn you wanted to make.
Powder

So Davey didn't get it in pow and I didn't get it super deep with the Capita Indoor Survival but I was lucky enough to get about 8" of thick spring powder to give it a go. I just kept hiking the cone all day and tested it against a lot of boards. For Capita's non Spring Break line, the Navigator was the winner, 159 BSOD 2nd, 157 Merc/Mega Merc 3rd and the 158 was behind the Mercs.
I think this could be better though if the set back on board was better configured so the stance isn't as wide set all the way back. You really free your taint at a 24.25" stance width when set all the way back to get the 1.75" set back on board. That is a joint breaker for most. The 156 has a narrower reference stance so it should be better but not by too much.
So overall, it isn't bad for a mostly camber twin in powder and there is more set back vs. most twins but it is no YES Basic Uninc or other twins like it that have set back inserts. Most don't pop as hard though.
Switch/Pipe/Jumps
I loved the Capita Indoor Survival riding switch and hitting kickers. I did ride this for fun a few days with the camera off for personal sanity reasons and stopped in the pipe. It was great there and it had enough grip on the shady/hard wall that day. I think the Indoor Survival is going to be a little technical for most average jibbers but it really shines for Jump and Pipe riders.
Conclusion
So the liveliness without feeling super light and chattery is really appealing. Other than a really wide set back on board for those who like to set it back, it is hard to fault this super poppy mountain freestyle to all mountain twin.
If this review helped, we'd appreciate if you:
Capita Indoor Survival Past Reviews
2018 Capita Indoor Survival Review
The Capita Indoor Survival is there if you want a flat to rocker version of the Outerspace Living.  However, to us, the Outerspace Living felt like a better board for how we ride and of the two that would be the board we recommend. I kept calling it a 155 but it was a 156.
Ethics Statement: We don't get paid by the manufacturer to write these reviews.  We do make money from the "Where To Buy" links, but this is our best attempt at an honest and objective review from an average riders' perspective.
Size: 156
Days:  3
Conditions: Mainly good spring conditions.  Hard in the morning, pretty good midday and soft to slushy in the afternoon.
Riders: James, Jimbo
Boots: Burton Almighty, Adidas Tactical ADV
Bindings: Union Atlas, Union Superpro,
Set Up: Centered 15 front -15 back approximately 22.75″ wide
Approximate Weight: Felt normal bordering on light.
Flex:  So one thing I've noticed across the board with Capita the last few years is the improved flex.  Back when we rode this board years ago the flex felt kind of plankish and a little dull.  Now it has a much better overall flex that bends a little more, has more return when unweighted and just feels more lively.  It's more fun to butter and just feels better overall.  It's a very easy board to butter with.
Sizing:  The 156 felt just right and the
On Snow Feel: The Capita Indoor Survival has a buttery playful feel but still a stable mountain ride for those that don't like the park.  It's very stable between the feet without being catchy and it works great for long cat tracks or one footing off the chair.  It's very similar in feel to the Outerspace Living but the flat instead of camber makes it feel a little less fun overall for us.  It's a good board but the Outerspace Living is just better.
Edge Hold:  There isn't much going on whenever the snow was hard.  It felt really good in medium to soft snow like there is lots of grip left but it's grip just vanishes in hard to icy snow.  We both wished there was a little more grip going on.
Turn Initiation:  Pretty quick edge to edge and the board is always there when you need it.
Turning Experience: It's not bad for flat to rocker but the Outerspace Living and other boards like it with camber somewhere in the board really make for a much more fun board to turn.
Carving:  Pretty boring on a carve and the flat has no real spring out of the turn.  The Capita Indoor Survival is doable but not for those that enjoy turning as much as they do buttering and playing around.
Skidded Turns: Very easy to skid turns and it's fine for riders of any level.
Speed: Decent mountain speed and the new flex tech seems to help the board with chatter even though it's not that stiff for bombing.  This board is a compromise when it comes to doing most things because it tries to do a lot in a lot of places.  But it's competent enough on the mountain.
Uneven Terrain: The old Indoor Survival was way less fun to deal with uneven terrain and it seemed to almost be bothersome when dealing with weaving in and out of bumps or even worse powering over them.  Nowadays all the new tech from core to sidewalls makes the Indoor Survival easy to ride all day on a crowded Saturday.
Powder: We didn't have any powder when we had the board but you can tell with the early rise and decent size nose/tail you can see it's got a decent float for a twin.
Switch: As a true twin it's very easy either way.
Jibbing: It's a very good jibber for something that kind of acts as an all mountain freestyle board. It's probably where we feel the Indoor Survival has an advantage over the Outerspace Living.  The flat to rather a mellow rocker helped even poor jibbers like myself do better.  Yeah, I'd rather be on the Scott Stevens, Horrorscope of Ultrafear but it's really good for the kind of board it is.  Capita does a great job with park boards and they seem to get jibbing better than most companies out there.
Pipe: Not for us, with the sub-par edge hold in harder snow and no camber to help drive the board from wall to wall.
Jumps: Pretty good pop for flat to rocker but we would rather be on the Outerspace Living.
So as you can see the Outerspace Living was pretty much our preferred board with everything except Jibbing.  So if you like the idea of the Outerspace Living but turning and air isn't as important as jibbing and to a lesser extent buttering then this could work.  For us, the Outerspace Living was just a more well-rounded mountain freestyle ride.
2012 and Below Capita Indoor Survival Review
On Snow Feel: The Indoor Survival felt heavy and sturdy but it also felt kind of tankish.  It's very stable underfoot and felt aggressive even though it wasn't catchy. It's something you can get use to but it's definitely a weird feel underfoot for a twin.
Powder:No real powder to play around in but from our experience a twin like this with a flat/rocker and centered stance will be better than camber, plane well but doesn't have that effortless float that some hybrid boards do.
Turn Initiation: The flat/rocker almost flat camber board was more difficult to get from edge to edge than many other boards of this style.  There is even a narrow waist which usually makes for a an easier board to turn. At first Jimbo said it felt like a fat awkward kid but after a run or two you get use to its feel.  If you are into short snappy turns then you might not be into it but if you like a slow but stable profile under foot then it might work.
Skidded Turns: It's easy to skid turns but it took a little more work than some flat to rocker boards we tried from Capita.
Carving: When laying into a carve there it's kind of boring and dead.  The side cut and flat to rocker camber profile doesn't work well.
Speed: The Indoor Survival is damp and has little to no chatter.  We'd say this is a pretty fast board for a lower cost twin.
Uneven Snow– We had pretty decent conditions but it was towards the end of the day and there were places that are chewed up and places that were smooth and pristine due to week day riding.  The Indoor Survival had a very stable tankish kind of feel on the groomed runs and in softer chewed up slushy parts the Indoor plowed through it.  It's a feeling that some will really like and some won't.  It' suppresses some of the rough stuff under foot but certain harder uneven conditions might not be very fun.
Approximate Weight– This isn't terribly light but that's what you expect for the price. Kind of medium when it comes to weight.
Edge Hold: Not bad here and we never felt like we needed more.  Ice and snowment might be another thing but in most conditions you should be fine with the Indoor.
Flex: Felt like it was run of the mill medium from tip to tail and it's got a decent mountain flex.  It's not terribly easy to butter for flat to rocker but it's not difficult either.
Switch: Easy either way like a true twin should be.
Jibbing: Not bad but the medium flex is a bit much for our taste.  Still it works well for it's size and flex.
Pipe: It's off from being good pipe board.  Didn't really drive well from wall to wall and didn't feel right.
Jumps: Flat/Rocker boards are hard to get a snappy feel when it comes to springing up from nothing and the indoor survival isn't super springy.  It's not bad when it comes to hitting a kicker or two but it was missing something here.
All in all the indoor survival isn't for everyone and it didn't really stand out anywhere to us.
Capita Indoor Survival Specs
Capita Indoor Survival Images

We try to get as many images of the Capita Indoor Survival, but forgive us if they're not all there.
2023
2020
2019
2018
2017
2015
2014
2013
2012
2011
Capita Indoor Survival User Reviews
If you can't buy through the links above, you can support the site with: