Burton Show Stopper 2022 Snowboard Review
| | |
| --- | --- |
| Riding Style | Alternative Freeride |
| Riding Level | Advanced - Expert |
| Fits Boot size (US) | 8-10, 10-12 |
| Manufactured in | Austria |
| Shape | Tapered Directional |
| Camber Profile | Directional Camber |
| Stance | Setback over 20mm |
| Approx. Weight | Feels Normal |
| Split | No |
| | |
| --- | --- |
| On Snow Feel | |
| Turn Initiation | |
| Skidded Turns | |
Where To Buy
No obligation, but these links & ads support the site.
Burton Show Stopper 2022 Review by The Good Ride
Turn Ons/Swipe Right: Amazing turning experience. Excellent Pop without being chattery.
Turn Offs/Swipe Left: Edge lets go in harder snow
Summary
The Burton Show Stopper might not have the best edge hold in harder snow but it lives up to its name in medium to soft snow.
Ethics Statement: We don't get paid by the manufacturer to write these reviews and this is our unfiltered opinion. We do make money from the "Where To Buy" links, but this is our best attempt at an honest and objective review from an average riders' perspective.
Burton Show Stopper Snowboard Review- How it rides and who it is for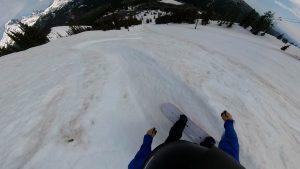 How This Review Happened:
We borrowed this for an extended demo and sent it back.
Size: 154
Days:  4+
Conditions: Varied late spring conditions
Riders: James (Size 9, 5'10" 185-190lbs)
Boots: Burton Kendo
Insoles: F.I.T. Gamechangers
Bindings: Union Atlas
Jacket: Burton AK Gore-Tex Pro 3L Tusk Jacket, Volcom TDF Infuse 3L Gore-Tex Jacket, Burton Banshee Gore-Tex Jacket
Pant: Burton AK Gore-Tex Pro 3L Hover Pant, Burton AK Gore-Tex 2L Swash Pant, Burton Gore-Tex Ballast Pant
Helmet: Smith Maze
Goggle: Smith 4D Mag
Gloves: Burton AK Clutch Glove, Burton AK Tech Leather Glove, Burton AK Tech Glove, CG Habitats Glove, CG Habitats Work Glove, Drop Tahoma Mitt, Drop Cascade Glove, Drop Web Glove
Similar Boards (but not the same): Gentemstick Mantaray 156, Yes Hybrid, Lib Tech Orca, Never Summer Harpoon, Niche Pyre, Yes Hybrid, Yes Y, Cardiff Powgoda
Set-Up: 21" Wide. 21 front +3 back 18 front -3 back. Close to Reference
Approximate Weight:
The Burton Show Stopper is light but not too light. I would say it's on the light side of medium. (We don't put in the exact weight because with wood cores there is no consistency in a boards weight)
Sizing
The 154 Burton Show Stopper felt way better than I thought it would. I'm curious about the 158 but I feel this is meant to be ridden a little smaller and a little wider. Here are some ideal US boot sizes for these boards. You can of course go bigger or smaller but these work best for not turning the board slower than it should be and not having the dreaded Toe & Heel Drag.
154: 8.5-9.5
158: 10-11
Shape/Camber/On Snow Feel/Ability Level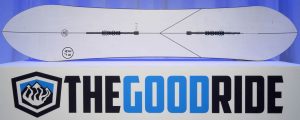 The Burton Show Stopper has a good bit of taper but not a massive amount. It's set back pretty far on board but you aren't totally riding the tail. The sidecut makes it feel less tapered too but you still should ride it a little more off the back foot.

There is almost full camber with a little early rise before the nose. Maybe a competent intermediate could handle it but I would suggest advanced to expert riders that know how to turn. If you skid your turns a lot it's not for you. The Burton Show Stopper does track really well one footing and flat basing which is cool for being such a turny board.
Flex Personality
Medium stiff between the feet, medium soft in the nose and just about the same as the waist in the tail. I found that this was pretty easy to butter but all I wanted to do was turn this thing and launch off little hits around my favorite runs. It pops so well off an ollie and it is easy to access all that it can give.
Uneven Terrain
What I also like is how well it handles all day resort riding. It doesn't ever get cranky in any kind of snow. It isn't for powering over uneven snow but it really has a flex that can tolerate anything and turn through it as long as you aren't pushing it too hard.
Speed
The base had good glide and I think the chalky issues that we had in 2021 are gone. Not sure though but it's up there.
Edge Hold
The Burton Show Stopper is like almost every Burton directional camber ride when it comes to hard snow. It feels amazing in medium to soft snow and grips super well. Then you hit a hard patch and it lets go way easier than you would think it would. It doesn't grab in softer snow though which is pretty cool. If you ride in hard to icy areas this isn't your ride.
Turning Experience/Carving
Medium/fast to fast and the Burton Show Stopper really surprised me on how fast a short/wide board initiated a turn. It has such a quick springy turn.  Once you get the Burton Show Stopper committed into a harder turn it get's even more fun. It feels like its helping you complete the turn without making it any less fun. There is such a dynamic spring out of the turn. It doesn't feel super powerful and aggressive but just feels lively and fun.  It really likes fast tight turns to circle carves the best but it's still pretty good on long narrow down the line s-turns. It's hard to put it into words but I would just say I kept wanting to do it again and again. I was even better in the wiggle with the Burton Show Stopper than any other board I tried that spring in it.
Powder
No Powder to speak of but based on my experiences with the old Malolo this should be a really easy floater. With a 21.75" stance width set all the way back you can get -4.25" back from center of board on the 154. They you factor in that tapered pin tail (20mm is a lot for Burton) and that early rise before the big nose you have a good floater here. I would have loved to ride this in powder and I think it would be much better than the rating on Burton's site. If it's anything like the old Malolo or my old Landlord this will float well.
Conclusion
So if you want a dynamic, lively good condition to powder turner the Burton Show Stopper is an excellent choice.
Burton Show Stopper Specs
Burton Show Stopper Images
Burton Company Information
Burton Show Stopper User Reviews
If you can't buy through the links above, you can support the site with: