Burton Gril Master 2024 Snowboard Review
| | |
| --- | --- |
| Riding Style | Freeride |
| Riding Level | Advanced - Expert |
| Fits Boot size (US) | 8-10, 10-12, > 12 |
| Manufactured in | Austria |
| Shape | Tapered Directional |
| Camber Profile | Directional Camber |
| Stance | Setback over 20mm |
| Approx. Weight | Feels Normal |
| Split | No |
| | |
| --- | --- |
| On Snow Feel | |
| Turn Initiation | |
| Skidded Turns | |
Where To Buy
80% of outdoor sports products are not listed or sold online.
Our team has relationships with hundreds of local snowboarding and outdoor sports shops.
We'll call the shops and email you a list of stores along with pricing and availability.
---
Not sure what to buy?
Get custom advice from Good Ride editors James and Steph.

Get Advice
Burton Gril Master 2024 Review by The Good Ride
Burton Gril Master Snowboard Video and Written Review
Welcome to an honest objective review of the Burton Gril Master Snowboard from an average rider with more board experience than most can fathom.
Positives/Swipe Right: Softer easier to pop for a Family Tree Board. Super fun turning experience. Very good float. Not a very tapered feel for 15mm.
Negatives/Swipe Left: Base felt a touch slow. Sizing is spaced out too much.
Summary
The Burton Gril Master is a board I really enjoyed even though it didn't come in a viable size for me. The space, width and weight range between some sizes is massive but this is a very fun to turn, lively floaty easy to pop directional camber board.
Ethics Statement: We don't get paid by the manufacturer to write these reviews and this is our unfiltered opinion. We do make money from the "Where To Buy" links, but this is our best attempt at an honest and objective review from an average riders' perspective.
A Breakdown Of How It Rides And Who Its For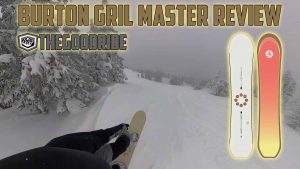 How This Review Happened:
Borrowed this for an extended demo and sent it back.
Size: 155
Days: 5+
Conditions: Good Groomers, some ok groomers, some varied spring snow, uneven snow and pretty good pow
Riders: James (Size 9, 5'10" 185-190lbs)
Boots: Ride Torrent, Ride Fuse
Insoles: F.I.T. Gamechangers
Bindings: Union Atlas and Cartel X
Jacket: Jones Mtn Surf Anorak, Jones Shralpinist Stretch Jacket
Pant: Jones Mountain Surf Bib, Jones Shralpinist Stretch Bib
Helmet: Smith Maze
Goggle: Smith 4D Mag
Gloves: Burton AK Clutch Mitt, Burton AK Tech Leather Glove, Drop Tahoma Mitt,
Similar Boards We Like (but not the same): Amplid Souly Grail, K2 Alchemist, Burton Skeleton Key, YES PYL Uninc, Weston Backwoods, Cardiff Powgoda, Jones Mind Expander
James's Set Up: 21.5" Wide. Sance Angles +18/-3, +18/+3 & +18/-9. Close to Reference on groomers and Set all the way back in powder.
How It Was Tested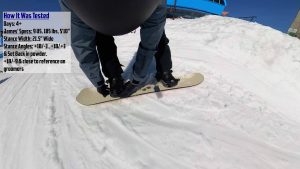 I often rode this same day as the Burton Power Wagon, Flight Attendant, Jones Frontier and Jones Stratos.
Approximate Weight
The Burton Gril Master feels pretty normal for its weight but it was a 155. The 150 might feel a bit more heavy. (We don't put in the exact weight because with wood cores there is no consistency in a boards weight)
Sizing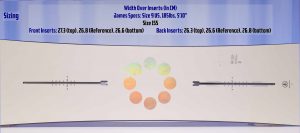 The Burton Gril Master really gaps between sizes but not just in length. The width and recommended weight range goes up considerably. The 155 was a little small for my weight but being on the very low end of the recommended weight range along with the wider width might be tough for me. The 162 Flight Attendant that wasn't much wider than my 159 but had the same recommended weight range as the Gril Master was really hard to turn/control vs. the 159. I felt the same with the Burton Power Wagon and Burton Forager.
If they have a demo size in 160 (they didn't) I will for sure try it if this sticks around. So I would match your boot size first but stay close to the recommended weight. Pass on this if you are right in between the sizes like I am. I really liked this board but wish they had a size between 155 and 160 that was better for my weight.
Here are some recommended boot sizes.
150: 8.5-9.5
155: 9.5-10.5
160: 11-12
165: 12-13
155w: 11-12
Shape

The Burton Gril Master has a nice bit of taper (15mm) but the way Burton cuts their sidecuts into a board. It makes it feel less tapered making it stance angle agnostic and it doesn't feel washy on the tail no matter how you weight your turns. It has a more set back feeling ride than you would think for it's set back on board.
Camber/On Snow Feel/Ability Level

The Burton Gril Master has directional camber with a decent rise in the middle. There is a mellow but noticeable early rise in the Nose. The overall ride, even though softer than most Family Tree Rides, is still pretty technical. Its just a little lower than camber so best to be a competent rider who knows how to skid a turn well if you get off your game.
Flex Personality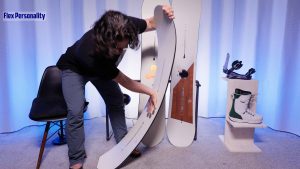 The Burton Gril Master is a pretty soft ride for Family Tree but still medium stiff between the feet. The nose is a good bit softer and the tail inbetween.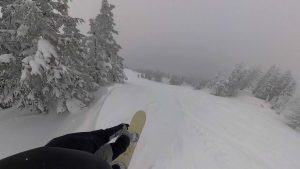 The nose and tail are a good bit softer and it butter pretty easy. The pop on an ollie is springy but very easy for average riders like me.
Uneven Snow

The Burton Gril Master did pretty well for this flex. Burton just knows how to make a board pop without losing too much dampness. I've tried other shapes with this flex that are damper but this isn't upper tier for everything from hard micro bumpy to soft uneven snow.
Edge Hold
I've tried several times to sharpen the edges of Burton Boards and even got a tuner who used to do it for pros tune a Burton board for me once. It helps, but the board feels more locked in and catchy so it wasn't worth it to me. Instead I just choose to but away Burton boards when it gets harder.
Speed
The Burton Gril Master is very competent at higher speed. Much better than I thought it would be. The softer nose/tail don't clown shoe much or at all either.
Base Glide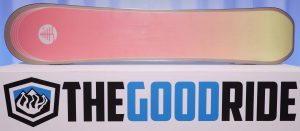 The base glide felt a little slow and it was waxed before it arrived. I gave it one more wax with really high end burton wax and it helped but its just not there with their higher end bases or many competitors.
Turning Experience/Carving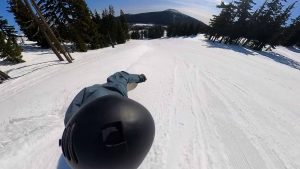 The Burton Gril Master has an easy and fun spring out of the turn. It's not a forgiving easy but just easy in the way it pops. You don't have to pick up a lot of speed and it's a great slow to medium speed carver. The turning experiences is on the turny side of balanced and I had a really good time making all kinds of turns on this. Not a straight liner but good enough if you need to straight line for a little bit to make a traverse or just if you feel the need.
Powder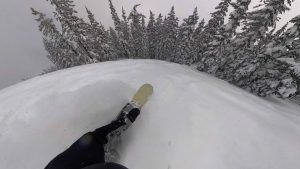 This little 155 Burton Gril Master has some float. I was pretty impressed with how well it faired against the Burton Power Wagon 160 and Flight Attendant 162 on same day riding. This little board really surprised me at how easy it floated. It was almost right there with the Jones Stratos 159 which is pretty impressive and the best floating board of the test that day. I would grab this over the 156 Hometown Hero and it would be pretty close to the Skeleton Key. many other It has great low angle float.
You can get -3.75" back from center of board with a 23" stance width but it felt like you were further back on board. This is a great choice for a one board quiver.
Switch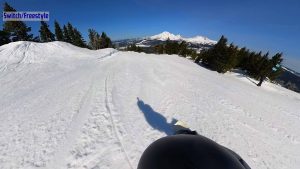 You wouldn't think the Burton Gril Master would be so good switch for this much taper but when set up on reference stance its very doable.
Final Thoughts
So bottom line is I'm a bit bummed the Burton Gril Master came with such spaced out sizing and there isn't an ideal fit for my specs. It's not as bad as the Power Wagon but it's close.  If they had something in between the 155 and 160 I would want one in my quiver. Right now it's a toss up for me between the Burtonn Skeleton Key and Gril Master for recommendations when you want something setback directional but not too stiff and floaty from Burton.
If this review helped, we'd appreciate if you:
Burton Gril Master Images
Burton Gril Master User Reviews
If you can't buy through the links above, you can support the site with: