Union Force 2010-2023 Snowboard Binding Review
Where To Buy
No obligation, but these links & ads support the site.
Union Force 2023 - 2010 Review by The Good Ride
Union Force 2022-2023 Snowboard Binding Video and Written Review
Welcome to the Union Force Snowboard Binding Review from an average rider with an exceptionally objective and comprehensive perspective.
Turn Ons/Swipe Right: Excellent Adjustability, Great Response and a very versatile binding.
Turn Offs/Swipe Left: Not much
Summary
If it wasn't for the Union Atlas, the Union Force would be our most recommended bindings. It is just so responsive, supportive, adjustable & versatile.
Ethics Statement: We don't get paid by the manufacturer to write these reviews.  We do make money from the "Where To Buy" links, but this is our best attempt at an honest and objective review from an average riders' perspective.
A Breakdown of How it rides and who it is for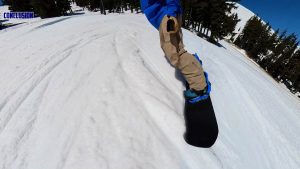 How This Review Happened:  We borrowed this for an extended demo and then returned it.
Days: 10+ last season but many more days in past seasons
Riders:  James (Size 9, 5'10" 185-190lbs)
Boots: Burton Kendo and so many other boots over the years.
Insoles: Footprint Insole Technology Gamechangers, Footprint Insole Technology Gameghangers Low Profile
Boards: Capita Mercury, Ride Psycho Candy, Rome National and a few others
Jacket: Burton AK Gore-Tex Pro 3L Tusk Jacket, Volcom TDF Infuse 3L Gore-Tex Jacket
Pant: Burton AK Gore-Tex Pro 3L Hover Pant, Burton AK Gore-Tex 2L Swash Pant, Burton Gore-Tex Ballast Pant
Helmet: Smith Maze
Goggle: Smith 4D Mag
Gloves: Burton AK Guide Glove, Burton AK Clutch Mitt, Burton AK Clutch Glove, Burton AK Tech Leather Glove, Burton AK Tech Glove,
Similar (but not the same) Bindings: Union Atlas, Union Strata, Union Contact Pro/Union Superpro, Union Falcor, Burton Genesis X, Burton Cartel, Salomon Highlander, Salomon Hologram, Nitro Team Pro, Nitro Carver, Nitro Phantom Carver, Now O-Drive, Now Drive
How These Were Tested
I rode the Union Force a shit ton over the years and owned a few pairs in the past. I've used these for A/B tests against the Union Atlas and even put A Force on one foot and the Atlas on the other/then switched feet to compare the response. I've also switched out bindings all day with the same board and used the same boots to make sure I'm getting a legit comparison. Just wish I figured out to use a power tool years ago…
Highback Flex
The Union Force has a medium to medium soft twist but a medium-stiff flex if you pull straight back.
Flex Underfoot
The Union Contact Pro has the best flex underfoot in Union's line an is right there with the best in the industry. The Falcor and Strata are close but the more rubbery material on the bottom of the base plate makes those bindings more damp but a little less buttery. These are right there with the Burton Cartel and Malavita with their Re:Flex tech that is exceptional when it comes to allowing the board to flex naturally underfoot.
Turn Initiation/Response
The Union Force is very responsive and right there with the Atlas. Maybe even a touch faster in some situations with some boards. Overall I prefer the response of the Atlas in all conditions. Especially uneven snow but it's very close. This can power a hard board to turn very easily.
Shock Absorption
The Union Force doesn't have the new rubbery bottom like the Atlas but it's still very shock absorbent and maybe a little better at slower speeds.
Boot Support
The ankle strap of the Union Force is right there with the Atlas, Falcor and it is very supportive without causing pressure points. It doesn't leave your ankle exposed in uneven terrain and it's great for off piste riding. It's only a touch behing the Atlas.
Ratchets
Excellent ratchets. They can crank down super hard but always release easy. They las a super long time too.
Adjustability
The Union Force has an adjustable gas pedal and heel loop. That makes it work with just about any boot footprint in the suggested size range. There is no better binding other than the Atlas when it comes to centering your boot in the binding and therefore the board.  This is more important than any other aspect of adjustability because it directly influences correct turning.
Conclusion
The Union Force hasn't changed much and it always sit's a little behind the Atlas but it is one really recommendable all mountain binding for boards of all types. Especially those that have set back inserts.
If this review helped, we'd appreciate if you:
Union Force Past Reviews

The 2020 Union Force had some decent upgrades this year with a bigger ankle strap and canted footbed. It brings it closer to the Union Atlas, a binding we love, and it's one of those bindings that can match up well with a lot of different boards.

We didn't ride the 2021 Union Force but it only had one noticeable tweak to the design. It got the 2020 Union Atlas ankle strap which has similar surface area (maybe a touch more) but is lighter and has a better overall fit around the ankle for most riders. So the rest of this review stands for 2020 and this is still a very recommendable binding.

Ethics Statement: We don't get paid by the manufacturer to write these reviews.  We do make money from the "Where To Buy" links, but this is our best attempt at an honest and objective review from an average riders' perspective.

Days:  Many in the past and more to come.
Riders:  James (Size 9, 5'10" 185-195lbs)
Boots: Adidas Tactical ADV, Burton SLX, Burton Rover, Burton AMB, Burton Almighty, Burton Imperial, Burton Ion, DC Judge, Burton Ambush, Burton Hail, Burton Ruler, Burton Driver X
Insoles: Sandsole Custom Insoles, Footprint Insole Technology Gamechangers, Footprint Insole Technology Gamechangers Lite, Footprint Insole Technology Gameghangers Low Profile
Boards: More than I can recall as I've been riding this binding since the mid 2000's.

Highback Flex: Prett stiff trying to pull it directly back and there is a decent twist but it doesn't twist as easy as some Union High Backs.

Binding to Boot Adjustability: Like the Atlas, this is one of the most adjustable bindings in the Unions line when it comes to getting your boot to fit centered on the binding. With the adjustable gas pedal/toe ramp and adjustable heel loop any boot in the recommended sizing range will sit correctly in the binding. Ther is also all the standard neceties for most snowboarders like high back rotation, forward lean, tooless adjustability and a few other cool things like having two positions to put your toe straps in or out to match your boots size/footprint.

Stance Width Adjustability: Because you can center your boot soo well in the Union Force you can also center your binding.

Comfort: The new strap is bigger but still comfortable. The highback is stiff but doesn't bite into your calves because it does twist well. When rotated to match your stance angles it's better too. The footbed is wide enough for most boots so you don't feel any pressure from the sides of the baseplate or heel loop. Everyone is different but for us, we find the Atlas a little more comfortable. However, this isn't an uncomfortable binding or anything.

Boot Support: The new bigger ankle strap of the Union Force isn't quite as supportive as the Atlas but much more supportive than it used to be and it put a little more surface area around the boot. That and the toe strap really pull the boot into the heel loop to give it good support. That being said, if you want to mix it up you can buy different straps at C3 here. 

Turn Initiation/Response: Just a shade behind the Atlas but in the same general area and you get a lot of response in this price point. The Union Force has a nice sharp turn initiation that powers boards well edge to edge.

Buttering: You want the Contact Pro or Strata if buttering is important but it still doesn't hinder most boards. It just doesn't help either. It's more for those that value response over butter ability and like the board to feel somewhat stiff underfoot without feeling dead. So good butterability but not exceptional like the mini-disc bindings in the Union line.

Ratchet System: Very smooth and reliable.

Shock Absorption: There is good shock absorption from the toe ramp to the heel and while the EVA foam feels softer and less durable than the Atlas it still does a good job from slow to high-speed shock absorption. It also has a canted footbed that reduces stress on the joints when riding for most but not all.

So the Union Force is still the same great binding that I tried years ago and it's been fun seeing how it changes and/or evolved over the years. If you can swing full price on the 2020 model this is the call over previous models.

The Union Force is a solid choice for those that want a full-size disc, love a responsive  damp binding but also want it at a reasonable price  If you can swing it, the Union Atlas is a binding we prefer a little better but if you don't need the canted footbed and Asymmetrical High Back then this could work.
2016-2019 Union Force Review
Most of the review from the 2018 Force still stands in 2019 except one thing. The 2019 Union Force changed out the washer system that holds the heel cup/ankle strap/high back in place.  The ankle straps don't come loose anymore and I have already tested a pair on my Union Super Pros.  They work really well.
Ethics Statement: We don't get paid by the manufacturer to write these reviews.  No one is perfect and we do make money from the "Where To Buy" links below, but this is our best attempt at an honest and objective review from an average riders' perspective.
Days:  Many over the years but about 3 with the 2018 model.
Riders: James,
Boots: Adidas Tactical ADV, Burton AMB,
Insoles: Sandsole Custom Insoles, Footprint Insole Technology Gamechangers, Footprint Insole Technology Gamechangers Lite, Footprint Insole Technology Gameghangers Low Profile
Boards: OZ Custom Woody, Capita Mercury
Highback Flex: There is a softer twist than you would think but it's super stiff when pulling it straight back.
Boot Adjustability: The Union Force is one of the best in the industry when it comes to dialing out any size boot to fit centered in this binding so it fits centered on your board.  They have an adjustable heel loop and adjustable toe ramp so if you are on the smallest size or biggest size of the size range for your size it won't be weird like some bindings with a fixed heel loop are. The toe and ankle straps also can adjust really well to match your boot size too. On top of that, you can rotate the high back two different ways so it works well with the boot. The only minor issue is you can't adjust the ankle strap angle unless you pull the heel loop out or in and then un-center your boot. I can live with a fixed ankle strap angle though.
Stance Width Adjustability: Excellent here too. This is a big disc that has a long track to slide back and forth on.  Since you can dial out the binding really well to fit your boot centered you can turn the discs so they slide from tip to tail and get the exact stance width you want. Also if you have or want a board with an extra pair of set back inserts for powder (1.5″ back instead of .75″) The Union Force and Atlas are the only bindings that will work with boards like this because they need a full-size disc.
Comfort: Very comfortable and I don't really have too many complaints. The ankle strap that's been used from 2016-2019 is pretty good and that's important because that's usually the culprit when people complain about comfort. It's not super cush but it doesn't seem to cause issues with most boots.
Boot Support: Upon comparing the ankle strap now on the Force to the past ones I realized that it's a little less wide but it's a lot longer so the support evens out.  It gives pretty good support but also allows some room for movement and I like it.
Turn Initiation: The Union Force has a sharp response to it but it doesn't overpower a board as some responsive bindings can.  They dial it back just enough so it's more on the med/fast end so it can work with a wide variety of boards from slower turners to pretty quick/easy turning boards.  It's really close to the Atlas that we love so much.
Buttering: Not a strong point here with the Force but it is far from dead underfoot and it can butter well enough. You can get a lot more out of the Union bindings with mini-discs.
Ratchet System: So different from how they used to be back when I first started using Union bindings.  They are super smooth now and never catch up.  They always come on and especially off with ease.
Shock Absorption: They aren't the class leaders but there is enough EVA foam here to put them near the top. The binding feels like it dampens the board it's mounted too as well as absorb shock very well.
So at this price point, the Union Force is a pretty recommendable binding and it would probably be a favorite if we all didn't like the Atlas a bit better due to the canted footbed and better base plate. So if you can live without those features and want to save a little money the Force is a great call.
2015 and 2014 Union Force Snowboard Binding Review
The Union Force 2014 and 2015 model has had some big but long overdue changes that make this a better binding than before. The only real difference between the 2014 and 2015 Force 2015 has a tool free toe strap which is great. Also, the 2015 ankle strap connector is a little shorter than 2014 so if the fit is a little off just contact Union and they will get you the longer 2014 ankle strap connector which will fix the issue.
2014 and 2015 Union Force Review
Days: 25+
Riders: James, Peter, and Jimbo
Boots: Burton Ion, Burton SLX, Nike Kaiju
Boards: Jones Mountain Twin, Rossignol One Magtek, Never Summer Cobra, Lib Tech TRS XC2 BTX, Rome Agent Rocker, Never Summer Proto and many more. 

Weight: Size M/L 4.0lbs with discs and screws
So the Union Force has been the same for a long time but this year it finally got the long overdue overhaul it deserved.  The old force wasn't bad it's just that the other technology in Unions line surpassed it a few years ago when Union upgraded many of their bindings. It wasn't as recommendable as the other bindings but now it most certainly is.  So here are the changes to the 2014 Force over 2013.
New High Back– Same kind of look here as the old but the top is no longer rounded and it looks more like the SL, Atlas and even the Contact.
New Base Plate– I would have thought that the Force would have taken on the base plate that the Atlas, SL, and MC but they kept the general design that all the older models had. On first look, you would think it's the same base plate but they re-did the heel to provide a shit ton of padding. It seems that the toe has more padding as well and it's now going to have shock absorption that is almost as good as the Contact Pro and Factory which is the leader of the Union line in this aspect.  Nice upgrade!
New Toe Ratchet– So I can't tell you how many times I encountered people complaining about the sticky toe straps.  I've never heard a complaint about the ankle strap but just the toe strap.  I was really surprised that Union let this complaint fall on deaf ears for so many years.  I just thought it wouldn't ever be addressed but I received another surprise this year because the toe ratchet is a lot easier to release than previous models.  They reduced the pressure from 10 lbs to 7 lbs and it's a lot easier to get on and off.  So far this year I haven't had one issue getting it off.
Flex: Despite the new design the flex feels very much the same and it offers a similar but better feel than the older model.  It's about medium to almost med/stiff when to twist it and pretty stiff when you pull back.
Adjustability:  The heel loop can be adjusted to fit your boot size which is good but the way it's set up makes it more difficult to rotate your high back.  Because of this you also can't adjust the angle of your ankle strap like you can with many bindings.  2015 added something long overdue which is a tool-free toe strap and a better tool free ankle strap which makes it much better to adjust on the hill.  So with Union bindings, it's a give and takes.  You get a rather unique custom fitting to your boot size at the sacrifice of the ankle strap and high back adjustability.  The rest is on par with most other bindings.
Comfort: The ankle strap system is about the same as before but the toe strap is pretty different.  It's smaller and conforms better to most boots. The softer footbed adds a little comfort as well.
Turn Initiation: a Same great response that is greater than you would think for the way the binding looks and flexes.  It's very sharp and responsive edge to edge. It's great for a board that requires a little more work edge to edge.
Buttering: Pretty close but a little behind some of the other bindings in the Union line like the Factory and pretty far behind the Union Contact Pro when it comes to flex underfoot. In one day I put the Force, Union Contact Pro, Burton Cartel and Burton Genesis on the Lib Tech TRS. There was a lot of screwing going on but not the good kind. Anyway, it was interesting how different bindings changed the TRS. The easiest bindings to butter with are the Union Contact Pro and Burton Genesis.  Then the Burton Cartel was about the same and then the Force was a little behind them.  It was interesting though that the TRS became a little more damp with the Force, the Contact Pro along with the Genesis the least damp and the Cartel was in the middle. The Force borders between good and great for response and it's kind of a tossup of which rating to give it.
Boot Support: Not much has changed here in terms of support.  Its the same binding that allows a good amount of freedom on the inside and a little more support on the outside. It's pretty tweakable. The wider high back is a nice upgrade too making it allow you to get more support/response.
Ratchet System: The demo models we looked at and tried had the toe strap similar to the ankle strap but the production models I've seen in the shops and the one I have doesn't have this.  It's a little sticky but better than past years models.  I'd like to see Union change their toe strap so it's a little easier.
Shock Absorption: Very nice upgrade when it comes to shock absorption.  There is a lot more EVA foam in the heel so it offers an easier ride on your feet, knees, and hips. It's much better than the metal top with a little foam sticking out in previous models.
What does all this mean?  It's still the same responsive binding with a reduced dead spot underfoot at a good price.  What makes this great now is it's got excellent shock absorption, better high back and modern feel to it. It's the kind of binding that is now going to be very recommendable and a nice step up.
2014 Binding Comparison
The Union Force 2013 to 2010 Review
We were hoping the 2013 Union Force would have a new high back and base plate but it's the same as in 2012.  These have been great bindings for many years but now we feel that the Atlas is a better do anything binding than the force.
Days:40+
Riders: Too many to count
Boards: Too many to list
At first glance, the union binding line has a very traditional look compared to allot of other bindings out there and the Union Force is no exception. After your first day on them, you look at them again and they will look more modern than any binding out there. This binding is made for someone who knows what they want, doesn't like to fiddle around, set it up once and never think about it again. You cant get too tweaky with these like you can with Burton and flux.
This review hasn't changed much over the last few years because this binding hasn't. The only changes for 2013 and 2013 are the Ankle and Toe Strap. Before 2013 and 2013 this was one of our top all mountain recommendations but the last 2 years it's rarely or ever recommended mainly because Union came out with the Atlas. In our opinion, the Atlas does a far better job compared to the Force for all mountain riding.
Stiffness– They feel medium soft torsion-ally but when you pull straight back they are very stiff. The high backs are right up there with Burton's team-high back in length and very close to being some of the most responsive high backs out there.
Comfort: Union understands what it is like to ride every day. If set up properly you can almost completely avoid any pressure points. The toe and ankle straps come in at the right angle. The base plate has a cap that covers the plates which help the sole of your boot line up exactly the way it should. The one complaint for comfort with the ankle straps could have more of a taper in the center. That way there would be less pressure on the forward lean. If you don't crank down the straps real tight this won't be an issue but just our 2 cents. Another issue is the toe strap buckle. It is a little more difficult to get it off that most toe straps. We'd like to see something similar to the ankle strap or a little more of an extension over it to make them work.
Response– Despite the Union Force's semi flexy nature, these bindings respond jackrabbit gigolo fast. Its fast like Mike Tyson before he started biting ears. But seriously we haven't felt a response like this from any other binding out on the market that has the general flex. If you come from an old pair of Burton's the quick response might almost be too much for you. These are great all mountain bindings. There is allot less binding/board contact so it helps you get a little more out of your turns and tricks. The toe response is probably the best in the industry. We are not sure if it is the design of their gas pedal or the minimal contact that the binding has with the board but something is exceptional about turning with these. This is a bit of a bold statement but some of the riders felt that these were slightly better than the Burton C60's. The high backs are about the same height as the cartel team-high back. Surprisingly enough they are almost the same width as well. It has a lot of lateral flexibility but if you were to pull this straight back to the heel edge you will be surprised at how stiff this feels. The toe response seemed to match perfectly with the heel response where most bindings are laking a little on the toe side.
Adjustability: A lot of companies have nearly toolless adjustment these days (check out Flux) so its a little disappointing to see that you need a screwdriver for almost every adjustment except part of the ankle strap and high back. Despite that fact, you can still tweak these bindings out to fit your weird feet/riding style. The heel and toe can slide out/in where most companies have only the toe. The drawback with the heel adjustability is that angle of the ankle strap will lower. Most other bindings have 2 to 3 positions for the ankle strap angle where this only has one. The high back has 3 holes so you can adjust the high back to line up with the rail of your board where Burton has a channel so you can really dial it out. If they could change these issues we mentioned then there is no excuse to buy the Cartels over this binding. All and all the adjustability is pretty good.
Dampening- There isn't much you can't do with these bindings. These are designed to be good every where so if speed is your only thing then there are better bindings out there. However, they do perform as good or better than most in their category.
Shock Absorption– Not bad but could use some work here. Instead of using padding across the entire heel there is some sort of metal over the padding. We'd like to see the same set up as theUnion Atlas, Union Force SL or Union Force MC where it's all dense padding on the back heel.
The 2011 Union Force and Below Issue
After many days on the hill, we found one issue with the Union Force and Force SL aroud the Ankle. The small strap does not give you that feeling you are locked in and supported like many larger ankle straps do. When riding stiffer boards through chopped up mogul powder runs to get back to the chair your ankle feels very exposed and there is a lot more stress. On groomed runs or in most situations in the par,k you don't notice this. If the Ankle strap had more volume on the side we think this might eliminate this feeling in less than ideal situations and create more stiffness. It's not something that will be a problem for everyone but some will not like this at all. Because the turn initiation is exceptional it makes the ankle problem worth putting up with but we'd love to see an investment in a better ankle strap and more adjustability around the ankle.
Unions Toe straps can be a bit sticky and especially so for those that like to crank em down tight. For some, this is a big problem and for others, it's not that big of a deal. Until Union address this issue, here are some pointers on how to make the toe strap less sticky so you can enjoy the bindings better qualities.
The 2012 Union Force changed the toe strap.  It better fit's over the toe which we like but we would of liked it better if they added the new asymmetrical ankle strap that the Atlas , Force SL , Contact Pro, Asadachi and Force MC have.
A Quick look at the 2012 Union Force
The 2011 Union Force are almost exactly the same bindings as the 2010 Union Force except for a very slight change in the ankle strap.  It has some air bubles in it but that is about it.
Union Force Images

We try to get as many images of the Union Force, but forgive us if they're not all there.
2022
2021
2020
2019
2018
2017
2016
2015
2014
2013
2012
2011
2010
Union Force User Reviews
---
---
Union Force 2010-2023 Snowboard Binding Review
SKU
UPC
Model
2021 Union Force Bindings
Jan 13, 2021
by
Rob Listy
Ability Level: Advanced •
Riding Style: All Mountain •
Days You Ride A Year: 50 •
Height, Weight And Boot Size (for Boards, Boots & Bindings): 5'9" 200lbs. 2021 Size 158W Rossignol Juggernaut Snowboard, size 10 Ride Trident Boots, size medium Union Force Bindings
The new improvements Union made to the Force has improved the performance of these already great bindings. I like the bigger ankle strap for support and the binding overall feels more damp and more responsive then previous year models. In my opinion I believe that the Union Force Binding is the best binding on the market at its price point and works great with any snowboard with a medium flex up!

---
Big bindings
May 11, 2020
by
Steve Villeseche
Ability Level: Intermediate? •
Riding Style: All Mountain •
Days You Ride A Year: 10+ •
Height, Weight And Boot Size (for Boards, Boots & Bindings): 6'2, 225, Size 12 Burton Rulers
I was super excited to pick up a pair of these at a bit of a discount at my local shop earlier this season. Unfortunately they're still sitting in the box as they're about an inch longer than my Burton Customs, and probably almost two inches longer than my Fix Truces, and overhang my 159 Rossi Jibsaw a whole bunch (the Customs *just* fit) Looking forward to picking up a wide board for next season to put these on. Any thoughts on a good match for these, James?

---
Great Bang For Your Buck
Jan 12, 2020
by
Rob
Ability Level: Advanced •
Riding Style: All Mountain •
Days You Ride A Year: 50 •
Height, Weight And Boot Size (for Boards, Boots & Bindings): 5'8" 200lbs. Size 10 Ride Lasso Boots, Rossignol One LF 159, Rossignol Angus 162
The Union Force Binding have been great bindings for me over the last few years. I am currently using the 2017-2018 year model. The only issue I have had was the ankle strap screws loosening after a day of riding. Union now makes an improved screw assembly for the ankle strap and It doesn't loosen up. It only cost $7 and they had it to me in 2 days. I wanted a more responsive binding for my Rossignol Angus Snowboard and it is a perfect combination. I can over power my Rossignol One LF pretty easy so I just keep my Burton Cartels on that particular board. I can't think of any bindings that compete with the Union Force Bindings price point. I will definitely buy these bindings again when I wear out my current pair. I also love the adjustability!

---
Union atlas
Feb 14, 2018
by
Brendan
Ability Level: Advanced •
Riding Style: All Mountain •
Days You Ride A Year: 20+ •
Height, Weight And Boot Size (for Boards, Boots & Bindings): 5'10 210lbs ride lasso
Thank you for your review. Just picked up a pair of 2018 mediums for my 2018 jones mountain twin 157 in white. Loved them so much I picked up another pair in black because tactics have them on sale for $240. Great response, comfort and the white looks great on the blue deck. Adjusting is easy. Just make sure the backing washers don't get lost if they fall out. Only reason it's not a 5 star is it almost has to much adjustment. I know that sounds weird but for those of us that micro do everything is can make your head spin. I've always rode burton bindings but am sold now on union

---
Go Superforce
Feb 01, 2018
by
Chris Hiphop
Ability Level: Expert •
Riding Style: All mountain powder slayer •
Days You Ride A Year: 30 plus •
Height, Weight And Boot Size (for Boards, Boots & Bindings): 5' 11", 175lbs, size 10
Pass on the regular Forces and get the Superforces. They are the best binding I have ever ridden and I have tried all the top brands. Except I havent tried any of Burtons bindings since the late 90's. They dont get my money anymore. These things rip and stay locked in tight and comfortable all day.

---
Union Force Garbage
Dec 23, 2017
by
Zac
Ability Level: Expert •
Riding Style: All Mountain •
Days You Ride A Year: 40-50 •
Height, Weight And Boot Size (for Boards, Boots & Bindings): 5'7'' 125lbs size 9 boot
These binding are not worth the money, i used them today and pieces on the high back fell off. The right and left toe straps are both super hard to un buckle and take a extreme amount of force to get the left toe strap undone. These bindings look good and thats all, going to replace after the season is over. Wasn't impressed because i spent $300 on them

---
Union "Superforce"
Dec 23, 2016
by
J.C. Thompson
Ability Level: Intermediate •
Riding Style: Freeride •
Days You Ride A Year: 10-15 •
Height, Weight And Boot Size (for Boards, Boots & Bindings): 6' 245 lb Size 12 Boot
So there isn't an official review of the superforce on here, but I'm going to review it myself. I originally bought the 17 Forces, but when I noticed the Superforces had come out with the upgraded straps I sold the Forces and upgraded. The White Camo Superforces have the exact same highback as the regular force and I believe the same baseplate. However, for an extra $40 you get the new T Rice straps. All you have to do is go watch "The Good Ride's" review of the 17 T Rice bindings to get a good idea of how much an upgrade these straps are. The Superforce/T Rice straps are a couple shades more responsive than the regular force straps, far superior grip, feel more durable, but the most noticeable difference is the level of comfort. I have huge issues with arch pain when I board, and there was a pretty sizable difference with the ankle strap comfort level over the top of my foot. If you are a fan of the force, and want an upgrade, I would honestly go for the Superforce over the Atlas just for the straps alone. Sure, you don't have the canted footbeds, but the straps are the better choice in my humble opinion.

---
high durability
Aug 14, 2016
by
martin
Ability Level: Advanced •
Riding Style: All mountain •
Days You Ride A Year: 32 •
Height, Weight And Boot Size (for Boards, Boots & Bindings): 163cm 85kg 8.5
love this binding, very response and comfy esay to fit i use burton amb boots and go allrigth. in 2 times my toe strap loosen up i have a pair of contact pro i recomen the pro but for the money this is the best binding out there.

---
Feb 05, 2016
by
Moser Andreas
Ability Level: Expert •
Riding Style: Backcountry, kicker, pipe •
Days You Ride A Year: 40-60
The bindings are comortable, easy to adjust and have a nice flex. However the durability is awful. The inside of the straps are of a very smooth material that pretty soon rips by just strapping in. After a while the entire strap falls apart. Unfortunatly Union was not willing to replace the straps!

---
If you can't buy through the links above, you can support the site with: