Jones Orion 2023 Snowboard Binding Review
Where To Buy
No obligation, but these links & ads support the site.
Jones Orion 2023 Review by The Good Ride
Turn Ons/Swipe Right: Excellent dampness and shock absorption.
Turn Offs/Swipe Left: Sway bar causes pressure with softer boots. Almost no adjustability.
Summary
The Jones Orion has the same limited adjustability and pressure points from the sway bar with softer boot but has a unique high back flex and a very shock absorbent binding. This is the kind of binding you get if you want a very cush, damp, non-fatiguing all day ride.
Ethics Statement: We don't get paid by the manufacturer to write these reviews.  We do make money from the "Where To Buy" links, but this is our best attempt at an honest and objective review from an average riders' perspective.
Jones Orion Review- How it rides and who it is for

How This Review Happened:  Borrowed this for an extended demo and sent it back.
Days:  4.
Conditions: Good but mixed spring conditions.
Riders:  James (Size 9, 5'10" 185-190lbs)
Boots: Burton Kendo
Insoles: Footprint Insole Technology Gamechangers
Boards: Jones Mountain Twin, Jones mind Expander, Jones Tweaker, Ultra Mind Expander
Jacket: Burton AK Gore-Tex Pro 3L Tusk Jacket, Volcom TDF Infuse 3L Gore-Tex Jacket
Pant: Burton AK Gore-Tex Pro 3L Hover Pant, Burton AK Gore-Tex 2L Swash Pant, Burton Gore-Tex Ballast Pant
Helmet: Smith Maze
Goggle: Smith 4D Mag
Gloves: Burton AK Clutch Mitt, CG Habitats Work Glove, Drop Tahoma Mitt
Similar (but not the same) Bindings: Union Ultra Union Strata, Burton Cartel, Burton Mission, Burton Malavita, Salomon Hologram, Salomon District, Nitro Team Pro, Nitro Team, Now Drive, Now Pilot, Now Select, Now IPO, Rome Vice, Rome DOD, Rome 390 Boss
How It Was Tested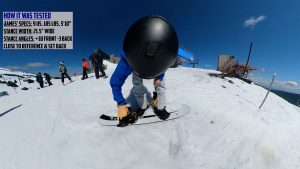 I rode these by them selves at times but also compared them to other Jones bindings and my Union Atlas on the Jones Mind Expander and Mountain Twin.
Weight
2.0 lbs. That is pretty light but not super light. Right there with the other Jones Bindings.
Highback Flex
The Highback of the Jones Orion is unique as it's stiffer at the bottom and softer at the top. The different colors denote the different stiffness. I like this easy twist at the top and it seems like the bottom helps a bit with response. I'm more into the twist since you can't rotate the highbacks. Overall it's mediumish in flex.
Flex Underfoot
The Jones Orion definitely dampens up the ride without making the board feel dead underfoot. You don't have a lot of easy butterability though.
Turn Initiation/Response
I don't know what Jones has been putting into their bindings but they all seem to be more responsive compared to NOW these days. The Jones Orion is no exception and it has a pretty smooth initiation but medium to medium/fast response throughout the turn.
Shock Absorption
The best in the business. The semi-soft EVA foam is great for landing flat (it happens to us all) or just absorbing slow speed bumps really well. The rubber stoppers at the bottom absorb all the vibrations and make the board you are on feel damper than it is. The stoppers fall off all the time though and that can be frustrating if you switch these out from board to board. With the Jones Orion and most Jones/NOW bindings you can just hold an edge better in uneven snow.
Sway Bar Pressure
So the sway bar is unprotected by plastic on NOW and Jones bindings. Most brands put a plastic protector above it to make sure the foam isn't uneven. What this does is press right up on your metatarsal and causes pressure on the arch of your foot if you have softer boot soles. If you have a stiff boot sole it won't matter.
Boot Support
I'm more into the Jones Christiansen binding's straps and the new straps on the other Jones bindings but the Jones Orion's do very well with giving you good support in uneven trerrain.
Ratchets
The Jones Orion work and didn't stick. Didn't really notice them either way and that is good.
Adjustability
None to speak of. Just the standard stuff like forward lean and strap adjustability. Nothing else. No high back rotation (pre-rotated), no adjustable heel loop or gas pedals for fitting the binding to the boot and centering it on board. You can't slide the disc much forward or backwards either to center the binding/boot on the board either. If you can center your boot in the binding you don't have much stance width adjustability if you turn the discs sideways to slide from tip to tail. If you are on the small or large end of the recommended sizing this can be problematic for some.
Conclusion
So the adjustability issues and the arch pain you can get with softer sole boots can be deal breakers for some. For those with stiff boots who don't care about adjustability these offer up a very damp all conditions ride. I'm personally more into the less expensive Mercury but if this dual flex high back calls to you over the Mercury go for it.
If you can't buy through the links above, you can support the site with: