Jones Meteorite 2022 Snowboard Binding Review
Where To Buy
No obligation, but these links & ads support the site.
Where To Buy
80% of outdoor sports products are not listed or sold online.
Our team has relationships with hundreds of local snowboarding and outdoor sports shops.
We'll call the shops and email you a list of stores along with pricing and availability.
---
Not sure what to buy?
Get custom advice from Good Ride editors James and Steph.

Get Advice
Jones Meteorite 2022 Review by The Good Ride
Turn Ons/Swipe Right: Incredibly Damp and smooth medium response.
Turn Offs/Swipe Left: Almost no Adjustability. Cause arch discomfort with softer sole boots.  Stoppers fall off for no reason.
Summary
The Jones Meteorite has no adjustability and can cause arch pressure with softer sole boots but has smooth response and exceptional shock absorption.
Ethics Statement: We don't get paid by the manufacturer to write these reviews.  We do make money from the "Where To Buy" links, but this is our best attempt at an honest and objective review from an average riders' perspective.
Jones Meteorite Snowboard Binding Review- How it rides and who it is for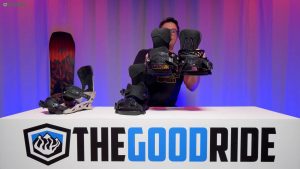 How This Review Happened:  We borrowed this for an extended demo and then returned it.
Days: 2
Riders:  James (Size 9, 5'10" 185-190lbs)
Boots: Burton Kendo, Burton Ion
Insoles: Footprint Insole Technology Gamechangers,
Boards: Jones Mountain Twin,
Pant: Burton AK Gore-Tex Pro 3L Hover Pant, Burton AK Gore-Tex 2L Swash Pant, Burton Gore-Tex Ballast Pant
Helmet: Smith Maze, Smith Vantage
Goggle: Smith IO Mag, Smith 4D Mag
Gloves: Burton AK Guide Glove, Burton AK Clutch Mitt, Burton AK Clutch Glove, Burton AK Tech Leather Glove, Burton AK Tech Glove
Similar (but not the same) Bindings: Union Strata, Union Force, Burton Cartel, Salomon Hologram, Nitro Team Pro, Nitro Team, Now Drive, Now Pilot
Weight
2.0 lbs with screws and discs in. Not too heavy or light. Just right
Highback Flex
The Jones Meteorite has pre-rotated mediumish flexing highback that has good twist and no give when pulled straight back.
Adjustability
There is pretty much nothing happening here. You can adjust your forward lean, your straps and slide the disc heel to toe to help center your boot on board. That's it. No high back rotation (pre-rotated), no boot to binding adjustability and almost no stance width adjustability if your boot is centered in it.
Boot Support
The Jones Meteorite isn't there with the Mercury and it's near perfect ankle strap for those that like support but it's pretty good and a bit better than the NOW Drive.
Ratchet System
Nothing to complain about. Seems pretty reliable.
Turn Initiation/Response
The Jones Meteorite isn't super responsive but it has a smooth consistent feel throughout the turn that many will like. If you want more response pay $50 more for the Mercury and you will have a noticeable bump.
Flex Under Foot/Buttering
There isn't much natural flex underfoot with the Jones Meteorite but it isn't dead underfoot either. It feels like it makes it tortionally stiffer and doesn't help or hinder when it comes to buttering.
Shock Absorption/Dampness
This is what Jones/NOW is all about. These are damp at high speeds thanks to the rubber stoppers and really shock absorbent thanks to the soft EVA foam.
Sway Bar/Arch Pressure Issue
The arch of your foot can have pain if you have a medium to soft boot sole. The sway bar, which is right under the gas pedal, doesn't have a protective plastic plate like all others do. Burton, Salomon and pretty much everyone else that has eva foam in the gas pedal makes sure there is a protective plate under the sway bar. We would love to see them change this. It would make this binding recommendable for all boot types. They got the heel loop width more or less dialed so this should be next on the list. For me I would feel arch pressure with Burton Kendo's and Burton Ions and that could lead to serious issues over time.
Conclusion
So if they can add a plastic protector between the EVA foam it would be a recommendable binding. Adjustability would be nice too but not everyone cares about that. If you have a stiffer sole boot then you could have a time with this damp, shock absorbent smooth turning binding.
Jones Meteorite User Reviews
If you can't buy through the links above, you can support the site with: