Clew Freedom 1.0 Snowboard Binding Review
Where To Buy
No obligation, but these links & ads support the site.
Clew Freedom 1.0 2023 - 2022 Review by The Good Ride
Clew Freedom 1.0 Snowboard Binding Video and Written Review
Thanks for checking out my Clew Freedom 1.0 Snowboard Binding Review from an average rider who has ridden more snowboard gear than I have time to count.
Turn Ons/Swipe Right: Good Response. Normal Binding Feel. Easy in & out. Quiver System.
Turn Offs/Swipe Left: Outdated Base Plate. No Adjustability.
Summary
The Clew Freedom 1.0 has an old school base plate and no adjustability but it's pretty easy in/out with a normal binding feel.
Ethics Statement: We don't get paid by the manufacturer to write these reviews.  We do make money from the "Where To Buy" links, but this is our best attempt at an honest and objective review from an average riders' perspective.
A Breakdown of How it rides and who it is for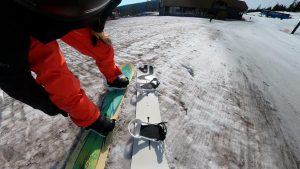 How This Review Happened:  Borrowed this for an extended demo. They didn't want the bindings back so I sold them.
Days: 5+
Conditions: Good spring snow that often felt like mid-winter snow and an early morning slackountry time with Drift Boards
Riders:  James (Size 9, 5'10" 185-190lbs)
Boots: Burton Kendo
Insoles: Footprint Insole Technology Gamechangers
Boards: Burton Territory Manager, Burton Deep Thinker, Nidecker Mellow and a few others.
Jacket: Burton AK Gore-Tex Pro 3L Tusk Jacket,
Pant: Burton AK Gore-Tex Pro 3L Hover Pant, Burton AK Gore-Tex 2L Swash Pant
Helmet: Smith Maze
Goggle: Smith 4D Mag
Gloves: Burton AK Clutch Mitt, Burton AK Clutch Glove, Burton AK Tech Leather Glove,
Similar (but not the same) Bindings: Burton Step On, Burton Genesis Step On, Nidecker Supermatic. Similar non-step on bindings: Union Atlas, Union Force, Salomon Highlander, Salomon Hologram, Nitro Team Pro, Nitro Team, Nitro Phantom Carver, Now Drive, Now Pilot.
How It Was Tested
I tested the Clew Freedom 1.0 on it's own but also did same day tests where I compared them to other bindings like the Burton Step On, Nidecker Supermatic, Flow NX2-TM and then other regular strap in bindings like the Union Atlas and Burton Genesis Re:Flex.
Weight
The Clew Freedom 1.0 Bindings are 2.4lbs which is a little on the heavy side but not too heavy. Most binddings are around 2-2.2lbs so it isn't bad at all. There are some really light bindings at 1.8lbs but these are still pretty far below the 2.8lbs Nidecker Supermatic.
Quiver Feature
The Clew Freedom 1.0s have a unique quiver feature. You can get several base plates similar to what you can do with some NOW bindings. You attach the base plates and can change boards super quick with the ankle/high back unit attached to your feet.
On and Off
You can get the Clew Freedom 1.0's on and off pretty easy. I personally don't like that the release is behind the high back compared to Burton Step On and Nidecker Supermatic's with a lever in the front.

There is also 2 step in point ladder to click into so if there is snow on the base plate you can still step in.
Highback Flex
I'm not usually a fan of high backs with a quick release on the back as it stiffens up the overall flex and feel but the Clew Freedom 1.0 pulls it off. They have a very easy twist on the sides that didn't bite too much into my calves. I was surprised that I liked it even though there was no highback rotation.
Flex Underfoot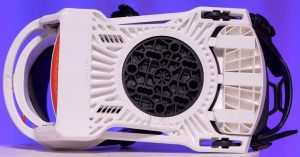 There is no flex underfoot with the Clew Freedom 1.0s. Clew has an all plastic base plate to minimize parts but there is nothing happening to help the board flex underfoot. It feels like a base plate from the late 90's-early 2000's.
Turn Initiation/Response
The response is pretty middle ground but that is expected since the Clew Freedom 1.0 is the only binding they make. It isn't super responsive like the Burton Step On but pretty close to the Supermatics. The Clew did feel like it was a traditional strap binding and I liked that feel vs. the Step On and Supermatic.
Shock Absorption
There is almost no shock absorption with the Clew Freedom 1.0s. There is only a thin EVA pad on the top that stops before the heel cup. It is pretty far from most modern bindings these days.
Boot Support
The ankle straps of the Clew Freedom 1.0s have great support and so do the toe straps. It feels just like normal bindings.
Ratchets
The ratchets aren't great but you don't need to use em much. What I like about Clew is if you have to put your bindings on in steep terrain you can do it like you would with normal strap in bindings. With Supermatics and Burton Step On's it isn't easy in really steep terrain.
Adjustability
The Clew Freedom 1.0's are not very adjustable but that is how all quick release bindings are. The boot to binding adjustability is limited. You only have an adjustable gas pedal. The discs only have 3 holes mainly for sliding the binding from heel to toe. If you are in the middle of the suggested sizing range then you can center the binding in the boot and turn the discs sideways. Most won't be able to.
Conclusion
The Clew Freedom 1.0 bindings have their weaknesses but they do offer up something different and unique to the step on bindings. I do like that easy step and go but I personally can't live without adjustability and a good feel under foot. Many can though and the quiver option is unique to the step in/step on system. So is the traditional strap feel. So I could see how this could work for some riders.
If this review helped, we'd appreciate if you:
Clew Freedom 1.0 User Reviews
---
---
Clew Freedom 1.0 Snowboard Binding Review
SKU
UPC
Model
great easiness
Nov 08, 2022
by
scott
Ability Level: Intermediate •
Riding Style: Freeride •
Days You Ride A Year: 25 •
Height, Weight And Boot Size (for Boards, Boots & Bindings): 180cm 90kg 44
I bought clews last season. I was suprised how easy to step in and out,. way easier than burton step ons. Holds boots like a champ. You can use it with any boots you like, you do not need a new boot like burton does. wrok great in pow too!

---
If you can't buy through the links above, you can support the site with: