Burton Genesis Step On 2023 Snowboard Binding Review
Where To Buy
80% of outdoor sports products are not listed or sold online.
Our team has relationships with hundreds of local snowboarding and outdoor sports shops.
We'll call the shops and email you a list of stores along with pricing and availability.
---
Not sure what to buy?
Get custom advice from Good Ride editors James and Steph.

Get Advice
Burton Genesis Step On 2023 Review by The Good Ride
Burton Genesis Step On Snowboard Binding Video and Written Review
Here sits the Burton Genesis Step On Snowboard Binding Review from an average rider with an exceptionally objective perspective
Turn Ons/Swipe Right: Very quick and symmetrical responsive. Easiest quick release out there. More freedom of movement than other Step On bindings.
Turn Offs/Swipe Left: Minimal Adjustabilty. Almost none with Non-Channel compatible boards. Not easy on and off on steeper hills. Limited boot options.
Summary
The Burton Genesis Step On has many flaws but it is getting closer to the feel of a traditional binding and still retains that quick symmetrical response.
Ethics Statement: We don't get paid by the manufacturer to write these reviews.  We do make money from the "Where To Buy" links, but this is our best attempt at an honest and objective review from an average riders' perspective.
A Breakdown of How this binding rides and who it is for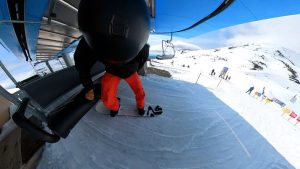 How This Review Happened:  Borrowed this for an extended demo and sent it back.
Days:  6+
Conditions:  Everything from varied spring snow to pretty good powder.
Riders:  James (Size 9, 5'10" 185-190lbs)
Boots: Burton Photon Step On Wide
Insoles: Footprint Insole Technology Gamechangers,
Boards: Burton Territory Manager, Burton Forager, Burton Deep Thinker, Burton Custom and a few other boards like the Nidecker Mellow.
Jacket: Burton AK Gore-Tex Pro 3L Tusk Jacket, Volcom TDF Infuse 3L Gore-Tex Jacket
Pant: Burton AK Gore-Tex Pro 3L Hover Pant, Burton AK Gore-Tex 2L Swash Pant, Burton Gore-Tex Ballast Pant
Helmet: Smith Maze
Goggle: Smith 4D Mag
Gloves:, Burton AK Clutch Mitt, Burton AK Clutch Glove, Burton AK Tech Glove, Drop Tahoma Mitt
Similar (but not the same) Bindings: Burton Step On, Burton Step On X, Nidecker Supramatic, Clew Bindings.
How It Was Tested
I rode these several days on many different boards. I then did a sampler on the same day to compare them to the Step On and also compare them to the Nidecker Supramatic and Clew bindings.
Weight
1.8lbs – Very light.
Highback Flex
I love the soft high back flex of the Burton Genesis Step On. Especially since the high back rotation is quite limited. Especially when your boot is stuck to the high back. Having the hammock and a soft high back brings back some of that traditional strap binding feel that I really appreciate. It increases your range of motion and puts less stress on your knees.
Flex Underfoot/Butterability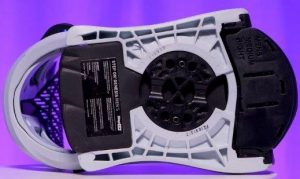 The Burton Genesis Step On has a very easy flex underfoot. Under the gas pedal is plastic instead of EVA foam throughout but that is necessary to keep the boot from moving too far down away from the click mechanism's on the side of each toe.
I forgot to mention this but you feel like you are a little too far forward on the gas pedal as a result of the pressure from the plastic under the gas pedal but it's something you can get used to. Or you can just slide it forward ½ size and it feels better. For testing purposes I slid the gas pedal to size 9 to match my size 9 Burton boot but if I were to ride this every day I'd probably slide it to 9.5. It butters very easy though and it is pretty close to all EVA foam gas pedal Burton Genesis Re:Flex. There is more range of motion with the Burton Genesis Step On but less than the Genesis Re:Flex so it does feel different and limits your ability to lean over the nose and tail on a butter.
Turn Initiation/Response
The response of the Burton Genesis Step On is mellower than other Step On bindings but man it is still responsive. Switching from Genesis Re:Flex to Genesis Step On was a massive difference. I wish I had regular Burton Photon's or Kendo Step On's to make it 100% perfect but they do have a similar flex and response. One of the biggest differences
Shock Absorption
Forgot to talk about this in the video but there is great shock absorption. It isn't super damp but it handles slower speed shock absorption very well.
Boot Support
If you don't get a boot with a built in strap around the ankle like the Ion or Photon you are not going to have the same kind of ankle support like you would with traditional strap bindings. With the Burton Ruler I had massive response but felt the tongue fold a little on me in uneven terrain. It wasn't like riding a normal binding with an unsupportive strap but it wasn't as good as the Ion or Photon Step On.
Adjustability
This is a huge drawback for the Burton Genesis Step On. There is minimal boot to binding adjustability. You have an adjustable gas pedal to help with your boot and only a disc with 3 options to slide your boot towards the heel or toe. It only has 2 holes so you have to flip it to slide the other way. That is doable but it doesn't work well if you are on the upper end of the suggested sizing.
Then you only have limited high back rotation. You have to adjust the small screws on either side of the high back to get minimal rotation but it doesn't work as well or adjust as easy as Re:Flex or EST. Burton Re:Flex and EST have excellent high back rotation with an easily adjustable channel on the side ad it's arguably the best in the business. You have forward lean but it isn't easy to do with the small screws on either side of the high back that you also use for forward lean. Combining forward lean and high back rotation compromises the adjustability in both.
When it comes to stance width adjustability there is nothing if you leave the channel system. For me, this is a deal breaker. I need a binding with discs you can turn sideways and slide tip to tail to get your exact stance width. With Burton Re:Flex Discs there is no way to do that.
Conclusion
So the Burton Genesis Step On really took a step in the right direction for me and for other riders that prefer regular strap in bindings. These are my personal favorites of all the step on bindings out there.
If this review helped, we'd appreciate if you:
Burton Genesis Step On Images
Burton Genesis Step On User Reviews
If you can't buy through the links above, you can support the site with: