Burton Step On Binding 2018-2023 Review
Where To Buy
No obligation, but these links & ads support the site.
Burton Step On Binding 2023 - 2018 Review by The Good Ride
Turn Ons/Swipe Right: Incredibly Fast & Symmetrical Response. Easy in and Out
Turn Offs/Swipe Left: Poor Adjustability. Limited to 3 boot Brands. Limited range of motion/too locked in.
Summary
Burton Step On bindings have limited adjustability, boot options and range of motion but man they are responsive. Of course they are easy in and out.
Ethics Statement: We don't get paid by the manufacturer to write these reviews.  We do make money from the "Where To Buy" links, but this is our best attempt at an honest and objective review from an average riders' perspective.
Burton Step On 2022-2023 Binding Review- How it rides and who it is for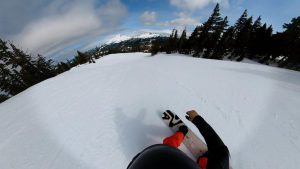 How This Review Happened: Precious Good Ride dollars were spent to buy this and review it.
Days:  8+
Conditions: Late Spring but really good snow. Even some powder with my Drift Boards
Riders:  James (Size 9, 5'10" 185-190lbs)
Boots: Burton Photon Step On Wide
Insoles: Footprint Insole Technology Gamechangers
Boards: Burton Territory Manager, Burton First Cut, Burton Forager and others.
Jacket: Burton AK Gore-Tex Pro 3L Tusk Jacket, Volcom TDF Infuse 3L Gore-Tex Jacket
Pant: Burton AK Gore-Tex Pro 3L Hover Pant, Burton AK Gore-Tex 2L Swash Pant, Burton Gore-Tex Ballast Pant
Helmet: Smith Maze
Goggle: Smith 4D Mag
Gloves: Burton AK Clutch Glove, Burton AK Tech Leather Glove, Burton AK Tech Glove, Drop Web Glove,
Similar (but not the same) Bindings: Burton Step On X, Burton Genesis Step On, Clew, Nidecker Supramatic.
About the upgrades to the 2022 and 2023 Burton Step On Binding Toe Hooks/Quick Release System.  
They changed out the toe hooks. They worked really well and they are pretty easy in/out. It does take a little extra effort to get out of the toe hooks but they also seem more durable than in the past. This is why you get Step On binding. It is just soo easy on and off. Step On right as you get off the chair and go. You can't argue with the convenience.
How It Was Tested
I rode these with several boards and did same day comparisons to the Burton Genesis Step On, Nidecker Supramatic and Clew Bindings. With the non-step on bindings I used the Burton Kendo's and with the Step On's I used the Photon Wide's
Weight
1.8lbs. The Burton Step On Binding is the same weight as the other Step On's and most Re:Flex bindings. Burton Re:Flex and EST bindings generally weigh 1.8-2Lbs. These are considerably lighter than the Supramatic at 2.8lbs per binding and noticeably lighter than the Clew Bindings at 2.4lbs. I weigh the bindings with screws and discs. The Burton Photon Step On Boot I tested these with weighs 2lbs so it is a pretty light set up overall.
Highback Flex
You have a pretty stiff high back with the Burton Step On Binding. It has some give when you twist it but not much. When you pull straight back it barely gives. It is definitely on the stiff side of medium. If you want a stiffer binding go with the Step On X but if you want softer go Genesis Step On.
Flex Underfoot
There is a very similar Re:Flex design to the Burton Step On Binding and all the Step On bindings but I noticed one major difference. The bottom of the Gas Pedal is plastic instead of EVA foam like the other Re:Flex Bindings. I think that is to better keep the boots in place.
Turn Initiation/Response
The Burton Step On Binding is massively responsive and just short of hard booting if you go with more responsive bindings like the Ion and Photons. The mellower boots help but you still have a much more responsive binding than most or all traditional strap bindings. This is personally a little to much for me but I really like the symmetrical response in comparison to the Re:Flex and EST strap bindings. They feel asymmetrical in comparison with the toe side feeling slower than heel side. I hope they keep mellowing out the response as they refine the design because it can make moderate to easy turning boards feel very twitchy at first.
Shock Absorption
There is very good slow speed cushy landing friendly shock absorption happening with the Burton Step On Binding. It isn't super damp though. I wish they had rubber over the plastic that comes in contact with the board to dampen the ride more like many other brands do.
Boot Support
So with the Burton Step On Binding you have no straps but you depending on the boot you get you can get an ankle strap attached to the Ion and Photon. That is the way to go for me and my crew. I was fascinated by the Kendo Step On's because Kendo's have been my daily drivers for a few years now but after experiencing the Rulers without that strap it gave me pause.
Adjustability
There is literally no stance width adjustability on traditional insert boards. If you get a channel system board it is infinite but you only have a few options. The industry did not adapt the channel system so you only have less than 10% of the industry offering the channel system.  Boot to binding adjustability is better but very limited. The new disc covers every system out there instead of in the past having one for each. That means you only have 2 holes to move your boot backward to center the binding/boot on the board. There is very little high back rotation or forward lean adjustability as well.
Conclusion
So the Burton Step on Binding is not without flaws and I personally prefer the Genesis Step On's mellower flex better. However, this, along with all of Burton's Step On bindings are the only bindings that don't sacrifice shock absorption or that modern feel underfoot. On top of that you get a shit ton of response.
Burton Step On Binding Past Reviews

Burton Step On Snowboard Video Review Fast Forward Markers. 0:00 – Intro 0:27 – How They Were Tested 1:17 – Summary 2:02 – Weight 2:08 – Highback Flex 2:40 – Flex Underfoot/Buttering 3:49 – Turn Initiation/Response 5:02 – Shock Absorption 5:31- Boot Support 7:33 – Boot To Binding Adjustability 9:16 – Stance Width Adjustability 10:17 – Conclusion 11:17 – About Our Reviews

The Burton Step On Binding needs a Burton compatible boot and has less boot to binding adjustability but its super easy on/off and is really responsive. It is far from being perfect but its the first time we found a quick release binding to improve response.

Ethics Statement: We don't get paid by the manufacturer to write these reviews.  No one is perfect and we do make money from the "Where To Buy" links below, but this is our best attempt at an honest and objective review from an average riders' perspective.
Burton Step On 2021 Binding Snowboard Binding Review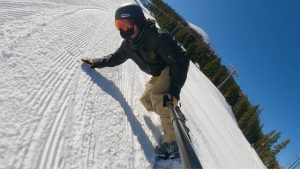 Days: 4
Riders: James (Size 9, 5'10" 185-195lbs), Peter (Size 8, 5'11" 185lbs), Grant (Size 11 6' 160lbs)
Boots: Burton Ruler Step On and Burton Ion Step On, Burton Photon Step On
Boards: Yes Ghost, Burton Hometown Hero, Union Orbit, Burton Stun Gun, Burton Trick Pilot, and Burton Speed Date.
How This Review Happened:  We used our precious Good Ride earnings to buy this due to overwhelming review requests. We borrowed this for a full day at the demos twice and then rode it for a full day thanks to Gravity Sports at Mt. Bachelor.
Approximate Weight
Pretty light at 1.8 lbs per binding with screws on. The Step On boots you have to pair up with are a little heavier than the regular versions so overall its a pretty middle ground overall weight.
Highback Flex
There is not much twist in the Burton Step On Bindings high back but its got a little more give than the Step On X. However, being literally locked into the center of it makes you feel the twist less than you normally would.
Binding to Boot Adjustability
One of the weaknesses of the Burton Step On Binding. There just isn't much going on to center your boot in the binding. If you are closer to the in between sizes moving the disc screws towards the heel or toe edge a few millimetres each way isn't ideal. Unlike the old Re:Flex discs the new ones only have 2 positions instead of 3 so its even worse than before.
Stance Width Adjustability
If you set the Burton Step On Bindings up with a Burton Channel System board the stance width adjustability is infinite. If you put these on normal inserts you have none. Re:Flex discs won't turn sideways and slide tip to tail like most  regular and mini-discs can.
Boot Support
So being locked into the highback makes for a pretty locked in feel that has a lot of support. We suggest paring up the Burton Step On Binding with the Photon Step On or Ion Step On Boots though because we do like the added ankle support. With the Ruler Step On, that has none, we felt it start to fold a little bit more than we would like. It also felt like the front part of the Ruler would flex too much forward and the back wouldn't move which is pretty weird compared to traditional boots/bindings.
Ratchet System
Here is where we talk about the easy on and off and why this binding has soo much appeal. No ratchets. You just step in, they click in place and then go. When you get to the bottom of the run you flip a lever and step out. It is faster than any step on we have tried. It's easier than being on ski's. On top of that you don't have the pain of ultra hard, sized down ski boots. It can get weird with snow loading up on the foot bed but you just need to manage it. Stepping forward also feels weird as most don't step forward when they unstrap. They usually go out somewhat sideways and then step back. It is weird to get used to this.
Turn Initiation/Response
Usually with quick release bindings you are trading response for this feature. With the Burton Step On Bindings you are getting more. Having the boot locked in to the highback seems to really up the response. There is still that smooth initiation you feel with all Burton Re:Flex bindings but it just accelerates as you lean into a turn. We haven't done A vs. B testing with other super responsive bindings but it feels incredibly fast. Even with the least expensive Burton Rulers on. It is a great binding for those that like quick turn initiation and carving.
Flex Under Foot/Buttering
What makes the Burton Step On Binding so responsive also makes it not as easy to butter. The flex under foot is there with the Re:Flex tech that flexes down the middle of the binding. It is just not as easy to access when your boot is stuck to the high back. It for sure takes some getting used to. Normally under the sway bar of the binding there is soft EVA foam but with the Step On you have plastic. It is probably trying to help compensate for no toe strap or ankle strap and give more response there. It does make it less buttery though.
Shock Absorption/Dampness
There is a really cush ride wtih the Burton Step On Binding. Other than the plastic plate on the bottom of the gas pedal (instead of EVA foam) it is just like all the other Re:Flex bindings out there. That makes for a pretty smooth shock free ride.
Summary
All of us here at The Good Ride unanimously like the overall feel of traditional bindings from Burton and other companies better but it is the first time we found added response with quick release tech. It makes it more than just an easy way to get in and out of a binding and I think many will find it's strengths outweigh it's weaknesses.
Burton Step On Binding Images
Burton Company Information
Burton Step On Binding User Reviews
If you can't buy through the links above, you can support the site with: