Burton Step On Binding 2018-2023 Review
Where To Buy
No obligation, but these links & ads support the site.
Burton Step On Binding 2023 - 2018 Review by The Good Ride
Burton Step On Binding 2022-2023 Video and Written Review
Welcome to the Burton Step On Binding Review from an average objective rider that's tried a ton of bindings.
Turn Ons/Swipe Right: Incredibly Fast & Symmetrical Response. Easy in and Out
Turn Offs/Swipe Left: Poor Adjustability. Limited to 3 boot Brands. Limited range of motion/too locked in.
Summary
Burton Step On bindings have limited adjustability, boot options and range of motion but man they are responsive. Of course they are easy in and out.
Ethics Statement: We don't get paid by the manufacturer to write these reviews.  We do make money from the "Where To Buy" links, but this is our best attempt at an honest and objective review from an average riders' perspective.
A Breakdown of How it rides and who it is for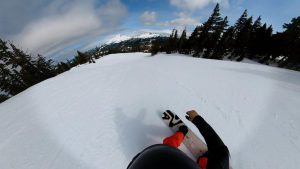 How This Review Happened: Precious Good Ride dollars were spent to buy this and review it.
Days:  8+
Conditions: Late Spring but really good snow. Even some powder with my Drift Boards
Riders:  James (Size 9, 5'10" 185-190lbs)
Boots: Burton Photon Step On Wide
Insoles: Footprint Insole Technology Gamechangers
Boards: Burton Territory Manager, Burton First Cut, Burton Forager and others.
Jacket: Burton AK Gore-Tex Pro 3L Tusk Jacket, Volcom TDF Infuse 3L Gore-Tex Jacket
Pant: Burton AK Gore-Tex Pro 3L Hover Pant, Burton AK Gore-Tex 2L Swash Pant, Burton Gore-Tex Ballast Pant
Helmet: Smith Maze
Goggle: Smith 4D Mag
Gloves: Burton AK Clutch Glove, Burton AK Tech Leather Glove, Burton AK Tech Glove, Drop Web Glove,
Similar (but not the same) Bindings: Burton Step On X, Burton Genesis Step On, Clew, Nidecker Supramatic.
About the upgrades to the 2022 and 2023 Burton Step On Binding Toe Hooks/Quick Release System.  
They changed out the toe hooks. They worked really well and they are pretty easy in/out. It does take a little extra effort to get out of the toe hooks but they also seem more durable than in the past. This is why you get Step On binding. It is just soo easy on and off. Step On right as you get off the chair and go. You can't argue with the convenience.
How It Was Tested
I rode these with several boards and did same day comparisons to the Burton Genesis Step On, Nidecker Supramatic and Clew Bindings. With the non-step on bindings I used the Burton Kendo's and with the Step On's I used the Photon Wide's
Weight
1.8lbs. The Burton Step On Binding is the same weight as the other Step On's and most Re:Flex bindings. Burton Re:Flex and EST bindings generally weigh 1.8-2Lbs. These are considerably lighter than the Supramatic at 2.8lbs per binding and noticeably lighter than the Clew Bindings at 2.4lbs. I weigh the bindings with screws and discs. The Burton Photon Step On Boot I tested these with weighs 2lbs so it is a pretty light set up overall.
Highback Flex
You have a pretty stiff high back with the Burton Step On Binding. It has some give when you twist it but not much. When you pull straight back it barely gives. It is definitely on the stiff side of medium. If you want a stiffer binding go with the Step On X but if you want softer go Genesis Step On.
Flex Underfoot
There is a very similar Re:Flex design to the Burton Step On Binding and all the Step On bindings but I noticed one major difference. The bottom of the Gas Pedal is plastic instead of EVA foam like the other Re:Flex Bindings. I think that is to better keep the boots in place.
Turn Initiation/Response
The Burton Step On Binding is massively responsive and just short of hard booting if you go with more responsive bindings like the Ion and Photons. The mellower boots help but you still have a much more responsive binding than most or all traditional strap bindings. This is personally a little to much for me but I really like the symmetrical response in comparison to the Re:Flex and EST strap bindings. They feel asymmetrical in comparison with the toe side feeling slower than heel side. I hope they keep mellowing out the response as they refine the design because it can make moderate to easy turning boards feel very twitchy at first.
Shock Absorption
There is very good slow speed cushy landing friendly shock absorption happening with the Burton Step On Binding. It isn't super damp though. I wish they had rubber over the plastic that comes in contact with the board to dampen the ride more like many other brands do.
Boot Support
So with the Burton Step On Binding you have no straps but you depending on the boot you get you can get an ankle strap attached to the Ion and Photon. That is the way to go for me and my crew. I was fascinated by the Kendo Step On's because Kendo's have been my daily drivers for a few years now but after experiencing the Rulers without that strap it gave me pause.
Adjustability
There is literally no stance width adjustability on traditional insert boards. If you get a channel system board it is infinite but with all other boards you are limited to the insert pattern. You cannot slide a binding tip to tail at all as there is only one place to put in your screws so it will be hard to get your stance width.
Boot to binding adjustability is better but very limited. The new disc covers every system out there instead of in the past having one disc for each. That means you only have 2 holes to move your boot backward or flip it around to go forward to center the binding/boot on the board. If you are in the middle of the suggested sizing you should be good but if you are on the upper or lower end you won't be able to center your boot in the binding and you won't always be able to center your boot on the board for more symmetrical response. There is very little high back rotation or forward lean adjustability as well.
So in comparison to many bindings out there in the industry you don't get much or any overall adjustability. That is the price you pay for the extra response and the quick in/out you get from Step On.
Conclusion
So the Burton Step on Binding is not without flaws and I personally prefer the Genesis Step On's mellower flex better. However, this, along with all of Burton's Step On bindings are the only bindings that don't sacrifice shock absorption or that modern feel underfoot. On top of that you get a shit ton of response.
If this Burton Step On Binding review helped, we'd appreciate if you:
Burton Step On Binding Past Reviews

Burton Step On Snowboard Video Review Fast Forward Markers. 0:00 – Intro 0:27 – How They Were Tested 1:17 – Summary 2:02 – Weight 2:08 – Highback Flex 2:40 – Flex Underfoot/Buttering 3:49 – Turn Initiation/Response 5:02 – Shock Absorption 5:31- Boot Support 7:33 – Boot To Binding Adjustability 9:16 – Stance Width Adjustability 10:17 – Conclusion 11:17 – About Our Reviews

The Burton Step On Binding needs a Burton compatible boot and has less boot to binding adjustability but its super easy on/off and is really responsive. It is far from being perfect but its the first time we found a quick release binding to improve response.

Ethics Statement: We don't get paid by the manufacturer to write these reviews.  No one is perfect and we do make money from the "Where To Buy" links below, but this is our best attempt at an honest and objective review from an average riders' perspective.
Burton Step On 2021 Binding Snowboard Binding Review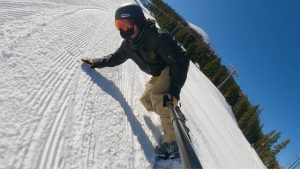 Days: 4
Riders: James (Size 9, 5'10" 185-195lbs), Peter (Size 8, 5'11" 185lbs), Grant (Size 11 6' 160lbs)
Boots: Burton Ruler Step On and Burton Ion Step On, Burton Photon Step On
Boards: Yes Ghost, Burton Hometown Hero, Union Orbit, Burton Stun Gun, Burton Trick Pilot, and Burton Speed Date.
How This Review Happened:  We used our precious Good Ride earnings to buy this due to overwhelming review requests. We borrowed this for a full day at the demos twice and then rode it for a full day thanks to Gravity Sports at Mt. Bachelor.
Approximate Weight
Pretty light at 1.8 lbs per binding with screws on. The Step On boots you have to pair up with are a little heavier than the regular versions so overall its a pretty middle ground overall weight.
Highback Flex
There is not much twist in the Burton Step On Bindings high back but its got a little more give than the Step On X. However, being literally locked into the center of it makes you feel the twist less than you normally would.
Binding to Boot Adjustability
One of the weaknesses of the Burton Step On Binding. There just isn't much going on to center your boot in the binding. If you are closer to the in between sizes moving the disc screws towards the heel or toe edge a few millimetres each way isn't ideal. Unlike the old Re:Flex discs the new ones only have 2 positions instead of 3 so its even worse than before.
Stance Width Adjustability
If you set the Burton Step On Bindings up with a Burton Channel System board the stance width adjustability is infinite. If you put these on normal inserts you have none. Re:Flex discs won't turn sideways and slide tip to tail like most  regular and mini-discs can.
Boot Support
So being locked into the highback makes for a pretty locked in feel that has a lot of support. We suggest paring up the Burton Step On Binding with the Photon Step On or Ion Step On Boots though because we do like the added ankle support. With the Ruler Step On, that has none, we felt it start to fold a little bit more than we would like. It also felt like the front part of the Ruler would flex too much forward and the back wouldn't move which is pretty weird compared to traditional boots/bindings.
Ratchet System
Here is where we talk about the easy on and off and why this binding has soo much appeal. No ratchets. You just step in, they click in place and then go. When you get to the bottom of the run you flip a lever and step out. It is faster than any step on we have tried. It's easier than being on ski's. On top of that you don't have the pain of ultra hard, sized down ski boots. It can get weird with snow loading up on the foot bed but you just need to manage it. Stepping forward also feels weird as most don't step forward when they unstrap. They usually go out somewhat sideways and then step back. It is weird to get used to this.
Turn Initiation/Response
Usually with quick release bindings you are trading response for this feature. With the Burton Step On Bindings you are getting more. Having the boot locked in to the highback seems to really up the response. There is still that smooth initiation you feel with all Burton Re:Flex bindings but it just accelerates as you lean into a turn. We haven't done A vs. B testing with other super responsive bindings but it feels incredibly fast. Even with the least expensive Burton Rulers on. It is a great binding for those that like quick turn initiation and carving.
Flex Under Foot/Buttering
What makes the Burton Step On Binding so responsive also makes it not as easy to butter. The flex under foot is there with the Re:Flex tech that flexes down the middle of the binding. It is just not as easy to access when your boot is stuck to the high back. It for sure takes some getting used to. Normally under the sway bar of the binding there is soft EVA foam but with the Step On you have plastic. It is probably trying to help compensate for no toe strap or ankle strap and give more response there. It does make it less buttery though.
Shock Absorption/Dampness
There is a really cush ride wtih the Burton Step On Binding. Other than the plastic plate on the bottom of the gas pedal (instead of EVA foam) it is just like all the other Re:Flex bindings out there. That makes for a pretty smooth shock free ride.
Summary
All of us here at The Good Ride unanimously like the overall feel of traditional bindings from Burton and other companies better but it is the first time we found added response with quick release tech. It makes it more than just an easy way to get in and out of a binding and I think many will find it's strengths outweigh it's weaknesses.
Burton Step On Binding Images
Burton Step On Binding User Reviews
---
---
Burton Step On Binding 2018-2023 Review
SKU
UPC
Model
Took a while to like them.
Jan 24, 2022
by
Gr8 Entertainer
Ability Level: Advanced •
Riding Style: Regular •
Days You Ride A Year: 15-20 •
Height, Weight And Boot Size (for Boards, Boots & Bindings): 5'6, 220, 9 boot, 156" board
On the first two days, I was in pain! My ankles, calves, and feet felt pain! My toes were squeezed, even though I had Photon 9Wide. My heel was feeling sharp pain in the back and side because the boot was so stiff. My inner calves felt like the boot was carving into my leg. So, my first two days were extremely disappointing. I still rode 15+ trails per day at Kirkwood and Heavenly. My right toes were numb and the bottom of my foot was in pain. My left foot was ok. But both of my heels felt bruised after the first two days. I had scabs on both of my calves because the boots had dug into them.

Fast forward 2 weeks later. I pulled the insoles out of the inner boot. I found out those insoles were harder and created awkward angles for my feet, ankles, and calves. Without the insoles, my feet and ankles felt so much better. They felt the same way that they did when I wore Burton Ruler regular boots. Pulling OUT the insoles made a HUGE difference!

I finally tested the Photon Wide 9 step-ons WITHOUT the insoles and was able to ride two days at Kirkwood and Heavenly without pain. I have to say that I could finally appreciate the boots and step-on design because they fit properly like my old Ruler boots.

Yes, step-ons are faster to click into than traditional strap-ons. I would say that I appreciated the stiffness of the Photon boots. Compared to typical days, riding with my Ruler boots, Mission ESTs on a Custom Flying V, my legs were worn out because my quad muscles did more work to turn and to stop. But with the Photon Step-On, my legs did less work and I was not worn out by the end of the day. I tested the Photon's with both my Custom Flying V EST board and my Burton Shaun White traditional camber board. I would say that I finally appreciated the step-ons. I went faster and turned less while riding with the step-ons because the stiffness absorbed the bumps and shocks. Kirkwood was icy and I handled it easily with the Photon step-ons because of the stiffness of the boots and bindings.

So, I finally appreciated the Photon Step-On bindings.

---
Finally upgrade my Step Ons
Dec 04, 2021
by
Dylan
Ability Level: Intermediate •
Riding Style: Intermediate •
Days You Ride A Year: 10-15
I've used the old Burton SI bindings since way back in 2001 and they've never failed me, but time to upgrade. Can't wait to try these out, paired with Rulers. Seems a tad bit harder to step in than the SI's but easier to get out since only 1 hand needed.

---
Tip for DC Boots StepOn
Sep 13, 2021
by
Ryan
Ability Level: Slightly Advanced •
Riding Style: All Mountain Freestyle •
Days You Ride A Year: 10-15 •
Height, Weight And Boot Size (for Boards, Boots & Bindings): Size 9
I early adopted the StepOn 3-4 years ago but couldn't stand the photon Burton boot for more than 3-4 hrs a day, despite having them baked/insoles/etc., and I would switch back to regular bindings. This really ruined the StepOn experience for me.

This all changed when I bought the DC StepOn boots. Out of the box these boots were more comfortable then the Burton boots were after 3+ seasons with them. It was a revelation and while I prefer straps when riding with other boarders, having the StepOns made me the MVP when riding with all skier friends.

Since then I've been telling everyone and anyone I see on the mountain to try the DCs; and give knowing nods and Covid safe air fives to those that are already wearing them.

In regards to the binding system - get these for convenience if you typically ride with skiers or struggle to strap in. It's extremely convenient. These are great for bombers, tree runs and carving up the mountain. These are a hard charging binding due to stiffness and locked in feel.

Don't get these if you are a park rat, love to session natural features, or just live to butter. They won't give you the flexibility you want.

If you do get these, get the DC boots to go with them - you won't be disappointed… air five!

---
Go With the Stiffer Boots (Photon or Ion)
Apr 20, 2021
by
K.B
Ability Level: Intermediately Intermediate •
Riding Style: Not-So-Rad Dad, Powder Addict - Steeps when it's Deep, Groomers when it Isn't, and Avoid the Trauma Park at All Times •
Days You Ride A Year: 10-20 •
Height, Weight And Boot Size (for Boards, Boots & Bindings): 5'10" (177 cm); 195 lbs (88 kg); Boot Size US 10 (28.2cm mondo foot size)
I thought I would share my experience after a season with these to give an idea of how they work for other intermediate weekend-warrior type riders who may only get in 15-20 days a season.

MY SPECS - I'm 41 years old, have only been riding for three seasons, and probably fall somewhere in the middle of that vague and boundless realm referred to as the "intermediate" level. I can ride some double-black terrain (when the snow is soft), but I still skid plenty of turns and occasionally look like a moron on rutted up cat tracks, too. I ride the Burton Step-On bindings on the Yes Hybrid 157 with US size 10 Burton Swath Boots.

EASE OF ENTRY – My overall take (from the standpoint of a crappy, middle-aged, intermediate rider) is exactly the opposite of James's take away point – get these for the convenience (not necessarily for the responsiveness). To me the added convenience is worth it - I can save my energy for riding, instead of wasting breath bending my fat ass over to fiddle with straps. They aren't ALWAYS easier to get into, though. They have a big advantage over straps when you are getting off lifts on the groomers; but they can be a little trickier in the steep side country when you need to get further out a traverse before locking-in. They are made to step in (obviously) while standing, so sitting down to get locked-in is difficult. Powder (especially sticky spring powder) will pile in under your boots making it difficult to get engaged. Again, this is only an issue on steep and deep spots. When I ride with (much) more experienced riders, I will be ready to go before they are 98% of the time when we are getting set-up in normal circumstances, but they will be waiting on me every time we get out onto a traverse ledge to strap in. It is worth noting that Step-Ons do seem to have a "break-in" period, and for the first week they will require more force to get the cleats engaged; so it's a good idea to try them out at home to help soften them up.

RESPONSIVENESS – Just like James says, they are a very responsive binding, but it is a different kind of responsiveness that is difficult to fully articulate. As an intermediate rider, I do not think you would switch to these just to get that type of response (but more a more advanced rider might). To get the full benefit of that responsiveness, though, it is important to note that the design of the SO's makes the boot much more important for responsiveness than it is with traditional bindings. James mentions at the end of his video that riders that are mostly interested in the convenience might want to go with the softest SO boot (the Ruler), and I don't really agree - although in his written review, he mentions the front part of the Rulers flex too much and he doesn't recommend them. I agree much more with what is stated in the written review. I have the Swath (the 2nd softest in the line), and I would NOT want to go any softer. In fact, if I had it to over again, I would go to the next step up in stiffness, the Photon. I have to tighten the BOA on the Swaths quite often to get the response I want, because the front of the boot just gives too much - and the boot plays such a different role in how these bindings ride (versus traditional). I ride the Yes Hybrid 157 (which is pretty wide), and with my size 10 boots, I need every bit of responsiveness I can get – so that may explain part of my take regarding the need for stiffer boots.

ADJUSTABILITY – The highback forward lean is adjustable with the use of a screwdriver – but it has to be a full-length traditional screwdriver, as a pocket tool will not reach the adjustment screw. Not to mention that the screwdriver shaft has to be thin enough to fit down into the hole to reach the screw, which has been an aggravation several times when I have tried to use the adjustment tables at the resort only to figure out the driver won't fit down in there. (I will also note that adjusting the forward lean past the midpoint makes these much more difficult to get clicked in fully - which is why I am occasionally trying to adjust these things at the resort, in case you were wondering what kind of weirdo adjusts their forward lean while they are out riding). My biggest complaint with Burton SO is the lack of any adjustability on the traditional mounting discs (i.e. if you're not using the Burton Channel system). James discusses this in his review, and he is spot on with the lack of any real adjustment for tweaking stance width, or ability to center the boot over the board. My Yes Hybrid only has 5 row inserts, and is a wider reference stance than I prefer, so I can't dial in my stance width exactly where I want it with these discs. Why Burton can spend years getting the engineering perfected on the locking mechanisms, but can't give you any adjustment out of a damn plastic disc is a hard one to figure out.

OVERALL – Everything has trade-offs, and to me the convenience of these bindings outweighs the downsides. Heck it's nice just from the perspective of not having those straps flailing around and in the way when you aren't strapped in. I think Burton has got the Step-On system right, and for the target audience it will be worth it.

---
Love These Bindings!
Mar 10, 2021
by
andrew
Ability Level: Advanced •
Riding Style: Free ride •
Days You Ride A Year: 15-20 •
Height, Weight And Boot Size (for Boards, Boots & Bindings): 5'9" 160lbs. 10.5 boots
These are truly epic. I have them on a Jones Ultracraft 156 and the added response that the bindings give you work great with a board that's a little wider like the hover/ultracraft. What is truly the best part is the ease to click in and out with the feeling like your in your normal boots. I have a bad back and I noticed a huge difference from not having to stop and strap in over and over. The ease of just clicking in really makes a difference and in my case probably ends up in a few extra laps for me throughout the day. They also work great in powder and are easy to get on and off which is contrary to what you'll read online. I was a skeptic with everything I read online and now I that I own them they're legit. Give them a try you'll be surprised with how awesome these are.

---
There is more adjustability
Feb 04, 2021
by
Jack
Ability Level: Upper intermediate •
Riding Style: All mountain no park •
Days You Ride A Year: 25+ •
Height, Weight And Boot Size (for Boards, Boots & Bindings): 5'5", 210lbs, size 8 boots
I love my Step Ons from 2020 with Photon boots. So responsive it definitely helped improve my riding ability and confidence staying on toe side edge.

The 2021 bindings in all of Burtons line have consolidated the disk to a single disk. In the review video it was mentioned this had less adjustability but this isn't quit the case. If you turn the disk 180° the extra holes are now on the other side and allows to help center bindings on board. Also some might not realize there is high back forward lean adjustment as well done with a screw driver from the inside of the highback. Two screws designed for forward lean adjustments.

Only part I struggle is I lack flexibility so reaching the release lever is difficult for me. But some creativity can help solve this until Burton outs in a real solution. Knocking one store for that otherwise 5 stars.

---
Jan 22, 2021
by
Stephen Alexander
Ability Level: Senior •
Riding Style: Carve •
Days You Ride A Year: As many as possible •
Height, Weight And Boot Size (for Boards, Boots & Bindings): 10.5/162
I bought a pair of BURTON Hard boots in 2001 a buddy of Jakes at Sunny Breeze Sports set me up with the original set of step in race bindings. These sound and review the same except the original came with a cant plate a little ackward when walking but well worth it.Hard on the ankles without.

---
Straps? You don't need no stinking straps!
Oct 02, 2020
by
Jay Jochec
Ability Level: Advanced/expert •
Riding Style: All Mountain, Steep, Trees, Half pipe •
Days You Ride A Year: 30+ •
Height, Weight And Boot Size (for Boards, Boots & Bindings): 6'0" 195lbs, size 11, 161 wide Rossi One Mag LF
Bought these last year after ripping the soles off my 2nd set of K2 clickers in a season and a half just out of warranty. I'll never go back! My riding confidence has gone way up which translates into my ability increasing as well with these. I can feel the board now. The edge to edge response is super quick.

The boots are comfortable once you get the tension right, I usually loosen them a bit after the 1st run (Photons). They do pack out about 1/2 a size over the season so if your toes are just barely touching new you should be good to go after 4-5 days of riding. I've ridden these in all conditions and have had zero issues with them. No hot spots, no trouble getting in and out of them in the powder. If you have too much fwd lean in them getting that 2nd click is hard to do. But really with the way the system is hooked up I haven't noticed any difference in having as much fwd lean as I could get in and still get the 2nd click and having zero fwd lean.

I really liked my K2 clickers for 1 big reason. And that is I could click in while riding the chair and just board right off. My wife who purchased the step ons a season before I did couldn't do this and so I was hesitant about not being able to do this. I have a knee injury that when my foot slips off the board getting off the chair and I do the splits basically will pull at it and make it hurt from just a little to really freaking bad. Well 1st run up the chair I figured it out. you get the inside toe cleat started, then rock your foot to the 2nd toe cleat, once you have those engaged you roll the board fwd and get one click in the back and you're good to go. Ride off the chair, Ollie it up and bam 2nd click and you're gone!

I've never had any fear about coming out of them. I don't use the leash. You'd have to bust the rear plastic out of the rear of the boot and I just don't see that happening. I rode them in the Super Pipe at Bachelor and didn't think twice about it.

I'm purchasing a Rossi XV 168w this year because of the reviews here and am going to run the new Step On X bindings on it which should suit the board and my riding style well.

These things are just too convenient and with the response as great as it is not to run. Burton has knocked it out of the park with these. Get some, you won't be dissapointed.

---
Never Going Back to Straps
Feb 29, 2020
by
David R Glenn
Ability Level: Advanced •
Riding Style: All mountain •
Days You Ride A Year: 15 •
Height, Weight And Boot Size (for Boards, Boots & Bindings): 6'3", 230, 11, Yes Greats Uninc
I will never go back to bending over and strapping. First day on them I was charging the steeps with very little learning curve. Back edge very positive and tow edge 2-3 runs and I was back in my groove. I ride at Snowbird so I have had pow days with 16+ inches and was able to get in and out without much trouble. Practice pulling out of the toe at home on a dry surface to get the feel of exiting. Overall I love them and have a lot of jealous looks when Im off and running without wait time.

---
Poor Manufacture Quality
Feb 27, 2020
by
Mike
Ability Level: Advanced •
Riding Style: Freeride •
Days You Ride A Year: 15-20
The step in process works well on these bindings, while stepping out is more challenging. Not as easy as you may think. The main problem, however, has to do with the poor manufacture quality of these bindings. I've ridden Genesis for the past six seasons. Those bindings are solid, while the StepOns are not well made -- particularly the foam under your boot, which lifts each time you step out and allows snow underneath it. This makes it impossible to step back in without spending a few minutes cleaning off the snow and trying to push the foam down. Boarders around me with strap bindings laugh at these and can be off and riding much quicker than these Burton StepOns would ever allow. Not ready for prime time, that's for sure.

---
If you can't buy through the links above, you can support the site with: