Burton Genesis Re:Flex 2013-2023 Snowboard Binding Review
Where To Buy
No obligation, but these links & ads support the site.
Burton Genesis Re:Flex 2023 - 2013 Review by The Good Ride
Burton Genesis Re:Flex Snowboard Binding Video and Written Review
Here sits the Burton Genesis Re:Flex Snowboard Binding Review from an average rider with an exceptionally objective perspective
Turn Ons/Swipe Right: Smooth buttery ride. Exceptional flex underfoot. Softer highback.
Turn Offs/Swipe Left: No stance width adjustability for non-channel boards.
Summary
The Burton Genesis Re:Flex doesn't have any stance width adjustability for non-channel boards but it does offer a new softer flexing highback that matches well with the overall ride.
Ethics Statement: We don't get paid by the manufacturer to write these reviews.  We do make money from the "Where To Buy" links, but this is our best attempt at an honest and objective review from an average riders' perspective.
A Break Down of How it rides and who it is for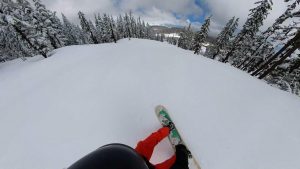 How This Review Happened:  Borrowed this for an extended demo and sent it back.
Days:   5+
Conditions:  Really good spring powder, mid winter like spring snow and an early morning slackountry time with Drift Boards.
Riders:  James (Size 9, 5'10" 185-190lbs)
Boots: Burton Kendo,
Insoles: Footprint Insole Technology Gamechangers
Boards: Burton Territory Manager, Burton Deep Thinker
Jacket: Burton AK Gore-Tex Pro 3L Tusk Jacket, Volcom TDF Infuse 3L Gore-Tex Jacket
Pant: Burton AK Gore-Tex Pro 3L Hover Pant, Burton AK Gore-Tex 2L Swash Pant, Burton Gore-Tex Ballast Pant
Helmet: Smith Maze
Goggle: Smith IO Mag, Smith 4D Mag
Gloves: Burton AK Clutch Mitt, Burton AK Tech Leather Glove, Burton AK Tech Glove, Drop Tahoma Mitt
Similar (but not the same) Bindings: Union Contact Pro/Union Ultra, Burton Cartel, Burton Mission, Burton Malavita, Salomon Hologram, Salomon District, Nitro Team Pro, Nitro Team, Now Pilot, Now Select, Now IPO,
How It Was Tested
I used this many days and compared it against the Genesis Step On, Cartel X EST, Union Atlas, Union Ultra and many other bindings when doing same day samplers. Samplers mean taking out the same board & boots but switching out bindings all day on the same run.
Weight
1.8lbs. The Burton Genesis Re:Flex is very light.
Highback Flex
The 2023 Burton Genesis Re:Flex has a softer overall flexing high back which I personally like. I think it matches up well for those that want a more parkish ride or those, like me, that prefer a softer high back but still like a pretty responsive base plate. Some might call that surfy. The 2 layer highback really mellows out the ride in a good way. It doesn't bite into your calves and it also helps keep the ride a little less chattery.
Flex Underfoot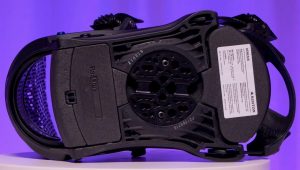 The Burton Genesis Re:Flex still has a remarkable flex underfoot. It makes it very easy to butter a board and get it to twist when engaging in harder turns. It isn't as easy as the EST but we are talking shades of excellence here. Some mini-disc bindings can accomplish the same thing but it has a pretty different feel. The board never feels dead underfoot.
Turn Initiation/Response
The Turn initiation of the Burton Genesis Re:Flex is more dependent on the flex of the board underfoot. If it is a soft to medium flexing board it will have a very smooth but responsive feel. If the board is really stiff it doesn't allow the Re:Flex tech to work as well to get the board to respond. I did notice this time in same day comparisons on the same board to the Genesis Step On is that the Genesis are considerably less responsive and have less symmetry response wise. I think being attached to the high back and having the plastic bottom of the gas pedal seems to help toe side response more with the Genesis Step On.
Shock Absorption
There is near perfect slow speed shock absorption with all this EVA foam. It isn't super damp like some bindings out there but there is a little gel in the middle of the heel pad which helps a little. So not super damp but super shock absorbent.
Boot Support
I think the Burton Genesis Re:Flex has some of the best ankle straps in the business and I love the support they give. The toe straps never seem to match the hold and support of the ankle straps. They are better than in past years but they just don't hold or conform around your boots toe like many other toe straps do from other companies. Still, I think the Burton Genesis supports your ankles well in all kinds of terrain.
Ratchets
The Burton Genesis Re:Flex ratchets are super smooth on and off. Some of the smoothest in the industry and the double take tech seems to work really well. The problem is you can't crank down your ratchets. When you do they either stop or pop back up a notch or two. I often warn riders not to crank down their straps as it can cause damage to your feet over time but I do love to crank down my toe strap because it doesn't put pressure on any part of my feet. I can't do it with Burton toe straps and that disappoints me.
Adjustability
There is decent boot to binding adjustability with the Burton Genesis Re:Flex but literally no stance width adjustability with the Re:Flex discs. This is always the deal breaker for me personally when it comes to any Re:Flex binding from Burton. You can only move your bindings up and back 20mm so it is hard to get the stance width you want. If you ride a channel system board you can but not with the other 95% of the industry.
The new Re:Flex discs don't have a lot of adjustability to center your boot and binding on the board so if you are on the upper or lower end of the recommended sizing you might not be centered.
Conclusion
So overall, the Burton Genesis Re:Flex doesn't have the stance width adjustability I need and boot to binding adjustability that I would like. That being said, it has one of my favorite highback's in the industry, an excellent feel underfoot, great shock absorption and an overall smooth ride to it.
If this review helped, we'd appreciate if you:
Burton Genesis Re:Flex Past Reviews

The Burton Genesis Re:Flex is one of those bindings that appears as it would be only for mellow park boards but instead fits a wide variety of boards and has been one of our favorite bindings for a long time.

Ethics Statement: We don't get paid by the manufacturer to write these reviews.  No one is perfect and we do make money from the "Where To Buy" links below, but this is our best attempt at an honest and objective review from an average riders' perspective.

The Burton Genesis hasn't had a lot of major changes from 2014-2016 there are only a few minor changes. They are mainly with ease of use adjustability/comfort and only a little bit of response/performance.

The 2016 Burton Genesis demo model's Toe Straps didn't really conform around the toe of your boot and none of us liked them. They stuck out and didn't fit right. I just got a 2016 production model and the new toe straps fit really well.  The rubber is much softer and they fit great around the toe.

Days:50+ on 13,14,15 and 16 models
Riders: James, Peter, Jimbo, Kyle and many more
Boots: Burton SLX, Salomon F3.0, Burton Fiend LTD, Burton Fiend, Burton Ion, Burton Imperial, Nike Kaiju, DC Judge, Nike Zoom Ites, Burton Ambush, Burton Hail, Burton Ruler, Salomon Synapse, Nike Lunarendore
Boards: Rome Powder Division 157,  Jones Mountain Twin, Gnu Impossible Series, Yes Greats, Rossignol One Magtek, Lib Tech Burtner Box Scratcher, Never Summer Proto, Never Summer Cobra, Lib Tech TRS, Lib Tech Lando Phoenix, Lib Tech Hot Knife, Arbor Coda, Burton Barracuda, Burton Nug Flying V, Gnu Space Case, Gnu Riders Choice, Slash ATV,Yes Jackpot

This is a great binding but first impressions seem like the 2 piece high back could be a little fragile. So after bringing this up with a Burton rep, he showed us that they hold up better than they look. He bent the 2 pliable pieces each way and it convinced us that it will hold together much better than our initial impressions. In general, one part lasts longer than 2 but this should hold up better than a brittle high back as they had with the old Burton Co2's.

Regarding Re:Flex Tech: Re:Flex Tech really changes the way the board rides for the better but it has one minor issue that should be addressed.  Most 4 hole Discs can be aligned tip to tail or heel to toe but the Re:Flex Disc can only be aligned heel to toe. This isn't a big deal because most align heel to toe but some like to turn their discs sideways to reduce or increase their stance width to a size that the binding holes won't allow. If you do this make sure your board has the stance width you desire.

Size Medium Weight: 3.6lbs 

Flex: The High Back is very interesting. At first, I felt that this was a soft high back but the more I ride this the more I feel like the flex is just med/soft to even medium.  It's the 2 piece thing that makes you think the high back is softer than it is. It's hard to flex the 2 pieces with your hand together. In actuality, the combined flex of the 2 pieces makes for a high back that is more responsive than it's flex. The two-piece system grows on you and makes for a pretty fun/unique feel on the high back when turning.

Adjustability: Very adjustable like all Burton bindings. This is one of Burton's best qualities. One of our favorite parts about this and all Burton bindings is the high back rotation is better than almost every other binding out there because you don't have 3 holes to choose from. You have something you can slide back in forth that is more like the equivalent of 5 holes.

Comfort: These ankle straps are some of the best in the business and these are the favorite in our line. The Toe Straps are just like every other Burton Binding and do a pretty good job. The overall feel of the binding is very easy on the feet. For most, it should be pressure point free.

Heel to Toe Response– We felt the Diodes have more response but these do the same thing that all high end Re:Flex bindings do. They don't feel super responsive but instead make the board underneath you feel like it's softer and easier to turn. I noticed that when we put these on the Arbor A-Frame which is a pretty stiff board that requires responsive bindings to turn it the best that they had no issues there. These feel right in between the Diodes and standard Cartels in terms of response and give you a lot more response than you would think for the high backs flex.  The new 2014 ankle strap feels a little more responsive too.

Tip to Tail Response– Very easy to leverage the board into a butter or press. This base plate is exceptional and it offers a good flex underfoot that we feel is pretty much tied with Burton EST bindings.

Boot Support: There is a very good grip around your ankle that holds your boot down very well. The new 2014 Hammock Ankle strap grips incredibly well and is a step up from the older but very well liked react strap.  It has a more supportive and more form-fitting grip that's coming really close to how the high-end Flux bindings lock you in. The Burton Genesis is more on the great side of excellent where the high-end Flux bindings have set the standard but man this is a really locked in feel. It can crank down harder than the old react strap and feels like it's holding your heel into the binding more than any other Burton ankle strap has done before.  Also, there feels like more support on the outer sides of the ankle strap. Even with the EVA footbed the ankle strap keeps you locked in. Well done.

Ratchet System: Smooth and practically perfect. Burton's high-end bindings are very easy on and off.

Shock Absorption– Really great for absorbing hard landings or dealing with shitty tracked out chatter filled runs. Burton does one of the best job's here. The offer a very cushy deep pad under your foot without really affecting the response. Also, the Auto-Cant that's been on the binding for the last few years helps align your body better and reduce joint stress with the stance width you have when snowboarding. Well, at least it does for me.
2016 Burton Genesis Review
2015 Burton Genesis Review
1. It's got a new ankle strap that really conforms to your ankle that we really like.  You can crank it down without that much discomfort.
2. It has a new ratchet system. Some of the demo models had issues but Burton said this would be fixed for the production models. So far the production models we have played with are outstanding.  I actually now own a Genesis binding and find that the new ratchet system is smoother and easier to put on compared to my Burton bindings that have the older system.
Burton Diode vs. Burton Genesis vs Burton Cartel
The Burton Genesis 2013 has a 2 layer high back combined with a base plate very similar to the Diode. At first it seemed fragile and a little weird but the more time we have on this binding it the less fragile it feels and the more fun it rides.  It's kind of like a mellow diode or a slightly more responsive Cartel binding that offers a pretty balanced all mountain ride.
Burton Genesis Re:Flex Images

We try to get as many images of the Burton Genesis Re:Flex, but forgive us if they're not all there.
2023
2021
2019
2018
2017
2016
2015
2014
2013
Burton Genesis Re:Flex User Reviews
---
---
Burton Genesis Re:Flex 2013-2023 Snowboard Binding Review
SKU
UPC
Model
Burton Genesis Reflex 2017
Jul 13, 2017
by
Wren
Ability Level: Advanced on the mountain and beginner in the park •
Riding Style: Aggressive all Mountain toying with Freestyle •
Days You Ride A Year: 15 •
Height, Weight And Boot Size (for Boards, Boots & Bindings): 5'9" 150lbs, Yes Jackpot and TDF154, Burton Reflex Genesis size medium, Ride Lasso size 9
I like the Burton Genesis reflex binding a lot now... Before I bought it I didn't know what to think with all the hype and extra price tag. When I first strapped in and went down the hill I had instant regret, It felt weird and I called bullshit on everything anyone has ever said on them. But once I relaxed and got acquainted I realized I initially freaked out because how much I could feel the board and how little I could feel the binding. It's like they disappeared and I was standing on the board naked but some how they were still had good response and turned the board very well. If they could make the toe strap less awkward to put on it would be a perfect binding. Crazy how comfortable it is to ride hard or slow with. Great on the mountain and in the park.

---
I didnt know they were there!
Feb 08, 2017
by
Simon K
Ability Level: Intermediate+ •
Riding Style: All Mnt / Freestyle •
Days You Ride A Year: 6-10 •
Height, Weight And Boot Size (for Boards, Boots & Bindings): 175cm, 9.5UK
I bought these bindings after a chat with James and a careful toss between these and the Cartels. I must say i wasn't disappointed.

I combined these bindings with a Yes. Standard 158 and Adidas Tactical ADV boots.

The set up was a great ride, of the 3 boards set ups i tried this year it was hands down the best. the carving and grip hold on the icy days was second to none!
With my previous bindings i knew they were there, there was some pinch and the wrap wasn't great. The odd thing with the Genesis is I really couldn't feel them at all, it was just me and the board! The straps, despite looking like plastic instead of padding was awesome!

The main thing with these bindings was the lack of a need to tighten, there was a few runs where the strap was lose and i didnt notice at all. With previous bindings there was a need to do up tight, but with these the hold was so good i didnt need it, which meant i had no issues with squeezing my feet!

My only criticism of these bindings is the price, i honestly cant see why they are that much dearer than the cartels.

In Summary, last week was the best boarding week ive ever had, i would personally like to thank The Good Ride guys for helping make it so.

---
Go To Binding
Apr 11, 2016
by
Nick
Ability Level: Advanced all mountain, intermediate Park •
Riding Style: All mountain •
Days You Ride A Year: 30+ •
Height, Weight And Boot Size (for Boards, Boots & Bindings): Never Summer Funslinger, Burton Trick Pony
I have ridden the Union Force bindings, Cartels, and Malavitas, and as much as I enjoy the Malavitas, these are amazing. Surprisingly supportive for how comfortable they are. My go to binding and will stay my go to for a long time.

---
Fun and playfull bindings
Apr 30, 2015
by
Tim Scheffer
I got these bindings this year with my Never Summer Proto HD but I had them in orange because I liked the color more with my board, but that is just my opinion. The bindings are very very comfy and I like firm the boot support they give me. That way the board feels like an extension of your legs and feet.

The bindings made it very easy for me to practice my butter and pressing skills (even though my press still sucks ;-), haha). The only thing I'd like to see more is a little bit less flex, but that's just how I like my snowboarding, fast and quick edge to edge.

In the end this is still a very nice and comfortable binding for a good price. It also is a great combination with an all mountain freestyle board like the Never Summer Proto HD I bought.

---
Genesis!
Dec 24, 2014
by
Eric
Ability Level: Advanced •
Riding Style: Chasing Skiers •
Days You Ride A Year: 25
These bindings are wicked awesome! Right now I ride Burton Freestyle from about 5 years ago and after demoing these I don't ever want to strap into the Freestyles again! These are very comfortable and you can crank em down for sure. The next $300 I come by I'm picking these up for sure. They provide excellent response and support, all around awesome.

---
GENESIS IS THE BEST BINDING BURTON HAS EVER MADE
Feb 26, 2014
by
Dennis James
Ability Level: Expert •
Riding Style: All Mountain •
Days You Ride A Year: 80+
GENNISESS IS BURTON BEST BINDING . SUPER FAST ,SMOOTH , RESPONSIVE and COMFORTABLE ..ITS A BIND. THAT WORKS ON ALL BOARDS AND THAT MEANS IT WORKS IN ALL TERRAIN ...PARK TO BIG FREERIDE ...MOST PEOPLE USE 1 BOARD ALL SEASON .THE FAVORITE .....AND MOST BOARDS WILL DO IT ALL THESE DAYS .POWDER/JIB ALL IN 1 BOARD ... U NEED A BIND THAT WILL DO THE SAME ......HOWEVER I DONT THINK MANY WILL BY IT .CUZ PEOPLE ARE IN A RUT WHEN IT COMES TO BINDINGS ....MY LOCAL MT POWDER MTN 8 MI AWAY..HAS A BIG CULT OF BOARDERS THAT THINK USING 10-20 YR OLD BINDINGS IS INSANLEY COOL ...THERE IS HUDGE SOCIAL LOVE GIVEN TO THOSE THAT GO THIS ROUT ... I HAVE WRITEN ON MY HELMET OLD BINDINGS SUCK BALLS ..I DONT BY INTO OLD IS BETTER . IT WILL BE TOUGH TO GET THE CARTEL CROWD AND THATS OK ......

---
one step forward, and one back
Nov 20, 2013
by
Lars
Ability Level: Expert •
Riding Style: Freeride •
Days You Ride A Year: 100
Best ankle strap ever made. Hard to believe, as it's "just a piece of plastic without cushioning", but true! "Crank 'em down and still don't feel 'em" type straps...
The "hammock" doesn't allow a highback with living hinge forward lean tech, so Burton is back to some sort of standard fwdl adjuster on their Genesis bindings, which, when you ride with a lot of fwdl will create a big gap between the heel cup and the high back. Thanks to the way Burton designed their high back rotation, you can and have to get rid of that gap by simply loosening the high back rotation screws and pulling the high back against the heel cup.
The downside of this is that you will sacrifice the amount of rotation you could get out of those high backs normally! I find this worth mentioning! I ride lots of forward lean! Maxing it out on the Cartels (fwdl 7!). The Genesis only go to "fwdl 6", and then make you deal with this gap and all....
Another thing is that a medium Cartel will easily take 10.5 to 11.0 boots, while with the "Hammock" I wouldn't recommend anything bigger than US 10.0 in the Genesis.
Other than that great comfy binders that are a bit more responsive than one might think looking at the "hammock"! I'll stick with Cartels anyways as they're no nonsense solid bindings.

---
If you can't buy through the links above, you can support the site with: