Hammock Gear WanderLust Kit 2020 Review
Hammock Gear WanderLust Kit 2020 Review by The Good Ride
The WanderLust Kit from Hammock Gear comes with everything you need for hammock camping/backpacking. The entire set up weighs 5.5 lbs and packs down to a pretty compact package. Whether you are a seasoned camper/hiker or just starting, the WanderLust Kit makes it simple to get all the gear you need with one purchase and is easy to set up too.
Ethics Statement: We don't get paid by the manufacturer to write these reviews.  We do make money from the "Where To Buy" links, but this is our best attempt at an honest and objective review from an average hiker's perspective.
How This Review Happened:  We were sent this for and extended demo.

Testers: Steph
What's Included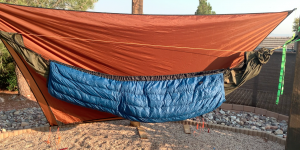 Zippered Bug Net Hammock – Full Retail Price: $129.99
Weight: 19.85 Ounces
Quest Tarp – Full Retail Price: $99.99
Weight: 11.38 Ounces
TopQuilt Economy Burrow 20 Degree- Full Retail Price: $179.95
Weight: 23.85 Ounces
UnderQuilt Economy Incubator 20 Degree- Full Retail Price: $179.95
Weight: 25.02 Ounces
Suspension System For Hammock and Tarp
Ultralight 9′ Daisy Chain – Full Retail Price: $1.50 Per Foot (Price is included in the Hammock price)
Weight: 0.19 oz / Foot
4 Aluminum Stakes – Full Retail Price: $1.00 Per Stake
Weight: 0.50 oz / Stake
Mesh Tarp Sleeve – Full Retail Price: $19.00
Weight: 1.10 Ounces
Silicone Seam Sealer for Tarp – Full Retail Price: $7.50
Full Retail Price for Everything: $ 620.38
WanderLust Kit Price (With Insulation): $499.99
Without Insulation : $229.99
Packability: The entire WanderLust Kit packs down into three small bags. (That's including the insulation.)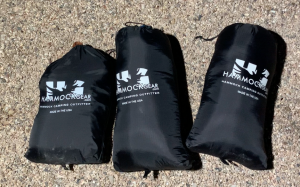 Nothing is too difficult to get into the stuff sacks either. The TopQuilt and the BottomQuilt pack down nicely into two separate stuff sacks, and the hammock and tarp with all the suspension systems go in the third stuff sack.
I love their system for the hammock, it is very easy and quick to pack into the stuff sack it comes with.
The Quest Tarp is quite challenging to get back into its stuff sack, the material tends to hold air so it billows up a lot. But it comes with the Mesh Tarp Sleeve that makes it way easier to pack the Tarp away.
Durability: I feel like Hammock Gear did not skimp on the quality of products for the Wanderlust Kit. This kit comes with 800 fill down insulation for both the UnderQuilt and the TopQuilt. The Quest Tarp seems very well made, and held up to quite a bit of water testing that we put it through. The zippered bug net hammock is very roomy so you can sleep in any position even diagonal. The TopQuilt is customizable so you can choose a sewn up foot box, or a fully zippered TopQuilt. I feel like they didn't cut corners when putting together this kit, and it seems like everything should hold up for a good while too.

Functionality: When I first set up the Wanderlust Kit, I didn't have any instructions to go on. I just figured it out as I went and it was fairly simple and easy to set up even without instructions.
The Zippered Bug Net Hammock practically sets itself up with the ridge-line. It gives you the correct amount of tension every time.

The Quest Tarp has the no knot system that makes set up and especially tear down very simple and easy.
The UnderQuilt is two simple clips that you clip to the hammock suspension system and then you can attach it to clips on the hammock so it stays in place while you sleep.
Once I got everything figured out, set up and tear down both took only a matter of minutes.
Overall: I felt like the value you get with the Wanderlust Kit is really quite awesome. Especially if you are in the market for a full and complete sleep / shelter system. You can choose if you want just the Hammock and Tarp kit ($229.99) or if you want it to include the insulation too ($499.99). I love how everything works together and it seems that Hammock Gear thought of everything for you so you just have to make one simple purchase and you know you aren't forgetting any important components. I felt the quality was there in all the products and I really liked how comfortable and roomy the Zippered Bug Net Hammock was for sleeping.

Hammock Gear WanderLust Kit Images
Hammock Gear Company Information
Hammock Gear WanderLust Kit User Reviews
Where To Buy
No obligation, but these links & ads support the site.
If you can't buy through the links above, you can support the site with: