Hammock Gear Quest Tarp 2020 Review
Hammock Gear Quest Tarp 2020 Review by The Good Ride
The Quest Tarp from Hammock Gear is a waterproof, windproof, and tear resistant tarp that could work with a ground set up, or a hammock system.
Ethics Statement: We don't get paid by the manufacturer to write these reviews.  We do make money from the "Where To Buy" links. But this is our best attempt at an honest and objective review from an average hiker's perspective.
How This Review Happened:  We were sent this for and extended demo.

Testers: Steph
Weight: I tried the 11ft tarp which was 11.38 Ounces.

The 12ft tarp weighs 12.64 Ounces.
Dimensions:
Baseline: 73 inches
Ridgeline Length: 132 inches (11 ft) or 144 inches (12 ft)
Width: 114 inches (9.6 ft)
Tie outs: 4 perimeter and 2 ridgeline
Weight: 11.38 ounces (11 ft) or 12.64 ounces (12 ft)
Packability: Packing away the Quest Tarp without the mesh tarp sleeve is quite challenging. The Sil-Poly material is slippery and slides all over the place, and it catches air that you can't pass through the fabric. It is possible but it took me quite a while to get the whole tarp in the stuff sack. I preferred packing it with the tarp inside the mesh sleeve, which made it much easier. 

Durability: The Quest Tarp is made out of Sil-Poly. Which is a polyester fabric impregnated with silicone. (Now I know why it was so difficult to pack away) It is a rip-stop and waterproof fabric that feels really nice, and seems very durable.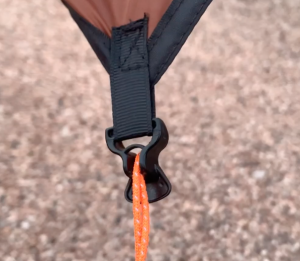 Functionality: The no knot system with titanium clips are very easy to use and easy to remove as well. The tarp tensions out nicely with the 4 perimeter tie outs too.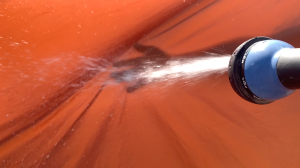 I tested this with a hose since there was no rain to be seen. And ran a normal shower spray over the tarp for quite a while. There were no spots where the water passed through. Then I put the hose on a jet spray and sprayed it directly at the tarp, and still no water passing to the other side. Next, I put pressure on the inside of the tarp while the jet sprayed at the same time. This took about 3 minutes before the inside started to show signs of moisture. I would feel confident using this tarp in a storm. And it seemed to hold up well in wind too.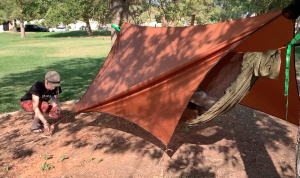 Overall: I like the quality of the Quest Tarp, and love the no knot system of the ridge line and the 4 stake tie outs. The Quest Tarp was very waterproof, is light-weight, and packs down to a small size. Using this tarp with a hammock creates a great shelter from any type of weather you might encounter. It is a little challenging to pack away without the mesh tarp sleeve, but it is doable.

The Quest Tarp is also featured in the Wanderlust Kit from Hammock Gear and works great with their Zippered Bug Net Hammock too.
Hammock Gear Quest Tarp Images
Hammock Gear Company Information
Hammock Gear Quest Tarp User Reviews
If you can't buy through the links above, you can support the site with: