Hammock Gear Economy Incubator Under Quilt 2020 Review
Hammock Gear Economy Incubator Under Quilt 2020 Review by The Good Ride
This Hammock Gear Incubator Economy Under Quilt is an 800 fill down quilt that could be a great addition to any hammock sleep system. The 20 degree version weighs 25.02 oz and packs down nicely into an 8.5 liter stuff sack.
Ethics Statement: We don't get paid by the manufacturer to write these reviews.  We do make money from the "Where To Buy" links. But this is our best attempt at an honest and objective review from an average hiker's perspective.
How This Review Happened:  We were sent this for and extended demo.

Testers: Steph
Weight: 40 Degree – 18.86 oz / 30 Degree – 21.59 oz / 20 Degree – 25.02 oz / 10 Degree – 27.38 oz / 0 Degree – 30.14 oz

Packability:  The 20 degree Under Quilt I tried easily fit into a 8.5 Liter stuff sack. The stuff sack could also be compressed further to save on space if needed.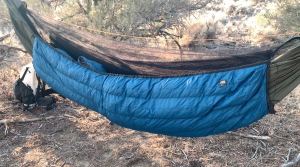 Durability: The Incubator Under Quilt is filled with ethically sourced, 800 fill power, DWR treated duck down. So if you get stuck in some weather or your pack gets wet, the down will keep its insulation integrity better than down that is not treated with DWR.

The fabric for the Under Quilt is 20 denier nylon taffeta fabric (which is a lightweight and breathable nylon fabric with a soft smooth feel). It has weather resistant and tear resistant properties. The liner is also treated with DWR to help prevent the down insulation from getting wet.
The construction is fairly simple, you get the under quilt, and some bungee lines, and two carabiners. There isn't much that could go wrong as far as breaking. The fabric is tear resistant as well so you get added benefit from that too.
Functionality: The Economy Incubator Under Quilt is very simple to attach to your hammock system. There is a specific clip to attach to the head end of the hammock and one for the foot end. The under quilt comes with a contour design so the leg area is close to you increasing warmth. The 20 degree Under Quilt packs down easily into a 8.5 liter stuff sack, and fluffs up nicely after a little bit after unpacking.

I love that you can customize almost every feature to this quilt. You can choose the inner and outer color. Along with the insulation rating, if you want it over stuffed or not, and the length. It works great paired with their Economy Top Quilt as well.
The clips on the Hammock Gear Hammock help to keep it in place, and there are also D rings that can help attach it further so it doesn't move around while you sleep.
It also works great mixed with the Wanderlust Kit from Hammock Gear, which comes with everything you need for a successful camping trip.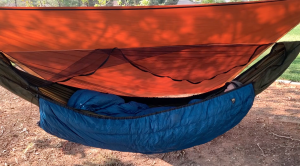 Overall: The Economy Incubator Under Quilt works great as an added insulation to any hammock set up. I feel like it is a great price for the quality and temp rating of the insulation you are getting. It makes a huge difference when using an under quilt with a hammock sleep system.

Hammock Gear Economy Incubator Under Quilt Images
Hammock Gear Company Information
Hammock Gear Economy Incubator Under Quilt User Reviews
Where To Buy
No obligation, but these links & ads support the site.
If you can't buy through the links above, you can support the site with: