Hammock Gear Zippered Bug Net Hammock 2020 Review
Hammock Gear Zippered Bug Net Hammock 2020 Review by The Good Ride
The Zippered Bug Net Hammock from Hammock Gear is a lightweight shelter/sleeping option for camping and backpacking. It comes with a removable bug net, super easy set up, and a stuff sack. This hammock is also included in the Wanderlust Kit from Hammock Gear.
Ethics Statement: We don't get paid by the manufacturer to write these reviews.  We do make money from the "Where To Buy" links. But this is our best attempt at an honest and objective review from an average hiker's perspective.
How This Review Happened:  We were sent this for and extended demo.

Testers: Steph
Weight
Hammock Weight (without suspension): 17.75 oz
Hammock Weight (with suspension): 19.85 oz
Dimensions
Width – 58 inches
Length – 11 ft (132 inches)
Packability: The Zippered Bug Net Hammock is very easy to pack up. It comes with an open ended tube sack that hangs on the guy line. You can easily tuck the hammock into the bag without having it drag on the ground. After it is in the stuff sack, you can compress it down even more by using a compression sack if needed.

Durability: The hammock body is made out of Nylon Single Layer (40 denier) fabric, and the weight limit is 350 lbs. The Nylon comes with a hexagonal ripstop pattern so you get minimal stretch and good support. They also feature quadruple stitching on both ends for the suspension channel.

Functionality: I love how easy it is to set up. You don't have to mess with getting the perfect tension with this hammock. Because of the structural ridge-line that is permanently installed you get the perfect tension every time. Using it with the tree straps is very easy, and you don't have to mess with any extra ropes or knots.

The feel of the Nylon fabric is really soft and comfortable to sleep in. The fully removable bug net allows you to sleep in buggy situations without getting bitten. But it is easy to zip off and store in the gear loft hidden at one end of the hammock.
The Zippered Bug Net Hammock comes with D rings on the inside and outside. You can attach a top quilt to the inside to keep it from sliding around. You can attach a bottom quilt to outer hooks and D rings around the outside to keep it in place. Another option is to use the outer D rings for tying the hammock body out for more stability.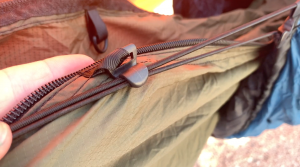 I especially liked how roomy the hammock was. You can easily stretch out in any direction even diagonally for added comfort while sleeping.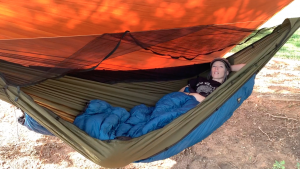 Overall: The Hammock Gear Zippered Bug Net Hammock is simple enough for a beginner to use, and functional enough for seasoned hammock campers too. It is a great alternative to tent camping. The bug net is very useful and takes up almost no space when not in use. The price is reasonable, and it is made to work easily with Hammock Gear's sleep insulation options too like the Economy Top Quilt or Under Quilt. 

Hammock Gear Zippered Bug Net Hammock Images
Hammock Gear Company Information
Hammock Gear Zippered Bug Net Hammock User Reviews
Where To Buy
No obligation, but these links & ads support the site.
If you can't buy through the links above, you can support the site with: