Weston Japow 2021-2023 Snowboard Review
| | |
| --- | --- |
| Riding Style | Snowsurf |
| Riding Level | Advanced - Expert |
| Fits Boot size (US) | 8-10, 10-12 |
| Manufactured in | China |
| Shape | Tapered Directional |
| Camber Profile | Directional Camber |
| Stance | Setback over 20mm |
| Approx. Weight | Feels Normal |
| Split | Comes in split |
| | |
| --- | --- |
| On Snow Feel | |
| Turn Initiation | |
| Skidded Turns | |
Where To Buy
No obligation, but these links & ads support the site.
Weston Japow 2023 - 2021 Review by The Good Ride
Update 2023: The 2023 Weston Japow is the same ride as the 2021 we tested, loved and still own. So this review still stands. 
Turn Ons/Swipe Right: Amazing float in pow and carves groomers super hard.
Turn Offs/Swipe Left: Not much to mention here
Summary
The Weston Japow is not a trendy short/wide but it is truly is a pleasure to ride pow and carve groomers with. Don't just get this for powder.
Ethics Statement: We don't get paid by the manufacturer to write these reviews and this is our unfiltered opinion. We do make money from the "Where To Buy" links, but this is our best attempt at an honest and objective review from an average riders' perspective.
Weston Japow 2021-2023 Snowboard Review- How it rides and who it is for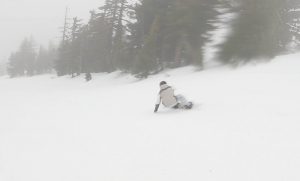 How This Review Happened:
We borrowed this for an extended demo and are hoping to never send it back.
Size: 159
Days: 15+
Conditions: 1-1.5 feet of wet powder thanks to the Drift Boards during the covid shut down. Some really wet late spring powder and groomers after Mt. Bachelor re-opened. Then some firm to hard groomers and some foggy but really perfect groomers the following season when things opened back up.
Riders: James (Size 9, 5'10" 185-190lbs), Peter (Size 8, 5'11" 185lbs)
Boots: Adidas Tactical ADV, Burton Kendo, Burton Ion
Insoles: Sandsole Custom Insoles, F.I.T. Gamechangers, F.I.T. Gameghangers LP
Bindings: Union Atlas
Similar Boards (but not the same): Gentemstick Mantaray 156, Korua Dart, Korua Pencil, Korua Café Racer, Lib Tech Orca, Burton Killroy Pow Camber,
Set-Up: 21", 21.5" Wide. 21 front -3 back and 24 front +3 Back. Close to Reference and Set as far forward as we could go
Approximate Weight:
The Weston Japow felt pretty normal. Not heavy or light but just really well built and reliable.
(We don't put in the exact weight because with wood cores there is no consistency in a boards weight)
Sizing
Here are some ideal US boot sizes for the Weston Japow boards. You can of course go bigger or smaller but these work best for not turning the board slower than it should be and not having the dreaded Toe & Heel Drag.
154: 8-9
159: 9-10
164: 10-11
169: 11-12
These boards seem like they can handle a pretty heavy rider too without taxing the board or changing its ride personality too much.
Shape/Camber/On Snow Feel/Ability Level

The Weston Japow has a good bit of taper at 2.5cm but its not as much as many Korua, Gentemstick and Moss boards. In comparison to the Korua Dart on the same day, I needed to put more front foot weight on the Dart where the Japow liked more back foot weight. The Camber underfoot is stable to semi-locked in and it is more than most hybrid camber boards but less catchy than most full camber rides. It can skid a turn well enough if you get off your game.
Flex/Pop/Buttering
There is a great personality underfoot with the Weston Japow that isn't too ultra poppy or ultra damp. Its a perfect balance between the two and it has a really solid feel construction wise. Pretty easy for its flex to butter too.
Speed
The base glide on the Weston Japow is up there at the top and it keeps its speed for a long time. There is also a dampness to it that really helps the board keep its composure when doing really high speed down the fall line s-turns. It isn't quite a specialist for those that really like to point it but it is way better than you would think for a design like this.
Uneven Terrain
The Weston Japow is one of those boards that can ride all day without getting cranky. It handles micro bumpy hard groomers just as well as it handles tracked up wet bumpy snow. I think this would be just fine for riding through a rather tall bump line too.
Edge Hold
I got this out on some pretty firm to hard groomers and the Weston Japow held an edge really well. It was almost there with boards that have a disrupted sidecut like the Jones Storm Wolf. Not quite there but way better than I though it would be for no major disruption in the side cut.
Turn Initiation
Medium/Fast to Fast but not hooky or twitchy. The Weston Japow can slalom through trees or get you through tight spots really well.
Turning Experience/Carving
So you know the Weston Japow can float but I really didn't expect this kind of turning experience. I thought it might be fun but this just as good at carving groomers as it is at riding powder. It was right there with the Korua Dart, mostly camber Jones Storm Wolf and close to the full camber Season Eqt Forma. They all had their own stand out personalities but I just loved how this could do more down the line fast driving s-turns as well as hard across the groomer carves. There was such a driving spring out of the turn that was more lively and powerful than the camber profile would lead you to believe. If you surf it was like a cross between a fish and a step up. It doesn't need a particular stance angle or width to shine. It rode just as well slightly duck as it did slightly positive on the back foot.
Powder
The Weston Japow has such easy float in deep pow that we set it at reference in 1′ to 1.5′ of wet thick pow. It wasn't even trying. It turned quickly and felt slashy/super fun but still had that drive that more normal sized freeride boards have. We loved this in comparison to many of the shorter/wider rides out there when it came to keeping speed. The shorter/wider rides are super fun but one of there shortcomings is they can scrub all your speed/momentum if you have to make a hard right or left.
Conclusion
So we knew this would float in pow and be fun but we had no idea how satisfying/fun it would be to turn in all conditions. Especially groomers! It satisfied equally well my turny nature as well as Peters pointy nature and not many boards can do both. This is an excellent choice for someone who is looking to add a second board to their quiver. We just don't want to give this back.
Weston Japow User Reviews
Weston Japow 2021-2023 Snowboard Review
SKU
UPC
Model
Awesome addition to the quiver!
Mar 15, 2022
by
flyingbrix
Ability Level: Expert •
Riding Style: Directional freeride •
Days You Ride A Year: 50 •
Height, Weight And Boot Size (for Boards, Boots & Bindings): Union Atlas ( +27/+12)
Wanted to add something in the snowsurf category to my quiver, and made the plunge for the Japow after watching The Good Ride review.
- Obviously crushes low angle powder and trees (think Brighton resort)
- Still a ton of fun on groomers with all the camber, definitely in the sharper/wider turn (less bomber/fall line) category
- Best board I've ridden for moguls: the short and light tail and fairly short turning radius really helps bring the tail around.

High: Surprisingly good/forgiving for all-day riding, particularly with my grumpy back knee.
Low: Struggles with steep technical lines and long heelside traverses (will want to increase your forward lean at least on the front binding).

Comparisons: Similar to my Cardiff Powgoda split but the swallowtail would be a liability in the backcountry and the Japow is a bit more fun to carve. Jones Hovercraft is better for wide open (above treeline) terrain but I'd take the Japow for lower angle surfier powder and trees. Jones Flagship is better for steeper terrain and faster fall-line bombing, an almost opposite freeride board and makes a nice complement. Had a couple lap direct comparison to the Lib Tech Orca and felt very different than the Orca to me: the Orca's magnatraction would be great on East Coast hardpack and is probably a better single board to own but I had a lot more fun on moguls and groomers on the Japow.

Bottom Line: Would make a fabulous addition to any quiver and might even get more playing time than your usual daily driver.

---
If you can't buy through the links above, you can support the site with: