YES Typo 2016-2024 Snowboard Review
| | |
| --- | --- |
| Riding Style | All Mountain |
| Riding Level | Beginner - Expert |
| Fits Boot size (US) | < 8, 8-10, 10-12 |
| Manufactured in | Dubai by SWS |
| Shape | Directional Twin |
| Camber Profile | Hybrid Camber |
| Stance | Setback -5mm |
| Approx. Weight | Feels Normal |
| Split | No |
| | |
| --- | --- |
| On Snow Feel | |
| Turn Initiation | |
| Skidded Turns | |
Where To Buy
80% of outdoor sports products are not listed or sold online.
Our team has relationships with hundreds of local snowboarding and outdoor sports shops.
We'll call the shops and email you a list of stores along with pricing and availability.
---
Not sure what to buy?
Get custom advice from Good Ride editors James and Steph.

Get Advice
YES Typo 2024 - 2016 Review by The Good Ride
YES Typo Snowboard Video and Written Review
Here is the YES Typo Snowboard Review from an average rider with extensive and exceptional board knowledge.
Turn Ons/Swipe Right: Stable, Forgiving and Excellent Edge Hold
Turn Offs/Swipe Left: Not much set back on board vs. most all mountain boards.
Summary
The YES Typo has exceptional grip and a stable feel underfoot in all conditions making an excellent hard snow ride. It's a nice step up from the Basic but a good step below the Basic Uninc.
I reviewed a 2023 model but it did not change for 2024. Neither did the boards I compared it against in the video. 
Ethics Statement: We don't get paid by the manufacturer to write these reviews and this is our unfiltered opinion. We do make money from the "Where To Buy" links, but this is our best attempt at an honest and objective review from an average riders' perspective.
A Breakdown Of How It Rides And Who Its For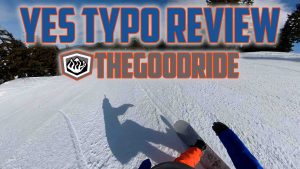 How This YES Typo Review Happened:
Borrowed this for an extended demo and sent it back.
Size: 158
Days: 2 this time but many in the past. I even owned one back in the day.
Conditions: This time around groomers but in the past everything from rock hard snow to powder.
Riders: James (Size 9, 5'10" 185-190lbs)
Boots: Burton Kendo
Insoles: F.I.T. Gamechangers
Bindings: Union Atlas
Jacket: Burton Gore-Tex 3L Treeline Jacket
Pant: Burton AK Gore-Tex Pro 3L Hover Pant
Helmet: Smith Maze
Goggle: Smith 4D Mag
Gloves: Burton AK Clutch Mitt, Burton AK Tech Leather Glove, Drop Tahoma Mitt,
Similar Boards (but not the same): Korua Otto, Lib Tech Terrain Wrecker, Capita Mercury,YES NSB, Endeavor Pioneer, Jones Mountain Twin, Endeavor Ranger, K2 Manifest, Jones Frontier, Ride Shadowban, Ride Wild Life, Borealis Tundra, Tahoe Labs Directional Twin, Yes Basic Uninc, Cardiff Lynx,
James's Set Up: 21.5" Wide. Sance Angles +15/-15 and close to Reference on groomers. In the past ri rode it +18/-9 and Set all the way back in powder.
Approximate Weight
The YES Typo is pretty normal when it comes to weight.
(We don't put in the exact weight because with wood cores there is no consistency in a boards weight)
Sizing

I wasn't clear enough in the video review but the YES Typo 158 is the right size for my specs. Yes I like the turn initiation and stance width of the 155 better but it doesn't feel as good for my weight and the 158 is pretty good for my boot size too. This doesn't run that wide so a size 9 can easily turn the 158.
Here are some ideal US boot sizes for the YES Typo's. You can of course go bigger or smaller depending on your riding style and boot's footprint, but these work best for not turning the board slower than it should be and not having the dreaded Toe & Heel Drag.
149: 7-8
152: 7.5-8
155: 8.5-9
158: 9-9.5
161: 9.5-10
156w: 10-11
159w: 10.5-11
163w: 11-11.5
For weight I would stay close to the YES's recommended weight ranges. If it comes down to boot size or weight, I would make sure it fits your boot first and then your weight a close second.
Shape/Camber/On Snow Feel/Ability Level
The YES Typo has an almost true twin shape. The nose is just a touch longer than the tail and there is a little set back on sidecut. You can weight your turns any way you please and it will not wash out.
There is a pretty decent amount of camber but not too little rocker to make the YES Typo catchy. It tracks well one footing and flat basing in all conditions. Yes the Underbite indentions can grab a bit and lead to catching an edge but intermediate riders can easily handle it. Quickly progressing beginners can handle it too.
Flex Personality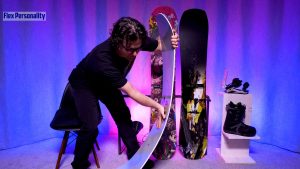 There is a pretty middle ground flex happening here with the YES Typo. YES can overexaggerate their flex rating and their boards often are a little softer than their rating. The Typo is no exception here and it's more like a 4.5-5. It butters pretty easy.
It pops well but not really well on an ollie and I definitely prefer the Basic Uninc and Standard Uninc better here. It's about the same or maybe a touch better than the Basic and better than the Standard.
Uneven Terrain
The YES Typo has that rubbery flex that is pretty much ubiquitous throughout the YES line. It flexes easy but isn't cranky in hard uneven snow. It can buck and bounce a little in soft uneven snow but overall it is a very good all day ride.
Edge Hold

There is exceptional grip with the YES Typo but what makes it even better is the stable feel in hard snow as well. This is a very recommendable ride for those that ride on the east coast. Yeah the indentions at the bindings grab a bit in softer snow but most won't mind. Especially if full Magnetraction doesn't bother you from Gnu or Lib-Tech.
Speed/Base Glide
The YES Typo is no bomber but it can handle a moderate straight line without too much chatter/clown shoe effect.
The base glide is good but not exceptional.
Turning Experience/Carving
The YES Typo turns very fast edge to edge thanks to that old school narrow design. I love how quickly it turns in tight spots without feeling twitchy.
When you get this on edge there is good but not great spring out of the turn and there is a very balanced turning experience. The Basic Uninc was a good bit better and the Standard Uninc even better than the Basic Uninc.
Powder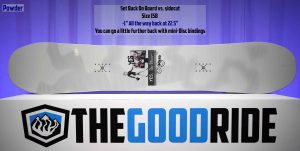 There is very little set back on board in powder. The YES Typo only has 1" of set back on board set all the way back at a 22.5" stance width. You can get 2.25" with the Basic Uninc and Standard Uninc. I didn't get the 2023 (same as the 2024) in pow but I did with past models. It's good for a centered twin but not ideal for those that like a good bit of directional float.
Switch/Pipe/Jumps
The YES Typo is not quite as good as the YES Basic but it's pretty close riding switch. This ia a great pipe board too. I love easy boards to turn with good grip in the pipe. Pretty good for jumps. It doesn't have that really easy straight line but it's pretty good. Jibbing is pretty good too. This is a very well rounded park ride.
Conclusion
So overall the Typo still is a great board but at $499 it isn't the best low cost option as it was before at $449. I say spend the extra $80 and get the Basic Uninc. You get a better base, better core and a much better set back on board. I would only go with the Typo if the Basic Uninc doesn't come in your size but also consider the Standard Uninc and Standard as well.
If this review helped, we'd appreciate if you:
YES Typo Past Reviews
Yes Typo 2019-2020 Snowboard Review
The Yes Typo has a lot of similarities to the Yes Basic but has a little bit stiffer/more mountain friendly flex and a tiny 5mm of set back on sidecut. So if you are looking for a good mountain freestyle to all-mountain ride with a little more emphasis on the mountain aspect this could work well for you. Especially if you see a lot of harder snow.
Ethics Statement
We don't get paid by the manufacturer to write these reviews.  We do make money from the "Where To Buy" links, but this is our best attempt at an honest and objective review from an average riders' perspective.
The 2019-2020 Yes Typo has a slight change to the Camrock profile going from 4/4/4 (rocker/camber/rocker) to 2/4/2. What does that mean?  It means they mellowed out the rocker a bit but kept the camber the same. On comparing 2018 to 2019 & 2020 I didn't really notice much of a difference and the ride is still very similar to past models. The 2019 and 2020 models are the same but the written portion of the review has been updated to reflect what's happening in 2020. If the old vid contradicts what was written, go with the text.
How This Review Happened: It was borrowed this for an extended demo and then returned it. We also owned the older model.
Size: 158
Days:  4+
Conditions: We have had the Jackpot in all conditions over the years but the 2019 model in mainly good mid-winter PNW snow with a little powder.
Riders: James (Size 9, 5'10" 185-195lbs)
Boots: Adidas Tactical ADV,
Insoles: Footprint Insole Technology Gameghangers Low Profile
Bindings: Union Atlas, Union Strata, Union Falcor, Union Superpro,
Similar Boards (but not the same) That We Compare To This: Lib Tech TRS HP,  Never Summer Proto Type Two, Nitro Fury,  Yes Greats, Rossignol Jibsaw, Lib Tech Box Knife, YES Not So Basic, YES Basic.
Set-Up: 22" to 22.5″ Wide. 15 front -15 back. Centered or on Reference stance and set all the way back in powder.
Approximate Weight
Feels pretty normal.
Sizing
The YES Typo comes in a lot of sizes but it can work with anything from a size 8 to a 12. For me, the 155 felt great for my size 9's but the 158 feels a little better for my weight. Both are a good fit and handle size 9's no problem The 158 is better for speed and powder but the 155 turns faster and is better in the park.
Flex/Buttering
YES boards aren't as stiff as they say but their flex rating is consistent throughout the line. The YES Typo feels like it's a little bump up flex wise than the YES Basic. You can still butter and play around super easy and the tip/tail butter much easier on snow than the flex would make you believe in the shop. It has this kind of flex that feels pretty unique. It feels a bit rubbery like it can keep bending more than your average board but it still has some pop to it.
On Snow Feel/Ability Level/Skidded Turns
The YES Typo one foots and flat-bases well but also doesn't feel super catchy. Like the Basic,the Underbite indentions catch a touch more but it's still much more forgiving than camber. You can skid turns really easy if you are off your game. It works well for any ability level while being forgiving for beginners/intermediates but not being too boring for advanced to expert riders.
Edge Hold
There is really strong edge hold and the Underbite tech does a great job and gripping into hard to icy snow. We really recommend it for those that want more grip or can have really hard conditions often in their winters.
Turn Initiation
Really quick edge to edge. The Typo, Not So Basic and Basic all move quickly edge to edge and all do well when riding in tight spots.
Turning Experience/Carving
The Yes Typo's more mellow camber, offers up a pretty middle ground turning experience. It isn't boring at all but not super dynamic or carvy either. That's the compromise you make when you want a more forgiving ride though. The Typo will hold an edge on a more committed turn in harder snow than many other boards. So while it might not be a super carver it carves better when it's harder.
Powder
The YES Typo doesn't have a great set back on board.You can only get 1″ back at 22.5″. Also having 5×2 inserts per binding instead of 6×2 or 5×2 +1 set back keeps it pretty centered. So there isn't much directional float. Still, It's not bad for a pretty centered ride. If you like to ride switch in powder this can work.
Speed
A little more mountain speed than the YES Basic and it feels a little damper. It's not bad but it's not there with the YES Not So Basic. There is a little better base glide with the Typo over the Basic. You get more glide but it's not like the Globe.
Uneven Terrain
I love the YES Typo when I have to weave in and out of moguls. Also, the rubbery feel underfoot helps absorb that micro bumpy hard uneven snow that can really chatter up into your joints hurt and riding not fun. It powers over chunder well enough too but it isn't a super damp chunder buster.
Switch
So with a 5mm set back on sidecut, you aren't too far off from center on this directional twin. If you slide your bindings 5mm forward when on reference, you are centered. Most bindings, except for Burton Re:Flex, will allow you  to center yourself on this board and ride it just like a true twin. However, 5mm back doesn't feel much different than being centered so it's a good board for riding switch.
Jumps
The pop is middle ground but you can generate your own air pretty well. It's a pretty good board for those that want to go medium to small. If you want more pop and can swing the higher price, go with the Yes Globe
Jibbing
Pretty jib friendly and just a little behind the Basic in terms of being bucky.
Pipe
Such a great pipe board for average riders like myself. It's got a grip for those hard to icy pipes, drives well enough wall to wall and offers up a quick turning forgiving feel underfoot. I could hike the pipe all day with this.
So all in all, the Yes Typo offers up a great low-cost mountain freestyle ride for those that see hard snow and has an even compromise fun wise across the mountain.
2018 Yes Typo Review
The 2018 Yes Typo is pretty much the same ride as the 2016-2017 models except the reference stance was narrowed 1″ per board and the board I have feels a bit stiffer like it's on the medium side compared to med/soft.
2016-2018 Yes Typo Snowboard Review
Size: 155 and 158
Days:  5+
Conditions:  Hard PNW snow, good spring conditions in Mammoth and more conditions.
Riders: James
Boots: Adidas Tactical ADV, Burton Fiend LTD
Bindings: Union Atlas, Union Superpro with team ankle straps (similar to the contact but with taller straps), Burton Genesis, Burton Cartel, Salomon Defender,
Set Up: Centered and set back. 22.5″, 22.75″ and 23″ wide. 15 front -15 back and 15 front -9 back.
Approximate Weight: Felt like all YES boards did on the light side of normal.
On Snow Feel: Very stable like camber boards but not catchy like camber.  Very easy to one foot off a chair or make it down a long flat run like a cat track. The board is soft and forgiving while still being very lively underfoot. Sometimes the underbite tech can feel a touch hookey but overall it's a great gripping ride with a very consistent feel across the spectrum of conditions you see on the mountain which is why we like this board so much.
Powder: The rocker in the nose combined with a minor set back on sidecut as well as a little more set back on board makes for better directional float in powder than the Yes Basic and almost as much float as 2015/2016 Yes Optimistic. When I set the 158 all the way back on board with traditional bindings on a 22.5″ stance width I can get 2.5″ back on board and with mini discs more like 3″ which isn't bad but behind most all-mountain boards. I wouldn't mind another set of inserts for each binding because it only has 5×2 per binding.  With 6×2 there would be a good chance you could set it back even further.  Or even better would be 1×2 or 2×2 per binding set back kind of like the slam backs on the Standard but minidisc friendly would really make the Yes Typo float well.  However, it has a pretty good directional float for what it is now.
Turn Initiation and Carving: Really quick and easy to turn when turning correct and the board is pretty fun to make short quick turns.  As the turns get wider they are still very fun and carving is pretty good too.  It holds in a turn and has spring out of a turn.  However, it's softer flex doesn't make it a day in day out carver but it can carve.
Speed: The 2016 and 2017 Yes Typo doesn't have that bomber build and it can be chattery when you pick up speed.  It's fine for mellow mountain riding but I'd like to see it a little better here.  The 2018 Yes Typo I have has a stiffer flex so maybe on average the 18's are better when it comes to being damper at speed.  The base is nothing special to write about but it keeps it's speed rather well on a long flat cat track or traverse.
Uneven Terrain: Really easy to ride from first to the last chair on a crowded Saturday.  It deals with messy resort snow really well. Even though the 18 seems a bit stiffer it still performs about the same.
Edge Hold: Just a hair shy of being as grippy as a Magnetraction board with the full Magnetraction but isn't as grabby in softer snow. This is a great board for those that see icy conditions often.
Flex: The 2016 and 2017 Yes Typo felt really soft and buttery while still being poppy. I'd like to see the flex in the tip/tail stiffen up a little bit because it's almost too easy to butter.  I'd say 3.5 out of 5 on Yes' flex rating is very generous.  I would say it's a 2 out of 5. The 2018 Yes Typo I own feels a little stiffer and it's more like a true medium flex like a 2.75 or 3.
Switch: Very easy to ride switch when centered. It is a directional twin but it's not super directional.
Jibbing: The flex between the feet isn't super stiff either so it can lock into a more technical box or rail pretty easy. Not a bad jibber for an all mountain board.
Pipe: The edge hold makes this a better pipe board than you would think and it's a great board to learn how to ride the pipe with.
Jumps: Nice pop and it ollies very well.  It's also a great board for approaching kickers and it's forgiving when landing too.
So all in all the Yes Typo offers a very consistent ride underfoot in all conditions and provides a great ride for those that want an all mountain board everywhere, it excels almost everywhere in the park.  If it's between the 16 or 17 on sale and the 18 I would go 18 because the stiffer flex is a little better for mountain riding.
2016 Yes Typo Review
YES Typo Images

We try to get as many images of the YES Typo, but forgive us if they're not all there.
2024
2023
2020
2019
2018
2017
2016
2011
YES Typo User Reviews
YES Typo 2016-2024 Snowboard Review
SKU
UPC
Model
My first board
Sep 29, 2017
by
Tony lee
Ability Level: Intermediate •
Riding Style: Free ride •
Days You Ride A Year: 20 •
Height, Weight And Boot Size (for Boards, Boots & Bindings): 184cm 80kg us10
The Typo is my first board, my riding has improved 200% since owning this board. It's soo fun and easy to ride. I would recommend it to anyone considering buying their first board.

---
Great board
Mar 23, 2017
by
Jon
Ability Level: Advanced intermediate •
Riding Style: Aggressive freestyle •
Days You Ride A Year: 15 •
Height, Weight And Boot Size (for Boards, Boots & Bindings): 6 ft 150 lbs 11 boot
Love this board. I started snowboarding 25+ years ago. In the past 8 years I have been playing around on many different boards. After riding regular camber for years I first got a gnu street and gnu park pickle. I progressed much quicker and gained confidence in presses and spins but it felt unstable at speed. Got a k2 happy hour. Adequate but super boring. Next a gnu metal guru. A great well rounded board but seriously lacking in pop and can wash out on a hard carve at speed. Just picked up the yes typo. Loved it! In my humble opinion this board has the perfect camber and is the best do anything board I have ridden. Unbelievably fun! I am not a heavy guy so keep that in mind. Perfect flex for me. I dig it.

---
Great time on this board
Dec 22, 2016
by
Daniel Hollingsworth
Ability Level: Intermediate to Advanced •
Riding Style: Freeride - almost exclusively •
Days You Ride A Year: 10 •
Height, Weight And Boot Size (for Boards, Boots & Bindings): 5'11'', 185lbs, boot = 9.5-10, board size = 155, bindings = Burton Genesis
This is a fun little board. Well, it's little because I sized down but also it has a softer flex. As a freerider I typically ride bigger stiffer boards but I realized that something was missing. Especially riding in the east (Ontario), my out-west-board just wasn't any fun because the runs are so short and flat here. So I bought the 2016 Yes Typo in a 155 and man is it ever fun. Nice quick turns, flexible for presses and butters. I felt the underbite catch a bit but it could have been I was just rusty. I'd forgotten how fun it was to rip tight turns and play around on the way down. I'd definitely recommend this, especially since the price is right.

---
If you can't buy through the links above, you can support the site with: