YES PYL Uninc 2023 Snowboard Review
| | |
| --- | --- |
| Riding Style | Freeride |
| Riding Level | Intermediate - Expert |
| Fits Boot size (US) | 8-10, 10-12 |
| Manufactured in | Dubai by SWS |
| Shape | Tapered Directional |
| Camber Profile | Hybrid Camber |
| Stance | Centered |
| Approx. Weight | Feels Normal |
| Split | No |
| | |
| --- | --- |
| On Snow Feel | |
| Turn Initiation | |
| Skidded Turns | |
Where To Buy
No obligation, but these links & ads support the site.
YES PYL Uninc 2023 Review by The Good Ride
YES PYL Uninc Snowboard Video and Written Review
Welcom to the wide world of snowboard gear polyamory and the YES PYL Uninc Snowboard Review. 
Turn Ons/Swipe Right: Poppy, semi-light, more set back & Taper than the PYL
Turn Offs/Swipe Left: Pretty wide stance width in the lower sizes.
Summary
The PYL Uninc is a wider, more tapered, more set back, more poppy, dynamic ride in comparison to the PYL. It is a very appropriated take on the PYL for this more tapered directional era in snowboarding.
Ethics Statement: We don't get paid by the manufacturer to write these reviews and this is our unfiltered opinion. We do make money from the "Where To Buy" links, but this is our best attempt at an honest and objective review from an average riders' perspective.
YES PYL Uninc Snowboard Review- How it rides and who it is for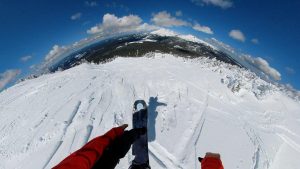 How This Review Happened:
Liked it so much, asked to keep it (only do this with favorites).
Size: 155, 159 & I will be riding the 157 this coming season.
Days: 5+
Conditions: Pretty clean pristine mid-winter like groomers, hard but still edgeable groomers, 10 inches, 1.5' and 2'+ of powder. Mostly good PNW powder. Not that light but far from heavy.
Riders: James (Size 9, 5'10" 185-190lbs)
Boots: Burton Kendo
Insoles: F.I.T. Gamechangers
Bindings: Union Atlas
Jacket: Burton AK Gore-Tex Pro 3L Tusk Jacket, Volcom Guide Jacket, Burton Gore-Tex 3L Treeline Jacket, Jones Peak Bagger Jacket.
Pant: Burton AK Gore-Tex Pro 3L Hover Pant, Burton AK Gore-Tex 2L Swash Pant, Burton Gore-Tex Ballast Pant
Helmet: Smith Maze
Goggle: Smith 4D Mag
Gloves: Burton AK Clutch Mitt, Burton AK Tech Leather Glove, CG Habitats Work Glove, Drop Tahoma Mitt
Similar Boards (but not the same): Yes Pick Your Line,  Burton Flight Attendant, Jones Flagship, Rossignol XV, Lib Tech BRD, Weston Backwoods, Season Nexus, Cardiff Bonsai, Prior Spearhead, Burton Cartographer, Burton Instigator, Never Summer Hammer, Cardiff Powgoda, Jones Mind Expander,
Set-Up: 21.5" Wide. Sance Angles +18/-3. Close to Reference and Set all the way back.
How It Was Tested
I rode this a lot on its own. It was also in same day samplers with the K2 Alchemist, Nidecker Mellow, Nidecker Ultralight, Nidecker Beta, Capita Navigator, Yes Basic Uninc, YES Standard Uninc and of course the regular YES PYL.
Approximate Weight
The PYL Uninc felt pretty light in comparison to similar size/width boards but it also didn't feel totally like an ultra-light board.
(We don't put in the exact weight because with wood cores there is no consistency in a boards weight)
Sizing

The Yes PYL Uninc is good bit wider than the PYL so that threw me off at first. I normally ride the 159 PYL so when I saw the 26cm waist width I thought I needed a 155. That felt too small for my specs listed above. Then I went for the 159. That worked much better, especially in pow, but it rode a bit for me on groomers. I think sizing down a little to a 157 would be just right. I really liked this ride so I got a 157.
Another thing to mention is these boards aren't that much different width wise in comparison to the way most boards are sized. They only get a mm or 2 wider each size you go up where most boards jumps around 3-6mm or so per board. So you don't see a lot of extra width per size but instead you mainly get get a longer width board.
Here are some ideal US boot sizes for these boards. You can of course go bigger or smaller but these work best for not turning the board slower than it should be and not having the dreaded Toe & Heel Drag. There is a good bit of taper so the back foot isn't as wide as the waist and front foot so it isn't truly a mid-wide like some YES boards are.
155: 9-10
157: 9.5-10.5
159: 10-11
161- 10-11
For weight I would stay close to the YES PYL Uninc recommended weight ranges. If it comes down to boot size or weight, I would make sure it fits your boot first and then your weight a close second.
Shape/Camber/On Snow Feel/Ability Level

The YES PYL Uninc has 14mm of taper which is a huge jump from the 159 at 5mm or so of taper. The stance is centered on sidecut but there is a good bit of set back on board. So it has a more centered feel on groomers and a more set back/surfy feel in powder.

The camber profile is pretty much hybrid camber but there is a little more early rise in the nose than in the tail. It makes for a very stable camber like ride underfoot without being anywhere near as catchy.  I found it very easy to skid a turn when I got off my game and I think most intermediate-expert riders will as well.
Flex Personality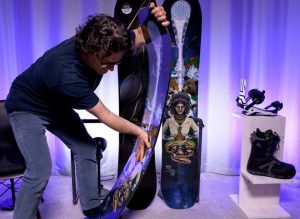 There is a medium stiff flex underfoot, a medium to medium soft flex in the nose and medium to medium stiff flex in the tail. It makes the YES PYL Uninc easy to flex the tip/tail on a butter. There is also a very dynamic flex happening and it has a lot more energy out of an ollie than the standard PYL. There is still some of that flexy/rubbery feel to it but isn't as noticeable as it is with other YES boards with softer flexes. I like this feel underfoot for sure.
Speed
There is upper tier base glide when the YES PYL Uninc well waxed but its not at the top. It doesn't have that effortless glide like some high end all black super slick bases do but I don't feel like I am wanting for more if I keep it well waxed.
Edge Hold

The YES PYL Uninc has the same Tapered Underbite type of sidecut as the regular PYL and Hybrid. It makes for a very disrupted sidecut that grips very well. It felt very competent on hard snow and the only time I would have an issue with grip is when I was in hard and uneven snow. Sometimes the edge got bucked by micro bumpy snow.
Turning Experience/Carving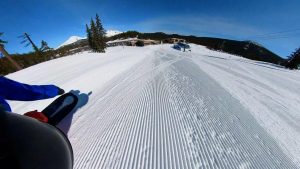 So there is a dynamic flex combined with a decent amount of camber. You throw in a pretty grippy sidecut and you have a pretty hard directional carver. Like the PYL, I felt like you need a good bit of back foot weight to keep the board from washing but that is expected for 14mm of taper. I felt like I could keep it from washing about the same as the PYL which was weird because that has almost 10mm less taper. The turning experience is balanced but on the turny side. Across the groomer and circle carves are very enjoyable but it can handle narrow down the line turns very well. I think it is because right after the nose the sidecut is very shallow and then gets deeper towards the tail of this multi radius sidecut. Whatever it is that's happening here, I like it.
Powder

So not so stoked on the 22.5 reference stance width in the 155, 157 and 159 but the set back on board is about normal for a board like this. That was my one complaint with the PYL. I wish they had set back inserts like the Standard or Basic Uninc, or Standard Uninc. They have really good set back on board for all mountain rides at 2.25" back. A set back of -2.65" for the PYL isn't that much compared to most Freeride boards. With the YES PYL Uninc you can get -3.375" back from center of board with a 22.5" stance witch. That is more like what you would expect from most freeride boards. Then you throw in the wider width and all that extra taper you have a very floaty ride. I had several powder days with the 155 and one with the 159. Unfortunately the deep day was with the 155 but it still did great for very low angle pow riding that we often get at Mt. Bachelor. Steeper angle pow riding it this boards forte but it did very well at low angle pow. Much better than the PYL.
Conclusion
So overall, I'm stoked with the YES PYL Uninc. It has such a lively dynamic flex without feeling too chattery, great float, near excellent edge hold and a really fun turning experience on groomers as well as powder.
If this review helped, we'd appreciate if you:
YES PYL Uninc User Reviews
If you can't buy through the links above, you can support the site with: