YES Dicey 2022-2023 Snowboard Review
| | |
| --- | --- |
| Riding Style | Freestyle |
| Riding Level | Beginner - Expert |
| Fits Boot size (US) | 8-10 |
| Manufactured in | Dubai by SWS |
| Shape | True Twin |
| Camber Profile | Hybrid Camber |
| Stance | Centered |
| Approx. Weight | Feels Normal |
| Split | No |
| | |
| --- | --- |
| On Snow Feel | |
| Turn Initiation | |
| Skidded Turns | |
Where To Buy
No obligation, but these links & ads support the site.
YES Dicey 2023 - 2022 Review by The Good Ride
Update 2023: The YES Dicey hasn't changed in 2023 so this review still stands. 
Turn Ons/Swipe Right: Easy to Butter, Forgiving, Great all around Park Ride.
Turn Offs/Swipe Left: Could use more pop.
Summary
The YES Dicey isn't super poppy but it has a very forgiving balanced park ride that that most riders will really appreciated.
Ethics Statement: We don't get paid by the manufacturer to write these reviews and this is our unfiltered opinion. We do make money from the "Where To Buy" links, but this is our best attempt at an honest and objective review from an average riders' perspective.
YES Dicey Review- How it rides and who it is for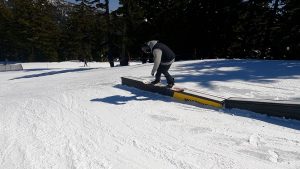 How This Review Happened:
We borrowed this for an extended demo and sent it back.
Size: 154
Days: 3
Conditions: Mainly good early spring conditions
Riders: James (Size 9, 5'10" 185-190lbs), Nick (Size 10, 160lbs, 5'8")
Boots: Burton Kendo
Insoles: F.I.T. Gamechangers
Bindings: Union Atlas, Union Strata, Union Contact Pro/Union Superpro,
Jacket: Burton AK Gore-Tex Pro 3L Tusk Jacket, Volcom TDF Infuse 3L Gore-Tex Jacket, Burton Banshee Gore-Tex Jacket
Pant: Burton AK Gore-Tex Pro 3L Hover Pant, Burton AK Gore-Tex 2L Swash Pant, Burton Gore-Tex Ballast Pant
Helmet: Smith Maze, Smith Vantage
Goggle: Smith IO Mag, Smith 4D Mag
Gloves: Burton AK Tech Leather Glove, Burton AK Tech Glove, CG Habitats Glove,  Drop Cascade Glove, Drop Web Glove,
Similar Boards (but not the same): Yes Jackpot, Never Summer Funslinger, Never Summer Proslinger, Ride TwinPig, Signal Park,
Set-Up: 21.5" Wide. 21 front -6 back. Close to Reference and Set all the way back.  22" Wide. 15 front -15 back.
Approximate Weight:
(We don't put in the exact weight because with wood cores there is no consistency in a boards weight)
Sizing
The YES Dicey fit me really well in a 154. The 156 would have been better for my weight but not my boot size.
Here are some ideal US boot sizes for these boards. You can of course go bigger or smaller but these work best for not turning the board slower than it should be and not having the dreaded Toe & Heel Drag.
152: 8.5-9.5
154 9-10
156: 9.5-10.5
Shape/Camber/On Snow Feel/Ability Level
The YES Dicey has a true twin shape with camber a little past the bindings going to rocker in the nose/tail. It is very easy to skid turns and it is very forgiving but it still tracks really well when one footing or flat basing. It has a very consistent feel underfoot in all conditions.
Flex Personality
There is a really soft rubbery flex to the YES Dicey but that is not a bad thing. That is perfect for the park. The only think I would like to see is a little more pop but hopefully they can keep that rubbery feel as well. It does a great job in all conditions at not passing up chatter into your joints and handles slow speed uneven terrain riding incredibly well. The Jackpot has more pop for sure but it is much less forgiving so it's a tough trade off.
Speed
Decent base but not amazing. The YES Dicey is more about durability and it can handle moderate mountain speed but is better in the park.
Edge Hold
The edge hold of the YES Dicey is a really solid choice for those that ride in harder areas and need more grip than most without it being too grabby in softer snow.
Turn Initiation
So the mid-bite construction makes the YES Dicey turn faster than it should for the extra width over the bindings. It felt medium to medium quick for me.
Turning Experience/Carving
For being more of a park ride, it was fun to take the 154 YES Dicey around the mountain and make some harder turns. It's nothing to rave about but it can handle harder turning radiuses pretty well for a mostly park ride.
Powder
Not bad for a park board. There will be good float for a board you ride at a smaller size but the YES Dicey isn't the first twin I would pick for powder. If you had this and a 20/20 then you are set for twin powder riding.
Switch/Pipe/Jumps
Such a great park ride that performs consistently well just about anywhere. The YES Dicey 154 was a little big for Nick but he still loved it and if he had a 152 it might be his new jump and pipe board that he can also jib with. He really loves the DWD Rat for jibbing, but this could still jib incredibly well. For me, a not very strong park rider, this is the board I want because it's forgiving. If you want to step it up and get a more poppy but technical camber ride go with the Jackpot. If you are a little more jump and pipe focused maybe the Greats would be more fun.
Conclusion
So most will feel more comfortable on the forgiving Dicey but some will want the extra camber/pop of the Jackpot for park riding. Both are really great boards. And if you want a better mountain freestyle ride then the Greats is where you should go.
If you can't buy through the links above, you can support the site with: