Rossignol XV 2014-2022 Snowboard Review
| | |
| --- | --- |
| Riding Style | Freeride |
| Riding Level | Advanced - Expert |
| Fits Boot size (US) | 8-10, 10-12 |
| Manufactured in | Taiwan or China |
| Shape | Tapered Directional |
| Camber Profile | Hybrid Camber |
| Stance | Setback over 20mm |
| Approx. Weight | Feels Normal |
| Split | Comes in split |
| | |
| --- | --- |
| On Snow Feel | |
| Turn Initiation | |
| Skidded Turns | |
Rossignol XV 2022 - 2014 Review by The Good Ride
Turn Ons/Swipe Right: Edge Hold, Great Float in Powder, Fast & Quick Turning for its size.
Turn Offs/Swipe Left: Can grab a bit in soft snow.
Summary
The Rossignol XV is a very recommendable big mountain freeride board for those that see hard snow but also see steep and low angle powder.
Ethics Statement: We don't get paid by the manufacturer to write these reviews and this is our unfiltered opinion. We do make money from the "Where To Buy" links, but this is our best attempt at an honest and objective review from an average riders' perspective.
Rossignol XV Snowboard Review- How it rides and who it is for

How This Review Happened:
Borrowed this for an extended demo and sent it back.
Size: 163
Days: 4
Conditions: Semi-Hard to Hard Snow. Perfect mid-winter groomers.
Riders: James (Size 9, 5'10" 185-190lbs)
Boots: Burton Kendo
Insoles: F.I.T. Gamechangers
Bindings: Union Atlas
Jacket: Burton AK Gore-Tex Pro 3L Tusk Jacket, Volcom TDF Infuse 3L Gore-Tex Jacket, Burton Banshee Gore-Tex Jacket
Pant: Burton AK Gore-Tex Pro 3L Hover Pant, Burton AK Gore-Tex 2L Swash Pant, Burton Gore-Tex Ballast Pant
Helmet: Smith Maze
Goggle: Smith IO Mag
Gloves: Burton AK Clutch Mitt, CG Habitats Work Glove, Drop Web Glove,
Similar Boards (but not the same): Yes Pick Your Line,  Burton Flight Attendant, Jones Flagship, Rossignol XV, Lib Tech BRD, Weston Backwoods, Cardiff Bonsai, Prior Spearhead, Burton Cartographer, Burton Instigator

Set-Up: 21.5" Wide. Sance Angles +18/-3, +18/+3. Close to Reference and Set all the way back (in past reviews).
How It Was Tested
I rode this primarily against the YES PYL and Lib Tech BRD but I've compared this and tested this against many similar freeride boards over the years. Almost every time it was on the same day with the same bindings. Usually Union Atlas.
Approximate Weight
The Rossignol XV (We don't put in the exact weight because with wood cores there is no consistency in a boards weight)
Sizing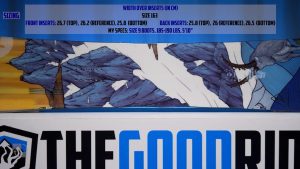 Here are some ideal US boot sizes for these boards. You can of course go bigger or smaller but these work best for not turning the board slower than it should be and not having the dreaded Toe & Heel Drag.
159: 8.5 – 9.5
163: 8.5 – 9.5
167: 8.5 – 9.5
164w- 10.5-11.5
168w- 11-12
Shape/Camber/On Snow Feel/Ability Level
There is a decent amount of Taper (10mm) with the Rossignol XV and you feel all of it. It feels very directional and it likes more back foot weight when turning on groomers.

There is a good bit of camber going a little past the inserts that then transitions to rocker in the tip/tail. This shape and camber profile make it forgiving for its design but it is a little more technical than most boards with this camber profile. Still, it provides a stable in all conditions ride that tracks well and skids turns pretty easy when you get off your game.
Flex Personality
So the softer tail is unique with the Rossignol XV and it is softer than the waist and nose. Very easy for its medium/stiff flex to butter off the tail or wheelie up in powder. There is good but not exceptional pop.
Speed
The Rossignol XV can bomb. It might not have the base glide of the Jones Flagship but it is very stable at speed for being this turny.
Edge Hold

The grip in the Rossignol XV is exceptional. With a little extra back footed weight the XV can handle just about anything. Not that I would ever ride steep ice chutes like Xavier does but if for some reason I was forced to I'd like to be on the XV.
Turning Experience/Carving
The Rossignol XV needs more back foot weight than some boards with similar taper but when that happens it carves pretty hard. There is a very quick turn initiation too this board too no matter what size you ride. The sidecut radius is balanced but it really has a tight turning radius. You can aggressively circle carve with this and take it back up hill easy.
Powder
The set back on board is about what you would expect for a big mountain board. You get 2" back on reference stance of 21.3" and -3.125 all the way back at a 22" stance width. That isn't massive but the taper, rocker in the bigger nose and set back all work well to provide very good float in steep as well as low angle powder. Especially in the 167 and 163.
Conclusion
So overall, the XV is a very recommendable tapered/directional/freeride board for those that like exceptional grip.
Rossignol XV Past Reviews

The Rossignol XV 2020 has been one of our most recommendable freeride boards for those that see icy conditions but still want a good all-around directional board for when it's good.

Ethics Statement: We don't get paid by the manufacturer to write these reviews.  We do make money from the "Where To Buy" links, but this is our best attempt at an honest and objective review from an average riders' perspective.

How This Review Happened:  We borrowed this for an extended demo and then returned it.
Size: 163 but rode the 167 extensively in the past as well.
Days: 3
Conditions: Super late and rough spring conditions for the 2020 model but many days in all types of conditions for similar past models.
Riders: James (Size 9, 5'10" 185-195lbs) for this review but most of our crew have ridden or owned this board.
Boots: Adidas Tactical ADV
Insoles: Sandsole Custom Insoles
Bindings: Union Atlas

Similar Boards (but not the same): Yes Pick Your Line,  Burton Flight Attendant, Gnu Mullair, Jones Flagship, Never Summer West Bound, Lib Tech BRD

Set-Up: 22" Wide. 18 front +3 back. Close to Reference.

Approximate Weight: Feels normal and doesn't feel too heavy for a 163.

Sizing: So like we have said in the past it's best to size up a bit with the XV. My favorite size was actually the 167 and so was most of our crews but often when I owned one I ended up sizing down a bit to get the 163 because it traveled better than the 167. Normally I would get a board like this in about a 159 ish but with the Rossignlol XV the 163 or 167 feels much better. I don't think I would like the 159.

Flex/Buttering: The tail on the Rossignol XV is very soft and it butters off the tail super easy for a board like this. After the soft tail, it becomes more like a typical medium-stiff freeride board. I'm soo used to a stiffer tail than the nose but this opposite flex is counterintuitively fun. The pop is middle ground and it would be good to see a little more spring out of this board when it comes to an ollie but it's pretty doable.

On Snow Feel/Ability Level/Skidded Turns: The Rossignol XV is more for an advanced to expert rider. There is a good bit of early rise in the nose and even some in the tail that make it more forgiving than some of it's more camber dominant peers but something about it feels pretty technical. A strong intermediate could get by with this but not ideal. It's not a lot of camber underfoot but maybe the longer length factors into its somewhat catchy feel. It tracks well one footing and flat basing. It likes more of a back seat ride and feels more tapered than it is compared to some boards.

Edge Hold: Grips like a champ. The Rossignol XV has magnetraction bumps combined with hybrid camber so that makes it not only gripy but really stable and consistent in all conditions. It tracks really well in hard snow where a lot of hybrid rocker boards with the same grip feel loose between the feet. This edge hold can feel a little sticky in softer snow but it's pretty easy to get used to for most riders but not all.

Turn Initiation: Really quick for this size and it turns much faster slaloming through the trees than you would think. It can roll edge to edge really quickly. It can also take hard continuous turns quickly for its size and turns like a smaller board.

Turning Experience/Carving: So the Rossi XV can circle carve and just carve all around. It could use a little more spring out of the turn but it is far from dead. It's a pretty fun board to turn. In the past I always rode the XV slightly duck in the back foot but this time I rode it +3 as I read Xavier does. It was pretty fun. You still weighted the second half of the carve on the back foot but the pressure was on the stiffer side of the board and it really held better than when I used to ride it more duck. It still felt more tapered than it did in the past

Powder: In the past, with the same shape, the Rossignol XV floats well. The aggressive Magnetraction between the feet can grab a bit in wet snow but it's doable.

Speed: So other than the softer tail the Rossignol XV can bomb pretty well. It's long and pretty damp. The base doesn't seem to have as much glide as some of its peers on same day comparisons when all boards were just waxed the night before. On harder snow, the difference isn't as noticeable.

Uneven Terrain: The XV can power over bumps, thick chunder or big tracks in powder really well. It turns around bumps pretty well for its size too. The light frame tech in the board seems to help with dampening but even before they added that it was pretty damp. It's also really good when you are on hard but slightly uneven snow. Many boards can get cranky there and pass that anger into your joints but the XV doesn't.

So the Rossignol XV isn't perfect but it's hard to find a better hard snow freeride board that's ready when the conditions get deep.

The Rossignol XV Magtek is a great, tapered, super tight turning, freeride snowboard for those that often see hard conditions but also live for powder.  It's hard to believe that a board made for Xavier would be so good for the average Freerider like us but somehow it works for both.

Ethics Statement: We don't get paid by the manufacturer to write these reviews.  We do make money from the "Where To Buy" links, but this is our best attempt at an honest and objective review from an average riders' perspective.
2015-2019 Rossignol XV Snowboard Review
Size: 167 and 163
Days:  20+ and we owned the 163 for 2 seasons.
Conditions: Really good Spring conditions with a little slush in the late afternoon and sometimes a bit hard in the morning. Some loose light Rockies snow pushed around exposing really hard snow and some perfectly soft but slightly tracked sierra snow.  At the top, there were some patches of light (for the Sierras) windblown snow that was about 6″ deep that felt like a powder day.
Riders: James (Size 9, 5'10" 185-195lbs), Jimbo (Size 11, 5'11" 160lbs), Peter (Size 8, 5'11" 185lbs), Kyle, Zobel (Size 11.5, 6' 180lbs),
Boots: Adidas Tactical ADV, Burton SLX, Burton Rover, Burton Imperial, Burton Ion, Nike Kaiju
Insoles: Sandsole Custom Insoles,  Footprint Insole Technology Gameghangers Low Profile
Bindings: Union Atlas, Union Falcor,  Burton Genesis, Burton Genesis X, Burton Cartel, Flux DM Flux SF, Union Factory, Union Force,
Set Up: Set back a good bit or close to reference stance.  18 front 0 back, 18 front -6 back anywhere from 22″ to 23″ wide.
Approx Weight: the 163 weighed about 6.6lbs but weight varies from board to board.  It felt light though for a 163 and so did the 167 for its size.
Sizing:  It's the kind of board that rides a lot smaller than it's size so don't' be intimidated. The 167 felt great for my specs (me James) and usually, I'm more comfortable with a smaller size.  The 163 worked well too but I actually preferred the167 and of the 2 and that would have surprisingly been a better daily driver.  It's long but it doesn't feel like you are maneuvering a board of that length. It rides smaller on groomers but floats its size in powder.
On Snow Feel:  This is a snappy quick aggressive but somewhat forgiving freeride board. It's a hard snow groomer board as well as a solid powder board. The Rossignol XV Magtek is a stable between the feet in any kind of condition which makes the ride consistent and predictable. If you ride a little back foot heavy this board will for sure work well and be an easy board to cover long flat cat tracks and it's easy to one foot off the chair for its size.
Powder: There is more than an inch or a 3cm setback.  Combine that with a taper and the ample rocker in the nose you have a lot of easy float going on. We didn't really have a real powder day but we did have some Sierra Fluff wind loaded into about 6″ of powder like and a bit of wet to slushy Spring snow. There is a little bit of overgrip but it's much better than the old magnatraction boards and it's only really felt right between the feet.  It doesn't really grab as much as I initially thought when we first rode it last year.  It's also great for those that have a lot of windblown steep icy entry points before getting to the powder stashes.  You only feel a little bit of a grab in thick snow but not enough to be an issue.  It doesn't affect the way it floats though.  In light fluffy powder, you might see in places like the Rockies and Utah you wouldn't even notice. With a difference of just a little more than 7.5″ between nose and tail or 3.75″ back on board the Rossignol XV has a lot of directional float going on.  This is great for a freeride board like this but when you combine the taper in the tail as well as a good bit of rocker in the nose you have a pretty solid floater in powder.   Despite the larger sizing, the XV is quick so if you know how to turn you will find this really quick between the trees.
Turn Initiation: The Rossignol XV Magtek turns really quick edge to edge and the board turns much quicker than it's size so don't get hung up on sizing down because these boards run on the larger side.  It's not terrible skidding your turns either.  It's still more a snowboard for those that live to make good quick turns. There is a nice spring out of the turn and it's really fun to roll over from edge to edge. You can see why Xavier likes this board because that guy puts himself into some scary steep places and If I was doing what he was doing….well….I'd be dead but I'd be in control more than any other board before I die. The Rossignol XV Magtek is the kind of snowboard that can zip in and out of trees or turn when it's critical in narrow steep terrain. The 167 I rode felt like it could turn edge to edge almost the same as a 156 One Magtek I was riding at the time.  Ok, I'm exaggerating a bit but not as much as you would think. Let's just say it rides small and quick for its size. As you size down the waist width doesn't get shorter but both the 163 and 167 turns very quickly.
Turning Experience: Very fun board to turn but you need to keep more weight on the back foot to make sure the edge doesn't wash out.  It's very slashy too if you want to release the tail on some side hits.  It's a very back foot heavy ride and appeals to people who come from a surfing background.
Carving: The real kicker with the Rossignol XV is the carve.  It's a very unique very tight shorter radius carve. If you lay into it pretty hard it takes you back to surfing. I thought I was back in the '90s when I use to surf all the time and I was on my 7.0 gun making a hard bottom turn into a rare double overhead almond eye barrel.  It did worry me a bit because the turning radius is so tight that Jimbo crashed into me once and almost crashed into me a few more times when he was filming me. He just wasn't prepared for how tight the Rossignol XV would turn.  It's really easy to turn back uphill or make a full circle carve.  So before you lay into a hard carve make sure there is no one behind you because most people aren't used to what a small circle you can make with such a big board. There is some taper going on and it can make the board a little washy if you don't get a lot of weight onto the back foot after you initiate the turn.  The MTX really helps grab a lot better than most tapered boards but you can still feel the tail act a little different than the nose.
Skidded Turns: There is a good bit of camber going on with the XV and combined with the aggressive magnatraction it isn't the easiest to skid turns but it is far better than a full camber ride.  There is some catch to it but its very doable if you get off your game and need to skid through a few turns.
Speed: It's very very fast and stable. The Rossignol XV Magtek is fine for a straight line and it's faster than most boards out there. The Rossignol Krypto actually felt a little more stable but we are splitting hairs on various shades of excellent.
Uneven Terrain:  We didn't really see the kind of bumpy terrain because both days we rode this were flat but it seems like it would hold up well through a mogul field on the way to a powder stash.  The Rossignol XV Magtek will also do really well for its flex in the harder uneven off-piste snow.
Edge Hold: In 2015 Rossignol changed up some of their boards MTX with a less aggressive but still very effective MTX.  From what I can tell the XV still has the same super aggressive MTX. If you like tapered surfy freeride snowboards but often see harder conditions then the Rossignol XV Magtek is your snowboard. It's got great to excellent grip on really hard to icy snow but it also doesn't grab too hard in thicker powder.  It's not going to be a double ender carve hard off your front foot kind of board in harder snow and the tapered tail can wash out in harder patches if you do so.  It's more the kind of board that you want to have more of a centered to set back surfy carve with a lot of pressure on the back foot. With that said it holds better than almost any other board with this much taper that I have ridden.
Flex: It's medium/stiff and lively. The tail is softer than the nose so it wheelies pretty well and it's easy to snap an ollie off the tail.
All in all the Rossignol XV Magtek is a really different fun snowboard that can make a lot of riders really happy. We often recommend this to anyone who sees harder snow but wants to be ready for when it gets super deep too.
Rossignol XV Images

We try to get as many images of the Rossignol XV, but forgive us if they're not all there.
2022
2019
2018
2017
2016
2015
2014
Rossignol Company Information
Rossignol XV User Reviews
---
---
Rossignol XV 2014-2022 Snowboard Review
SKU
UPC
Model
XV - Validated!!
Nov 21, 2022
by
RBS
Ability Level: High Confidence •
Riding Style: No Park! •
Days You Ride A Year: 10-15 •
Height, Weight And Boot Size (for Boards, Boots & Bindings): 6'0 225lbs Rome Targa + Burton Imperial Boots
This is my daily driver since 2016 in a 168W. I recommend this to most riders who are 35+ and don't visit the park. This board doesn't like being pointed sideways, just downhill. It has unforgiving stiffness if you slow down, but if you ride fast and hard you'll stay on top of anything and everything. Carving is very fun and again, pretty fast yet locked in. I'd like to try a flagship but I happen to own this in a 174W so Im set for a while.

Can anyone comment on how well mid-flex boots play with stiffer bindings/boards? I'm paranoid about investing in mid-flex boots if I really should upgrade to stiffer boots. But part of me feels like the boots are more preference than performance. I mean, James is riding Kendos with this tank!?!?!

---
After 5 seasons with the XV
Nov 20, 2022
by
August
Ability Level: Advanced •
Riding Style: Fast groomers and pow •
Days You Ride A Year: 50 •
Height, Weight And Boot Size (for Boards, Boots & Bindings): 173cm, 83kg/185lbs, 42/9
My 2017 XV 163cm have been my daily driver for 5 seasons now and is great board. That is really hard to replace with another board. Most likely I will replace my 2017 with a new XV 2023 model this season.

Board is great in hard icy snow and still really fun in pow. Soft tail makes the board feels surfy in pow and back foot turns is really fun on this board.
Due to stiff flex in the mid and front of the board it works great for fast hard charging runs, both in the pist and in back country.
Good float in pow with back stanced bindings.
Great for fast carves!
Due to the short and relatively soft tail it can sometimes suprise me when I do the mistake and put too much weight on the tail in high speed steep riding there is not a lot of tail to save me from a crash. Keep the weight on the front foot in the steep riding and it works perfect.

Best board I can find so far for most of my riding. I tested a lot of boards every season to try to find a better replacement but so far the XV is the winner for me.

I ride the XV with the burton genesis bindings 18:-12 degrees backstanced setup , burton Ion boots size 9.

+Carving great in mid to fast speeds
+Pow ridong is great with good float and "surfy feeling"
+Fast fun turns in slow speed
+Stif nose and between bindings and softer tail : fun ride!

-switch riding is not so motivated with my setup
-big size board sometimes feel BIG between the tight trees

---
Rides Great But ...
Feb 07, 2022
by
John
Ability Level: Advanced •
Riding Style: Freeride •
Days You Ride A Year: 40+ •
Height, Weight And Boot Size (for Boards, Boots & Bindings): 6'1" 185 10.5 167
Performance-wise the Rossi XV delivers as advertised. It's a hard charging freeride board that is very fast edge-to-edge, floats in powder and stable at speed. It also carves a mean turn in all conditions. In short I really liked riding the board. The only change I might have made is to get a shorter wide board like the 164W. I felt like my boot size (10.5) was on the edge of being an issue for the board, particularly with larger boots.

So why the 2-star review? Well, I delaminated two of these boards, over two seasons. The second board after only 3 days of use. Both boards delamed at the exact same place, on the tail at the metal plate. There was no evidence of a rock strike or other impact, and no epic crashes or other trauma. The second board delamed after a mild day of carving groomers. It looked like the board just couldn't stand up to regular flexing of average use.

After the second delam Rossi and the vendor said I could just use the credit and get a different board. I loved the way the board rode, but I expect a board to last more than a season or a few days. I give the board 2 stars because it rode so well, but was poorly built.

---
Great Board
Feb 10, 2020
by
Jon
Ability Level: Advanced •
Riding Style: Freeride All-Mountain •
Days You Ride A Year: 20 •
Height, Weight And Boot Size (for Boards, Boots & Bindings): 164W, 6'1, 230, 11.5
This is a great board. If I could, I would give it 4.5 stars but I do not have that option on this site. For comparison, I also have the Lib Tech Orca and Rossignol One LF.

The XV is a great charging board. Out of all 3 that I own, this is the fastest for straight lining, although I do find that the nose chatters a bit at the rocker section which is not the best in uneven terrain, but clean terrain, this thing is a beast and my favorite board to charge with. When comparing with the Orca and One LF, I find both can bomb well as well, but not at the same level as the XV. They are softer flex so I find that it chatters more and feels less stable when bombing. Although, I find the Orca to be surprisingly more stable on cat tracks, which is odd considering the rocker hybrid profile, but less stable at speed. All in all, I would give this a 4.5/5.

The XV is also a great carving board but is not a chill board to carve with. Whereas with the One LF and Orca you can carve lazily, the XV wants to bomb and is more aggressive. You need to be on your game or you gonna eat it. It has a unique, almost surfy ride, where I am heavy with my lead foot and then transition the weight to my back foot to drive out. It is fun to carve with. Comparing to the One LF and Orca, I find the One LF to be easier to turn with but not as fun, more of a board that is good and gets the job done, but nothing special. That being said, the Orca I find to be even more surfy and more fun/easier to carve with. You can really get some easy pencil lines with this thing. All in all, I would give this a 4/5.

Hope this helps.

---
Awesome
Jan 06, 2020
by
Rob
Ability Level: Advanced •
Riding Style: All Mountain •
Days You Ride A Year: 50 •
Height, Weight And Boot Size (for Boards, Boots & Bindings): 5'8" 200lbs. Size 10 163XV, Large Rome Targa Bindings
The XV is my Freeeide Board and it is amazing! I've only owned the XV for a couple weeks but have been able to ride it in almost every conditions. The XV eats Chunder and spits it out. It was amazing going thru steep powder runs, trees, hard pack groomers, and even destroyed the nasty snow and frozen Chunder caused from freezing rain. It's super fast edge to edge and has already got me out of some tight situations. The edge hold is amazing and I even enjoyed carving through unfavorable conditions that most people weren't able to go. The XV will always be in my vehicle when heading to the mountain!

---
Mar 26, 2019
by
DTM
Ability Level: Novice •
Riding Style: Bombing Groomers •
Days You Ride A Year: 10-15 •
Height, Weight And Boot Size (for Boards, Boots & Bindings): 6'3", 190 lbs, 168W XV, 10.5 boots, L bindings
I'm a novice boarder so take this with a grain of salt; although OTOH it's impressive that this board is accessible to someone with only ~15 total days on a board. I like bombing Ice Coast groomers and riding powder when I travel west. Not interested in tricks.

Other boards (like a 159 cm Jibsaw) are enjoyable on freshly groomed runs but tracked out conditions at even moderate speed lead to frustration with chatter. The chatter makes it uncomfortable and dangerous to travel my desired ~ 50 km/h on blue runs.

I recently found a new old stock 2016 XV in 168W for a great price. I wanted the wide because Rossi boards seem to run quite narrow. I set it up with a 23" stance width (one spot out to tip/tail from the reference spots) and +18 -6 binding angles.

This board is a revelation for me at my busy Ice Coast hill. The stiffness and the recommended weight range of 180+ lbs translate into a more stable, confidence-inspiring, and comfortable ride. My first day on this board I got up to 67 km/h! I can't remember feeling physically uncomfortable with chatter the whole day, despite going over many obviously rough patches.

I love magnetraction for not fearing death on the boiler plate and ice!

The discussions about the "washiness" of the tail are accurate. Basically you can put pressure on the tail to have it engaged or lessen the pressure to quickly maneuver the tail around. I seem to naturally be a rear-foot rider (could be my poor novice form!) so this works for me. If you like a locked in tail you probably won't enjoy this board.

The maneuverability of the tail makes steering something that can involve the rear foot, and it made my life easier as a noob who still struggles with toe-to-heel turns on steeper slopes. These quick transitions are really useful but you can just as easily carve on this board.

I'll repeat other's warnings about needing to be on your game with this board. Be awake and focused, and make sure your boots and bindings are properly fastened. If you don't it will feel dangerously unresponsive.

Such a great board for speed, and nimble too! I haven't even had a chance to try it on powder...

---
Just do it
Jan 06, 2019
by
Chase
Ability Level: Advanced •
Riding Style: Steep and Deep •
Days You Ride A Year: 30-50 •
Height, Weight And Boot Size (for Boards, Boots & Bindings): 5'9", 160 lbs, size 10
This Board is a beast. I bought this board without demoing it which is unusual for me, but being that there wasn't a single bad review on this board, I went ahead and pulled the trigger.

If you plan on going slow, love catwalks, and meandering your way down the mountain, don't buy this board. It will work you over.
If you want to go fast, slash powder, and rip carves.... BUY this board. Just do it. You won't be sorry you did.

In regards to sizing this board, go bigger. I usually ride a 155-158, but I bought the 163 due to other reviews and I am glad I did. This board is super nimble and rides a bit shorter. It's super easy to throw the tail around and manure around trees and obstacles.

Over all, this board is amazing. If you are on the fence about it, just do it. It might take a few rides to get use to it, but you will love it.

---
Northeast Beast!
Dec 14, 2018
by
Jeremy
Ability Level: Advanced •
Riding Style: Carver •
Days You Ride A Year: 45-60 •
Height, Weight And Boot Size (for Boards, Boots & Bindings): 44yr old male 5'9" 185 9.5-10 boot
Others call it a quiver killer. It is definitely that.

I've got a 2015 XV 163 with Flow NX2-GTs and Salomon Boots. I've ridden it hard for 4 seasons now. I love at the base of a little hill in upstate New York that is mostly Icy/hard pack. I've also run the board in Vermont and Salt Lake quite a few times.

The review is pretty spot on. It's a board that I bought to replace my 2004 158 Atomic Dreamraider(A freaking carvers dream but a lot of work with ZERO forgiveness and worthless in Pow). What a step up! Effortless turns and solid hold on ice. I love to pop wheelies on it because the tail has so much pop. Also, it doesn't look like it, and you are set so far back you almost can't believe it, but I can ride switch on it quite well, and I suck at riding switch! I'm getting to old for the park stuff so I haven't done a lot of that with it - I have better park boards for that stuff. I can dig deep Ryan Knapton style carves on it, and that's what really love to do. This thing turns tight - super tight. It floats like a dream in deep Pow too. I absolutely crushed a 2 foot Pow day at Brighton 2 years ago. The board was the envy of everyone that day.

I'd say the biggest drawback for me is the waist width: the board has made me so confident in my deep carves that I'm constantly dragging heel and toe, and booting all the way out a times. I've considered picking up a newer 164 wide - that brings the waist width from 25 to 26.4. Even then, I'm not sure it's enough. I've actually been thinking about adding a wide Donek custom for my carve board and keeping the XV for the really icy days or out west for Pow. I don't think I can ever not own an XV - it's just the best do everything board for what I do.

---
XV for the win!
Nov 26, 2018
by
Justin
Ability Level: Advanced/Expert •
Riding Style: Powder/Steeps/Trees •
Days You Ride A Year: 16-24 •
Height, Weight And Boot Size (for Boards, Boots & Bindings): 5'9, 215, 9
Pulled the trigger on a 163 XV after finding my 158 Arbor Coda (Rocker) too wishy-washy at speed and on edge. I am built like an athletic rain barrel and needed a board that could keep pace.

THE GOOD:
- Charges incredibly well through crud if you stay light and let it do the work; worth every penny in this regard
- Holds an edge well on icy groomers near the bottom of the hill
- Softer tail lets you still surf through pow
- Even at 163 the board maneuvers through trees and bump runs like a 156
- It's gorgeous!

THE BAD
- Not a first timer board for inexperienced riders
- This board will kick your ass if you are tired/hungover/inexperienced/unfocused or all of the above

I think this is a great option for riders that have cut their teeth on a couple different boards before establishing their true riding style/preference.

---
168W continued review...
Apr 14, 2018
by
Ryan
Ability Level: Expert •
Riding Style: Powder/Steeps/Trees •
Days You Ride A Year: 20 •
Height, Weight And Boot Size (for Boards, Boots & Bindings): 6'2,190,12
This is a continued/updated review from 2 down. 168W. So I switched bindings from the Genesis X (supposedly med/fast response) to the Rossi XV Bindings (also supposedly med/fast response). All of a sudden this board went from fun edge to edge to FAST edge to edge. I can't believe how much better this board turns with the bindings that are made to be paired with it. It is still awful on cat tracks due to the Magnetraction, but that is the trade off you have to make if you want this level of edge hold on steep rock faces. I just rode Snowbird where it dumped 26" in 48 hours. Traversing the cirque on this board was a piece of cake. If you're not familiar with the cirque, it's a tight rolling/rocky wind blown knife edge that gets you access to the best extreme terrain at Snowbird. It made that 'pitched traverse' a piece of cake. Then once you make the drop onto anything expert level terrain, the board kicks ass. Another note: I can't imagine a better board for plowing over and through uneven snow. It's so stable, I would say TGR should consider upping their ranking on uneven snow from Good to Excellent. If you're considering the XV Magtek board, do yourself a favor and buy the Rossi XV bindings. This board needs a FAST/responsive bindings to dial it in and once you're dialed in it's insane.

---
If you can't buy through the links above, you can support the site with: