Rossignol Jibsaw 2012-202 Snowboard Review
| | |
| --- | --- |
| Riding Style | All Mountain Freestyle |
| Riding Level | Intermediate - Expert |
| Fits Boot size (US) | 8-10, 10-12 |
| Manufactured in | China |
| Shape | True Twin |
| Camber Profile | Hybrid Camber |
| Stance | Centered |
| Approx. Weight | Feels Normal |
| Split | No |
| | |
| --- | --- |
| On Snow Feel | |
| Turn Initiation | |
| Skidded Turns | |
Where To Buy
80% of outdoor sports products are not listed or sold online.
Our team has relationships with hundreds of local snowboarding and outdoor sports shops.
We'll call the shops and email you a list of stores along with pricing and availability.
---
Not sure what to buy?
Get custom advice from Good Ride editors James and Steph.

Get Advice
Rossignol Jibsaw 2022 - 2012 Review by The Good Ride
Turn Ons/Swipe Right: Excellent Edge Hold, Forgiving but fun to turn and ollie. Consistent stable feel in all conditions.
Turn Offs/Swipe Left: Edges can grab a little in softer snow.
Summary
The Rossignol Jibsaw is a great hard snow mountain freestyle ride with enough pop and carving power while still being forgiving to ride.
Ethics Statement: We don't get paid by the manufacturer to write these reviews and this is our unfiltered opinion. We do make money from the "Where To Buy" links, but this is our best attempt at an honest and objective review from an average riders' perspective.
Rossignol Jibsaw Snowboard Review- How it rides and who it is for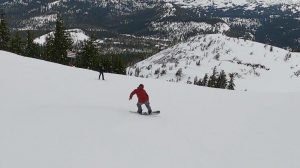 How This Review Happened:
Borrowed this for an extended demo and sent it back.
Size: 157
Days: 4
Conditions: Firm but fair to good mid winter snow.
Riders: James (Size 9, 5'10" 185-190lbs)
Boots: Burton Kendo
Insoles: F.I.T. Gamechangers
Bindings: Union Atlas
Jacket: Burton AK Gore-Tex Pro 3L Tusk Jacket, Volcom TDF Infuse 3L Gore-Tex Jacket, Burton Banshee Gore-Tex Jacket
Pant: Burton AK Gore-Tex Pro 3L Hover Pant, Burton AK Gore-Tex 2L Swash Pant, Burton Gore-Tex Ballast Pant
Helmet: Smith Maze
Goggle: Smith IO Mag
Gloves: Burton AK Guide Glove, Burton AK Clutch Mitt, CG Habitats Work Glove, Drop Tahoma Mitt,
Similar Boards (but not the same): Never Summer Protosynthesis, Yes Greats, Stone Message, Prior Wildcard, Marhar Darkside, Lib Tech Box Knife, Capita Outerspace Living, Yes Basic, Rossignol Jibsaw, Yes Jackpot, Never Summer Protoslinger, Ride TwinPig, Signal Park,
Set-Up: 21.5" Wide. Sance Angles +15/-15. Close to Reference.
How It Was Tested
Every day I rode the Rossignol Jibsaw, I also took out the Juggernaut. On one day I also took out the Resurgence, Revenant and One.
Approximate Weight
The Rossignol Jibsaw is a pretty normal weight. I don't post weight because with wood cores every board will have a different weight.
Sizing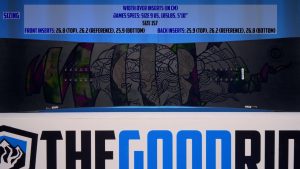 The Rossignol Jibsaw in a 157 felt really good for my specs listed above. I probably would prefer a 155 but the 157 was better for more mountain speed, carving and such.
Here are some ideal US boot sizes for the Juggernaut. You can of course go bigger or smaller but these work best for not turning the board slower than it should be and not having the dreaded Toe & Heel Drag.
150: 8.8.5
153: 8-8.5
155: 8.5-9
157: 9-9.5
159: 9.5-10
158w: 10-11
162w: 10.5-11.5
Shape/Camber/On Snow Feel/Ability Level
The Rossignol Jibsaw is a true twin with a centered stance so it rides best if you keep your weight centered but you can also weight your turns front footed or back footed and it won't balk.

The camber profile is 60% camber ending a little after the bindings with a mellow 40% rocker before the tip/tail. It makes for a very stable and forgiving ride. Not quite as forgiving as the 40% camber/60% rocker Rossignol All Mountain boards but its very doable. It has that same consistent feel in all conditions you want to ride. One foots and flat bases easy too.
Flex Personality
There is a medium stiff flex between the feet going to a medium flex in the tip/tail. The rocker after the bindings makes the Rossignol Jibsaw pretty easy to butter. I like that it isn't too easy so you don't butter right on to your ass but not too hard either.
You get pretty good pop as well. Not amazing but a bit above middle ground so you don't have to work too hard for an ollie.
Uneven Snow
So, this time around, I didn't get to test the Jibsaw in messy snow but I did in the past and it did well. It handled micro bumpy snow really well on this test and it is a good all conditions ride.
Speed
The Rossignol Jibsaw isn't a bomber but it is more than competent on a straight line if you feel the need every now and again. Base glide is good but nothing exceptional.
Edge Hold

All this grip is one of the reasons I often recommend the Rossignol Jibsaw to so many people who ride in hard to icy snow a lot. It just grips super hard. It grabs a little in soft snow but most can get used to it pretty fast.
Turning Experience/Carving
I would have expected the Rossignol All Mountain boards like the One, Revenant and Resurgance to be better at turning/carving but the Jibsaw was by far a better turner. It isn't mind blowing but it is a very fun board to make all kinds of radius turns. You feel the spring out of the turn. It's no XV or Juggernaut but still really fun.
Powder
Don't get the Rossignol Jibsaw if you want to set your board back in powder. You can only get 1.15" back from center of board at a 22.5" stance width. That isn't that much. It does float pretty well centered though for a twin. This would be a great board to compliment the XV in a 2 board quiver.
Switch/Pipe/Jumps
So great either way and only an asym twin is better. I spent almost half my time riding switch on during this test. This is an excellent pipe board. One of my favorites when it comes to mid-winter pipe riding. Jumps are great. Unlike its name, the Rossignol Jibsaw isn't a perfect jib board but it isn't bad either.
Conclusion
So every year I ride the Rossignol Jibsaw I like it. This is a very recommendable hard snow mountain freestyle ride.
If this review helped, we'd appreciate if you:
Rossignol Jibsaw Past Reviews

The Rossignol Jibsaw is a pretty fun freestyle board that can do more than just jib.  It's a pretty balanced park to Mountain ride and the more we ride it the more we like it. It's especially great for the price point and for those that see hard conditions. The only thing we would like to see from this board is a little more pop but it's very good for the price point.

Ethics Statement: We don't get paid by the manufacturer to write these reviews.  We do make money from the "Where To Buy" links, but this is our best attempt at an honest and objective review from an average riders' perspective.

Here is our take on the 2017 which is just like the 2018.

The Jibsaw is not without flaws but one of the reasons we like this so much for hard snow is really two reasons:
There is massive edge hold between the feet with this Magnetraction tech similar to what Lib Tech and Gnu (Mervin) have with their full Mag.
The camber between the feet makes it very stable for flat basing and one footing off the chair.
The combo of the camber ending shortly after the binding and the magnetraction makes for one of the best rides you can find in harder snow.
Size: 155
Days:   3
Conditions:  Really good spring conditions to really bad spring conditions with hard icy snow in the morning going to shitty slush in the afternoon.
Riders: James, Jimbo, Matt, Jack,
Boots:  Burton SLX, Burton AMB, Burton Imperial, Burton Rover,
Bindings: Union Atlas, Burton Cartel, Burton Genesis,
Set Up:  Centered 15 front -15 back approx 23″ wide
Approximate Weight: Felt Normal.
Flex: It has got an easy flex to it across the board that can play in the park well but also enough flex to be fun on the mountain.
On Snow Feel: Like we said before this is very stable between the feet and the Rossignol Jibsaw doesn't really do that auto spin thing on you as many hybrid rocker and rocker boards do.  That's what makes it such a fun hard snowboard because it feels the same underfoot in all conditions.
Edge Hold: Grips better than almost any board with this flex out of the wrapper than any other board we have tried.  It just doesn't want to let go which is a great thing in hard snow.  I've talked to so many people that felt they got injured because their board had no edge hold and slid out from underneath them.
Turn Initiation: It's a quick turner and its where you want it to be when you need it to be.  You can make quick to wider radius turns and it responds well.
Skidded Turns: 60% camber is fine for skidding your turns and the 40% helps you to skid out without catching an edge.
Carving: You can rail a pretty good turn with the Rossignol Jibsaw.  I was surprised at what it can do regular and switch.  It's not super springy out of the turn but once the edge is set it's set and it will take you to the end of the turn without sliding out in most conditions.  It's a great carving twin for hard snow.
Speed: It's not a bomber but there is enough dampness to have fun on the mountain without it getting too chattery in the tip/tail.
Uneven Terrain: Pretty good in uneven terrain and it can handle messy snow pretty well.  It does grab a bit in softer snow which can bother some while it doesn't with others.
Powder: If you want a board you can set back then the One Magtek will work way better.  This is a board for keeping it centered and riding switch when you get it deep. Centered stance Twins like this are not made to be set back much or at all.  Still, it floats well for its size and specs.
Switch: The only thing better is an asymmetrical board.  It's very easy either way.
Jibbing: Even though it has the name Jibsaw we didn't feel this was the strongest part about the ride.  It felt more like a stronger board off jumps and the pipe but still its a pretty accomplished jibber.
Pipe: Man if you keep the edges sharp this is real confidence inspiring ride.  It's the kind of board we'd personally like to lap the pipe with.
Jumps: Probably our biggest complaint about the Jibsaw is its lack of pop for a 60% camber board. We would like to see some new tech in there that would improve the spring but not add to the price.  Still, it's a good board for hard snow kickers because it will allow you to set your edge better than most boards. It also isn't going to let go as easy as rocker boards will when the landing gets a bit off and you land tail heavy.
All in all this board gives you serious edge hold and stability in hard snow and our humble opinion feel is probably the most important thing to consider in hard snow. There are many boards I'd choose before this one in medium to good snow but not many that I would in harder to icy snow.
2016 Rossignol Jibsaw Review
2015 Rossignol Jibsaw Review
Size: 155
Days:  4
Conditions:
Riders: James, Jimbo
Boots: Burton Hail, Burton SLX,
Bindings: Burton Cartel, Burton Genesis, Union Contact Pro
Set Up:  Centered approx 23″ wide 15 front and 15 back
Approximate Weight:   Feels pretty normal.
On Snow Feel:   Nice stable fun ride in any condition. Very consistent in all conditions and the kind of board you can take out of the park even though it's most comfortable in the park.
Turn Initiation:  Nice quick easy turn Initiation.  Before the Jibsaw felt a little twitchy but now it feels much smoother and more fun to turn.  It's nice and quick edge to edge.
Flex:   Fun snappy flex that is easy to butter without being too easy.
Edge Hold:  Grips really well and it's really strong in hard to icy snow.
Powder:   No powder but it was fine in slush and it seems to have a pretty big/long nose/tail. So for a smaller twin this can float well.
Carving:   What surprised me here is there is enough camber going on to make this a fun board carve.  Yeah it grips like a champ but that's only one component to carving.  The board isn't amazing but it surprised me how good it was for a board with jib in it's name.
Speed:   Not bad at moderate speeds but it's not a long run mountain bomber.
Uneven Terrain:  Really quick and easy through bumpy snow.
Switch:   True twins are easy switch.
Jumps:   The Rossignol Jibsaw Popped well enough on an ollie but didn't wow us. It didn't really have boundless pop though and felt a little on the middle range of the pop spectrum.  We'd love to see more pop but its very stable approaching a kicker and forgiving on the landing.
Jibbing:   Jimbo's description summed it up. He felt like the board was magnetized when on rails and boxes.  It was really fun. Even for me it felt confidence inspiring.
Pipe:   We couldn't get in the pipe the days we had this but it seems like it would be a lot more fun than past models.  It's less twitchy now.  It would be a forgiving but grippy board in the pipe even if the edges are a little dull. It's more of a jib board but if you didn't de-tune the edges it would be really fun for lapping the pipe.
So all in all we feel that for some reason we liked the 2015 model a lot more than past models and it's now a fun recommendable board.
2014 to 2012 Rossignol Jibsaw Review
The Rossignol Jibsaw in a lot of ways is a return to the Camber Rossignol Retox of 2009 but with a little twist. It has better materials, magnetraction, is sized up a bit and has a slight bit of rocker at the ends.  The Jibsaw isn't for everyone but could make riders that are looking for a poppy playful jib board with great edge hold. We didn't notice a difference between the 2013 and 2014 Jibsaw.
Size: 155 and 153
Days: 9+
Conditions: Soft to hard almost icy snow
Riders: James, Peter, Jimbo, Stephen
Boots: Burton Ion, Burton SLX, Burton Imperial, Nike Kaiju, DC Judge, Burton Ambush, Burton Hail
Bindings: Burton Cartel,Burton Genesis, Union Contact Pro, Burton Malavita
Set Up: Centered Stance, 23″ wide, 15 front -15 back. Stephen was at 24

On Snow Feel: The 155 had a very camber dominant feel here and it felt catchy. It's stable one footing and flat basing but it had a catchy feel to it.  All of us felt like it could be very easy to catch an edge. It's name is the Jib Saw and it's all about jibbing.
Powder: Nope. Not happening when it came to powder due to it's mostly camber shape, centered stance and slightly smaller than average size ride.
Turn Initiation and Carving– The Jibsaw is incredibly easy to turn, very light and quick to the point where it was almost twitchy. After riding all those mostly rocker hybrid camber boards our crew felt it was a little catchy and everyone felt like they needed to be on their game when turning around the mountain.  After riding all those mostly rocker hybrid camber boards our crew felt it was a little catchy and everyone felt like they needed to be on their game.  This is a lot of fun for the right kind of rider in the jib park.  Carving out a turn was ok but not great. The edge hold was there but it was missing something.
Speed:It isn't terrible if you want to straight line but it's a smaller board that was a bit chattery for our weight.  It has nice park acceleration so if you are going from jib to jib you will be more than happy.
Uneven Snow– It's ok here. You would think it would be better here but it's not as easy as other jib boards.
Approximate Weight– Light and easy on the foot.
Edge Hold: If you ride Icy parks you will love the Jibsaw because with sharp new edges it feels like it has limitless grip.
Flex: There is a little strengh in the flex and this is no noodle.
Switch: This is a true twin so it's very easy to ride switch.
Jibbing– Very quick and easy when it comes to the jib park.  The characteristics that made the Jibsaw not so great on the mountain make it rather good in the park.  If you want to go big this will help you.
Pipe: It's always fun to have a board with this much edge hold in the pipe.  We had fun climbing the pipe walls and felt this was just a bit above average.
Jumps: Pretty fun to generate your own air. We liked to ollie around the mountain on this playful poppy board.  If you like to lap the jump park this isn't a bad board for getting a good spring off the lip and spinning when you do.  However it's more for an expert technical jump rider.
All in all the Jibsaw was a fun quiver board for those that want to take a very technical approach to the park and love the way camber feels.  This isn't for everyone but some will really like it.
Rossignol Jibsaw Images

We try to get as many images of the Rossignol Jibsaw, but forgive us if they're not all there.
2022
2019
2018
2017
2016
2015
2014
2013
2012
Rossignol Jibsaw User Reviews
Rossignol Jibsaw 2012-202 Snowboard Review
SKU
UPC
Model
Soft freestyle board
Jul 06, 2019
by
Waheed
Ability Level: Intermediate •
Riding Style: Groomers, carving •
Days You Ride A Year: 12 •
Height, Weight And Boot Size (for Boards, Boots & Bindings): 5'8" 185 lb size 8.5
I bought this board thinking it would be good for a beginner to advance his carves on, but this is not a good board for carving. The reviewers say they loved carving it and that the turns felt good. I'd say good luvk getting this thing to carve on heel side. Toe side felt great. This board is soft and has a sidecut radius of 7.4 on the 157. And it's got a 25.3 cm width. That is not ideal for carving. It's not stable at high speeds and the turns are too sharp. This board would be great for the park or for carving on a slow, flat run. It was actually pretty decent in pow too.

---
Very versatile, fun and reliable board with high edge hold
Apr 05, 2018
by
Robert
Ability Level: Advanced •
Riding Style: Allmountain freestyle •
Days You Ride A Year: 30 •
Height, Weight And Boot Size (for Boards, Boots & Bindings): 170cm, 89kg, 28.0 boots
In 2012 I rode the Jibsaw for the first time on the Stubai glacier opening in the alps and I absolutely loved it. My board was the T.Rice HP 153 that I love too, so big dilemma. It was not easy to get a Jibsaw in germany or austria, no shop had it or it was sold out quickly. In 2016 I found a 2012 Jibsaw 153 almost new, no scratches, bought it, happy with it.

Warning! Do not lend the Jibsaw to any of your friends!!! They won\'t give it back and you probably won\'t catch them especially on hard snow.
2 friends at least had the courtesy to buy a Jibsaw for themselves and gave me back mine. One \"friend\" is still taking advantage of me. As a precaution I bought a 2018 Jibsaw 155, last one in europe/france I think and covered up the nametag ;-).
By the way the 2012 Jibsaw 153 is virtual the same board as the 2018 Jibsaw 155, same Magtek, same sidecut, same camrock, same Tip contour, I can put them over another and besides the 2cm in length and grafics, there is no difference, flex feels about the same too aber 3 days of riding the new one

Some specs in Rossignol\'s data sheets differ from my measurements: effective edge is about 8cm longer than Rossignol states. On the Jibsaw 155 there is 117cm effective edge, not 109cm if I measure between the widest points of the board.
The rocker zone/camber zone sticker is at the wrong position on my 2018 Jibsaw. Camber is just between the outer insert holes, 66cm long not 76cm long like the sticker positions indicate.

I have about 12 boards at the moment (T.Rice, Box Knife, Funslinger, Bataleon Airobic...).
If you are looking for an Allmountain Freestyle Board, this is very recommendable and my personal favorite. Fun to press and butter, stable, agile, lots of pop, good stance options, fun in about 1-2 feet of pow, great reliable edge hold
dampening Kevlar and Basalt in the core makes the board stable even at high speeds

Weight:
Jibsaw 153 2012: 2820g
Jibsaw 155 2018: 2870g
Yes Standard 153 2018: 2900g
T.Rice HP 153 2012: 2840g
Box Knife 154 2018: 2930g

---
Does a lot
Dec 31, 2016
by
Newt
Ability Level: Intermediate (5 yr) •
Riding Style: Freestyle •
Days You Ride A Year: 25 •
Height, Weight And Boot Size (for Boards, Boots & Bindings): 6' 3", 210, 11
Got this board on clearance to step up my blue freestyle runs and am really happy. Much more maneuverable than previously used camber boards; much more stable than rentals with no magna traction. I can actually do some jumps on this and not die. Don't be intimidated by the riding levels in the reviews - anyone capable of handling midrange blues will like this board. I still prefer full camber for hardpack ice on steeps, but for everything else it's the Jibsaw.

---
If you can't buy through the links above, you can support the site with: