K2 Excavator 2023 Snowboard Review
| | |
| --- | --- |
| Riding Style | |
| Riding Level | Intermediate - Expert |
| Fits Boot size (US) | 8-10, 10-12 |
| Manufactured in | China |
| Shape | Tapered Directional |
| Camber Profile | Directional Camber |
| Stance | Setback -20mm |
| Approx. Weight | Feels Normal |
| Split | No |
| | |
| --- | --- |
| On Snow Feel | |
| Turn Initiation | |
| Skidded Turns | |
Where To Buy
80% of outdoor sports products are not listed or sold online.
Our team has relationships with hundreds of local snowboarding and outdoor sports shops.
We'll call the shops and email you a list of stores along with pricing and availability.
---
Not sure what to buy?
Get custom advice from Good Ride editors James and Steph.

Get Advice
K2 Excavator 2023 Review by The Good Ride
K2 Excavator Snowboard Video and Written Review
This is our in depth K2 Excavator Snowboard Review from groomers to pow. 
Turn Ons/Swipe Right: Very Versatile shorter/wider 1 board quiver. Dynamic Flex. Damp and poppy.
Turn Offs/Swipe Left: No major complaints for this price point.
Summary
The K2 Excavator is marketed as a powder and trench laying board but it gives you a very versatile shorter/wider one board quiver for most ability levels.
Ethics Statement: We don't get paid by the manufacturer to write these reviews and this is our unfiltered opinion. We do make money from the "Where To Buy" links, but this is our best attempt at an honest and objective review from an average riders' perspective.
K2 Excavator Snowboard Review- How it rides and who it is for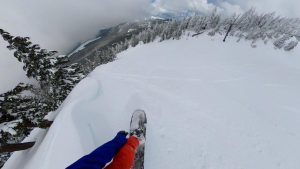 How This Review Happened:
Borrowed this for an extended demo and sent it back…didn't want to though.
Size: 154
Days: 5+
Conditions:  and some late afternoon ups with Drift Boards
Riders: James (Size 9, 5'10" 185-190lbs), Davey (Size 12, 240lbs, 6'4")
Boots: Burton Kendo, Burton Ion
Insoles: F.I.T. Gamechangers
Bindings: Union Atlas, Union Force
Jacket: Burton AK Gore-Tex Pro 3L Tusk Jacket, Volcom Guide Jacket, Burton Gore-Tex 3L Treeline Jacket, Jones Peak Bagger Jacket.
Pant: Burton AK Gore-Tex Pro 3L Hover Pant, Burton AK Gore-Tex 2L Swash Pant, Burton Gore-Tex Ballast Pant
Helmet: Smith Maze
Goggle: Smith 4D Mag
Gloves: Burton AK Clutch Mitt, Burton AK Tech Leather Glove, CG Habitats Work Glove, Drop Tahoma Mitt
Similar Boards (but not the same): Gentemstick Mantaray 156, Yes Hybrid, Endeavor Scout, Jones Hovercraft, Lib Tech Orca, Never Summer Harpoon, Yes Hybrid,  Gnu Gremlin, Ride Psychocandy, Telos Backslash, Korua Transition Finder, Salomon Dancehaul
Set-Up: 21.5" Wide. Sance Angles +18/-3, +18/+3. Close to Reference and Set all the way back.
How It Was Tested
I rode the K2 Excavator same day with a lot of different boards including the Alchemist, YES Hybrid, YES Optimistic, Ride Peace Seaker and others. There is no better way to test than on same day, same boot, same binding comparisons.
Approximate Weight
The K2 Excavator borders on being light but isn't full on light.
(We don't put in the exact weight because with wood cores there is no consistency in a boards weight)
Sizing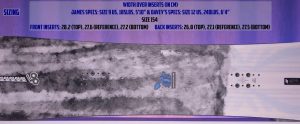 For me I was very curious on how the 150 would perform. The weight rec is the same for each ride so I'd like to see how the 150 works in the near future but the 154 did very well. Its just a bit much in more messy tracked up snow with emerging moguls. The 150 might be better for my specs as a daily driver but I won't know till I go. The K2 Excavator is meant to be ridden shorter and wider than you normally would. Follow the weight recommendations from K2  but here are some ideal US boot sizes for these boards. You can of course go bigger or smaller but these work best for how the board is designed.
150: 8.5-9.5
154: 9.5-10.5
158: 10-11
162- 11-12
The 142 and 146 are more women's sizes.
Shape/Camber/On Snow Feel/Ability Level

The K2 Excavator is a pretty tapered board and it does need some back foot weight but it feels less tapered than it is. It is set back pretty far on the board but not so far that it is sitting right back on the tail.

The camber profile can vary from board to board. That's not specific to K2 but all boards but it is a pretty mellow camber going to a mellow bit of early rise before the nose. It feels stable/easy to one foot and flat base but also very easy to skid a turn.
Flex Personality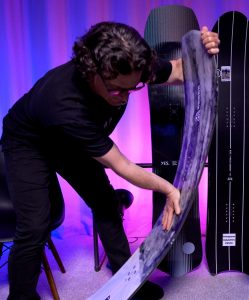 The K2 Excavator is rated as a medium stiff flex and it kind of feels that way flexing it indoors but on snow it can feel a little on the medium side for the kind of board it is. It has a lot of pop for a mellow camber but it also has a pretty damp feel that is moderately easy to butter for most ability levels. Espeially in the nose.
Uneven Terrain
Speaking of damp, I was pretty surprised that this lightish/poppish K2 Excavator can ride. It really handled almost every condition you want to ride in good to very well. I don't often come across boards like this that can shine in good conditions and not shit the bed in less than ideal conditions. This flex really shines for those that go out in all conditions.
Speed
Such a fast board for its size and it has a little bit of that Alchemist high speed prowess. It does feel better though in all conditions where the Alchemest can get a little cranky in hard uneven snow due to its much stiffer flex.
Edge Hold

There is pretty competent grip with the K2 Excavator and it is pretty close to many boards with mild disruptions in the sidecut. Davey n I both felt very comfortable with this edge hold in hard but not full on icy snow.
Turning Experience/Carving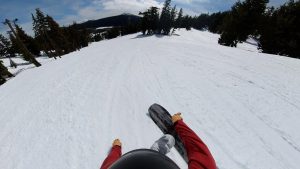 What I love about the K2 Excavator is how the sidecut has a more mellow/shallower sidecut on entry but a deeper sidecut as you get towards the back half of the board. It makes for a very turny but also very balanced ride that doesn't feel hooky. There is also a good bit of spring out of a turn and as advertised, I had a great time making all kinds of turns and carves.
Powder

So I really enjoyed the K2 Excavator in powder. It isn't a full on dedicated pow board but it does very well for being a short/wide tapered directional do most things kinda ride. With a
Conclusion
So overall, the K2 Excavator is a very versatile shorter/wider ride that should appeal to a wide variety of riders. There are other boards that shine in one particular category but there isn't anything that really called out to me as a negative. It is great in a quiver or great as a one board quiver for doing a little of everything that directional riders like.
If this review helped, we'd appreciate if you:
K2 Excavator User Reviews
If you can't buy through the links above, you can support the site with: