Jones Project X 2022 Snowboard Review
| | |
| --- | --- |
| Riding Style | Freeride |
| Riding Level | Intermediate - Expert |
| Fits Boot size (US) | 8-10 |
| Manufactured in | Dubai by SWS |
| Shape | Tapered Directional |
| Camber Profile | Directional Camber |
| Stance | Setback -20mm |
| Approx. Weight | Feels Light |
| Split | No |
| | |
| --- | --- |
| On Snow Feel | |
| Turn Initiation | |
| Skidded Turns | |
Where To Buy
No obligation, but these links & ads support the site.
Jones Project X 2022 Review by The Good Ride
Jones Project X Snowboard Video and Written Review
Welcome to an objective and honest review of the Jones Project X from an average riders perspective
Turn Ons/Swipe Right: Really fun balanced turning experience. Very Light & Poppy. Super fast base. Great set back on board for powder.
Turn Offs/Swipe Left: Exceptionally chattery for riders on the heavier side of the recommended weight. Super Expensive.
Summary
The Jones Project X is really chattery for me at 185lbs but for our riders at 150 or less it was a fun turning very versatile board.
Ethics Statement: We don't get paid by the manufacturer to write these reviews and this is our unfiltered opinion. We do make money from the "Where To Buy" links, but this is our best attempt at an honest and objective review from an average riders' perspective.
How it rides and who it is for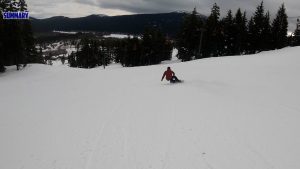 How This Review Happened:
We borrowed this for an extended demo and sent it back.
Size: 156
Days: 6+
Conditions: Pretty much all weird to spring conditions and a drift or 2 before the lifts with Drift Boards.
Riders: James (Size 9, 5'10" 185-190lbs), Nick (Size 10, 160lbs, 5'8")
Boots: Burton Kendo, Burton Ion, Burton Tourist
Insoles: F.I.T. Gamechangers, F.I.T. Gameghangers LP
Bindings: Union Atlas
Jacket: Burton AK Gore-Tex Pro 3L Tusk Jacket, Volcom TDF Infuse 3L Gore-Tex Jacket, Burton Banshee Gore-Tex Jacket
Pant: Burton AK Gore-Tex Pro 3L Hover Pant, Burton AK Gore-Tex 2L Swash Pant, Burton Gore-Tex Ballast Pant
Helmet: Smith Maze, Smith Vantage
Goggle: Smith IO Mag, Smith 4D Mag
Gloves: Burton AK Guide Glove, Burton AK Clutch Mitt, Burton AK Clutch Glove, Burton AK Tech Leather Glove, Burton AK Tech Glove
Similar Boards (but not the same): Yes Pick Your Line,  Burton Flight Attendant, Jones Flagship, Lib Tech BRD, Weston Backwoods
Set-Up: 21" and 21.5"Wide. 21 front -9 back. Close to Reference and Set all the way back.
Approximate Weight:
The Jones Project X is not a heavy board at all. It almost feels like you are picking up a kids board.
(We don't put in the exact weight because with wood cores there is no consistency in a boards weight)
Sizing
So the boot size felt pretty spot on with size 9's but I felt way too heavy for it. I thought I could pull this off but no. Even looking at the recommended weight of 120-190lbs would make you think someone like me at 180-190lbs would work for this board but it feels more like the max weight should be 170 or less like it is for the 156 Stratos. Nick, at around 150lbs, loved this ride and so did my friend Mica at 150ish too.
Here are some ideal US boot sizes for these boards. You can of course go bigger or smaller but these work best for not turning the board slower than it should be and not having the dreaded Toe & Heel Drag.
156: 8.5-9.5 US
Shape/Camber/On Snow Feel/Ability Level

The Jones Project X has the same shape as the Stratos and that is a great thing. It has some taper but not too much to make it feel washy.

Same with the Camber Profile. There is a more camber than rocker feel but it doesn't have a washy feel that lifted sides in the nose/tail can do with others. It seems to mainly happen after the contact with the snow. It can skid turns really easy but also one foot well off a chair and track well when flat basing.
Flex Personality
The Jones Project X has a very dynamic, light, excessively poppy flex to it that can still butter pretty easy for all riders at all weights that tried it. The downside to this is how chattery it can get in uneven terrain. It seems that in order to get this weight Jones excluded all the dampening properties. It was to the point that I could only hold an edge in perfect snow. The lighter boys felt it was a bit chattery but easily manageable and no where near as bad as it was for me. Most of us felt the 159 Stratos we tested in all conditions was too chattery but this is a step up from that. I could handle the 161 Ultra Flagship no problem. That was significantly less chattery and so was the Ultracraft 156.
Speed
The base glide of the Jones Project X is exceptional. The board chatters pointing it though.
Edge Hold
The disrupted sidecut has some grip and worked great for the lighter riders. For me I couldn't get the edge to hold due to the chatter.
Turning Experience/Carving
The Jones Project X is pretty quick edge to edge but what is really great is the overall turning experience. It is less straight liner and more of a balanced turning experience. Then you throw in the camber and this poppy flex give you a very satisfying turn but only if you are a lighter rider. For me I was always getting thrown off my line and I had to dial back my turning but the lighter boys loved it.
Powder
Great float here with the Jones Project X. Those set back inserts give you 5.125" back on board at a 22" stance width. That is exceptional for a board like this. Then you have the easy powder turning spoon nose, minimized tail and the set back on board. It makes for something that floats way better than you would think for its shape. It isn't a Mind Expander but it does exceptionally well for a one board quiver kind of ride.
Conclusion
So for $1,600 with the Jones Project X vs. the $579 Stratos I would say get the Stratos if it matches up to your specs/riding style. The Project X is definitely much poppier and lighter but not sure if it's worth the extra 1k.
If this review helped, we'd appreciate if you:
Jones Project X Images

We try to get as many images of the Jones Project X, but forgive us if they're not all there.
2022
2019
2018
2017
Jones Project X User Reviews
If you can't buy through the links above, you can support the site with: