Jones Aviator 2014-2021 Snowboard Review
| | |
| --- | --- |
| Overall Rating | |
| Riding Style | All Mountain |
| Riding Level | Intermediate - Expert |
| Fits Boot size (US) | < 8, 8-10, 10-12 |
| Manufactured in | Dubai by SWS |
| Shape | Directional |
| Camber Profile | Mostly Camber |
| Stance | Setback -20mm |
| Approx. Weight | Feels Light |
| | |
| --- | --- |
| On Snow Feel | |
| Turn Initiation | |
| Skidded Turns | |
Where To Buy
No obligation, but these links & ads support the site.
Jones Aviator 2021 - 2014 Review by The Good Ride
Jones Aviator Snowboard Video Review Fast Forward Markers.
0:00 – Intro 0:24 – Summary 1:29 – Sizing 2:06 – Camber/On Snow Feel 3:20 – Flex/Pop/Butterability 3:59 – Base Speed 4:22 – Dampness/Uneven Terrain 5:41 – Edge Hold 6:26 – Turning/Carving 8:28 – Powder 9:42 – Conclusion 9:56 – Some BS & Outakes 10:45 – About Our Reviews

Turn Ons/Swipe Right: Light, poppy, dynamic ride with a very fast base.
Turn Offs/Swipe Left: Can be more washy/edgeless than other Jones boards. Lots of chatter in uneven terrain.
Summary
The Jones Aviator is lightest and liveliest of all the Jones All Mountain snowboards but it comes at the price of being chattery in uneven snow.
Ethics Statement: We don't get paid by the manufacturer to write these reviews and this is our unfiltered opinion. We do make money from the "Where To Buy" links, but this is our best attempt at an honest and objective review from an average riders' perspective.
Jones Aviator 2021 Snowboard Review- How it rides and who it is for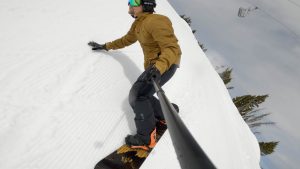 How This Review Happened: We borrowed this for an extended demo and sent it back.
Size: 156
Days: 2
Conditions: Late spring. We were lucky enough to have 2 days with lifts running in May thanks to a Covid-19 careful re-opening by Mt. Bachelor.
Riders: James (Size 9, 5'10" 185-190lbs), Peter (Size 8, 5'11" 185lbs)
Boots: Adidas Tactical ADV, Nortwave Decade
Insoles: Sandsole Custom Insoles, F.I.T. Gamechangers, F.I.T. Gameghangers LP
Bindings: Union Strata
Similar Boards (but not the same): Korua Otto, Lib Tech Terrain Wrecker, Capita Mercury,YES NSB, Endeavor Pioneer, Jones Mountain Twin, Endeavor Ranger, K2 Manifest, Yes Typo, Jones Frontier, Ride Algorythm, Ride Wild Life,
Set-Up: 21.5"  Wide. 18 front -9 back. Close to Reference.
Approximate Weight: Feels Light
Sizing
Peter would have liked the 158 but I was more into the 156 and how it turned for my size 9 boots. We both could have used more board though in the 158 to help handle our weight though as it is a chattery board compared to other Jones boards in relative sizing.
Here are some ideal US boot sizes for these boards. You can of course go bigger or smaller but these work best for turning the board easily and not having toe/heel drag.
152: 7-8
156: 8-9
158: 8.5-10
160: 9-10
162: 9-10
158w: 10.5-11.5
160w: 11- 12
164w: 10-11
Stay close to their weight recommendations.
Shape/Camber/On Snow Feel/Ability Level
The Jones Aviator has more camber than most Jones boards but it seems the lifted sides go further into the effective edge than other Jones boards with less camber. This is our guess because it comes out as a little more washy/edgless when you commit to that edge without a lot of pressure between the bindings. This happens mainly in harder snow but it can in softer snow too. Overall it is pretty forgiving and tracks well in most conditions. It isn't as edgeless as Arbor's Fender Uprise or Bataleon's TBT but it is more noticable than most of the other lifted tech boards Jones offers.
Flex/Pop/Buttering
I was pretty exhausted from 7 days straight of snowboarding and then surfing the riverwave after. My legs were trashed and I don't feel I got a fair estimate of how this can normally butter. It took more work than I remembered before but it was doable. The pop was there as well and it is pretty easily accessible for how stiff this board is.
Speed
The base of the Jones Aviator has glide to it but it just doesn't have a damp overall ride compared to the rest of the Jones All Mountain boards like the Jones Mtn Twins. I guess that is the price you pay with the Aviator for that kind of pop. It is not that damp at high speeds and over the years of riding this I never found a situation where it didn't start to chatter pretty easy.
Uneven Terrain/Dampness
Very bucky and bouncy and the kind of board that is made for mostly clean and pristine riding.
Edge Hold
The Jones Aviator didn't have quite the grip of the Jones Mountain Twins. They were all pretty close though and all have some decent disruption. It might be the the lifted sides
Turn Initiation
Overall the Jones Aviator can turn a little quicker edge to edge than the Jones Mountain Twins. It's more noticeable in soft snow but still a touch faster in firmer conditions.
Turning Experience/Carving
We really needed a lot more pressure between the feet compared to other Jones boards to keep this edge from washing throughout a harder carve. It is something that takes a little time to get used to but it isn't as steep a learning curve as some other boards with lifted sides.
Powder
So with a setback of 1″ back from center of board on the 22.8″ reference stance or 2.125″ back all the way with a 22″ stance width you can get some decent directional float for an all mountain board. Because of the extra camber the Jones Aviator's float is pretty similar to the Jones Mountain Twin models. It does turn easier in powder because it has more advanced spooned tips/tails than the Mountain Twins and Frontier. Of the 4 models we would choose the Frontier but all 4 do very well in powder for non-tapered boards.
Park/Air
The Jones Aviator isn't really a park board but if you want to hit kickers of almost any size it will shine here when you get used to the lifted sides.
Conclusion
So the Jones Aviator has a light and poppy nature that didn't play well with Peter and our weight of 175lbs & 185lbs in uneven terrain but it sure did ollie easy. Sizing up from the 156 all the way to the 160 on past demos didn't work super well for us either. So if you are on the lighter side of the recommended weight spectrum, can deal with a little more chatter than other boards, and want a lot more pop than the Jones Mountain Twins this could work.
Jones Aviator Past Reviews
Jones Aviator 2019 Snowboard Review
The Jones Aviator kind of a sits in between the Jones Explorer and Mountain Twin/Ultra Mountain Twin shape-wise but has more camber, lifted sides and ultra-light tech.  It's a little more chattery compared to many other Jones boards but it's still has a pretty wide appeal for those that want an ultra-light one board quiver type of ride.
Ethics Statement: We don't get paid by the manufacturer to write these reviews.  We do make money from the "Where To Buy" links, but this is our best attempt at an honest and objective review from an average riders' perspective.
Size:  158
Days: 2
Conditions: Pretty good PNW snow with some firm moments but mostly fun turning good time on snow.
Riders: James (Size 9, 5'10" 185 -195lbs)
Boots: Adidas Tactical ADV
Bindings: Union Atlas
Set-Up: 22.5" Centered 15 front -15 back
The 2019  Jones Aviator's lifted sides didn't seem as washy as in the past and the ride was more fun than before. Maybe there were some subtle tweaks made to the lifted tech compared to the 2017 model we tried or maybe the wood bent in the curing process a little differently than the past board I tried.  Regardless, it felt less washy and I hope this is the same as the production models.  The updated carbon stringers seem to give it a bit more dampness but overall it's very similar to the past Aviators. It's a little light and chattery for my taste but it does have more pop than the Jones Mtn Twin, Ultra Mountain Twin and Explorer so it comes down to what's a better compromise for ya.
Approximate Weight: Feels light
Flex: medium-stiff and pretty snappy. You can still butter it ok but you definitely notice more pop than the Jones Mountain Twin for sure.
Sizing:  The 158 felt great for my specs you see above.  Jimbo and Zobel, my size 11 riders would actually prefer the 158w.
On Snow Feel: The Aviator has extra camber underfoot than most of the Jones boards but there is still some rocker there as well as lifted sides.  Feels stable but still catch free like the Jones hybrid camber boards with more rocker.
Edge Hold: Very solid edge hold and I love the mellow mag tech that Jones makes. It's not quite there with full mag like you would see with Lib/Gnu AKA Mervin boards but it's very competent in harder snow.
Turn Initiation: Pretty quick and a little faster than the Jones UMT I tested it against.
Turning Experience: Making all kinds of turns have a pretty easy spring to it and it's a fun board to turn.
Carving: In the past, I had issues on a harder carve but this year the Jones Aviator's lifted sides didn't wash on me as they did in the past. Like I said above, the wood bends in different ways board per board in the curing process but hopefully, this board is going to be like the production models and carve much better.
Speed: The ultra-light tech in the Jones Aviator doesn't quite match up to its flex when picking up speed. It's not bad for this kind of ultralight tech and you can bomb with this no problem but you still pay a price for this reduced weight. Even with pretty damp Union Atlas bindings and super damp Adidas Tactical ADV boots I was riding I could still feel more chatter than I usually do with most of the other Jones boards. In a same-day comparison to the Jones Ultra Mountain Twin, the Aviator felt less damp and had more vibrations throughout the board. In comparison to the Jones Flagship and Carbon Flagship they almost don't even seem related to the Jones Aviator.
Uneven Terrain: The Jones Aviator turns really well through bumps and I loved that but I didn't like how it handled hard snow micro-bumps on bad groomers or messy, crowded resort snow you can often see on a Saturday. It's nothing horrible but it does pick up and pass through that chatter compared to many jones boards like the Jones Mountain Twin or Explorer.  Still, I prefer the Explorer and Aviator when it comes to turning through softer messy snow to full-size bumps compared to the Jones Mtn Twin and Ultra Mtn Twin.
Powder: When setting back all the way at a 22.75″ stance width there is a difference between nose and tail of 4.75″ or a 2.375″ set back from center of the board. This extra set back on board helps compensate for the little bit of extra camber compared to the Jones UMT and MT that have more rocker so even though they have 3.5″ back on board it's about the same when setting all the way back. This makes the Jones Aviator a good one board quiver for those that have to use the same board for powder and groomer days. If you set it all the way back it can almost hang with a lot of freeride boards out there. That's all you can ask for with what we call an all-mountain/one board quiver type ride like this.
Buttering: Easier than I thought it would be to butter for this flex. I expected it to be pretty difficult but it butters easier off the tip/tail than you would think.  Still, it's a little more effort than the Explorer, UMT, and MT.
Switch:  Very doable switch and feels about the same as the Explorer.  If riding switch a lot is your thing then the UMT and MT are the call but its differences are an easy thing to get used to.
Jumps: What I like about Jones's lifted tech is how subtle it is compared to others.  In the past, I haven't had a great experience to load the edge on an ollie this time around worked well. It's got a lot more pop off the tip/tail than most of its peers and its a great board for those that like kickers.
Jibbing: Pretty strong motivation with this super poppy flex to stay away from the jib park.
Pipe: This is not a bad pipe board and I did take a lap through a medium pipe with the Jones Aviator and it was very doable.  Liked this 2019 a little more than past models.
So all in all, the Jones Aviator is a pretty poppy, super light, one board quiver ride that will appeal to riders that want more camber than your average Jones board but still be forgiving and have good directional float when it gets deep.
Jones Aviator 2017 Snowboard Review
Other than the slightly washy feel on a carve it's a pretty good board. In our opinion, this board is light enough and the Ultra Aviator isn't necessary.
Almost every Jones Board this year got an upgraded core.  For some, it felt better but didn't really change the personality too much.  For some reason, the Aviator's personality changed a lot with the new lighter and snappier core.  You could call this an aggressive more directional Mountain Twin or a more mellow more double ender Flagship.
Size: 160 (wish they had the 156)
Days:  1
Conditions:  Really good groomers with some chunky snow here and there.
Riders: James, Peter, Jimbo, Mike,
Boots:  Burton Imperial, Burton SLX, Nike Lunarendor,
Bindings: Salomon Defender
Set Up: Set back a bit approx 23″ wide, 15 front -6 back
Approximate Weight:    Felt lighter than 2014.  It's not like the Ultra Aviator but it's pretty light.
On Snow Feel:    So this feels like a forgiving camber board.  It might be some unmentioned tweaks, the new core or it might just be in our head but it feels a little more mellow and forgiving than last year.  Don't get me wrong.  It's still a board for those who like to charge and go straight but it feels like it will let you live if you aren't on your game at all times when charging.
Turn Initiation: Kind of middle ground.  It's not slow but it's not super fast either.  I bet the 156 would have been much better for all of us and our boot sizes. Especially Peter and I.  It's not super quick edge to edge and the 160 wouldn't be the first board I'd take in the trees but I think I'd be much happier with the 156 for that job. It's kind of in that Jones Mountain Twin realm where it's not hard to turn but it's just not quick either.
Flex:   The flex seemed to have more snap this year and be more lively underfoot.  It's not easy to butter but it's definitely doable.  Especially if you are a strong rider.
Edge Hold:   Same great edge hold as before.
Powder:   No powder but there is definitely a lot more going on in the nose than the tail and it seems like the nose has some early rise rocker as well as lifted sides.
Carving:  It's fun to carve but the more you commit to a laid out carve the more you can feel the turned up sides of the tip/tail make the turn a bit washy and kind of hurry up the turn. Some might be ok with this but I was not. It's kind of similar to how the Bataleon TBT boards would feel like camber but then fail a bit on the carve.  This was less exaggerated than Bataleon's TBT tech but wasn't as good at the Jones Hybrid Camber (Camrock) boards I tried.  They at least give you a feel of the board's limitations where the Aviators Camber board with lifted sides leads you to believe you can use all of the board's contacts with the snow but in reality, the tip and tail aren't there to hold the rest of the board's effective edge on the carve. It's a weird sensation and not for everyone. If you don't make harder carves it doesn't matter but if you do it sure does.
Speed: Pretty fast here but I'd probably not own the 160 for my specs so take it with a grain of salt. Based on my experience with the Ultra Aviator the 156 felt more like my size so I don't think the 156 would feel as fast as the 160. Regardless of sizing It's got a very stable feel at higher speeds and a fast base. It feels faster than the Jones Mountain Twin but not in the realm of the flagship. The base with all Jones boards, when waxed, really glides though so it picks up speed well. It's great for a long flat cat track on the way back to the lodge.
Uneven Terrain: Not quite cranky in bumpy snow but not forgiving either.  Like we said in the video the Aviator doesn't act super unforgiving or anything but it just feels like it's bored and wants you to pick it up.  It's not going to weave in and out super quick in bumpy end of the day snow but it is going to bust through a chopped up powder line pretty well.
Switch: This board is pretty directional compared to the Twin and less directional compared to the Flagship.  You can for sure ride switch with it but it definitely feels different.
Jumps: There is more spring out of the board this year.  It snaps better and it likes to spring off natural terrain well. If you take off or land switch a lot then you would like a better board but the general pop of this board is pretty good.
Jibbing: Don't even want to jib with this.
Pipe: I like this concept for directional pipe riding and wouldn't mind lapping the pipe in this board.  That being said we couldn't access the pipe when we rode this.
So all in all this is a board that could make the right aggressive all mountain rider pretty happy.  It's got a nice combo of aggressive and forgiving when it comes to taking on the mountain.  I had some time on the Ultra Aviator and felt that although it was an exceptional board liked this board better.  It had more stability at speed and felt like it was more durable.
2014 Jones Aviator Review
Size: 160
Days: 2
Conditions: Packed Rocky Mountain Powder with many hard snowment areas. Really good soft perfect groomer sierra snow.
Riders: James, Peter
Boots: Burton Ion,Burton Imperial, Nike Kaiju
Bindings: Burton Diode, Now Select
Set Up: About 23″ wide 15 front -6 back and set back a bit.
On Snow Feel: Jones calls this positive camber but we call this mostly camber hybrid camber. There is definitely more camber with this board than any other in their line. It seems like there is a little early rise rocker in the nose but it still feels like a camber board on the hill. Despite the lifted points along the rails there is still a locked in feel similar to what most people experience with a camber ride.  It's the kind of aggressive all mountain board that want's to ride fast, carve and has good pop if you are strong enough to get it to flex. The 160 we rode had a pretty wide 25.6 cm waist for riders like Pete and I with a 9 and 8.5 size boot. We probably would of been happier on the 156 with its more friendly width but regardless this is an aggressive board.
Powder: We had no powder but it should have a pretty solid directional set back floating ability.  It doesn't feel like the shape would be great for riding switch like the Mountain Twin will but it's about the same for directional riding.  There is also a very slight taper of a few milimeters to make the board sink a little better in pow.
Turn Initiation and Carving: Really fun to carve and felt like a board you could really lay into.  Turn Initiation for us was not too quick.  It took a good lean into the board to get it to engage but that's probably because of the waist width of the 160.  I bet the 156 would of been a little quicker and snappier edge to edge. Medium to wider radius turns are fun and committed. It's funny because the Jones Mountain Twin 160 has the same waist width but it was much easier to turn.
Speed: The Aviator is stable and fast.  This can bomb.  It's definitely in the higher end of the speed spectrum.  It's not as fast as the Flagship models but it's close and a lot more stable than the Mountain Twin.  It doesn't have that little bit of chatter in the tip/tail.
Uneven Terrain: What little bumpy terrain we came across felt easier on our bad Knee (peter) and Hip (Me) than the Flagship so you can probably deal with moguls and bumps rather well.  This is still a pretty stiff aggressive board though that isn't going to make the end of a crowded groomer feel easy.  It's a chunder buster and bomber that's more suited for good powder and well maintained groomers.
Edge Hold: Same great edge hold that we would expect from the Jones team.  Even with the lifted contact points on the side it's still got great grip without being grabby in soft snow.
Flex: Pretty Med/Stiff. Not really a board to butter or play around with.  We'd much rather be on the Jones Mountain Twin here.
Switch: This was set back a bit when we rode it so it didn't feel totally comfortable switch but I bet if it was centered it would be something you could get use to. If you like the idea of the Flagship models but like to occasionally ride switch this is a much better choice because it's better than the Flagship models here but not as good as the Mountain Twin.
Jibbing: Didn't even think about it.
Pipe: The 160 didn't give us the lets go hit the pipe kind of feeling. So we didn't go but I bet the 156 would be pretty fun for Peter and I.  Maybe next time….
Jumps: It's not easy to get the board to spring but if you have good technical strength you can make this board spring and pop very well. It would be better hitting kickers on the mountain but hitting the kickers in the park wouldn't be bad at all for those aggressive riders.
Jones Aviator Images

We try to get as many images of the Jones Aviator, but forgive us if they're not all there.
2021
2020
2019
2018
2017
2016
2015
2014
Jones Company Information
Jones Aviator User Reviews
---
---
Jones Aviator 2014-2021 Snowboard Review
SKU
UPC
Model
2022 Aviator 2.0 LTD
Aug 21, 2021
by
Mic
Ability Level: Intermediate •
Riding Style: All mountain, minus the park •
Days You Ride A Year: 15-20 •
Height, Weight And Boot Size (for Boards, Boots & Bindings): 185cm, 85kg, US 10.
I've owned a MT, UMT and three Aviators (158, 158W and 162). The Aviators have been my favourite boards... until this one.

The 2.0 Aviator is better in every way that matters to me. Edge hold, pop, float, dampness and the overall flex are all improved from the previous models.

Some things to note if you are looking at one of these. The camber section is longer and higher than the older models. The camber on mine is about 6mm vs about 3 or 4mm on the older versions. It's not as stiff as any of my older boards, a step under the old Aviators and way softer than my 2020 UMT. Pretty close to a MT but just feels more lively. It really springs from edge to edge. The shape of the nose and tail go through powder really well, you can see there's less snow coming over the front edges of the board.

For all the hype about the Koroyd in this board and how light it is, the 2.0 LTD is not much different to other Jones boards. My 158cm is 2820g. Wood cores can vary a fair bit but in an attempt to offer a reference my other Jones boards weigh:

2020 UMT 160cm - 2930g
2020 Aviator 158cm - 2825g
2019 Aviator 162cm - 2980g
2018 Aviator 158W - 3010g
2015 MT 161W - 3040g

Not much in it weight wise. The Aviator 2.0 does "feel" lighter in use though. It's a smooth ride too but I never thought the other boards were a problem.

The base material on this is "8000" vs "9900" on the older boards. I couldn't tell any difference.

I reckon anyone who is a strong beginner or above would have a good time on an Aviator 2.0.

---
Great Board
Feb 16, 2021
by
Johnny
Ability Level: Not so catchy freeride with camber •
Riding Style: Freeride, tree runs jumps •
Days You Ride A Year: 10-15 •
Height, Weight And Boot Size (for Boards, Boots & Bindings): 5'9 175 9 union atlas, 158 LTD aviator
I rode the 158 LTD 2022 Aviator, a great board, it feels like a slightly wider version of my 158 2017 Yes Standard, more camber, easier to jump, slightly easier to lock in turns. Much more poppy and kind of feels like I'm cheating since it doesn't catch as easily as my wide 156 wide Burton Speed date. My Burton 158Wide Speed dates is a monster to turn and locks into the snow as if I'm on train tracks, very scary if you're not on your game. I was definitely looking for a board similar to my 158 yes standard, stiffer and as easy to turn with, I think I"ve found it.

The pros: Not catchy, easy to jump, camber, good on powder, decently faster turn initiation compared to 156 Wide Speed date. Definitely, a one-quiver board, good at everything doesn't specialize in anything specific, I think this board would be great for technical terrain and tree riding, It's more narrow with a decent 4 mm lifted nose, that also uses Jones spoon tech.

Cons: Heavier than Yes standard 158, Slower turn initiation than Yes Standard but it makes up for it with better edge control.

Recommend for who: If you tried a Rocker/Camber/Rocker board and want something with more grip, stiffer, more pop, but still want to keep some of the playful less catchy nature try this one out. It does well in Pow to my expectations, I've lived in Japan for a few years and I can tell I could get away with handling that type of snow with this board with a bit more effort to my back leg, but I think it will be worth it.

Not recommended: If you want to euro carve, and super lock in turns, super-duper deep pow, I'd lower your expectations for this board, it could probably do it, but not as good as a wider and tapered board.

---
2020 Aviator 158cm
Apr 05, 2020
by
Mike
Ability Level: Average •
Riding Style: Everything but the park. •
Days You Ride A Year: As many as I can, between 10 & 20. •
Height, Weight And Boot Size (for Boards, Boots & Bindings): 185cm, 82kg, Sz 10 (Adidas)
Just an update to my previous review for the 162cm. The longer I own it, the more I like this board. It's just that no excuses board that isn't brilliant at any one thing but does everything well.

I grabbed a 158cm because I've dropped some weight and thought the smaller board would suit (I also had the 162cm). Like my 162, the 158 also has very subtle spoon edges. About 2mm as apposed to Jones' 4mm claim. As TGR said in the review, every wood core is a bit different but I suspect over the years Jones have dialled back the lifting of the sides. I've checked three boards now (all 2019 & 2020 models) and all have been around the 2mm mark for edge lift.

Can't go wrong with one of these.

---
2019 Jones Aviator 162cm
Jan 10, 2020
by
Mike
Ability Level: Intermediate •
Riding Style: Everything except rails and large jumps. •
Days You Ride A Year: 10-20 •
Height, Weight And Boot Size (for Boards, Boots & Bindings): 185cm, 85kg, 10 US (Adidas)
As a progressing intermediate I was worried this board would be too aggressive for me. It is definitely stiff but still really enjoyable.

The only things I can add to the review by TGR are:

The beveled edges on my board are (like the review board) very subtle. Jones states the spoon nose and tail has 4.0mm of bevel but using a straight edge I can't find any bevel more than about 2.5mm. I have no problem carving or turning with this board. The edge hold is consistent and solid.

I've just returned from 10 days riding in Japan and had several powder days. Despite the amount of camber this board has, the spoon nose, set back and slightly directional shape give it great float (for an all mountain board).

My 162 is not super light. At 2980g it is heavier than my 163 Nitro Quiver Fury. This may be why I don't find the board chattery at all.

After my personal experience with this board I'd probably have given a few more points in TGR's categories of powder, carving, speed and uneven terrain.

I also have an older 161W Jones Mountain Twin and of the two, much prefer the Aviator as a quiver of one type of board.

---
Aviator 160w
Dec 07, 2018
by
Rex
Ability Level: Advanced Old Guy •
Riding Style: All mtn •
Days You Ride A Year: 0-15 •
Height, Weight And Boot Size (for Boards, Boots & Bindings): 192cm, 95kg, size 45 Burton Ion,
You do not have to be an expert to enjoy this board. Sure, it might (ok, is) be a bit much for a beginner, but you don't really have to know what you're doing either.

Of all the snowboards I've owned, the Aviator definitely holds an edge the best and likes to go fast. The closest match to my experience is the 2014-2016 review video where James said "it just made my balls grow bigger. It was like 'just go faster, I'll be ok, and you'll probably be ok too'."

Now I don't ride much these days, there can be a winter with zero riding days. On the first descent of the winter - definitely when the previous winter has seen zero - the board politely inquires who the fuck I am and why the fuck am I standing on it, but then it starts growing balls on me. And all is well.

So far.

---
Aviator review
Aug 07, 2018
by
JohnJohn1994
Ability Level: Advanced •
Riding Style: Freestyle •
Days You Ride A Year: 15 •
Height, Weight And Boot Size (for Boards, Boots & Bindings): 5'9, 195 lbs, size 11 Nike Vapen, Ride Capo 2017 size L
Sorry Jason, I saw your video reviews, but I have to strongly disagree about the chattery part.

This board (158W) is VERY stable, I really don't know what you are talking about. It could be that the Aviator was just too much board for you :- )))

I experienced The Aviator is a fantastic snowboard with much energy to give, if you put the effort and power in. I didn't think It was too stiff though, which was a nice surprise as I had lots of fun playing around on the piste and over a few kickers, rollers and bumps on the piste.

It holds an edge SUPER well when carving and gave me the confidence to let the board go FAST.
Where it really comes into its own, though, is the powder! All day I had a massive smile on my face and didn't stop hollering."

The Aviator is for the snowboarder who likes the feel of a traditional camber board. The added camber gives it a ton of snap in turns and incredible edge hold on ice!!! No jokes man.

The subtle spoon base contours free up the nose and tail making for faster transitions between turns, more float in pow and less catch in crust.

This is really a hidden raceboard guys!! Which is NOT chattery at all. You need to have skills when you are on this board. On the Aviator you need to know what you're doing.

Great board!! Truly loved it!! One of the best board I have ever ridden

---
Jones Aviator 160w
Dec 01, 2017
by
Spencer
Ability Level: Expert •
Riding Style: Freeride •
Days You Ride A Year: 30 •
Height, Weight And Boot Size (for Boards, Boots & Bindings): 6'2, 205 lbs., Size 12
They call this thing the "resort razor" for a reason. This is my driver board that I ride most days. You can dominate the mountain on this thing and it is FAST. The "power camber" gives great edge grip for deep carving on groomers but it is also at home on the steeps and in the air. It will hold its own in powder as well, but when you get a truly deep day this is not gonna be your board. It's also quite stiff so if you're new to riding or if you spend your days in the park it's not the board for you. I don't do much jibbing or buttering but it's definitely too stiff to do that stuff with any style.

---
If you can't buy through the links above, you can support the site with: