Gnu RC C3 2021 Snowboard Review
| | |
| --- | --- |
| Riding Style | All Mountain Freestyle |
| Riding Level | Advanced - Expert |
| Fits Boot size (US) | 8-10 |
| Manufactured in | USA by Mervin |
| Shape | Asymmetrical Twin |
| Camber Profile | Mostly Camber |
| Stance | Centered |
| Approx. Weight | Feels Normal |
| Split | No |
| | |
| --- | --- |
| On Snow Feel | |
| Turn Initiation | |
| Skidded Turns | |
Where To Buy
No obligation, but these links & ads support the site.
Gnu RC C3 2021 Review by The Good Ride
Gnu RC C3 2021 Snowboard Review Markers- Summary 0:13, Conditions/Boots/Bindings Tested with 1:28, Sizing 2:04, On Snow Feel: 2:37, Flex 3:38, Speed 4:21, Uneven Terrain 5:07, Edge Hold 5:20, Turning 6:04, Powder 6:39, Switch 7:11, Park 7:41
Swipe Right: Excellent Edge Hold, Great Pop, Butters well for almost full camber, Carves hard for an Asym Twin.
Swipe Left: Catches an edge pretty easy, Edges can grab too much in soft to wet snow, bad float in powder. Only comes in two 8-10 US boot sizes.
Summary
The Gnu RC C3 is an asymmetrical twin that is pretty much all camber except for the passive bend in the middle. It is a little too locked in for most intermediate riders and grabs a bit too much for our taste in softer snow. Despite its full camber feel it has easily accessible pop and is also pretty easy to butter. In comparison to the Riders Choice C2, it  tracks easier and feels more comfortable going faster. It turns just about as quickly but is much more difficult to skid a turn. It is however, much more fun to carve but it really lacks in powder compared to the C2 version. When set up correctly, both of these asymmetrical boards make riding switch easier and both grip like a champ. If you are a beginner/intermediate or just someone who likes a more forgiving all around ride go with the Riders Choice C2. If you are more of a technical rider that wants a good pipe, jump and all-around mountain freestyle board then its all about the RC C3. This is one of our personal favorites for riding pipe and when the snow get's hard.
Ethics Statement: We don't get paid by the manufacturer to write these reviews.  We do make money from the "Where To Buy" links, but this is our best attempt at an honest and objective review from an average riders' perspective.
Gnu Rc C3 2021 Snowboard Review- How it rides and who it is for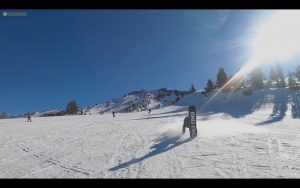 How This Review Happened: We had a few laps at a demo.
Size: 157.5
Days: 1
Conditions: Pretty mixed conditions with everything from hard to decent mid winter snow that felt a bit springish.
Riders: James (Size 9, 5'10" 185-190lbs), Peter (Size 8, 5'11" 185lbs), Jimbo (Size 11, 5'11" 160lbs), Zobel (Size 11.5, 6' 180lbs)
Boots: Adidas Tactical ADV, Adidas Tactical Lexicon
Insoles: Sandsole Custom Insoles,  Footprint Insole Technology Gameghangers Low Profile
Bindings: Nitro Phantom Carver
Similar Boards (but not the same): Lib Tech TRS HP,  Never Summer Proto Type Two, Never Summer Protosynthesis, Nitro Fury, Yes Greats, Lib Tech Hot Knife, Stone Message, Prior Wildcard, Marhar Darkside, Rossignol Jibsaw, Lib Tech Box Knife
Set-Up:  21.5" Wide 15 front -15 back.Centered.
Approximate Weight
Feels pretty normal.
Sizing
154.5 : 8-10 US boots
157.5: 8-10 US boots.
Camber/On Snow Feel/Ability Level
The Gnu RC C3 has a pretty locked in catchy feel but it's not as bad as some old school camber twins we used to ride back in the day. It is great for one footing and flat basing.
Flex/Pop/Buttering
With this camber feel we thought the Gnu RC C3 would be more challenging to butter. It wasn't. The Medium flex between the feet transitioning to a medium/soft flex in the tip/tail feels pretty easy for camber. The pop was easy to access and we had a good time generating our own little bit of air.
Speed
One thing we didn't talk about in the video review was how the Gnu RC C3 could point it. It is very competitent when you pick up speed. The camber gives it a level of dampness above the regular Riders Choice. It's not bomber but it is fine on a straight-line or two.
Uneven Terrain
You can ride all day with the Gnu RC C3. You can feel chatter but if you have decent shock absorbing boots/bindings it doesn't reverberate into your joints.
Edge Hold
There is asymmetry in the disruption in the side cut here too. The toe side has mellower magnetraction (probably .5) and the and the heel side has full mag. Most riders are not as good getting the heel side to grip as well as the toe so this is an interesting idea. It provides really solid grip in hard snow but it can grab a bit too much in softer snow on the heel edge. Especially if it's wet. We didn't feel the different MTX as much as we would have thought and it was soo subtle that we forgot to even mention it in the review.
Turn Initiation
Borders on being fast edge to edge and just a shade behind the regular Riders Choice. It's really close but the rocker between the feet that touches the snow hurry's up the turn a little more.
Turning Experience/Carving
Carving with the Gnu RC C3 is really good for this mediumish flex and this mellow but full camber profile. You can feel the camber resist into and then spring out of the turn. It's such a satisfying feel and a great board for Peter and I to work on our switch carves. God knows we need to.
Powder
Nope. Get another board or be an old ripper from the early 2000's that can jam through powder on a camber twin.
Switch
The Asymmetrical twin shape of the Gnu RC C3 is not only good for really symmetrical turning but it also makes switch riding easier for people like us. Having the heel and toe side edges match up to your duck stance angle makes it even better than a true twin.
Getting Air/Park
Jibs are better than we would have thought with the Gnu RC C3 but it really shines in the pipe and on jumps. Some riders might prefer a board less turny for using this as an all day kicker laper. However, it tracks well enough for us. If you want a technical pipe rider then the Gnu RC C3 is the call. It drives hard wall to wall and also can turn quickly for an adjustment in the flats so you can hit the wall properly. It's just not forgiving anywhere in the park so technical/advanced to expert riders only.
Conclusion
The Gnu RC C3 is a great board for advanced to expert riders that want a mountain freestyle hard snow ripper. It's especially great in the pipe.If you want something more forgiving for hard snow you still have the Riders Choice C2 and the Lib Tech TRS. If you want camber with strong edge hold and need a wide you have the 2021 or 2022 TRS.
If you can't buy through the links above, you can support the site with: